Support crystalwind.ca with your donation and help spread spirituality and positivity.
Blessings!
Category: Awakened Lifestyles Written by Semele Xerri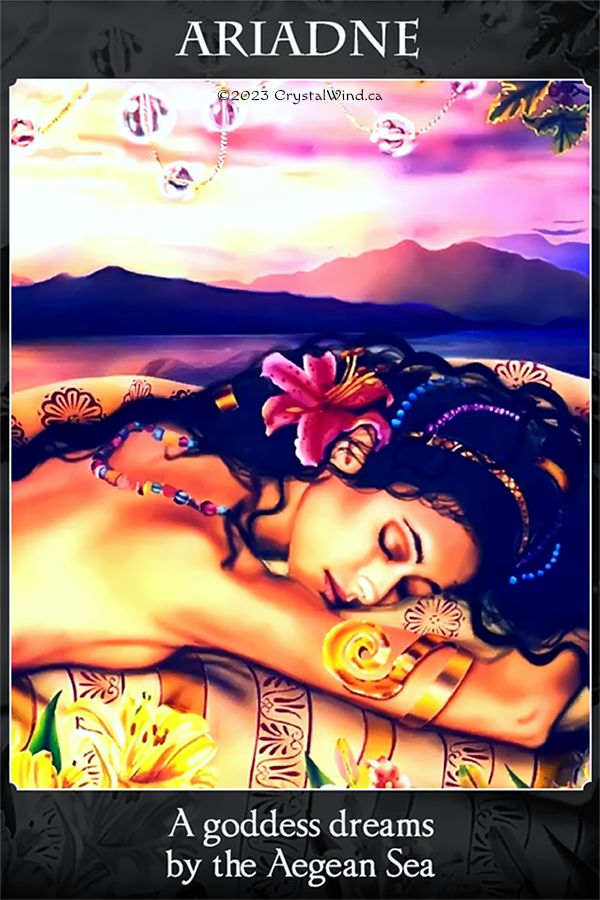 I've loved Greek myth from childhood, but as I've embedded myself more in the landscape of my chosen homeland Wales, Celtic myth has taken first place in my heart.
Recently, however, the story of Ariadne's thread began clamouring for my attention. I'd been drawn to the novel about her by Jennifer Saint when it was first published, and just didn't get round to it. So when I spotted it in my local phone box library I picked it up eagerly, aware that it had found me at the perfect time.
When I finished this modern retelling, the images it evoked were still resonating strongly so I opted to choose a light free read on Kindle that would just drift me off gently to dreamland at bedtime. Imagine my surprise when I got part way in to this "light read" and found the lead character heading off to Knossos (definitely not mentioned in the blurb. There she became involved in Arthur Evans' search for the palace of King Minos and began dreaming about Ariadne of the labyrinth. You really can't make this stuff up.
Ok Ariadne, I thought, you clearly haven't finished with me just yet; I hear you loud and clear. The first thing that fascinated me was that she's connected to another branch of the myth which has already played an important role in my life and spiritual journey. My chosen name Semele (a sort of contraction of my birth names Sara Melanie) is the mother of Dionysus, the youthful god of fertility, wild nature, theatre, wine, and ecstasy. By the way, all of those associations make sense for me except the wine part, as I've never really had the stomach for alcohol. I've always been able to access the altered state easily by other means, which is why, I suppose, I've never felt a need for drink or drugs. The other things? Oh yes, absolutely me! What I didn't know back then was that in some versions of her story, Ariadne becomes the beloved wife of Dionysus. So clearly I was being invited to explore another side of this spiritual connection, and there are some similarities between Semele and Ariadne's experiences. In fact, I believe they probably have their origin in one mythical character of the great mother goddess, but that's perhaps another article.
Ariadne is sometimes known as the mistress of the labyrinth. It is she who gifts Theseus a spool of golden thread which leads him through the notoriously dark and complex underground tunnels, enabling him to defeat the fearsome monstrous Minotaur and find his way back out into the light. You can read several versions of her full story here.
She is clearly shown as a wise soul guide to Theseus, helping him to face and overcome a seemingly insurmountable challenge. The underground location of the labyrinth suggests an initiatory experience of the psyche/soul associated with the great goddess, and the thread brings to my mind the shining umbilical cord that I've seen anchoring the astral body to the physical body. So Ariadne knows how to navigate the difficulties we must face when we go on the search to find and become our true, authentic selves, our souls. It's interesting that the minotaur is half bull, and in the Zodiac Taurus is the sign of earth and physical embodiment, ruled by Venus the planet of love. So I feel that Ariadne represents the soul itself, and she guides Theseus to defeat the minotaur who may represent the idea of a purely physical, bodily existence.
In another clue to this symbolism of body and soul, the minotaur has another name given to him by his mother at birth; Asterion, the starry one. So he isn't just a monster at all but holds a light within and a connection to the heavens. Ariadne, in turn, means "most sacred" or "most pure", so she is very clearly linked to the divine. That word "pure" has nothing to do with being a virgin, which is the way it's often been interpreted. Rather, it has a much older meaning; that of being a woman who is sovereign and whole within herself; she doesn't have or need a man to give her status or authority. Yet her realm is the dark underworld where the minotaur resides, so there's a clue that the journey of life involves a quest of reconciling opposites and dualities within our beings; the divine and the human/animal, the shadow and the light, the conscious and the unconscious, the sacred and the profane.
Ariadne falls in love with Theseus which is why she chooses to help him defeat her own half-brother and causes her to have to leave her home and the labyrinth. Now there's definitely a message there that I can see has played out in my own life. When she is charmed and besotted by Theseus she transfers her loyalty, and hands over her power and agency, to another outside of herself. That never ends well. In turn, Theseus betrays Ariadne when he reneges on his promise to marry her, and instead abandons her on a nearby island. Ariadne is left alone, deeply hurt and heart-broken. It's a clear message about how complex human relationships are, and how tricky trust can be when we allow forceful emotions to carry us away from our centre.
Ariadne, then, has to learn to turn inwards again for the answers, to reclaim her own role as soul and look to the divine for the fulfillment and unconditional love she was seeking elsewhere. It's no surprise that the island she's marooned on turns out to be the home of Dionysus, who falls in love with her as soon as he sees her and claims her as bride. She is now united with the divine masculine, and their relationship is long, loyal, and unusually happy in the world of Greek myth. I see this union as a representation of the Hieros Gamos, sacred marriage, which you can read more about in my article here.
Throughout the many versions of her story, Ariadne is always linked with death. She herself dies many times and in a myriad of ways, including in childbirth. I believe that this infers a link back to a much older mythology of the soul's journey through reincarnation, and the Great Mother goddess as the midwife of souls into life and out again through Her gateway. There's only one route both into and out of a labyrinth and Ariadne, the soul, is the one who knows it. In one telling, Ariadne is rescued from the underworld by her divine husband who installs her on Olympus as an immortal. So then death is seen as a transformation rather than merely a final end to life. Let's not forget that image of the thread, which appears alongside so many of the female figures as representing the duration of a life, such as in the three Fates.
Other characters involved in the story also die or change shape in some way; the tributes are sacrificed to the minotaur, the sailors on the ship in which Dionysus arrives on the island are changed into animals, the Maenads who worship Dionysus are freed from societal and cultural limitations during his rites which involve a symbolic death and rebirth. Not only that, they experience the ecstasy and unbridled bliss of union with the divine through and as part of all the beautiful lifeforms on this planet. I love this juxtaposition of the alienation and rejection of the natural and bestial aspect of our human lives represented by the minotaur, against the acceptance and embracing of our wild nature through the rites of Dionysus. Rejecting the "monster" within leads to endless death and misery. Celebrating it and expressing it in a balanced way as part of who we are leads to joy and bliss!
As always with myth, there are many layers to a story and remember that all the retellings are flavoured by the minds and cultures of those who've written them down. The writers are invariably men, and they're entrenched in deeply patriarchal societies that fear the power or women and have done their best to eradicate all traces of it. But I believe that the underlying core of Ariadne's story remains, and it is this. We are all eternal souls. Our lives on earth are about remembering that, and picking up and following the guiding thread of the soul which enlightens our human experience with purpose and fulfillment. Through the darkest of times and the most terrible of circumstances we can still have purpose and hope. We know that not only can we overcome all difficulties but we can and will always find love and joy if we seek it through the medium of the soul. In doing this for ourselves, we help others pick up their own golden threads and together we weave a bright and beautiful tapestry that transforms our experience of life.
As the aspect of the great goddess that is Semele, the mother of Dionysus, I long to see and know intimately the true face of the divine, the Source of all that is, and so find its presence within myself. As Ariadne, the bride of Dionysus, my mission is somewhat different at this time. I'm being reminded to have compassion for the current darkness in the human world, and not allow myself to feel overwhelmed or frightened by it. Both Semele and Ariadne entered the underworld and were rescued from it by Dionysus to become immortal. So my role as psychopomp, which I've known from the beginning of my spiritual journey, is likely to become more active. I can help keep my own frequency high by staying in touch with the playful, joyful and ecstatic frequencies offered by Dionysus. I find this by spending time in nature, and through using my body to create and transmit beauty; Ariadne was also known as a dancer who entered a trance-like state through the rhythm of her movement.
This is yet another initiation of sorts; another journey through the labyrinth for me and for humanity as a whole. I'm being asked to stay loyal to and at one with the divine knowing inside me and around me. As someone who knows deeply the voice of the soul, I can whisper a way through the frightening labyrinth of this human life's tests and trials, which always leads to a deeper understanding of self as both human and divine. By shining my own most sacred light as brightly and joyfully as possible in the darkness, I can help others rediscover the radiance of their own starry origin.
---
Image Courtesy of The Crystal Wind Oracle and Artist Lisa Iris. ©2023 Antonio DeLiberato & CrystalWind.ca. All rights reserved.
oracle.crystalwind.ca - www.lisairis.ca
© Semele Xerri is a psychic intuitive guide, healer, animal communicator, and Reiki Master Teacher. To find out more about her and her services, go to her Work with me page.
Credit: here
© 2023 crystalwind.ca. All rights reserved. We track all IP addresses. Using a VPN will now also get tracked to original source IP.
CrystalWind.ca is free to use because of donations from people like you. Please help support us!
Blessings!
Spirit Animal Totem Of The Day!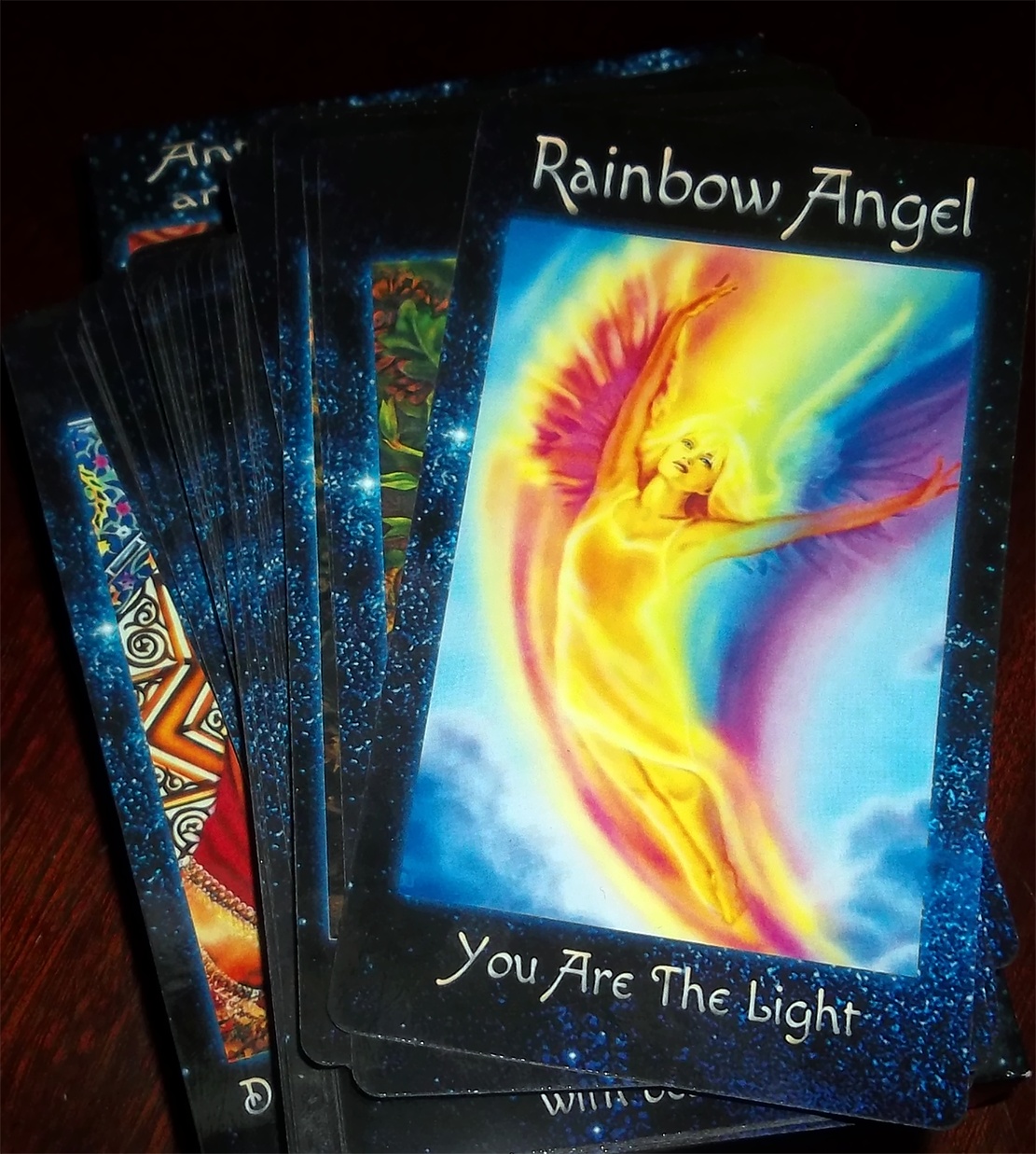 The Crystal Wind Oracle
Myth & Magic Card Deck!
Details Here!
NEW Expanded
Printed & Boxed!
Now with 58 cards!
Who is Online Now
We have 856 guests and no members online