Ann & The Angels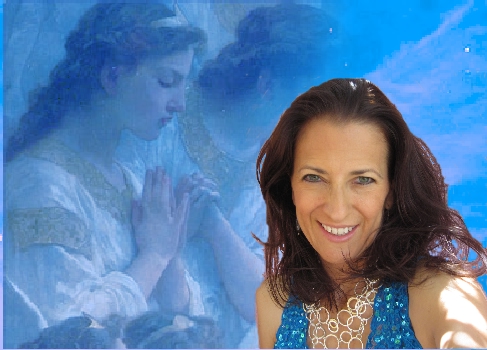 For nearly two decades popular Spiritual Instructor, Angel Communicator, and Modern Mystic, Ann Albers has helped thousands of individuals connect with their angels and transform their lives. She has been interviewed on international radio programs and spoken amidst some of the world's foremost spiritual authors. Now, in her weekly series, "Ann & the Angels" she takes you on a step-by-step journey, teaching you to live in partnership with your own heavenly helpers! If you haven't been able to attend her "Dancing with Angels" class (or even if you have!), you'll love this show!
Ann Albers is a popular Spiritual Instructor, Author, Angel Communicator & Modern Mystic. who delights in distilling ancient wisdom into practical, down-to-earth tools for modern living.
She guides people to live in the eternal flow of Divine Grace and to gracefully manage the flow of energies in their own lives, bodies, and emotions. She helps her students and clients understand their eternal connection to God (whom she experiences as the living, breathing, self-generating energy, love, and wisdom behind creation) and assists people in discovering their powerful interconnectedness with all of creation.
Ann has been published in many other books and ezines, has been interviewed on national radio programs, such as Coast to Coast, and has spoken at conferences featuring some of the foremost spiritual authors of our time. Her constant mentors, she says, are the angels that work with her during her readings for others and guide her in her own life.
Education & Inspiration
---
Watch Ann & the Angels Online and learn to live in partnership with your heavenly helpers!
Enjoy other positive spiritual programs Online, in your home, anywhere, anytime!!
Join a community in over 30 countries dedicated to experiencing, embodying, & expressing love!
Featured Products
---
Magical Self Love - be the bright and beautiful soul that you are so you can live the life the Creator intended you to live!
Dancing with Angels - Anyone can learn to channel their angels! In this fun & inspiring playshop you'll learn to open up to angels, fairies, whales, and indeed anyone or anything you'd like to understand nore deeply.
Go beyond beyond struggles, beyond obsessing on what you think you need to be happy, and learn to manifest the life God wants for you! In this seminar you'll learn the basics of manifestation and then how to use these tools to create the desires that arise naturally within your heart.
Other Tools for a Happy Life!
---
Enjoy Ann's other books, CDs, downloads to uplift the spirit and soothe the soul! So much more!
Enjoy Ann's photos and art.
Enjoy recipes, many of them angel-inspired!