Category: Awakening Written by Sharon Lyn Shepard Views: 1786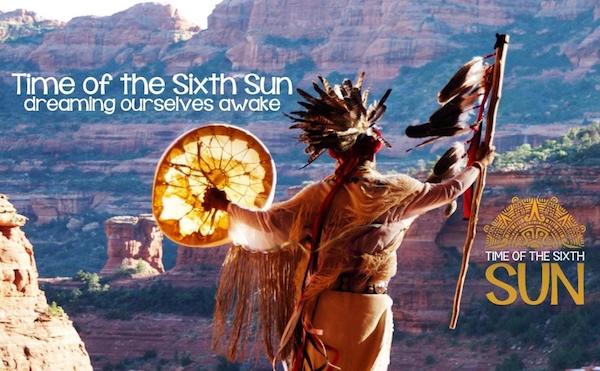 There is a question that continues to cycle back around to me and until recently I was unable to resolve it. That question is: How does the Ancient Wisdom fit into humanity's shift in consciousness?
I have recently watched, the movie series "Time of the Sixth Sun", the feature movie along with all it's 8 additional episodes. This movie has done an extraordinary job of interviewing Wisdom Keepers from all over the world from different cultures, with different perceptions, and different practices.
Over the years, I have had the benefit and honor of spending time with quite a few of the shaman and teachers in this movie, as well as others who remain nameless. I have interacted with their ceremonies, listened to their teachings, spent time on their land, and been blessed by them. Each one has added to my foundation of Wisdom.
And yet, after all these experiences, it has never felt like it was enough for me. So often I feel I have gone beyond the ancient teachings and practices because they are too limiting for me.
So Who are the Wisdom Keepers?
And what part are they playing in humanity's shift in consciousness?
After watching this film I have come to this conclusion.
We are all Wisdom keepers.
It matters not what race, culture, or age we are. What matters is how conscious we are. What matters is that we remember who we truly are as the Divine.
I sense the Indigenous Tribal Elders have been passing down the wisdom and traditions of the Ancient Ones from the beginning of time. It has been their job to hold our foundation in place until humanity is ready to go beyond it. Through their strength, courage, and dedication they have managed to maintain their connection between earth and the Great Spirit. They recognize the importance and honor "all relations" which include all sentient beings including the animals, plants, and the earth herself. They honor the balance of the elements of fire, earth, air and water, knowing as humans we need these elements to survive. They honor each person, treat them with kindness, and support their growth and expansion. This is basic foundational Wisdom.
The ancient prophecies predict the shift in consciousness we are currently experiencing. Although this foundational wisdom is vitally important, wisdom is not static. We are constantly accumulating more wisdom. With each experience, our soul is distilling our experience into wisdom beyond the stories we, as humans, tell ourselves. Therefore, the wisdom we have to draw upon is constantly growing and expanding as individuals as well as a collective.
Once we become consciousness enough to remember Who we truly Are, we are operating from the foundational wisdom as well as our own personal wisdom. For are we not all unique sovereign beings in our own right?
I have met elders as well as children that I consider to be Wisdom Keepers. I have leaned from the many. Whereas, elders have the advantage of having a multitude of experiences to draw upon for their wisdom. Children carry the innocence of wisdom without having been indoctrinated into the limitations of society. As they say, "Out of the mouth of babes".
As many of you have noticed our youthful generation is expressing their wisdom through new innovations to assist in cleaning up the mess humanity has made of our planet. For if humanity continues on its current path there will be nothing left for them. Survival has a way of waking people up to realize their own Divinity and their own Wisdom. I pray this awakening does not include more suffering.
I give thanks to all the Wisdom Keepers, the indigenous peoples, the elders, the children, and you and I, all of whom are in service to humanity and the earth, each in our own unique way.
For more information about the movie "Time of the Sixth Sun"
https://www.timeofthesixthsun.com
*
~Sharon Lyn Shepard~
"message from my inner wisdom"
♥ Sharing is always appreciated ♥These messages are intended to be shared. You are welcome to share and distribute with others as you feel guided. Please maintain the integrity by including the author and source website link.
Sharon Lyn Shepard is a modern day mystic and visionary. Her mystical writings and music transcend our minds, expand our consciousness and awaken us to our innate divinity to celebrate life in all of its forms. Sharon lives "heaven on earth" and invites all of us to join her in embracing a new world of love, joy and harmony.
CrystalWind.ca is free to access and use.
Please donate a small gift of $11.11 or $22.22 or $33.33.
Thank you!
ॐ Namasté - Blessings!

© 2008-2020 crystalwind.ca. All rights reserved.
X
Right Click
No right click