Category: Forecasts and Horoscopes Written by Pam Younghans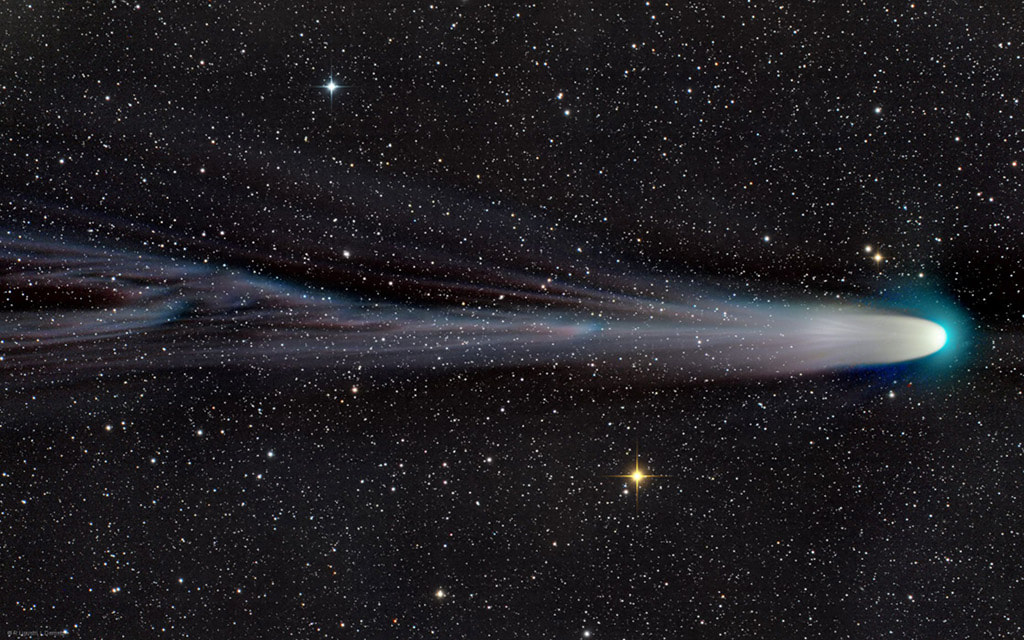 "The Tail of a Christmas Comet": A photo of Comet Leonard
by Rolando Ligustri (CARA Project, CAST) and Lukas Demetz
WHAT A YEAR – and what a month – this has been! In the past four weeks alone, we've had a Total Solar Eclipse, two Venus-Pluto conjunctions, a Galactic Center activation, and the third Saturn-Uranus square. With these high-impact events behind us, our eyes now turn toward Comet Leonard, looking quite angelic as it flies through our night sky.
Comets are interpreted in various ways by spiritual seekers. Some view them as cosmic messengers. Patricia Cota-Robles writes that "Comets are celestial bodies that pass through the Universe and literally shake the Ethers, breaking down the obsolete, crystallized patterns and thoughtforms that no longer serve the highest good. In their wake, comets leave a fluid field of unmanifest Divine Potential, upon which new patterns and archetypes for the evolution of all Lifeforms can be encoded."
In Hinduism, comets signify a disruption in the order and regularity of the world. In some texts, a comet portends the death of an important person. Perhaps what we call Comet Leonard is actually the angel who came to escort Bishop Desmond Tutu on his journey Home.
LIKE THE YEAR 2021, the Moon is waning this week. The lunar cycle that began with the Total Solar Eclipse on December 3 is now completing, which means eclipse season is also ending. What hasn't faded is the surreal feeling that always accompanies eclipses. It will be interesting to see how we feel after next Sunday's New Moon. It may be that this sense of living in an altered reality is our new normal.
Jupiter's ingress into Pisces on Tuesday may also affect how "real" this physical world feels. As the largest of the known planets, Jupiter is the Great Magnifier; while transiting ethereal Pisces, it can increase our sense of other-worldliness, even as it encourages new adventures in spiritual and creative realms.
JUPITER returns to a sign every twelve years or so, and usually takes about twelve months to transit each sign. But its journey through Pisces is unusual this time around. The giant planet ventured into the Sign of the Fishes earlier this year, from May 13 to July 28, but then retrograded into Aquarius. Now moving very quickly, Jupiter will cover all thirty degrees of Pisces in less than five months, entering Aries on May 10, 2022. And yet, it will still not be done with Pisces, returning for a retrograde visit from October 28 to December 20 of next year.
At its highest expression, Jupiter in Pisces expands our access to spiritual wisdom. It is intriguing to consider why the Cosmic Plan is providing three smaller servings of this wisdom over the course of 2021-2022, rather than filling our plate at one sitting.
PERHAPS the months between Jupiter's transits of Pisces are meant to help us more fully integrate Divine Wisdom into our daily lives. We can think of it as a three-course meal, with time in between courses to digest what we have taken in. Or, more appropriately, we might see it as a long-term seminar, given over the course of two years, with time provided in between workshops to do our spiritual homework.
The most exciting part of Jupiter's 2022 transit of Pisces will be April 2 to 28, when Jupiter and Neptune are within two degrees of being conjunct. While the alignment between the two planets is exact on April 12, we can expect the entire month to be memorable. At its most lofty, the combination of Jupiter and Neptune in Pisces speaks of mystical experiences and expresses itself through creative imaginings, idealism, and humanitarianism. But, as with all things astrological, there is also a shadow side to this influence. I'll talk more about Jupiter-Neptune in my webinar on January 12, and in future issues of this weekly Journal, too.
OUR FIRST NEW MOON of 2022 occurs on Sunday, January 2, at 10:34 a.m. PST, when the Sun and Moon conjoin at 12°20´ Capricorn. The strongest aspect in the lunation chart is a trine between the New Moon and Uranus, which allows new, more progressive potentials to unfold during the new lunar cycle. This harmonious aspect to Uranus, the planet of Higher Consciousness, also enables us to utilize higher insights when deciding on our concrete goals for the new year.
The New Moon is also square Chiron, however, so this lunar cycle will be taking us on a healing journey. The wound of Chiron in Aries is defined, in part, by a denial of personal needs due to a feeling that one's very existence is not truly supported. As such, the tendency of Chiron in Aries is to hold in expressing its desires because they seem "insignificant," but then to erupt in anger when the self-denial cup is filled to overflowing.
The healing of Chiron issues is always assisted by inner child work, where we meet this part of us with an open and compassionate heart. As we are present with the part of us that doesn't realize its right to exist in some way, and offer it acceptance, love, and understanding, we enable deep healing to occur.
MERCURY plays an important role this week as it moves through the final degrees of Capricorn. The Messenger Planet will be square reactive Eris on Tuesday and conjunct intimidating Pluto on Thursday, activating disagreements and power struggles. One potential with the Mercury-Pluto alignment is that facts that have been obscured or kept secret can be revealed.
Most significantly, these aspects will repeat in the weeks ahead, due to Mercury going retrograde on January 14. This means that issues that arise this week are not likely to be settled right away. Instead, they will be revisited around January 28 and perhaps resolved around February 11; these two dates are when Mercury again conjoins Pluto and also activates the square to Eris.
---

WEBINAR IN TWO WEEKS! My webinar covering the first four months of 2022 is on Wednesday, January 12! Please see the full description of "Finding Ground" below. Or, if you are ready to register, here's the link: https://findingground2022.eventbrite.com

After registering, watch for a confirmation email from [eventbrite.com] and follow-up messages from []. If these don't show up in your inbox, please check your spam/junk folder.
---
HERE is a list of other important aspects in effect this week, with my brief interpretations:
Monday
Venus semisquare Mars: We feel discomfort with someone's level of commitment. With Venus retrograde, the present day experience may remind us of previous relationships where we felt we couldn't rely on the other person.
Tuesday
Mars semisquare Pluto: Anger arises that may previously have been suppressed or unacknowledged.
Mercury square Eris: A war of words is possible, as official decrees conflict with the needs of the individual.
Jupiter enters Pisces: See above.
Wednesday
Mercury conjunct Venus: Conversations with loved ones involve serious concerns or themes of commitment. With Venus retrograde, this is just one step of a process.
Sun square Chiron: See New Moon square Chiron, above.
Mars sextile Saturn: We have both the courage and the commitment to move forward in some area of our lives. This aspect helps us know when to apply the gas and when to use the brake pedal.
Thursday
Mercury conjunct Pluto: See above.
Venus square Eris: Disagreements in relationships or over financial matters, due to one party not feeling respected.
Friday
Mercury semisquare Mars: Irritations arise as freedoms are limited.
Saturday
Sun trine Uranus: See New Moon trine Uranus, above.
Mercury enters Aquarius: People tend to think more independently or progressively while Mercury transits Aquarius. At the same time, because Aquarius is a fixed sign and its key phrase is "I Know," there may be some who believe they know it all, and so resist input from others. Mercury will be in Aquarius from January 2 to 25, and again from February 14 to March 9.
Sunday
New Moon 10:34 a.m. PST: See above.
IF YOUR BIRTHDAY IS THIS WEEK: This year, you are more open to unusual experiences and able to access new levels of insight. A greater flexibility and a stronger intuition are both supported. However, you may also need to deal with some insecurities based in identifying yourself solely by what you accomplish. Healing is found by honoring your value based on who you are, not on what you achieve. (Solar Return Sun trine Uranus, square Chiron)
In peace and with gratitude,
Pam
All times listed are Pacific Daylight Time. For Greenwich Mean Time, add 7 hours.
MON: Venus semisquare Mars
TUE: Mars semisquare Pluto, Mercury square Eris, Jupiter enters Pisces
WED: Mercury conjunct Venus, Sun square Chiron, Mars sextile Saturn
THU: Mercury conjunct Pluto, Venus square Eris
FRI: Mercury semisquare Mars
SAT: Sun trine Uranus, Mercury enters Aquarius
SUN: New Moon 10:33 a.m. PST
---
WEBINAR IN THREE WEEKS! My webinar covering the first four months of 2022 is on Wednesday, January 12! Please see the full description of "Finding Ground" below. Or, if you are ready to register, here's the link: https://findingground2022.eventbrite.com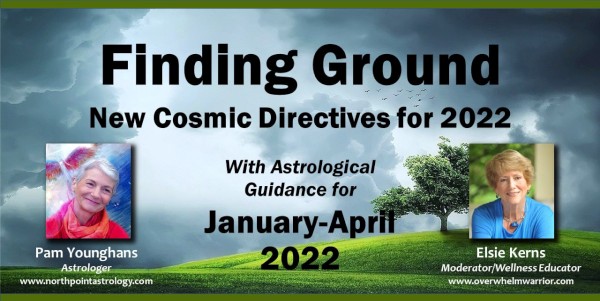 Finding Ground
Astrological Guidance for January to April 2022
With Astrologer Pam Younghans
Moderated by Elsie Kerns, Wellness Educator

Airing Live and Recorded for Replay
Wednesday, January 12, 2022
4 pm PST | 5 pm MST | 6 pm CST | 7 pm EST | 12 am GMT
75 minutes, $27 USD

HAVING MADE IT THROUGH the "final ascent" of 2021, it is time to pause, catch our breath, survey the landscape, and "find ground." Finding ground is always essential, and even more so in times of major transition. We find ground by connecting deeply to Mother Earth, establishing a clear sense of our values and boundaries, and centering ourselves in peace and gratitude.

Starting in January 2022, when the Moon's true North Node begins its 18-month transit of peace-loving, tree-hugging Taurus, finding ground is not only vital for each of us individually – it also plays a crucial role in humanity's evolutionary journey.

In this "Finding Ground" webinar, Pam will talk in more depth about the shift in the nodal axis, along with other major themes we'll be working with during 2022. Most notably, we'll discuss the spiritually expansive Jupiter-Neptune alignment in Pisces in April, the two eclipses in April-May, the revolutionary Mar-Uranus-North Node alignment in July-August, and the shadowy return in September-October of the two life-changing aspects that have dominated 2021 – the Saturn-Uranus square and the Pluto-Eris square.

Pam will then guide us through the calendars for the first four months of 2022. Taking each month week by week, she will explain the astrological influences we'll be working with, including the New and Full Moons, and how they are likely to affect our reality. These calendars will be sent to you before the class airs so that you can use them for notetaking.

This webinar is for everyone, whether you are a newcomer to astrology or have spent years in study. And no worries if you're not able to attend live! Everyone who registers will have full access to the replay and calendars for later viewing.

WE HOPE YOU CAN JOIN US! To register, please visit https://findingground2022.eventbrite.com. For questions about registration or payment options, please contact Elsie Kerns at or call 856.988.7426 (Eastern Time Zone).
Astrologer Pam Younghans writes the NorthPoint Astrology Journal based on planetary influences and insights received. Her hope is to bring astrology "down to earth" in a way that will help readers navigate current energies, while also utilizing these energies for spiritual and personal growth.
Feel free to share this NorthPoint Journal with others who may enjoy it! Please forward it in its entirety, including all contact and copyright information.
To learn more about Pam's work, please visit www.northpointastrology.com.
NorthPoint Journal copyright 2021 Pam Younghans. All Rights Reserved.
Source Here
---
CrystalWind.ca is free to access and use.
Please support us with a small gift of $11.11 or $22.22 or $33.33.
Spirit Animal Totem Of The Day!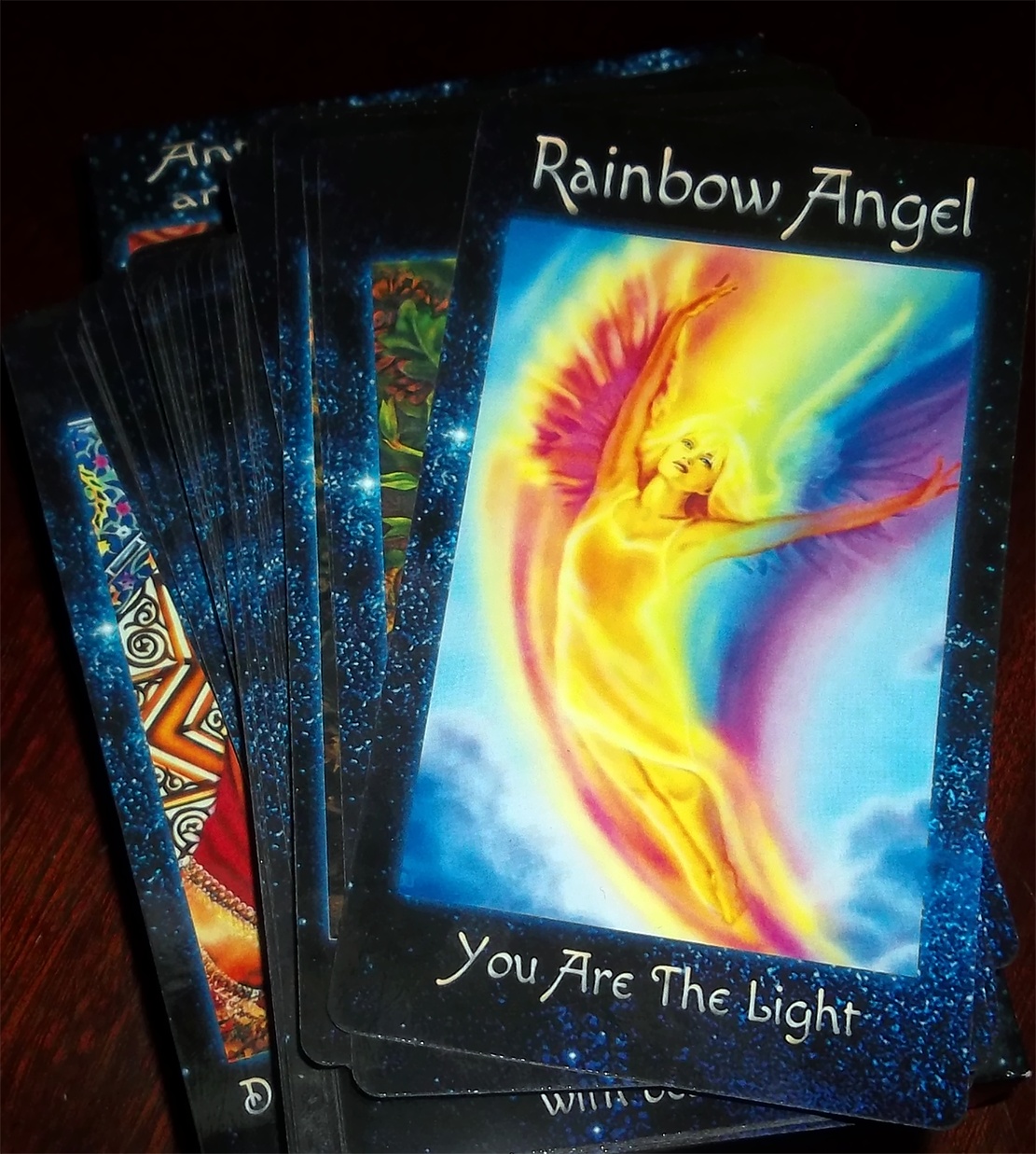 The Crystal Wind Oracle
Myth & Magic Card Deck!
Details Here!
NEW Expanded
Printed & Boxed!
Now with 58 cards!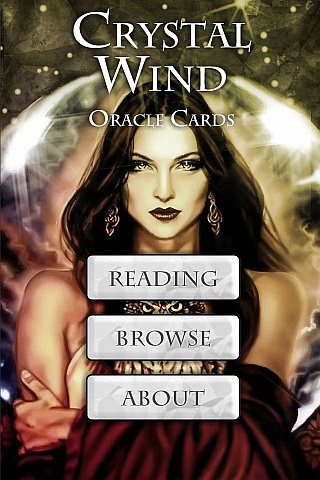 Cut Through The Illusions!
Who is Online Now
We have 1119 guests and no members online