Category: Health Yourself Written by Ian lewis Hits: 2225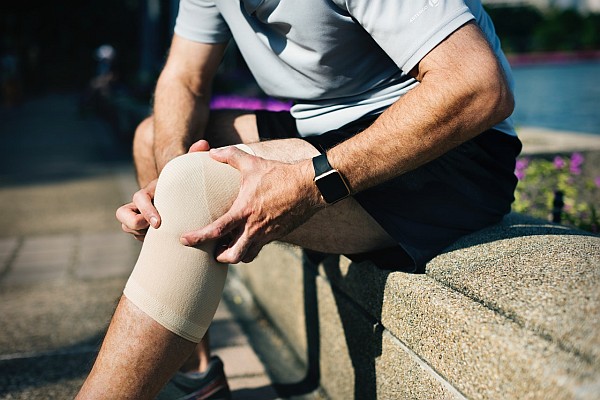 Getting your knee hurt can be a big pain in the neck. Aside from being painful, even after it's healed there's no guarantee that the pain won't return sometime in the future. If you've been recently injured, you should obviously see a doctor, but also, there are certain natural remedies to try out if you're aiming for a full recovery.
Physical activity
It maybe seems contradictory, but getting physically active can improve the state of your knee. Osteoarthritis (OA) is one of the most common reasons for knee pain, while exercising can vastly improve the health of the knee since it delays the development of OA. When you exercise, you actually boost the health of cartilage tissue and strengthen your body, which in return can help your body support the joints much better. If you decide to start working out, make sure you choose light exercises that won't overwhelm your joints, like water aerobics, knee-friendly cardio and pilates. Before you start exercising, It's important to warm up first, so your knees will be ready to endure all the activity.
Massage
Massage can be helpful for everyone, but for those suffering from joint pain, it can do wonders. In case you don't like letting someone touch you, you can try with self-massage. It's recommended to sit straight, with your knee pointing forward and your feet flat on the floor. First, use the heel of your hands to gently place them on your thigh then slowly glide it to your knee and then release. Do it five times, for both inner and outer part of your thighs. Next, you should press four fingers into your knee tissue then move up and down five times, all around your knee. Massaging your thigh muscles can benefit your knees in many ways. Aside from these, there are other massage tips that you can use to reduce knee pain. If you think you won't be able to do it alone, then it's advisable to see a professional therapist who can help you.
Invest in quality shoes
When it comes to footwear. many people prefer to buy whatever's cheapest, without paying attention to the quality of the shoes they're purchasing. Stability shoes are always the safe bet, but also pay attention to the soles and make sure they have arch support. Arch support can help with reducing pain and also reduce the balance through weight distribution. If you're into running and still struggling to find proper shoes, check the Walk Jog Run site and do your research. Also, when buying shoes, it's crucial you get the right size, so your feet will feel rested and comfortable. Put your comfort and health first, and never sacrifice your well-being in favour of fashion trends that come and go.
Healthy diet
You might feel like a healthy diet is a solution for every problem, but the truth is, even if it doesn't outright help you, eating a healthy diet can significantly improve the state of your body and mind. Try learning more about self-control and healthy meal preparation, and aside from feeling better, you'll be able to shed those extra pounds. Excess weight tends to delay the recovery from joint injuries, that's why it's recommended to lose a bit of weight. It doesn't necessarily have to be a dramatic weight loss, just don't eat food that is rich in refined sugar and artificial flavours and colours. When you're overweight, it means that your joints are more overwhelmed. So next time you're shopping for groceries, make sure you buy a lot of fruits, vegetables and other foods rich in fibres. Mediterranean diet is always a good choice since it relies on fresh produce.
Hot and cold treatment
Putting hot and cold packs on your knee will drastically reduce pain and speed up the recovery. It's important to mention that you should never put hot treatment on a knee that is already hot or irritated. Same goes for cold treatment — never put an ice pack on a knee that feels stiff. Heat is used to help muscles relax, while cold minimizes the pain and swelling. You can use a hot therapeutic gel pack for twenty minutes, then use a cold ice pack for another twenty minutes. You can also apply peppermint essential oil to an inflamed place. Peppermint and/or eucalyptus help reduce swelling and heat. Aside from that, you can also use orange, turmeric and myrrh oils.
These tips can help you deal with knee pain, but before you do anything, please consult your doctor or physical therapist. If you keep yourself safe, your knee (and other joints) will be healthy and in good shape for a long time.
Ian Lewis is a father, writer, and a fitness nut. His favorite quote: There are three ways to ultimate success: The first way is to be kind. The second way is to be kind. The third way is to be kind.
Credit
Ian Lewis is a father, writer, and a fitness nut. His favorite quote: There are three ways to ultimate success: The first way is to be kind. The second way is to be kind. The third way is to be kind.
This article was submitted exclusively to CrystalWind.ca by Ian Lewis.
© 2019 crystalwind.ca. All rights reserved. Do Not Copy.
CrystalWind.ca is free to access and use.
"Would you consider a small gift of $11.11 ?" :)
ॐ Namasté - Blessings!

© 2008-2019 crystalwind.ca. All rights reserved.