Category: Moon Cycles Views: 1864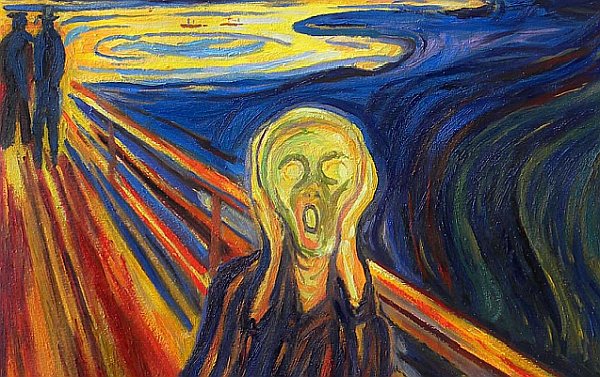 The New Moon on Friday January 24, 2020 at 04°21′ Aquarius is square Uranus. This is a sign of unexpected changes, unpredicatble behaviour and crazy mood swings. New Moon January 2020 is also influenced by a star that indicates crises and crazy mood swings.
The January 2020 new moon will cause uncertainty, anxiety, and insecurity for some. But there are positive aspects in the new moon chart and potential in the fixed star to take advantage of. With a focused mind and stable emotions, you can react quickly and decisively to changing conditions to find wealth, success and true love.
New Moon Meaning
A new moon represents the end of one cycle and the beginning of another new 28-day cycle. Sun conjunct Moon gives an invigorating burst of energy and initiative. So this is an excellent time for making a fresh start, turning over a new leaf, or starting a new project. You can also question old habits, behaviors, and beliefs as you search for new and inventive ways to make progress.
New Moon January 2020 Astrology
The January 24 new moon at 04°21′ Aquarius makes just one major aspect so it is fairly straight forward to decipher. A new moon square Uranus means change, uncertainty, and unpredictable behavior.
New moon January 2020 is also influenced by a fixed star that indicates crises, emotional problems, and mental instability. So the combination of a challenging Uranus aspect and a neurotic star is not a good omen for peace and harmony in the month ahead.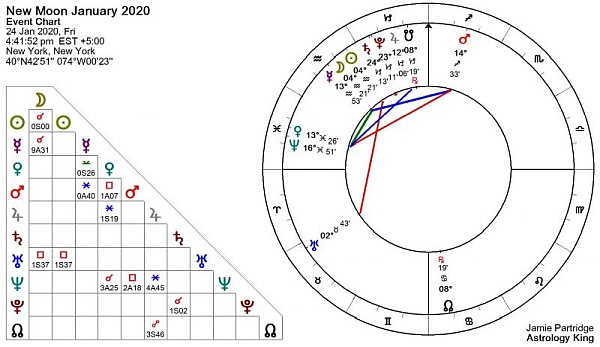 New Moon January 2020 Astrology [SolarFire]
New Moon Problems
New Moon square Uranus brings uncertainty, anxiety and unexpected change. A buildup of nervous tension can result in unpredictable behavior, abruptness and sudden mood swings. A strong need to assert your independence can lead to impulsiveness, rebellion, arguements and tantrums.
The best way to handle this new moon is with open-mindedness and flexibility. Be proactive about positive change. Work out why you are feeling restless or what is causing the feeling of impending drama and chaos.
Changes in your personal appearance or attitude could lead to a brave new path that opens your life to many more possibilities and opportunities. This is also a good new moon to break bad habits or addictions. Doing so would satisfy your strong urge to break free of restriction and assert your independence.
Venus square Mars can cause relationship difficulties because of sexual or competitive tension. Anger, a lack of self-control and impulsiveness could easily exacerbate the unpredictable and shocking nature of Uranus. So if you are already an impatient or aggressive person, try not to lose your temper. If dating, take care not to lower your standards or put yourself at risk because of your impatient lust.
New Moon Solutions
Mercury sextile Mars gives the quick thinking and reflexes needed to react to unexpected change. It can make you driven to succeed at something with a strong sense of purpose and initiative. You can achieve a lot of work in a short amount of time, with the courage and fighting spirit to take on just about anything.
Venus sextile Jupiter brings lucky breaks and helps calm things down. Like Mercury sextile Mars, it also brings charisma and charm to relieve relationship tensions. Most of all, this harmonious aspect fosters warmth, love, and understanding. It brings the prospect of new love and partnerships that will be genuine and mutually beneficial.
New Moon Star
Looking down at a manmade horoscope, the January 24 new moon is in the Sign of Aquarius. But looking up at the natural sky, the new moon is in the Constellation of Capricornus. The Precession of the Equinoxes has moved the Sun Signs nearly a whole Sign out of alignment with the Constellations from which they were named, over 2000 years ago.
Astrology was originally based on observing the effects of the planets related to the visible constellations. So it is Constellation Capricornus that has an influence on the new moon January 2020 astrology. In particular, a star in the left eye of the Sea-Goat named Dabih.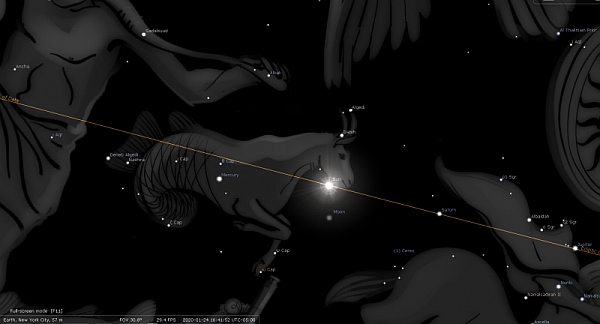 New Moon January 2020 Astrology [Stellarium]
At 04 ♒ 19, fixed star Dabih is only 0°02′ from the January 24 new moon. Morse says Dabih indicates a crisis. And in harsh aspect like this new moon, "more crises than anyone would wish." But it also gives patience, trust and faith, yet with a decisiveness to take the action needed and not fudge the issue. [1]
According to Robson, a new moon conjunct Dabih gives reserve, suspicion, mistrust, loss through friends, trouble through opposite sex, frustrated ambitions, and deserved criticism and censure. But also wealth, success in business, and a responsible public position of trust and authority. [2]
The following paragraph is channeled material about Moon conjunct Dabih within a 0°15′ orb:
This causes extreme emotional problems. These natives have an extreme emotional chemistry. When this position is poorly aspected by the transiting Sun, these persons will become unstable mentally for two or three days as the aspect becomes exact. It is very difficult to live with a person with this degree, as the mental problems become unbearable at times. There is a restricted energy affecting the balance of their emotional makeup and nervous system. They do become unbalanced and are literally insane for short periods of time. Often they remain secluded as they do not relate very well with the public. [3]
New Moon January 2020 Summary
Thew new moon square Uranus suggests unexpected changes and crazy behavior. Fixed star Dabih exacerbates this unpredictable aspect with crises and more crazy behavior.
More than any other moon phase I can remember, the January 24 new moon calls for caution, flexibility, restraint, and common sense. Some people around you are likely to overreact to changes in their lives. But in every crisis, there is an opportunity and there are positives that can be harness from this full moon.
Fixed star Dabih offers patience, trust, and faith. It also offers decisiveness which also comes from Mercury sextile Mars. So trusting your instincts and reacting quickly to changing conditions is the key to navigating new moon January 2020.
Good luck, love, and money from Venus sextile Jupiter are available if you stay mentally and emotionally focused. Wealth and success are also a feature of fixed star Dabih.
The effects of the January 24 new moon last four weeks up to the February 23 new moon. The best time for making a fresh start and for beginning new projects is during the first two weeks of this new moon cycle. This waxing phase of the Moon lasts from January 24 to the February 9 full moon.
If the new moon directly affects your Sign you can read about it in your free Monthly Horoscope. Finally, for more details about how it affects your natal chart see Sun Transits.
New Moon January 2020 Times and Dates
Los Angeles, January 24 at 3:41 pm

New York, January 24 at 4:41 pm

London, January 24 at 9:41 pm

Delhi, January 25 at 3:11 am

Sydney, January 25 at 8:41 am
References
Fixed Stars and Constellations in Astrology, Vivian E. Robson, 1923, p.157.

The Fixed Star Health and Behavior Imbalance, Ted George and Barbara Parker, 1985, p.141.
Source: here
My name is Jamie Partridge and I live on the coast of NSW Australia with three amazing kids. I've had an interesting life so far, with varied occupations ranging from nursing assistant to farm hand.

CrystalWind.ca is free to access and use.
Please support us with a small gift of $11.11 or $22.22 or $33.33.
Thank you!
ॐ Namasté - Blessings!

© 2008-2021 crystalwind.ca. All rights reserved.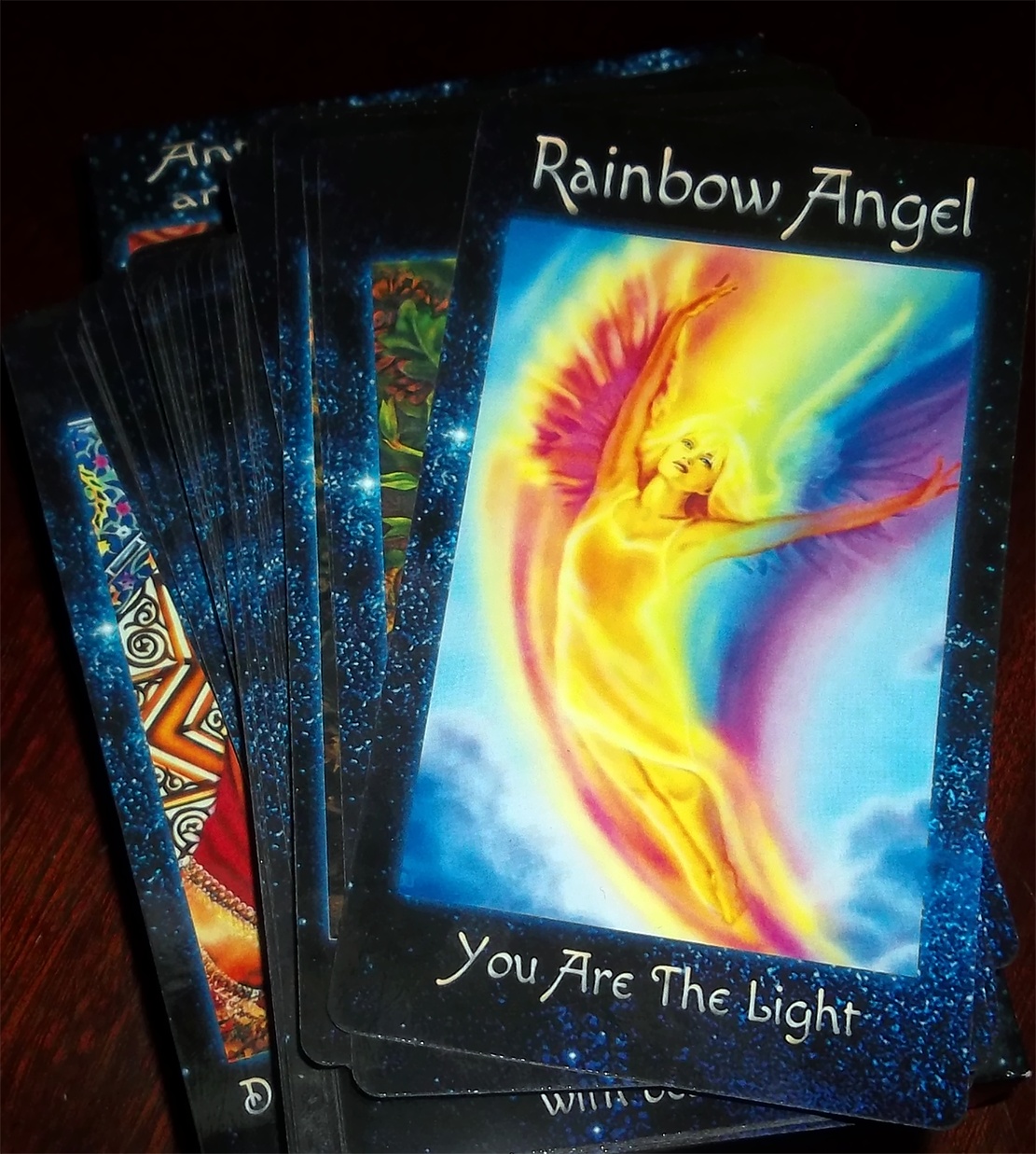 The Crystal Wind Oracle
Myth & Magic Card Deck!
Details Here!
NEW Expanded
Printed & Boxed!
Now with 58 cards!
Who is Online Now
We have 1839 guests and no members online