Category: Intuitive Connections Written by Lynn - Psychic Focus Views: 2341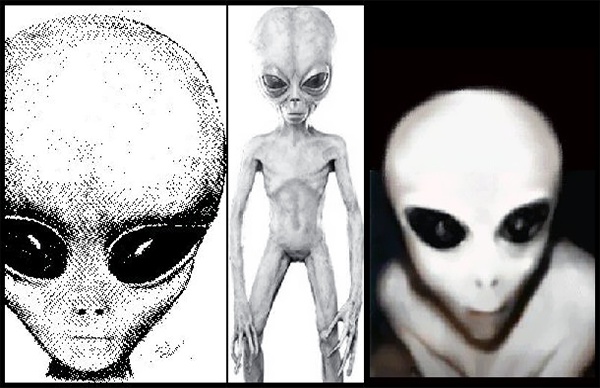 Q, When someone, like myself, decides to do research on "grey aliens" it can become a bit confusing. At first, it sounds simple.. gray, three fingers, with a big head, and big black eyes—but then more information pops up like, tall Greys, white Greys, small Greys, medium sized Greys, and Pleiadian-type Greys. Not only that, some of them have blue eyes (that may be the watchers).
So far I have some of their characteristics written down, but its hard to tell them apart when it comes to pictures. Especially since there are so many interpretations of what they look like online. It can become quite mind boggling. I put together 50 of the most common images of "Greys" and thought it would be neat if you could point some of them out.
I wasn't sure if it would be safe for you to put it out there in the public blog post, but I would personally like to know which one looks like the one who escaped from the observatory?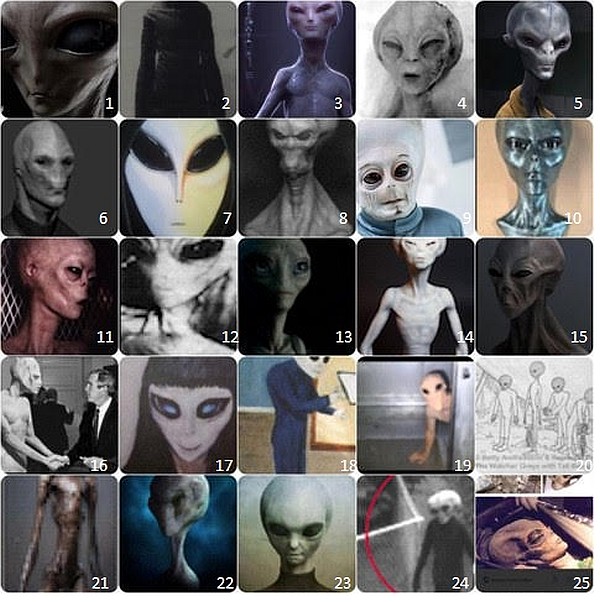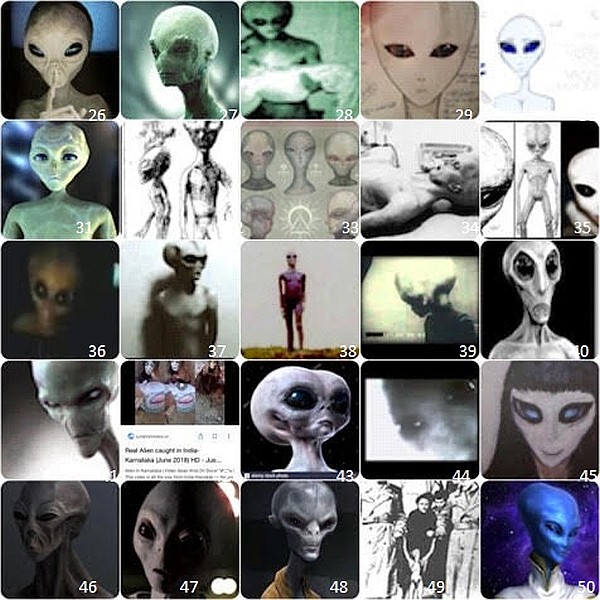 A. I agree it can be overwhelming. I get confused too. There are many variations within the same species, just as humans are all individual. I will point out some of the things that come to me as I focus on these pictures.
#4 Feels very authentic. I get this is an average Grey. The "tall, short, light skin, white, etc" are variations of this main Grey. These feel the oldest, and this is one that feels deceased. I get when they are "mummified" this is how they appear.
#9 Comes across as a fictional character. This looks like something they portray in movies, and lacks intelligence (almost making fun of them).
#12 and #14 Looks like the tall white Greys I see in my mind. They are menacing at times. They do not trust humans, but like to observe them. They are drawn to energy pockets (portals) like moths to a flame.
#13 The Pleadian ones look a lot like this in the face, with a body shape of #37. They aren't just light, the have very white skin that has a clammy texture.
#26 Really jumps out at me. These group is the most intelligent. Most times when I communicate with a Grey, they look [almost exactly] like this in my mind. Ironically, when I get the "sh" sign with a finger to the mouth, it means, "you are done, don't go any further." This Grey feels like a protector, or one that wants to watch out for humans and their greater good.
I get that the Greys that fall in this specific species are very split. Some, like the one I communicate with, are caring. These caring ones, almost feel like rebels and go against the other half of their species. The others within this group are more curious, and involved in abductions to learn about our reproductive system, and how our emotions work.
#30 Feels like a great artist impression of the Greys. Most look like this. Height is the main variable, but the body shape is very similar across the species.
#31 These look like the shorter, green Greys. I've only seen shorter ones that are no taller than 5 feet. They are curious, but not malicious. They are almost like children. They feel very immature.
#35 This pic looks a lot like the shape of the shorter, green Greys. This image feels very realistic.
#36 Also feels authentic. This could pass for a real pic (if it isn't).
#41 and #48 Feel like a fear based image. This would be what is used in propaganda. There feels like a lot of anger behind these pics.
#43 Looks like a child. This is how I see the children looking.
#47 This is what the average Greys looks like. This along with #26 give me the same vibe.
Regarding the observatory, I get it looked a lot like #47 with slightly larger eyes.
And that is all I have for this reading. I look forward to the comments and you sharing your experiences. Thank you. Love and light-
Credit
ITo further support the blog or my video channel, please visit me on Patreon. (Thank you Patrons!)
psychicfocus.blogspot.com
'm a mom of four embracing my 4th decade. I've been doing readings (personal & public) since 2012. My focus includes, but isn't limited to: paranormal, passed loved ones, relationships, remote viewing, and past/future events. I sense things via images, impressions, sounds, tastes, and/or smells. My passion is to help others, seek truth, and provide insight. Feel free to request a Blog Reading topic (BLOG REQUEST tab), or Personal Reading (PERSONAL REQUEST tab). Love and light- Source
CrystalWind.ca is free to access and use.
Please donate a small gift of $11.11 or $22.22 or $33.33.
Thank you!
ॐ Namasté - Blessings!

© 2008-2020 crystalwind.ca. All rights reserved.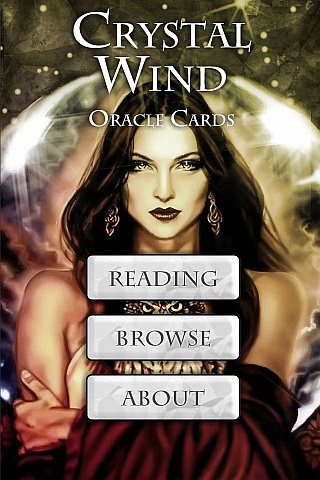 Cut Through The Illusions!
Who is Online Now
We have 1204 guests and no members online