Support crystalwind.ca with your donation and help spread spirituality and positivity.
Blessings!
Category: Oracle Cards Written by And-El Views: 1289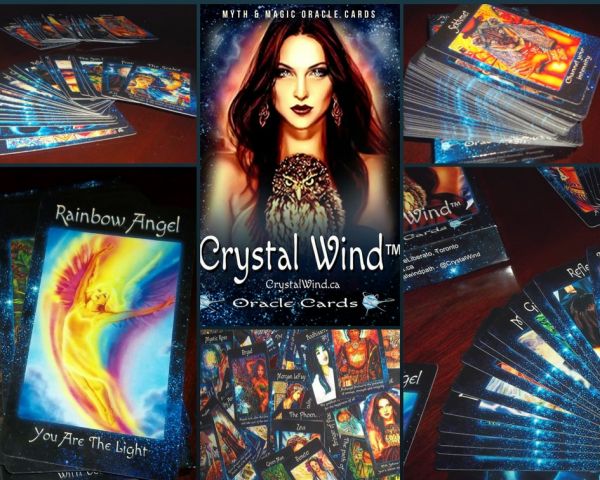 The Crystal Wind Oracle is a popular deck of oracle cards that has captured the hearts and minds of many people who are interested in spirituality, divination, and self-discovery. Created by Antonio and illustrated by Lisa iris, the Crystal Wind Oracle features stunning artwork and provides insightful messages that can help guide you on your spiritual journey.
The artwork on the cards is stunning, with intricate details and vibrant colors. The images are drawn from various mythologies and cultures, such as Celtic, Native American, Hindu, and Egyptian. The messages on the cards provide guidance and insight into different aspects of life and spirituality, helping the user to gain clarity and direction.
Overview of the Deck and Mobile App
The Crystal Wind Oracle Myth and Magic Card Deck consists of 58 cards, each with a unique image and message.
The deck comes with a detailed guidebook that explains the meaning of each card and how to interpret its message. The guidebook also provides suggestions for using the deck in different ways, such as for meditation, personal growth, and spiritual development. The guide includes card layout samples to use with this card deck.
Using the Crystal Wind Oracle Myth and Magic Card Deck involves shuffling the cards and drawing one or more cards for guidance or insight. The cards are then interpreted based on their images and messages, as well as the intuition and experience of the reader.
The Crystal Wind Oracle can help you find your way on your earthwalk journey. With 58 cards to guide you, this Oracle can bring clarity and purpose to your journey by reaching into your soul and asking you to find the answers within. These cards will activate your intuitive capabilities, guiding you to feel and listen from your heart. Follow the guidance of the Crystal Wind Oracle, and purchase your own set of cards today!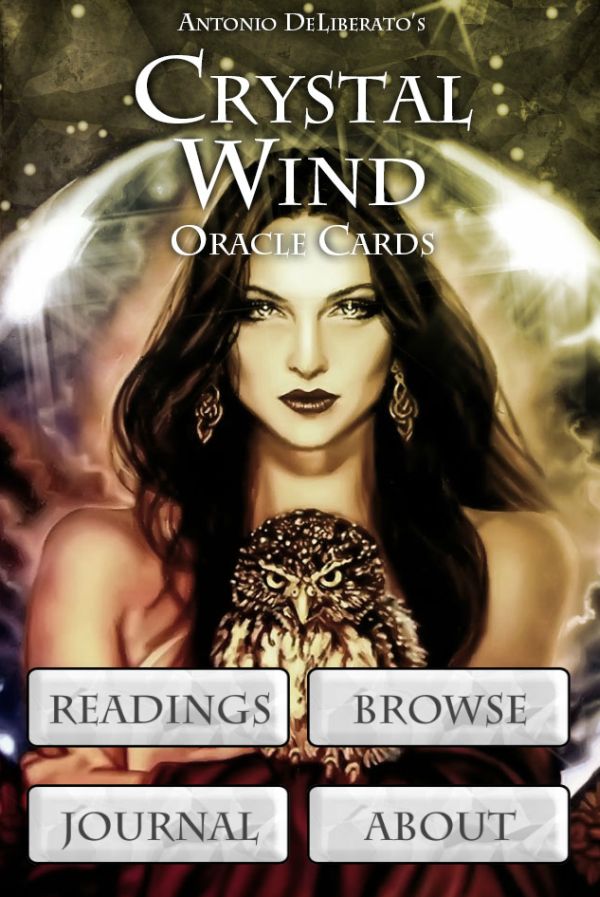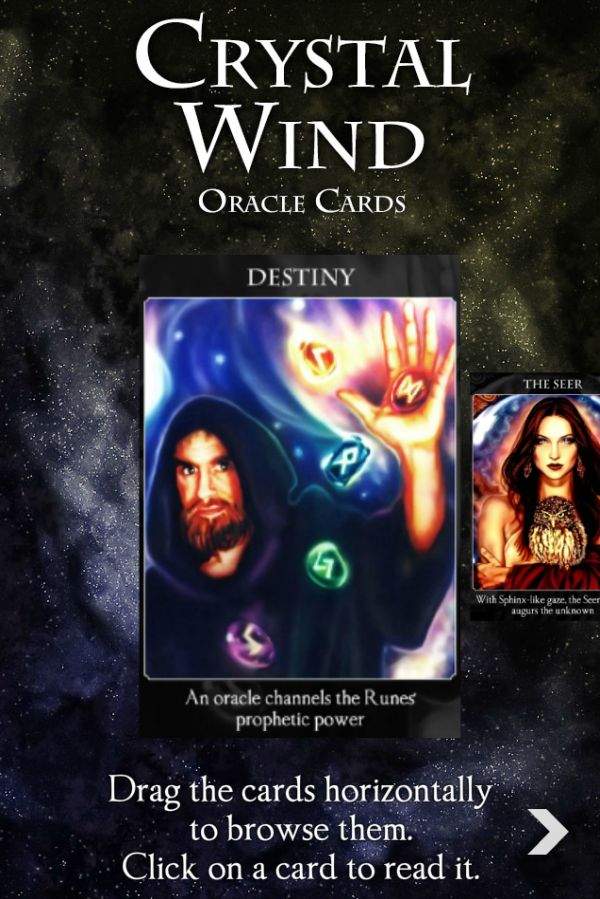 In addition to the physical deck, the Crystal Wind Oracle also offers an app that allows users to access the cards and their messages on their mobile devices. The app is available for both iOS and Android and can be downloaded from the respective app stores.
The app offers several features that enhance the user experience, such as a digital journal that allows you to record your readings and reflections. It also provides daily inspiration with a card of the day feature and a browse feature that allows you to explore the deck at your leisure.
Using the Crystal Wind Oracle Deck:
The Crystal Wind Oracle deck can be used in a variety of ways, depending on your preferences and intentions. Here are a few ideas for how to use the deck:
Daily inspiration: One of the simplest ways to use the Crystal Wind Oracle is to draw a card each morning as a source of inspiration and guidance for the day ahead. Reflect on the message and consider how it applies to your life and circumstances.

Intention setting: Before beginning a new project or endeavor, draw a card to help you set an intention or focus your energy. The card can provide insight into what you need to focus on and how to approach your goals.

Self-reflection: Use the Crystal Wind Oracle to gain insight into your own thoughts, feelings, and behaviors. Draw a card and reflect on how the message relates to your current situation or challenges.

Decision-making: If you are facing a difficult decision, use the Crystal Wind Oracle to help you gain clarity and perspective. Draw a card and consider how the message relates to the decision you need to make.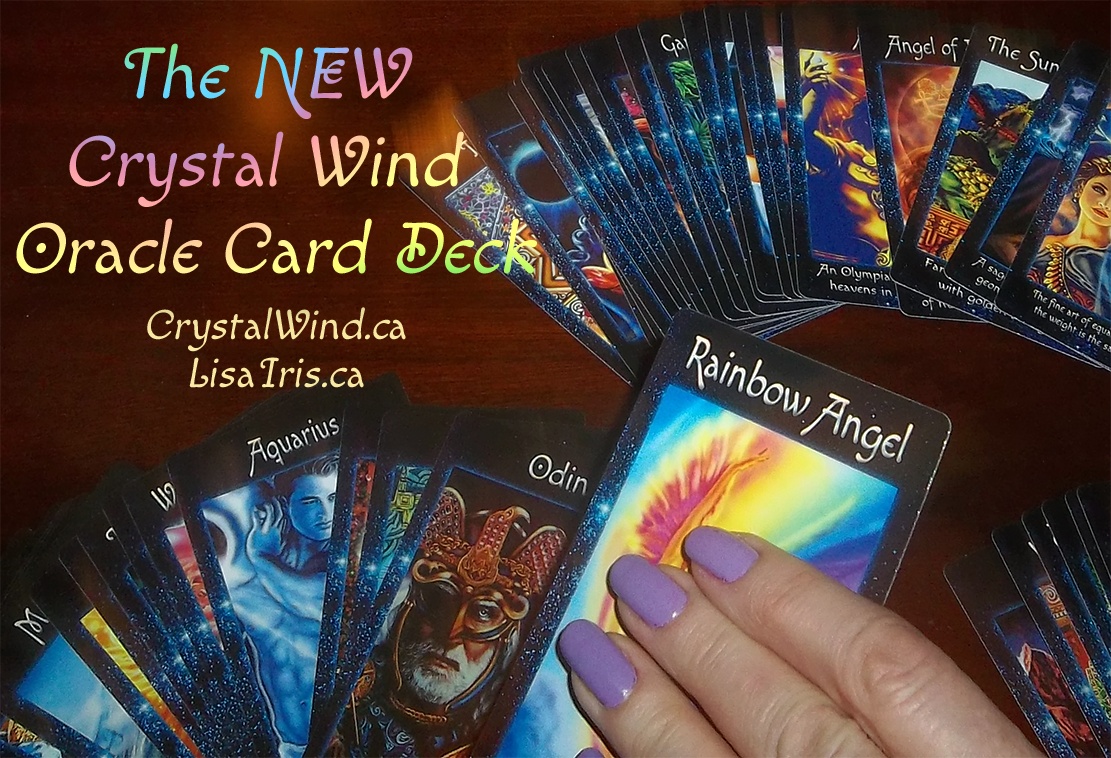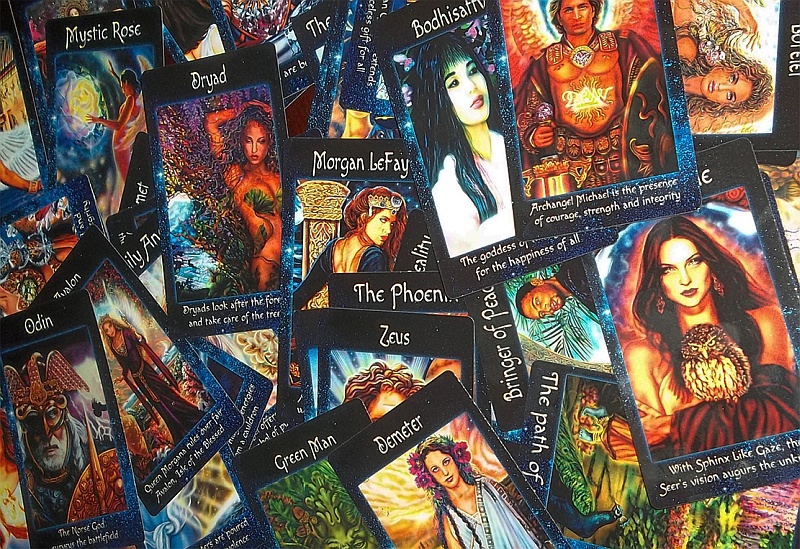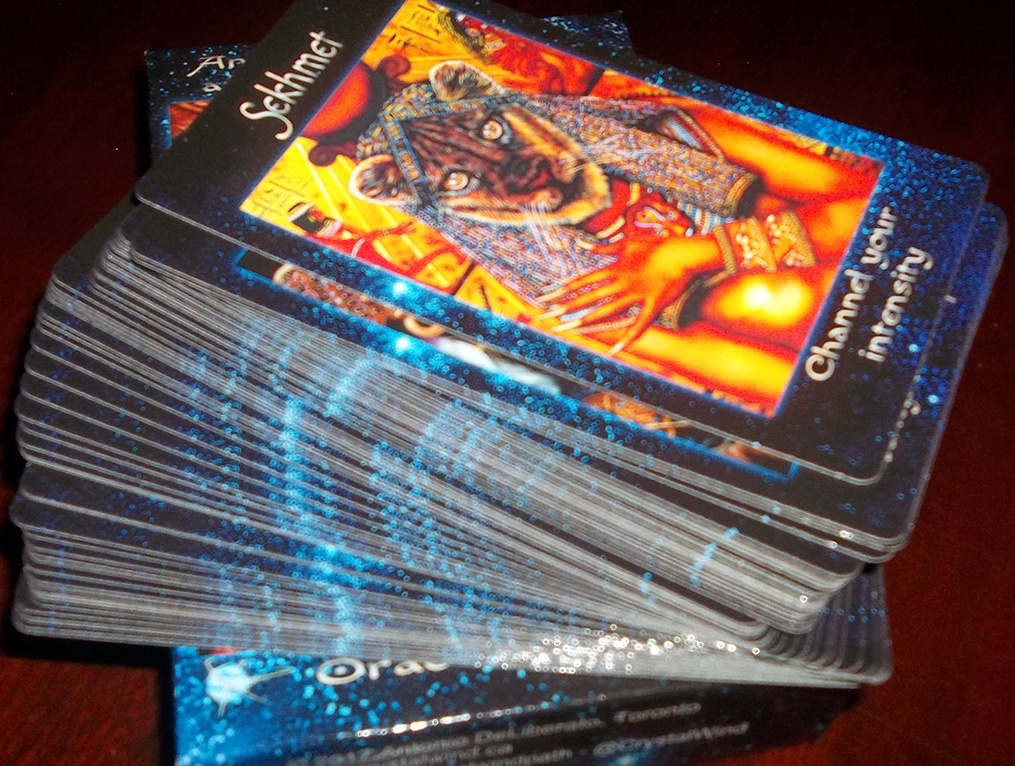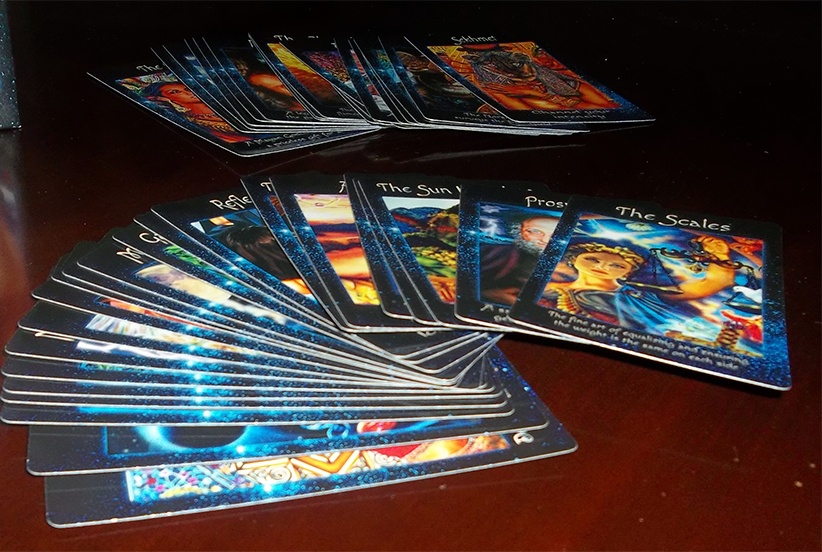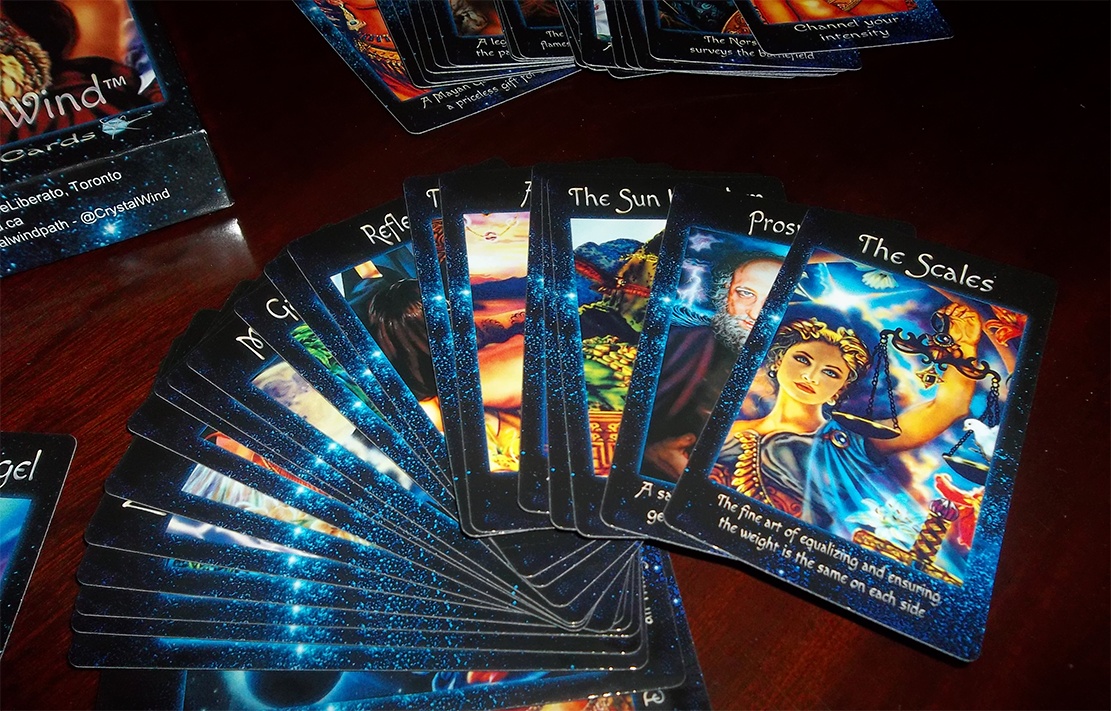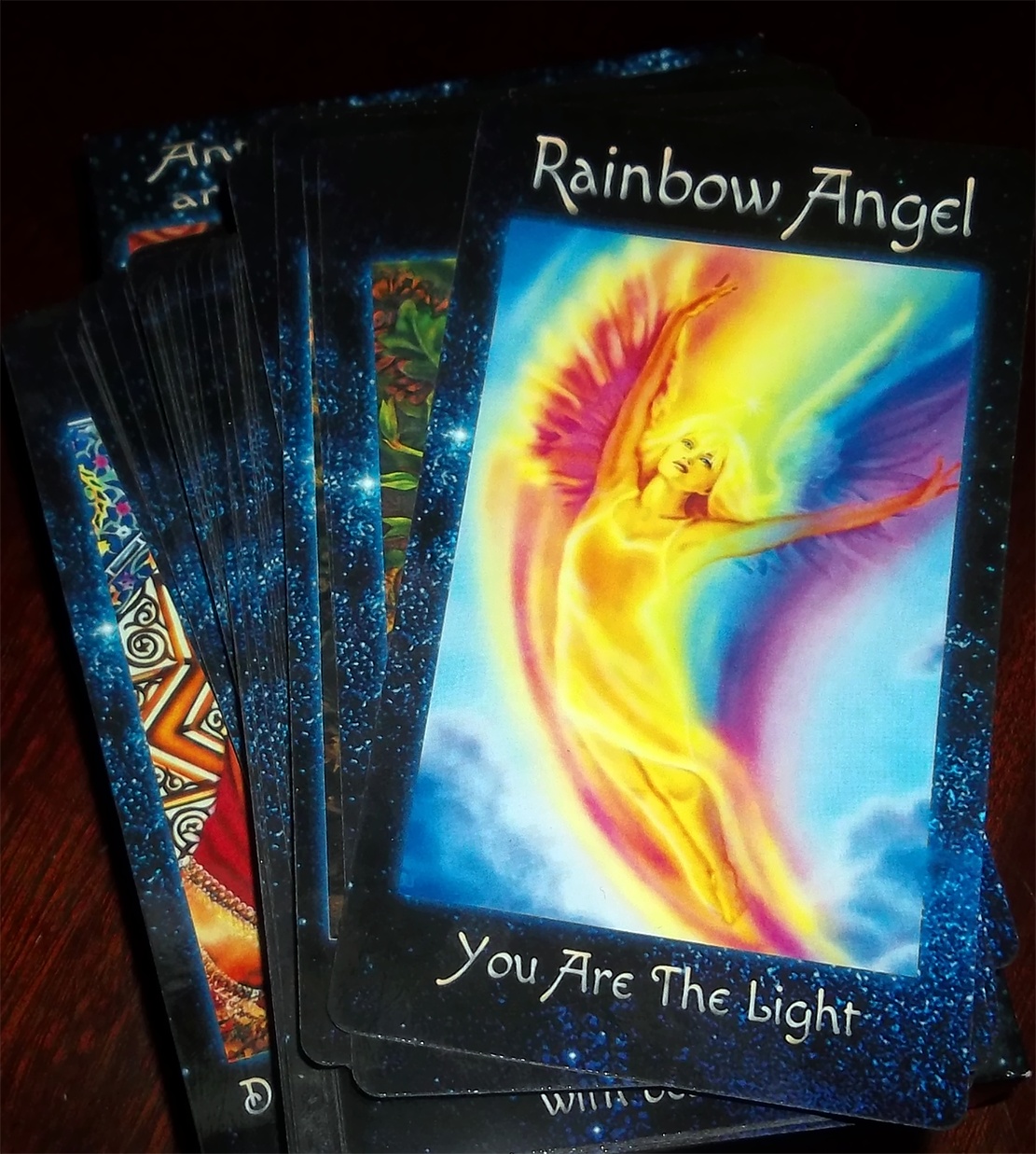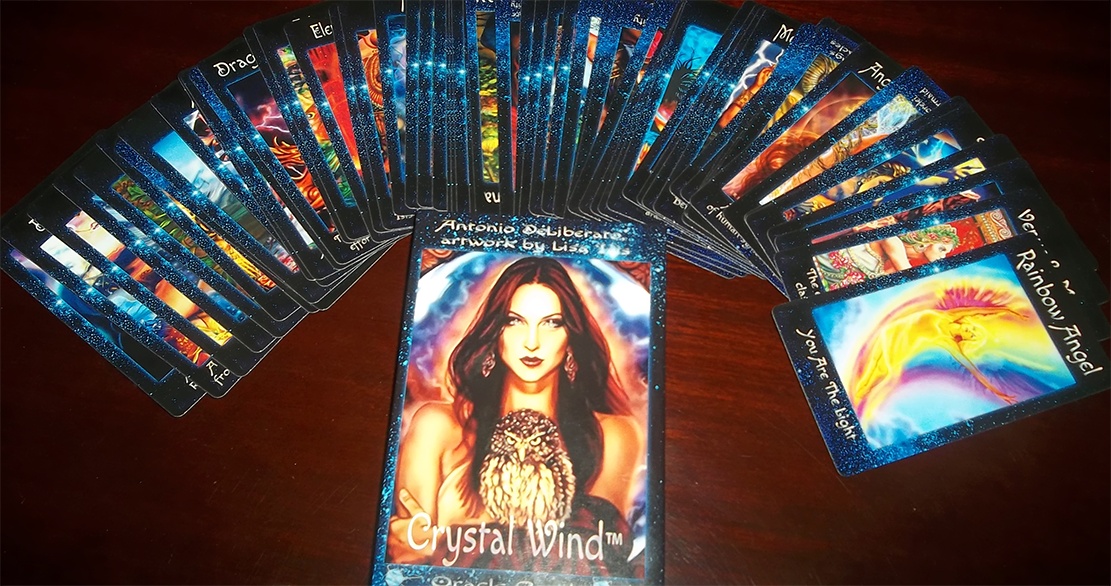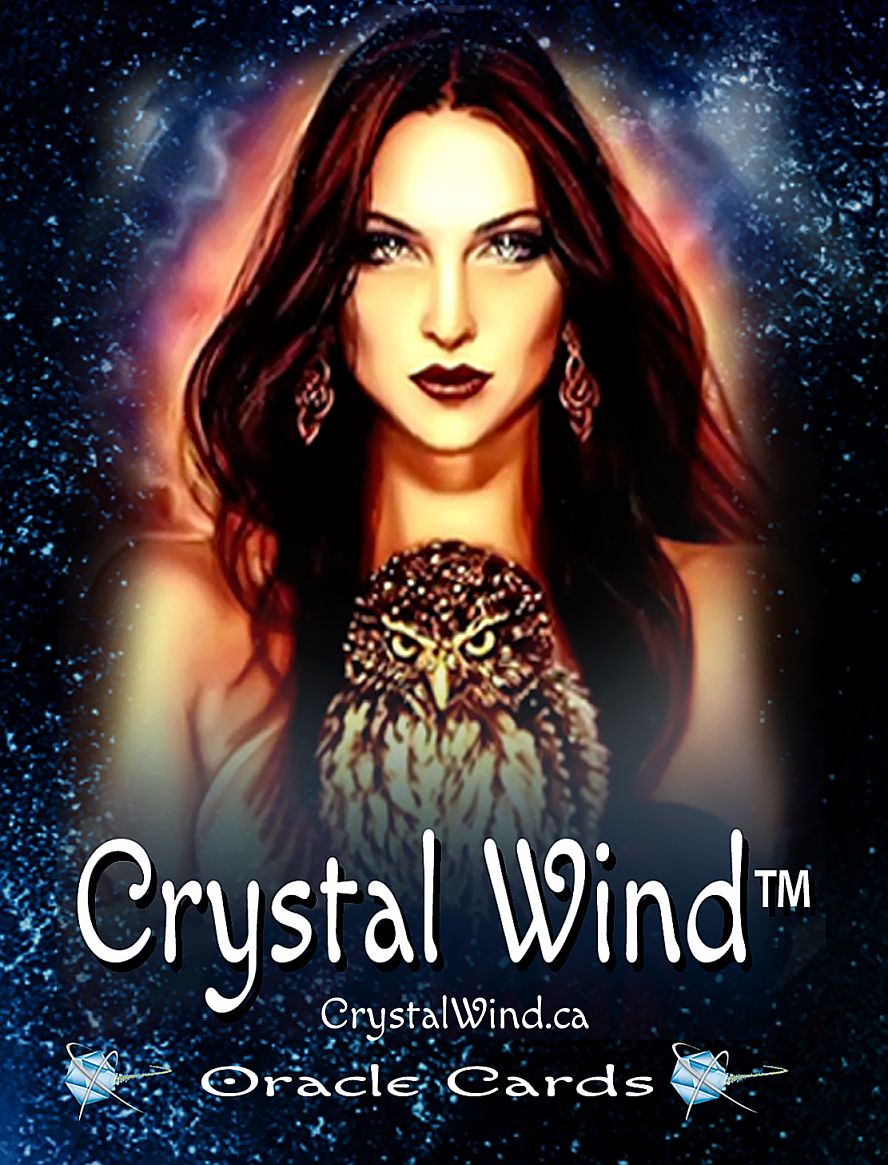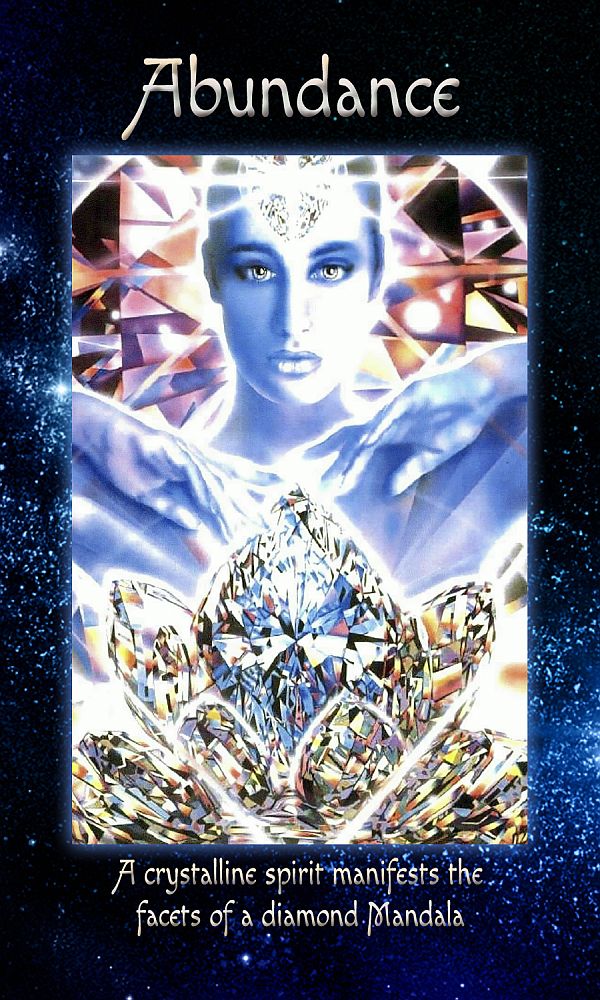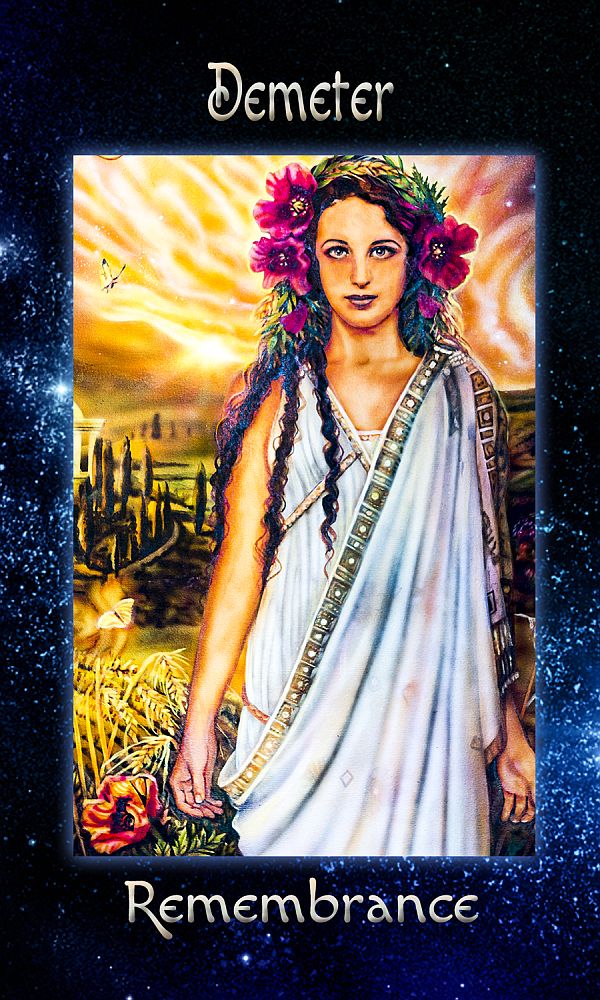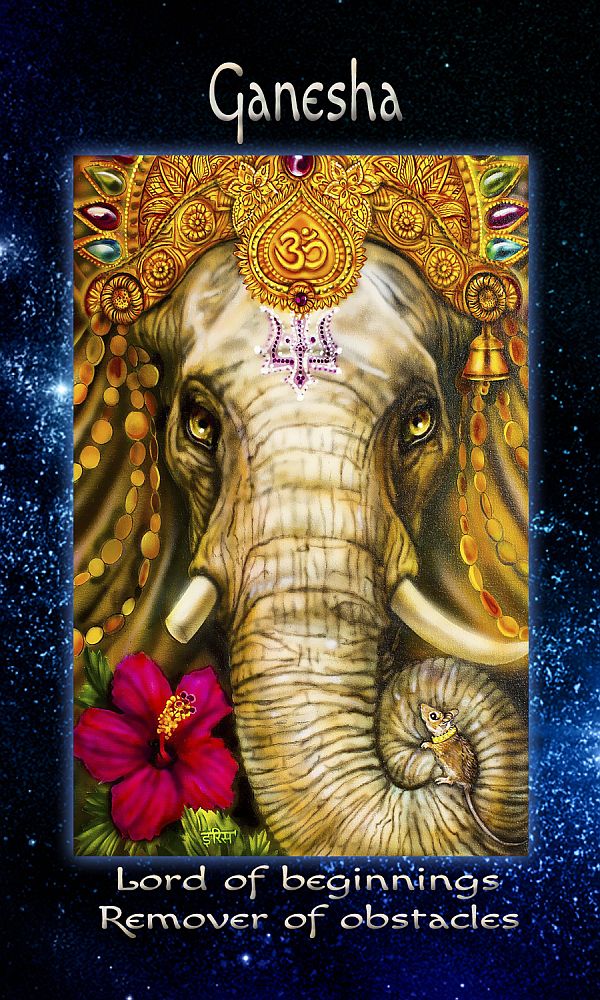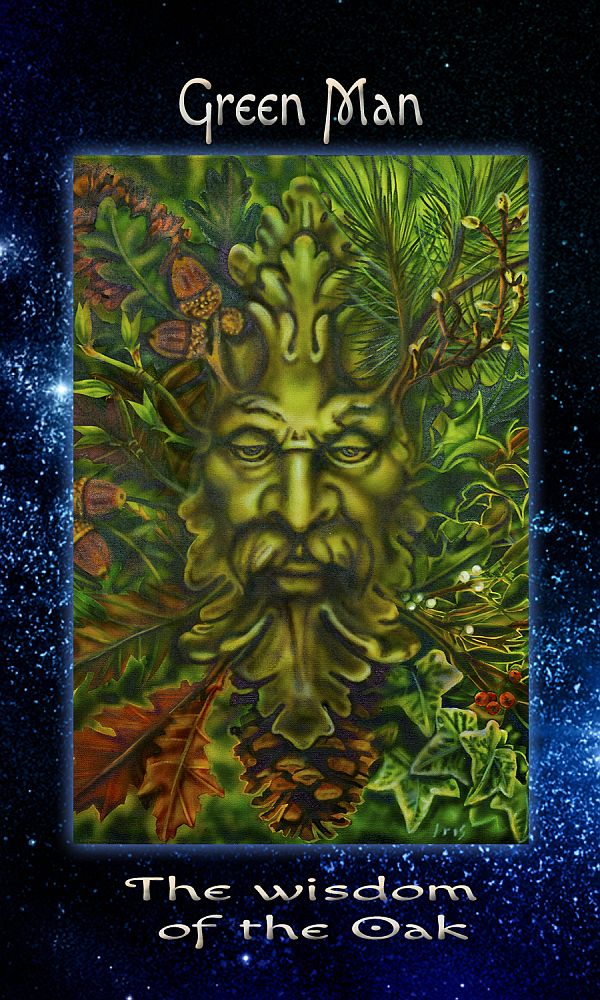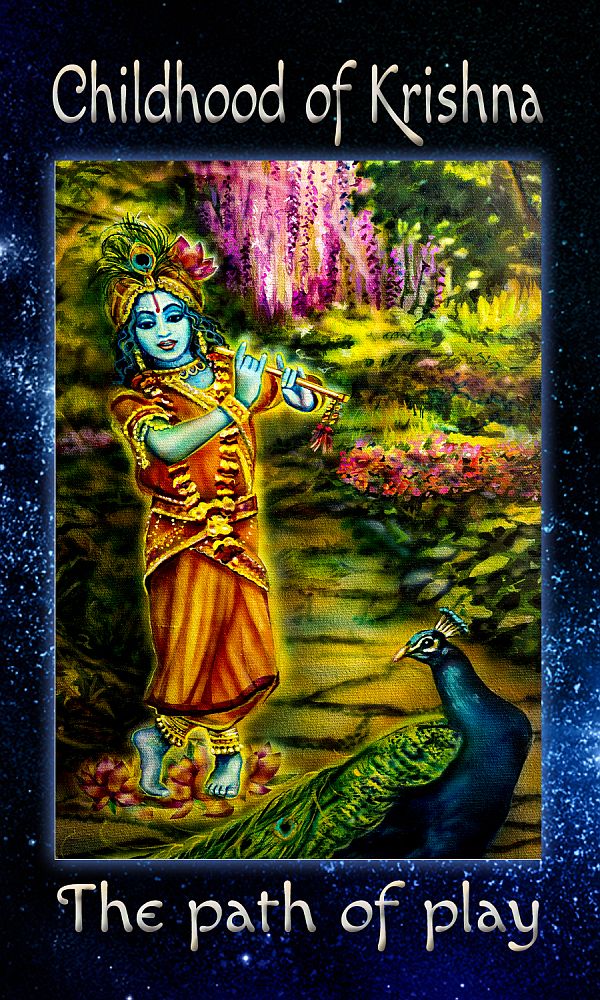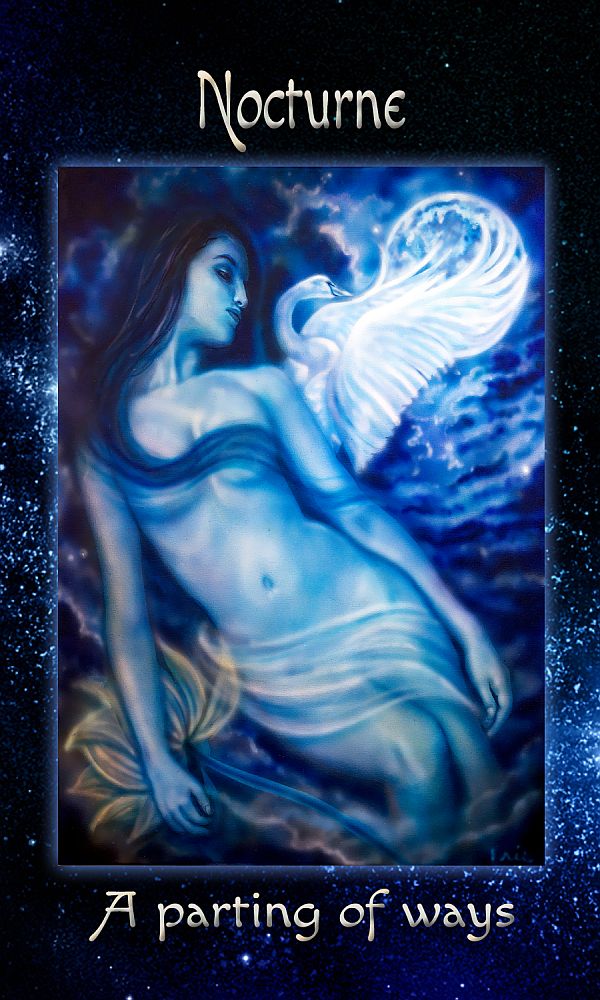 Tips for Using the Deck:
Here are a few tips to keep in mind when using the Crystal Wind Oracle deck:
Clear your energy: Before using the deck, take a few moments to clear your energy and focus your intention. You can do this through meditation, deep breathing, or other grounding practices.

Connect with the cards: Take some time to connect with the cards and their images. Look closely at the details and consider how they relate to the message of the card.

Trust your intuition: When interpreting the cards, trust your intuition and let your inner wisdom guide you. Don't worry too much about following the "rules" or interpreting the cards in a certain way.

Practice regularly: Like any skill, using oracle cards requires practice. Make a habit of using the Crystal Wind Oracle regularly and pay attention to how your readings and interpretations improve over time.
Reasons To Purchase:
Beautiful artwork: The Crystal Wind Oracle Card deck features beautiful artwork that can be inspiring and uplifting. The images can help you connect with your intuition and provide insight into your current situation.
Guidance and support: Oracle cards can offer guidance and support when you are going through a challenging time or need direction in your life. The Crystal Wind Oracle Card deck has been specifically designed to offer messages of healing, love, and guidance.
Easy to use: Oracle cards are easy to use, and the Crystal Wind Oracle Card deck comes with a guidebook that provides detailed instructions on how to use the deck with sample card layouts to help you interpret the cards. You don't need any special training or expertise to use oracle cards.
Spiritual growth: Oracle cards can be a tool for spiritual growth and personal development. Using the Crystal Wind Oracle Card deck can help you connect with your higher self and gain insight into your life path and purpose.
Ultimately, the decision to purchase the Crystal Wind Oracle Card deck or any other oracle card deck is a personal one. It's important to follow your intuition and choose a deck that resonates with you and your spiritual beliefs.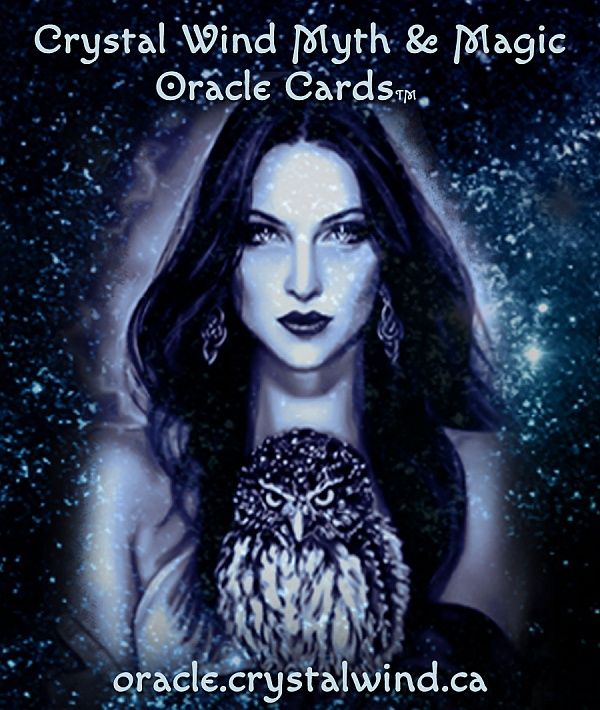 Conclusion:
The Crystal Wind Oracle card deck and app are powerful tools for spiritual growth, self-discovery, and guidance. Whether you are new to oracle cards or a seasoned practitioner, the Crystal Wind Oracle can offer insight, inspiration, and support on your journey. With its stunning artwork and insightful messages, the Crystal Wind Oracle is a valuable addition to any spiritual practice.
---
---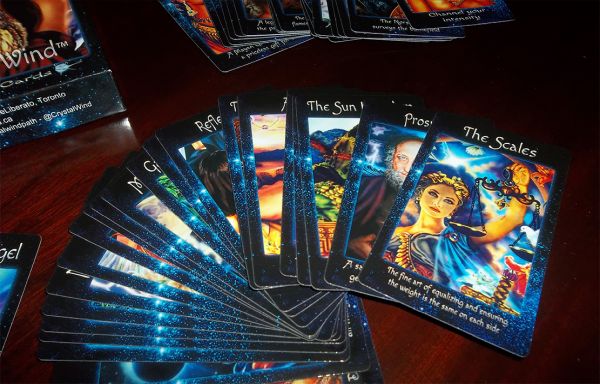 ---
This article is written exclusively by And-El of CrystalWind.ca. Feel free to share exactly as shown in this article. Please share it everywhere!

© 2023 crystalwind.ca. All rights reserved. We track all IP addresses with sniffer technology. Using a Proxy/VPN will not hide your IP address. This post first appeared on CrystalWind.ca.
CrystalWind.ca is free to use because of donations from people like you. Please help support us!
Blessings!
Spirit Animal Totem Of The Day!
Who is Online Now
We have 1032 guests and no members online