Category: Numerology Written by Edith Boyer-Telmer Views: 2062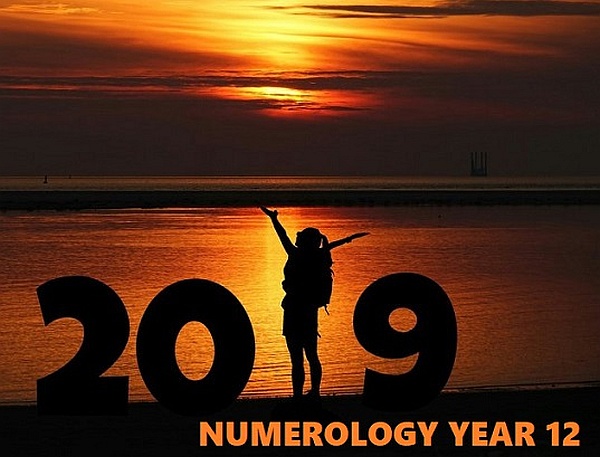 Dear Friends,
I can't believe how quickly this year passed by. We had many intense collective teachings to digest this year, and its not the time now to get lazy, the coming cycle will be just as powerful and collectively transformative as this on was. Since years now, I am sharing reports with you based on the understanding of each years numerology, so lets keep up the tradition and look what this years vibrations will bring for us.
The year 2019 in numerology comes down to the number 12 (2+0+1+9=12), which is on one hand a master number and therefor inviting us to achieve mastery of our personal energies, but it also adds up to the number three (1+2=3) – the vibration of sensitivity for self and others and authentic expression of it.
In a year with the numerology twelve, we can expect to see a lot more successful creative co-operations, focused on transforming human behavior to a more sustainable level for all beings on the planet. We will see collaborations between artists and people in the healing arts, in order to help those painfully effected by the collective transitions on earth. We might see a shift in the pharma industry towards an openness to co-operate with natural healing practitioners. And we have to keep an eye on our politicians, because twelve is also a number that announces the co-operation of political power holder – if that is to the good or the bad of the people, time will show! In any way, what we all will fell stronger this year is that essentially human beings are hardwired with the impulse to share our ideas and the desire to be heard, and in this energy field both will be on the forefront of our attention this year.
Coming together is a beginning; keeping together is progress; working together is success.
Edward Everett Hale

Securing a sustainable future will take all of us working together.
Sharan Burrow

Our world faces difficult challenges, but no more so than in the past. Working together in a constructive spirit, we can assure our children the future they deserve.
Paul Kagame
2019 definitely also holds a huge potential for all of us who seek to reach unity between the divine masculine and the divine feminine forces, to close the circle and find this oneness within our own physical existence. But not only for those who work on that theme since a while is this chance provided, in general all of us are supported to make peace with our former love relationships and, if we wish so – to find a partner that truly fits. The twelve is a number that vibrates with the qualities of true co-operation and finding balance between the forces, inside as well as within the outside world. That allows unconditional love and respect for all beings to settle in, and opens us up for brand new possibilities how to experience our love life.
But I have seen the best of you and the worst of you, and I choose both. I want to share every single one of your sun shines and save them for later. I will tuck them into my pockets so I can give them back to you when the rain falls hard. Friend, I want to be the mirror that reminds you to love yourself. I want to be the air in your lungs that reminds you to breath. When the walls come down, when the thunder rumbles, when nobody else is home, hold my hand, and I promise I won't let go.
Sarah Kay

Men are terrified of a woman's depth of love and the energy that moves as a woman's sexuality and emotions. And, at the same time, men want nothing more in this life than to merge completely with a woman's devotional love and wild energy. Only as a man outgrows his fear can he handle a woman's tremendous love-energy without running. And only such a man is worthy of your devotional offering in a committed intimacy.
David Deidass

She stood before him and surrendered herself to him and sky, forest, and brook all came toward him in new and resplendent colors, belonged to him, and spoke to him in his own language. And instead of merely winning a woman he embraced the entire world and every star in heaven glowed within him and sparkled with joy in his soul. He had loved and had found himself.
Herman Hesse
While we are looking at the meaning of a year with the numerology impact of the vibration twelve, it also makes total sense to look into the guidance we can receive from studying the angelic number sequence of 12:12, which has been showing up already quite often over the past few weeks.
Angel Number 1212:
Number 1212 is caring the vibration of creation and new beginnings, courage, attainment, inspiration, self-leadership, assertiveness and initiative. It is the message from your angels that you are to stay focused on your highest aspirations, and that the angels and universal energies work for you. It is a powerful sign that you are to step out of your comfort zone and take on a new direction, new relationship or new project. This vibration is supposed to encourage us to release the old, to passionately follow our purpose, use our natural skills talents and abilities, and to create win / win situations with others.
The awakening is finally realizing that you are a part of God, like a single cell that finally sees it is a part of you.
LJ Vanier

When we least expect it, life sets us a challenge to test our courage and willingness to change; at such a moment, there is no point in pretending that nothing has happened or in saying that we are not yet ready. The challenge will not wait. Life does not look back. A week is more than enough time for us to decide whether or not to accept our destiny.
Paulo Coelho

Growth is never by mere chance; it is the result of forces working together.
James Cash Penney
Last but not least it is worth to mention the meaning of the number twelve adding up to a number three in the system of numerology. As a master number the twelve is representing the vibration of creative co-operations in balance. Teachings around those themes are the most important things we will collectively learn this year. But not only will we be influenced in the mentioned layers of our lives, we will also have the chance to develop higher emotional awareness and profounder authentic expression, through the impact of the number three.
Dear ones, personally I am already very excited about the amazing innovations and powerful co-operations that we will see growing on planet earth in this numerology year twelve. I hope you will all find your personal way of expressing creative authenticity this year and that it will be a playful experience for you. I wish you all fun and lots of inspiration for the coming year!!
Love and Blessings
Edith
My education of mindfulness – of awareness and spiritual guidance includes:
Breathing Techniques and voice training, variations of Meditation, Mental training by K. Tepperwein, intense training in Hawaiian Huna shamanism, intense training in Native American shamanism, training in Tantric life approach including sensitivity training for rituals of the physical body, Family Constellation work by B. Hellinger, the Creation of Healing Space, Holding Space for Ceremonial work, the Ascended Masters Teachings and the Ayahuasca spirit.
I am a highly intuitive channel for divine guidance and path, with a trained healing voice.
Edith Boyer-Telmer
Source
CrystalWind.ca is free to access and use.
Please donate a small gift of $11.11 or $22.22 or $33.33.
Thank you!
ॐ Namasté - Blessings!

© 2008-2020 crystalwind.ca. All rights reserved.
Featured Articles: Numerology
Number Sequences from the Angels

Open or Close

by Doreen Virtue, Ph.D

The angels do their best to get our attention and to communicate with us. In this way, they help us heal our own lives. However, we often discount the signs they give us, writing them off as mere coincidences or our imagination. The angels say: "We can't write our messages to you in the sky. You've got to pay attention and believe when you see any patterns forming in your life — especially in response to any questions or prayers you've posed. When you hear the same song repeatedly or see the same number sequence, who do you think is behind this? Your angels, of course!"

Read More

The Esoteric Significance Of Numbers

Open or Close

The following summarizes the beliefs of some modern numerologists. Note that there is no scientific or mathematical evidence to show that numbers exhibit these properties.

Note also that the association of various meanings to specific numbers in the time of the European Renaissance, when numbers were worked into the detailed fabric of musical, poetic, & architectural artifice, was both far richer and far more precise than the modern summaries offered here.

Numbers one to nine are used in present-day numerology to determine character analysis and predict upcoming trends. Other numbers are thought to carry vibrational influences which must also be taken into consideration, as must also the connection of astrology, numbers, and locational addresses, e.g. "Seven Star Road."

Read More

Finding Your Personal Year Number

Open or Close

Here is a formula for finding your Personal Year Number:

To find your Personal Year number, add the month and the day of your birth, plus the Universal Year number. (This formula will work for any year by using the universal year number of the current year and adding up those numbers accordingly, i.e., for 2018 the Universal Year number is 11=2; 2+1+8=11=2)

For example, someone born on May 15 finds his or her Personal Year number by adding 5 (May) plus 6 (the fifteenth day) plus 2 (2018) to arrive at a Personal Year number of 13 ( 5+6+2=13), which is reduced to 4.

Read More

What's Your Number? What Your Phone Number Reveals About You

Open or Close

If you're interested in numerology then you know that numerology would say your house number exerts a huge influence on you, just like your birth number. But what about our phone numbers? We can say we choose the day we incarnate in order to experience a certain life path and its lessons. The same goes for where we live. Many people believe that houses 'choose' their occupants. The energy of a house contains certain experiences and events and the house either wants you to experience that energy – or not. So, where does this leave our phone numbers which are after all, usually randomly assigned by the phone company. This is where synchronicity comes in. Our phone numbers can often reflect our communication energy or what we need to know about communication style. Often spooky synchroncities can be revealed when we work out our phone's 'communication number' as this can often be the same as our birth or life-path number.

Read More

Your Life Path Number – Discover Your Destiny

Open or Close

Your Life Path number is similar to your Sun Sign in astrology.

It reveals your life's purpose including your gifts, challenges, and abilities as well as your talents, inner drives, and how you experience your emotions . It can also help you discover why you have experienced some of your life's circumstances. What are you meant to learn is often what is most challenging for you and is where you have the greatest potential. Each number vibration has a range of energies. We often start out experiencing the challenge of each vibration until we overcome those obstacles and manifest the higher vibration of the number. Here is how to discover your life path number and what it means.

Read More

Numerology for Your Address – Is Your Home Happy for You?

Open or Close

House numerology can affect your well being. Since numbers are vibrations, your address sets the tone for your entire living space. You want to make sure that your house or apartment number is compatible with you and the others living there, as well as create an energy that is conducive to your lifestyle.

Although your street address, building address, and zip code certainly have an impact, the most influential number for your well being is your house or apartment number, since that is what is most personal to you.

Read More

Your Name Number Is Your Destiny

Open or Close

Numerology

Numerology is the study of numbers and the divine, mystical meanings they may have. There are many different systems of numerology to predict and determine many different things.

Once thought of as a math and science, numerology is now seen as an occult study, used for astrology and divinatory arts.

Read More

What Does Numerology Predict About 2020?

Open or Close

Humans have been trying to predict the future for centuries. After all, having the ability to understand what we can expect in the year or years to come can help us to prepare. Even 500 years later, people still look to the predictions of the 16th-century prophet, Nostradamus, and try to interpret what his readings meant. The British psychic, Craig Hamilton-Parker, recently interpreted Nostradamus' writings, saying that in 2020 there will be war in the Middle East, and Trump will be re-elected for a second term; however, there will be also be an assassination attempt. Whether these events actually come to pass remains to be seen, one of the most interesting ways of making predictions about the future is by applying numerology. It is something you can do at home and make decisions on your life as you move into 2020.

Read More

Cut Through The Illusions!

Who is Online Now

We have 939 guests and no members online
X
Right Click
No right click