Category: The Ascended Masters Written by Pamela Kribbe Views: 1347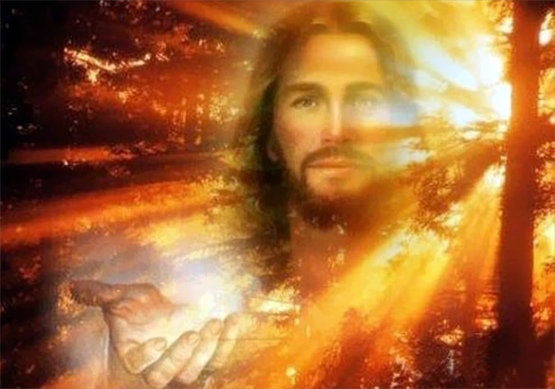 Dear friends, I am Jeshua. I greet you all from my heart. It gives me deep joy to connect with each of you in the here and now. Feel how space and time fall away, how we meet each other, soul to soul, in a dimension beyond the material, beyond the definitions of space and time. We meet on the inner level and I invite you to be here with me.
You are infinitely precious, each one of you: the way you are here and now, with the particular qualities you have, the body in which you dwell, the personality that belongs to you. But within that "you-ness" is contained something else, something which transcends all that: it is your soul. Feel your soul, which is also participating in other realities, whose consciousness extends far beyond the earthly, yet still wants to be here on Earth through you. Feel your soul, for a moment, as a field around you and become aware of that field.
Between the earthly and the heavenly are all kinds of layers – levels of materiality – some very rarefied and ethereal, and others very visible and tangible. Feel your body from within. Your body is built from material elements of the Earth, so feel how solid and tangible it is; feel its immediate physical presence.
It is important to experience your body as a haven, as something in which your soul can live and in which you are safe. Receive your body joyfully and without judging it in terms of health or illness, beauty or self-image; receive it purely as the haven through which your soul's energy flows and is grounded. See your body as part of your soul, and not simply as a thing separate from you, but as illuminated and quickened by your soul. When you experience your body consciously, you feel lighter and you seem to become more fluid. You are not only your body, but it is a part of you.
By accepting, from a stance of gentleness and admiration, what your body brings about, and by appreciating everything your body does for you by way of sensations and energies, you raise your body from simply the material to a more ethereal level. And the body becomes happy because of that! Matterwants to be illuminated by consciousness, by love. Imagine that you become aware of all the cells of your body, and you greet them with warmth.
Then become aware of who is doing this, who it is that regards the body and receives it with warmth and appreciation. Feel that consciousness – it is your soul. Become aware that your soul is much greater than your body. Do you see a color or sense an energy when you do this? Direct your attention from your body – although still hold it in an embrace of love – and become your soul. Sense those other dimensions that you are, those that vibrate on a different level of existence than the physical. Maybe you can see yourself appear as a sphere of light or as an angel. Allow a form to appear that suits you, one that represents your soul, that great field rich in experiences from many lives, the wisdom you carry within you, the depth of your feeling. Call that up and let your soul figure appear before you, and enjoy it.
Remember who you are, the grandeur of that. Recognize that figure and allow it energetically into the here and now, and let that energy flow through to your heart. The heart is energetically the gateway between the soul and the body, and if you allow your soul energy to enter your aura or energy field, notice that you become more expanded and take up more space. Let that happen, but do not be concerned for you are not limiting anyone else by your doing that On the contrary, when your energy field – your body and being – is filled with the light of your soul, you become a delight and inspiration to others. It is not a competitive energy, but rather one that desires to inspire and awaken, an energy that takes pleasure if others do it, too.
When your soul unites with your body, and that very subtle, ethereal level connects with the earthly, sense how that connection can translate into practical ways. Know that it is very important in daily life to keep in touch with this reality, this vibration, this higher part of yourself, and to allow that energy to literally come down and merge with your body and the physical, earthly level.
The next step is to allow that inspiration, that connection with your higher self, to flow into your actions and out into the world in practical ways. But for many of you, when you attempt to do that, the following then happens. Parts of you want to connect with your soul, those parts that are highly developed and want to go along with the vibration of the celestial spheres, but other parts of you become frightened when it comes to setting down that energy on to Earth and among people. You see in the world around you that there is seldom much acceptance for that stunning and unique soul energy.
Look at the fields of work, education, and medicine on Earth, and you will see that the concepts which still reign here are concerned with planned structures and theories based on the mental and the rational. Often, the only thing that comes into consideration is the material level, a bleak and barren idea of what it is to be human. Everything is about how dangerous life is, about survival, struggle, and dividing resources such as money, power, and abundance. Diseases are considered dangerous and therefore need to be restrained, and even life itself is a flow that must be tamed – so at that level, there is struggle. Strong emotions and feelings, deep inspirations and visions, are often dismissed as strange, weird, or hysterical.
In your society, from the bottom up, there is a huge need for inspiration from unique individuals who live from an inner fire and who can no longer adapt to the existing order, because that order no longer fits their needs. More and more individuals feel suffocated, literally, by the existing framework; they can no longer stand it. You see that especially in the generations of children who are now appearing on Earth. They can no longer tolerate that kind of suffocating existence, even on the physical level. They cannot be forced into a straitjacket, which the older generations were able to do.
In this way, change occurs on Earth where it becomes ever more necessary to integrate the soul's energy into life. It is no longer a luxury to deepen that energy through meditation and leading a spiritual life. No, it is the mission and vocation of every human being to connect with their soul and to start living from inner truth, because the alternative is no longer viable. On an individual level, people become burned out or frustrated, discontent or depressed, and on a general, societal level, the result is profound problems in dealing with nature and with the resources of Mother Earth. On all fronts, it is now clear that it is necessary to start living differently, from a source that can not be defined by the purely material
Matter and the material have an important value: it is the form in which the soul wants to express itself. But if life becomes fixated only on the forms – the external – then the forms become impoverished and life is a struggle in which no one will experience sense or meaning. That is why welcoming the soul into your life can not be an extraordinary act, but has to become an ordinary act: an everyday, normal part of education and life. Then the soul becomes the source of endless creativity and abundance that more and more people at all levels now crave.
You become a lightworker when you feel the urge to act and live from your soul, your heart, and from what really inspires you. You become a lightworker when you live from what lifts you above the banality of having to struggle and survive, instead of by fear and by having to pretend to be someone you are not. You can call it being a lightworker, or any other name you prefer, but what matters is that, as a human being, you feel called so strongly to respond to the voice of your soul that you can no longer not do it – you know you can no longer adapt to the old way of being. That means you transition to a heart-based consciousness; that you take a decisive step forward to where you can not turn back.
This being propelled by a heart borne consciousness is accompanied by peaks and valleys in your life, because there are times when you face deep fears of letting go of the old. The old can be extremely upsetting, yet there can still be a huge fear of the new, the undefined, that which is uncertain. The inspiration, thoughts, and ideas you receive from the essence of your soul sometimes seem to get crushed under that old way of seeing and reasoning that is still prevalent in many parts of society.
How do you give form to the voice of your soul and remain true to it in everyday life? By feeling the power of your soul; by literally feeling it flow through you. Feel how the Earth and life on Earth craves for inspiration. The moment you choose that inner path of making the connection with your soul, you are really being true to yourself and you dare to be different in an environment where the voice of the soul is not yet heard. When you feel you have heard the voice of your soul, that does not mean you are better than other people. You simply know you are on a path that is, for you, your deepest vocation, a path from which you can not stray. It is a path you have to keep believing in, even when you are judged and rejected by external factors, or from within by voices you have absorbed from your parents or your surroundings.
I call on you to feel the power of your soul and to see the weakness of a life based on fear and struggle, and on hiding yourself. If you hide from the brilliance, the power, and the creativity of your soul, you become unhappy. But you can no longer go back to the old, because you no longer fit in, so you can only move forward. Remember that voice, time and time again, and dare to allow your light to shine. And you do that in the simplest ways: by what you say, by who you are, by what you emanate.
Everything has a vibration. A body in which regular contact is made with the soul, with the origin that enlivens and animates the body, has a different vibration than a body that is plagued by fear or negative feelings. If you are comfortable with yourself, and you appreciate yourself for who you are – your source, your uniqueness – this emanates toward others even though you say nothing to them. Who you are and what you transmit with your eyes and energy field will be seen anyway, wherever you are. Actually, you can never be really invisible, your energy is there, it can not be undone.
The more you dare to touch your earthly being with your soul, the more will it have an outward impact, and you will live your life differently, no longer attached to things that do not nurture you or agree with you. You become more powerful both in what you want and in what you do not want. Your soul becomes more visible to the outside world, and because of that, your light shines more strongly. Always be aware that this light invites other people to believe in themselves and to also begin to radiate their uniqueness. The light of your soul is not competitive or combative.
Finally, look at a situation in your daily life in which you feel you withhold your inner light, in which you keep yourself back and do not allow yourself to be seen. What would happen if you allowed your light to be seen? If you were completely relaxed in the situation and did not hold back your light? If you did not contain yourself, but would allow yourself to be more spontaneous? What would you say and do? Realize that if you allow your soul's energy to enter into your humanity, you are going to express your feelings in plain, honest language, and that is not always what is called "politically correct".
You can sometimes feel it very spontaneously: "No, I don't feel like it; no, I don't want to do this". It is also important to express these feelings in relation to others and to be very clear where your boundaries are. The soul's energy works by its true nature, as does the child in you who has clear feelings about what it does and does not want. It is when you allow that higher vibration, that rarefied energy, to manifest that you become very human, that you make use of the language of your emotions, of your inner child.
Do you trust it? That energy comes from within, it is real! Then you become spontaneous in the purest sense of the word, because you are then listening to your feelings and giving expression to them. And when you do that, you give the other person space in which to express their feelings, while you stay true to yourself. You do not accept being fitted into a mold that does not suit you.
It is the deepest desire of your soul to be here and now through your earthly body, and to be expressed and visible through everything that is earthly. Your soul wants to embrace the earthly life, to make of it something pleasurable and new, and to give off sparks of consciousness on Earth. This can be a source of joy, and although you also go through fears that hinder you, always take a step forward – dare to do it. In fact, you can not go back. When you experience the power of your soul in your daily life, you essentially feel that you are being carried forward. The light wants to express itself and knows how, if you dare say "yes" to it.
Thank you for your presence and for this being together that I feel deeply within my heart.
© Pamela Kribbe
Translation by Maria Baes and Frank Tehan
Pamela Rose Kribbe (1968) works as a psychic reader and healer in her own practice in Tilburg, the Netherlands. She obtained her doctorate in the philosophy of science in 1997, after having studied philosophy at the universities of Leiden, Nijmegen and Harvard (U.S.).
Permission is granted to copy and redistribute this article on the condition that the URL www.jeshua.net is included as the resource and that it is distributed freely. E-mail:
---
CrystalWind.ca is free to access and use.
Please support us with a small gift of $11.11 or $22.22 or $33.33.
Thank you!

ॐ Namasté - Blessings!

"Life is an echo, what you send out comes back."
© 2008-2021 crystalwind.ca. All rights reserved.
Spirit Animal Totem Of The Day!
Lightworkers Will Change the World
Featured Articles: Ascended Masters
Ascended Master Serapis Bey

Open or Close

Serapis Bey is from the realm of Bey, hence the name, wherein is His dwelling place. He is the great disciplinarian known through the centuries for the action of strict discipline. Real discipline is not stipulation over another which would thwart the innate progress, but instead it is a holding in check the human qualities so that the inner or Real Self can have expression. This is very essential to the attainment of the Ascension which is the culmination of all embodiments.

Who was Serapis Bey

He came as a guardian to Earth's evolutions, and took physical embodiment as many did. It is said that He came from Venus. His inner service is in the Fourth Sphere and He works with the Christ Selves of the unascended life-streams there.

The Ascended Master* Serapis Bey is the Chohan of the Fourth Ray.

Read More

Connecting with The Ascended Masters

Open or Close

Decide the name of the Ascended Master with whom you wish to connect with before going into the Master Chamber.

Please close your eyes and begin taking deep breaths of Archangel Metatron's golden energy when you are relaxed continue by saying this prayer:

Read More

Comte Saint-Germain

Open or Close

Comte Saint-Germain: A Man Beyond His Time

Many average, reasonable men can conceive wisdom only under the boring form of a sermon and think of the sage only in the semblance of a clergyman. For such men prudery, hypocrisy, and the most abject enslavement to ritual habit and prejudice must be the everyday virtues. When therefore it happens that a genuine sage, by way of amusing himself, mystifies his contemporaries, follows a woman, or lightheartedly raises his glass, he is condemned eternally by the army of short-sighted people whose judgment forms posterity.

Read More

The Violet Flame

Open or Close

FOR CENTURIES, alchemists have sought to change base metals into gold. But the transmutation of metals like lead into gold is symbolic of a higher and more noble alchemy -- the alchemy of self-transformation.

SELF-TRANSFORMATION was the goal of the most spiritual of alchemists. They sought a way to change the lead of negative human energy into the gold of divine energy, and some of them achieved this by using the violet flame. But first, let's explore what the violet flame is, what it does and how it works.

Read More

Saint Germain & The Pillar of the Violet Flame

Open or Close

More than fifty thousand years ago, a golden civilization thrived in a fertile country with a semitropical climate where the Sahara Desert now is. It was filled with great peace, happiness and prosperity and ruled with supreme justice and wisdom by Saint Germain.

As the High Priest of the Violet Flame Temple on the mainland of Atlantis thirteen thousand years ago, [13=4=4th dimension=time] Saint Germain sustained by his invocations and his causal body a pillar of fire, a fountain of violet singing flame, which magnetized people from near and far to be set free from every binding condition of body, mind and soul. This they achieved by self-effort through the offering of invocations and the practice of Seventh Ray rituals to the sacred fire.

Read More

Cut Through The Illusions!
Who is Online Now
We have 1576 guests and no members online
X
Right Click
No right click