Category: The Ascended Masters Written by Judith Coates Views: 1372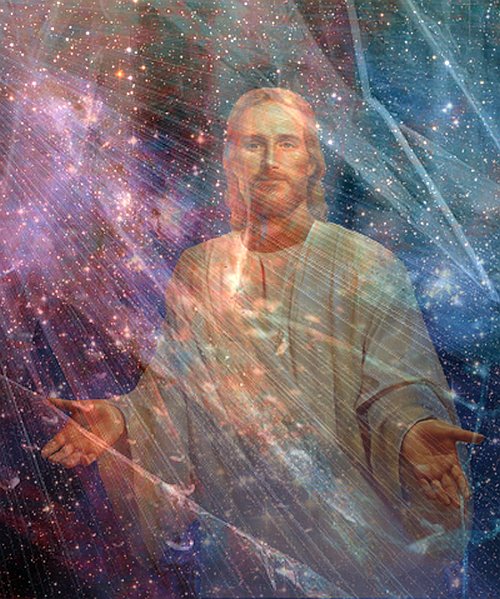 Beloved one, when I gave forth what is now known as The Lord's Prayer, it was to be an example, a framework upon which you would weave your own prayer. I began it with Our Father, for it was in the day and time when the father was understood to be the head of the household. Now, at the point in time and understanding where you see yourself to be, it could well be Our Mother, Divine Creator, Source of All. And because there is an understood intimacy, familiarity, in speaking to one's father, I chose that wording as an example. "Our Father, from whom we have come and in Whose likeness we have been created."
Our Father: Not just my Father. Our Father, universal. For every prayer, to be true, must go beyond the singular, where there would be seen to be separateness, to go to the place of acknowledging and remembering Oneness of all.
Our Father, which art in Heaven: Heaven, a realm of Oneness of holiness, of expansion beyond the specificity of individuality, of personality, lifetime, of any mental concept. Heaven, infinite and ever-expanding Totality.
Hallowed be Thy name: Holy, whole, perfect, complete. Holy is Thy nature. Perfection, completeness, Allness is Your essence. That is the nature of the One Who has brought you forth—and it is your nature by divine birthright.
Thy kingdom come: The kingdom of Love, unlimited, unconditional love which sees everyone as the beautiful radiant Child. Thy kingdom come. Not as a plea, for you are not plea-bargaining with your Father. "Thy kingdom is come," as Thy will be done, in Earth as it is in Heaven. For indeed, the Kingdom is come on Earth as it is in Heaven when you remember the Father's will is only Love—pure, expansive, unconditional Love—wherever you see yourself to be.
Give us this day our daily bread: Again, not said as a plea, but as a statement of truth. "You supply for us in every day our daily bread." Bread for the body, but more than that, the bread of understanding, the food, nourishment of the soul. "Give us our daily bread"—momently, daily. Not just once, and if you happen to be out in left field you have missed it. Daily, on-going.
And allow us to drink from the water of Life: That line is not recorded in your Scriptures, for one of you, in copying the ancient writings, missed that line. It was at the end of your shift and you left, and when you came back the next day you picked up at the next line.
And allow us to drink from the water of Life: the nourishing, refreshing water as it nourishes the body and the soul.
Forgive us our debts, as we also have forgiven our debtors: Your Father forgives you any momentary lapse of remembrance, for He does not know lapse of remembrance. Your Father is Love. You are Love, and as you give love in forgiveness—for that is truly what forgiveness means: to give love for, in place of, limited understanding —as you forgive others what you have judged as their momentary misunderstanding, you allow yourself to abide in the space of unconditional, unlimited Love, and you know forgiveness yourself.
It is not an exchange. It is not that if you are good enough to forgive all of the ones you have judged to have made mistakes, that somehow then you will be good enough that your Father will forgive you. It is not an exchange. It is a truth: that as you are abiding in judgment, not forgiving another one, you are not knowing love yourself. But as you forgive others and extend to them the Love of the Father, you know that Love for yourself, and instantly anything that you have judged yourself to be lacking or at fault for is released, dissolved, forgotten, gone forever.
And lead us not into temptation, but deliver us from evil: Your Father would never lead you into temptation; He does not know temptation, for that rests upon the concept of duality. A better rendering would be, "leave us not in temptation," for truly, when you turn the focus of your attention unto the Father, all duality dissolves in the Light of His Oneness, His Love, and you are delivered from the possibility that there might be such an idea as the concept of evil. "And You leave us not in temptation, but deliver us from the concept of separation as our awareness of Your Love envelops us."
Whenever you pray, go first unto the place of the heart, to the place of peace, having released, at least momentarily, all of the concerns, the constrictions, the judgments of the world. Go first to the place of the heart and know the deep abiding peace which is yours for the asking.
And when you pray, pray believing that what you would ask for is already yours, for verily, it is. There is nothing that your Father would withhold from you. There is nothing that your Father can withhold from you. As the holy creative Child, you have brought forth all of your creations and your experiences. You select certain experiences; you try them on for size to see how they fit. But the Love which you seek is always yours. The Love which you seek can be found within the silence of the prayer of your heart.
When you tire of the pain and the hurt of the world, turn then to the place of the heart and pray the breath of the soul. Pray to the one Father Who will never, can never, abandon you; Who is there, in Truth, to supply your every need. It is yours for the asking.
Now, there are times when you would pray, in limited thinking, for specifics, and you would ask of your Father what He does not have in specific to give you. In other words, do not pray to your Father for the vehicle, for the dwelling place, for He does not have that in specific to give to you. They are creations within your Adventure. But that which He has is yours already. That which He has is beyond the value of the world. That which he has is freely given, and it is the pearl of great price.
He gives you freely of Life, of consciousness, of creativity, which is your natural birthright. Then you take the consciousness and the creativity and apply it to the specific which you would see in your life. Pray believing that you already have, for indeed you do.
If you would know the beauty of the clouds, do not keep the head and eyes cast down. If you would know the Love of the Father, allow yourself the moments of prayer, where He is to be found. If you would know the Love of your Father, allow yourself time, your precious time, to focus upon the peace, the beauty in the heart and the beauty in manifest form rather than focusing upon what seemingly is lacking or wrong. For as you keep your focus upon what is seemingly wrong, you deny in that moment the desire of the heart.
Allow yourself the times of prayer, of true prayer. And when you do, beloved one, you will be greatly rewarded. For you are loved with an everlasting Love which the world cannot know and does not value. But you are not of the world. You are of your Father, and He awaits you in the place of true prayer.
Excerpt from: Jesus Speaks: Don't Look for Me in a Tortilla Chip, Volume III in Jeshua: The Personal Christ series, Chapter 8, pp. 65-68. A wonderful book about the deeper meanings of Bible passages and Jesus' ministry. It may be ordered from our website: www.oakbridge.org.
Jesus/Jeshua channeled by Judith Coates
June 2019
Copyright © 2019 Oakbridge University. Oakbridge material is copyrighted but free to anyone who wants to use it as long as proper credit is listed, including our website address www.oakbridge.org.
CrystalWind.ca is free to access and use.
"Would you consider a small gift of $11.11 ?" :)
ॐ Namasté - Blessings!

© 2008-2019 crystalwind.ca. All rights reserved.
Featured Articles: Ascended Masters
Ascended Master Serapis Bey

Open or Close

Serapis Bey is from the realm of Bey, hence the name, wherein is His dwelling place. He is the great disciplinarian known through the centuries for the action of strict discipline. Real discipline is not stipulation over another which would thwart the innate progress, but instead it is a holding in check the human qualities so that the inner or Real Self can have expression. This is very essential to the attainment of the Ascension which is the culmination of all embodiments.

Who was Serapis Bey

He came as a guardian to Earth's evolutions, and took physical embodiment as many did. It is said that He came from Venus. His inner service is in the Fourth Sphere and He works with the Christ Selves of the unascended life-streams there.

The Ascended Master* Serapis Bey is the Chohan of the Fourth Ray.

Read More

Connecting with The Ascended Masters

Open or Close

Decide the name of the Ascended Master with whom you wish to connect with before going into the Master Chamber.

Please close your eyes and begin taking deep breaths of Archangel Metatron's golden energy when you are relaxed continue by saying this prayer:

Read More

Comte Saint-Germain

Open or Close

Comte Saint-Germain: A Man Beyond His Time

Many average, reasonable men can conceive wisdom only under the boring form of a sermon and think of the sage only in the semblance of a clergyman. For such men prudery, hypocrisy, and the most abject enslavement to ritual habit and prejudice must be the everyday virtues. When therefore it happens that a genuine sage, by way of amusing himself, mystifies his contemporaries, follows a woman, or lightheartedly raises his glass, he is condemned eternally by the army of short-sighted people whose judgment forms posterity.

Read More

The Violet Flame

Open or Close

FOR CENTURIES, alchemists have sought to change base metals into gold. But the transmutation of metals like lead into gold is symbolic of a higher and more noble alchemy -- the alchemy of self-transformation.

SELF-TRANSFORMATION was the goal of the most spiritual of alchemists. They sought a way to change the lead of negative human energy into the gold of divine energy, and some of them achieved this by using the violet flame. But first, let's explore what the violet flame is, what it does and how it works.

Read More

Saint Germain & The Pillar of the Violet Flame

Open or Close

More than fifty thousand years ago, a golden civilization thrived in a fertile country with a semitropical climate where the Sahara Desert now is. It was filled with great peace, happiness and prosperity and ruled with supreme justice and wisdom by Saint Germain.

As the High Priest of the Violet Flame Temple on the mainland of Atlantis thirteen thousand years ago, [13=4=4th dimension=time] Saint Germain sustained by his invocations and his causal body a pillar of fire, a fountain of violet singing flame, which magnetized people from near and far to be set free from every binding condition of body, mind and soul. This they achieved by self-effort through the offering of invocations and the practice of Seventh Ray rituals to the sacred fire.

Read More

Cut Through The Illusions!
X
Right Click
No right click