Category: The Ascended Masters Written by Vania Rodrigues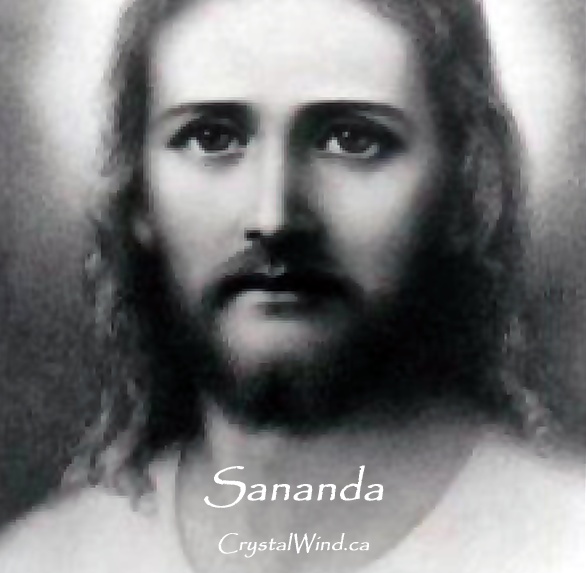 Dear sons and daughters of planet Earth! I AM SANANDA!
Today I am here with even more joy. Joy in perceiving the movement of joy and peace that was implanted in the hearts of many. You are looking like kids going on a big tour, I would say it's a dangerous tour, lots of risks; but you're not worried about that, you're worried about being together, about vibrating high, about laughing a lot. And understand that each difficulty that there will be on the way will be just a small test or a big test, it will depend on the soul, to be overcome.
Everything is being prepared, we can say that we are in the final tests, redoing, redoing, redoing, walking along the timeline, back and forth, bringing about the best possible result. But I can assure each one of you that everything will happen as we anticipated. Nothing will prevent us from showing the truth, nothing will prevent the great Light of the Central Sun from working on this planet in an intense and powerful way, eliminating the last veils that may still exist in each one of you.
I would say that those who don't understand a lot yet, don't know what we're talking about, will have a very difficult time understanding everything that comes into their minds, will have a hard time accepting what will be said. Because they were used from childhood to believe in what was important to those who control the planet today. I say to each of you, the truth hurts, the truth sometimes hurts, but the great point of truth is that it sets you free; because when the truth comes, the doubts, the illusions, are all ended. There is what it really is. There is no longer any way to delude yourself, there is no longer any way to believe in lies.
We have said this here many times, many will not stand it, many will revolt and enter that great mass of tares that is being prepared to leave the planet.
The cleanup has been going on for a long time. But we can say that the great mass will no longer be removed from the planet, one here, the other there; large masses will leave the planet together, because right now they are exactly where they need to be. That is why we always say do not worry. Miguel has already instructed them, that the world may end around you, but you will fall on your feet. If you trust it and if you believe it.
So, it doesn't matter where you are. You might even be in the air, when it's your time to leave, you will. There's nothing to be done about it. Your soul's choice has already been made, your own choice as a human being has already been made. So, it's necessary, before anything else, that you prepare for these moments. The revelations will bring pain, sadness, anger, disappointment, but that all passes. Now the moment the revelations appear, we will also press the same button for the complete separation of the wheat from the chaff.
Of course, this will not all happen at the same time, everything will happen in its own time, but it will happen. And this is where you need to be balanced and aware, understanding that every soul that was there had already made one of the choices: either leave, because you don't want to miss the Third Dimension, because this is your world; or made the choice not to go through everything in the physical body. So, you will actually never know who left and who will stay here to reincarnate in the Fifth Dimension.
Just understand that each soul that is in that process, made its own choice, no one is taking it out there as punishment or improperly. Those who are aware but do not believe that the building will not fall, that you will fall on your feet, unfortunately we cannot do anything. We have given you the supports, the safe places, which is just for you to believe that you will be protected in the moment. Now if you doubt, you will be swallowed up in the process, we can't do anything. It will all depend on the trust and faith of each one of you.
So, I just ask you to strengthen your hearts, strengthen your armor, strengthen the entire layer of energy of love. This love, which I refer to as unconditional love. May there be no revolt, no sadness, no pain, no suffering; just each made a choice, each believed or not. And the whole process will unfold like this. I say again: each of you is where you need to be.
Perhaps many of you need to go through very extreme situations in order to learn to value your life; so that they learn effectively not to look only at their navel, to look at their brother beside them, begging for help. Each one has their own road defined, according to their choices, and of course, each road also has lessons to be learned. And I'm sure many will learn.
So, when we say that difficult times are coming, we are not deceiving you and we are not exaggerating. Many will listen to what has been said in their religious books that it will be the end of the world. And I say it will be the end of this world, this dimension that you live. But I also say that it won't be that fast, things will happen gradually, step by step. We can say that we will be starting a new stage, of taking care of the souls that will leave.
So, the billions of Galactics that are around here will have this mission to guide these souls, to the proper places, to continue their evolution. These souls will not be able to leave here unprotected, because out there, those brothers who were taken from the planet are waiting for them anxiously. But we won't allow that. Only those who still resonate with them, if they continue in this way, will be released to go with them; it is every soul's choice. Now all will undergo treatment, so that they understand everything they did while incarnated on the planet and can make their decisions; wanting to continue evolving, but on a planet of Third Dimensional Light or to continue following those who vibrate everything they implanted on the planet.
All are choices and choices are always respected.
So, stay excited for the tour. It will be a very ecstatic tour, where every moment a new obstacle will appear, but you will be able to overcome each one of them. Every person on this planet right now has learned a lot or learned nothing from the pandemic. Many are still reaping all the change caused in their world. Many reinvented themselves, many found themselves again, but many sank even further, because they were never able to face difficult situations; are the ones who just sit and cry all the time. These are in very complicated situations, and it will be these that in the future will become even more complicated. Because if they no longer see hope, after everything happens, it will reach zero. For them, effectively, the world will end.
So, it will be up to you, who are in this entire vibration to help a brother, to give each of these a hand in any way: with a friendly word, with a hug, with a plate of food, with a job, with a job, does not matter. It will be up to you to lift this great mass that will just sit and be crying; you won't have the strength to get up. We cannot here demand from each one of you a concrete action. Any helping action has to come from the heart. Any helping action can never be thought of yourself. Help can be to a brother, help can be to the planet, help can be to an animal. These are the help we need right now.
So today I want to make an invitation to each of you. Our meeting last year was very troubled, because many people don't bother to follow anything, to learn anything, they just want movement and when any kind of movement comes up, they want to participate. So, a lot of confusion happened the year before. So, this year will be a little different.
Our meeting will take place on November 27th. I invite each of you to find something to do. There will be no meditations, there will be no gifts, this is over. Choose this day as a day to do something for someone, the planet or the animals. These are the pillars I ask you to use. I'm not limiting here, that it's just people from the groups; participate whoever you want. There will be no limitations like there were last year. And we don't even want people joining the groups, just to participate and then forget about everything.
In relation to the groups in the Letters, I will speak on another occasion. But the meeting this year is free. It can be a one-person meeting, doing something within these three pillars, it can be a group meeting; does not matter. What matters is that on this day, you choose something to do. If you want to come together in groups, to act on something, feel free to do so, but it has nothing to do with the Letters group. Anyone can participate. It will be a free meeting. I just ask you not to be innocent in opening your homes to people you don't know. So, mark in public places, do public actions, and everyone will be safe, because we will be together with each of you.
So, it's already explained how the meeting will be. You don't have to register anywhere, you don't have to just form groups that already exist, feel free to do so. What is important is that the action or actions are done, by those in need, by the Earth and the animals. So, start looking for something that you can do effectively this day. Get together around something interesting and just do it. So, start looking for something that you can participate in. More instructions will come from time to time. I am warning you today, so that you can plan and start looking for actions, looking for what you will do within these three pillars. So, there's nothing left to ask, everything is very clear here. It's enough that, those who didn't understand, listen several times and everything will be very clear.
This is the message I leave for you today, start getting used to doing for those in need, for the Earth and for the animals. Let's say this will be a good rehearsal for you to start learning and becoming aware of actions that are actually worth expanding. Ask for my help, to help you find such places, and I will take you, with much love to each one of them.
Translation by Google.
Angels and Light Therapies
Vania Rodrigues
Source
© 2021 crystalwind.ca. All rights reserved.
---
CrystalWind.ca is free to access and use.
Please support us with a small gift of $11.11 or $22.22 or $33.33.
Spirit Animal Totem Of The Day!
Lightworkers Will Change the World
Featured Articles: Ascended Masters
Ascended Master Serapis Bey

Open or Close

Serapis Bey is from the realm of Bey, hence the name, wherein is His dwelling place. He is the great disciplinarian known through the centuries for the action of strict discipline. Real discipline is not stipulation over another which would thwart the innate progress, but instead it is a holding in check the human qualities so that the inner or Real Self can have expression. This is very essential to the attainment of the Ascension which is the culmination of all embodiments.

Who was Serapis Bey

He came as a guardian to Earth's evolutions, and took physical embodiment as many did. It is said that He came from Venus. His inner service is in the Fourth Sphere and He works with the Christ Selves of the unascended life-streams there.

The Ascended Master* Serapis Bey is the Chohan of the Fourth Ray.

Read More

Connecting with The Ascended Masters

Open or Close

Decide the name of the Ascended Master with whom you wish to connect with before going into the Master Chamber.

Please close your eyes and begin taking deep breaths of Archangel Metatron's golden energy when you are relaxed continue by saying this prayer:

Read More

Comte Saint-Germain

Open or Close

Comte Saint-Germain: A Man Beyond His Time

Many average, reasonable men can conceive wisdom only under the boring form of a sermon and think of the sage only in the semblance of a clergyman. For such men prudery, hypocrisy, and the most abject enslavement to ritual habit and prejudice must be the everyday virtues. When therefore it happens that a genuine sage, by way of amusing himself, mystifies his contemporaries, follows a woman, or lightheartedly raises his glass, he is condemned eternally by the army of short-sighted people whose judgment forms posterity.

Read More

The Violet Flame

Open or Close

FOR CENTURIES, alchemists have sought to change base metals into gold. But the transmutation of metals like lead into gold is symbolic of a higher and more noble alchemy -- the alchemy of self-transformation.

SELF-TRANSFORMATION was the goal of the most spiritual of alchemists. They sought a way to change the lead of negative human energy into the gold of divine energy, and some of them achieved this by using the violet flame. But first, let's explore what the violet flame is, what it does and how it works.

Read More

Saint Germain & The Pillar of the Violet Flame

Open or Close

More than fifty thousand years ago, a golden civilization thrived in a fertile country with a semitropical climate where the Sahara Desert now is. It was filled with great peace, happiness and prosperity and ruled with supreme justice and wisdom by Saint Germain.

As the High Priest of the Violet Flame Temple on the mainland of Atlantis thirteen thousand years ago, [13=4=4th dimension=time] Saint Germain sustained by his invocations and his causal body a pillar of fire, a fountain of violet singing flame, which magnetized people from near and far to be set free from every binding condition of body, mind and soul. This they achieved by self-effort through the offering of invocations and the practice of Seventh Ray rituals to the sacred fire.

Read More

Cut Through The Illusions!
Who is Online Now
We have 982 guests and no members online
X
Right Click
No right click