Category: Money Honey Hits: 10939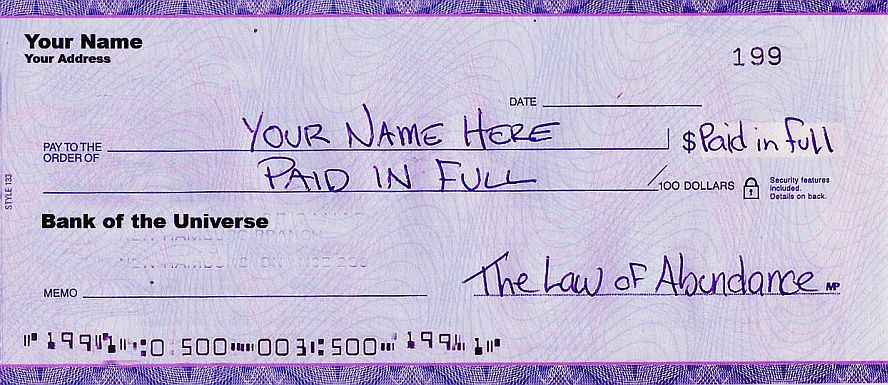 Abundance checks are a tool we can use to create more abundance in our lives. They are written within 24 hours after a New Moon.
Surprisingly, you really don't even need to believe that the check will work when you write it. You will however be amazed at the results, as you will see increased abundance in your life, in some life area. It is not always financial, but certainly in an area that you need.
Writing an Abundance Check
There are 2 different methods of writing an abundance check, pick which method works best for you.
Method 1 - The Traditional Way
There is a traditional manner, which has been handed down, that must be followed. If you do not have a checking account you can draw a check on a piece of paper and fill it out in the same way, the results will be the same...more abundance for you.
Here is how to write the check:
Within 24 hrs. after a New Moon, take a check, where it says "Pay to" write in your name.
In the little box on the same line where you would fill in a dollar amount write "Paid in Full" This opens you to unlimited abundance.
On the line underneath your name, where you would write out a dollar amount, also write "Paid in Full". The Universe knows what needs to be paid.
Sign the check: "The Law of Abundance"
Do not put a date on the check. Do not write a specific dollar amount on the check. Put it in a safe place and forget about it. The Universe will take it from there.
To truly benefit from the power of these checks, get in the habit of writing them routinely every month. Write them with Full Expectation of receiving abundance! This method of writing the check gives your subconscious mind and Higher Self the freedom to bring you exactly the right level of abundance, in the perfect way, in the perfect amount that you are ready to receive.
Whether you are asking for money, new clients for your business, or free time for yourself, the Paid in Full part is your sign that the Genie of the Universe has ALREADY responded to your request. According to the Law of Attraction, if you fully expect something to happen (without doubt) then the universe has to give it to you!
Method 2 - Writing with Intention
Here are the steps to writing an intention abundance check:
Take a check out of your checkbook, or create your own check.
In the "Pay to the order of" write your full legal name.
Write in the date (remember, you should be writing it within 24 hours of the new moon.
Think of an amount of money you'd like to manifest for yourself, maybe the amount you need for a financial obligation or maybe the amount for a fun vacation. Choose an amount that feels abundant but also possible, an amount you can truly visualize yourself receiving over the next 30 days.
Write out the amount in the "pay exactly" area.
In the memo line, you can write such things as "above and beyond expected income", "paid in full", or other things like that.
Sign the check "Law of Abundance".
(Optional if you are making your own check) Where the account # should be write 000 for God, 333 for the Ascended Masters, 444 for the Angels, and your birthday. So if your birthday is March 29, 1981, your account # would be 00033344403291981.
Don't focus on needing the money as that sends out the vibration of lack. Instead think of this amount of money as adding to your prosperity. Imagine that you already have this money, put your imagination to work, use all of your senses. See yourself spending the money, smell it, feel the texture of the money, the more details you visualize the better. Feel abundant and radiate that feeling out into the universe, as you do you will become a magnet, attracting whatever you are focused on!
Many people are skeptical about trying this until they do it. After the first time they realize the power of these checks and do them routinely every month! Try it yourself and see! And, let us know your results. We'd love to share your happy news with others.
© 2010-2018 crystalwind.ca. All rights reserved.
CrystalWind.ca is free to access and use.
"Would you consider a small gift of $11.11 ?" :)
ॐ Namasté - Blessings!

© 2008-2018 crystalwind.ca. All rights reserved.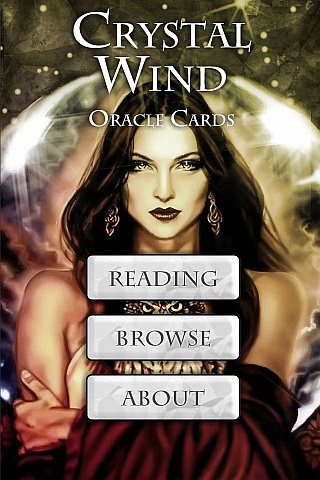 Cut Through The Illusions!
Archive: Money Honey
►

2018 (4)

►

2017 (7)

►

November (1)

►

August (1)

►

May (2)

►

April (1)

►

March (1)

►

January (1)

►

2016 (4)

►

2015 (29)

►

December (2)

►

November (6)

►

October (4)

►

September (3)

►

August (1)

►

July (1)

►

June (1)

►

May (1)

►

April (1)

►

March (1)

►

February (4)

►

January (4)

►

2014 (15)

►

October (2)

►

August (1)

►

July (2)

►

June (4)

►

May (2)

►

April (1)

►

March (3)

►

2013 (8)

►

December (1)

►

October (1)

►

September (1)

►

July (1)

►

June (2)

►

March (1)

►

February (1)

►

2011 (5)