Category: Health Yourself Hits: 1556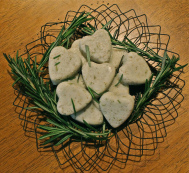 Bella Capozzi
If you are walking the spiritual path (or even if you're not), you're probably finding that Sea Salt has become an indispensable item in your pantry. Not only is it a healthier and more pleasing form of salt to cook with, but it has miraculous therapeutic uses as well. After meditation, healing, yoga or even a stressful day at work – Sea Salt's restorative ability to transmute and clear away negative energy is unrivaled. It helps us to feel refreshed and rebalanced.
This is a super-easy recipe for scrub cubes, which you can whip up in your kitchen in a matter of minutes! They are sosimple that even the least crafty of my readers can make them, effortlessly. The ingredients can vary based on your personal preferences, and there's no limit to the varieties you'll be able come up with. Here's the basic recipe, with a few of my favorite variations (pictures included). The recipe uses a soap base and soap coloring, which can be found at most craft stores. For those of you with a Michael's Arts & Crafts nearby, be sure to download their free smartphone app. You can save up to 50% on your supplies.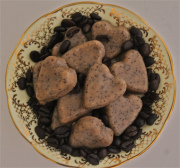 Sea Salt Scrub Cubes
What you'll need:
Kitchen scale
Glass bowl or measuring cup
Spoon
Silicone molds or ice-cube trays
3 oz. white melt-and -pour soapbase
6 oz. Sea Salt
2 oz. high quality, organic oil (grapeseed, coconut, avocado and olive work well)
Soap coloring (powder or liquid)
Aromatherapy oils or baking extracts
Stir-in exfoliants (such as seeds, dried peels, herbs… you can get very creative with this). Start with 1 tsp., and add from there.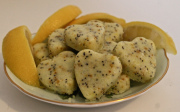 Instructions:
Place 3 oz. of soapbase into a glass bowl or measuring cup. Microwave it in 20 second intervals, until just melted. Be careful not let it burn! Stir, so that all the little pieces are melted down.
Add your coloring and fragrance, one drop at a time, until you are happy with the intensity of the scent and coloring. Stir until combined.
Add the oil to the mixture, along with your exfoliants.
Then quickly add your Sea Salt, and mix thoroughly.
Now it's time to really work fast! Scoop or pour (depending on the consistency you get) your mixture into the molds. If your consistency is thicker, be sure to press down on the mixture so that it sets true to shape.
Let them set up at room temperature, for at least an hour. When they are fully set, turn over the molds and very gently press down to release. Store them in sealed plastic containers or jars.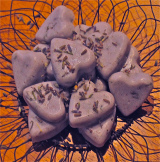 Here are a few of my favorite combinations, which you may want to try. But really, there is no limit to the combinations you can try.
Rosemary Olive Oil Cubes: Extra-virgin olive oil, dried rosemary, rosemary aromatherapy oil, crushed apricot seeds, light green coloring.
Lavender-Vanilla: Crushed apricot seed, lavender aromatherapy oil, vanilla extract, dried lavender seeds, purple coloring.
Lemon Poppyseed: Dried lemon peel, poppyseeds, yellow coloring, lemon aromatherapy oil or extract.
Coffee-Almond: Fresh coffee grounds, ground toasted almonds, almond extract, 1 T dark brown sugar.
Ripe Raspberry: Poppyseeds, flax seeds, red and purple coloring, raspberry aromatherapy oil.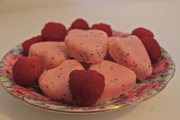 ---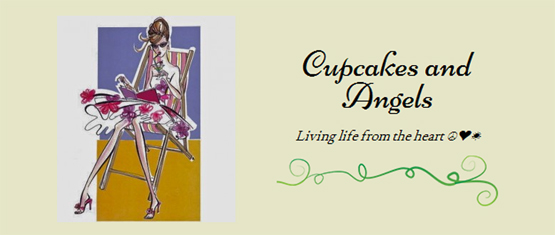 I am an Angelic/Pleiadian Walk-In, and one of the ten Pleiadian, Sirian and Angelic women who make up The Council Of The Venus Ray. I'm also a Mom, a lightworker and a business owner. This wonderful lifetime is one of only two incarnations I've had on the Planet Earth. I'm known, as we all are, by many names… as Bella Capozzi, on my Earth journey; and (in "Reality") as AuroRa, Lora Le or Grace.
There are many of us here on Earth at this time, living ordinary lives. Some, like me, have known who or what they are all along and safely held that knowledge in a private, sacred space. This, until the moment we can't play the game anymore and burst full-force out of the Spiritual Closet, kicking the door shut behind us. Then there are our other blessed brothers and sisters who are just now having their aha-moment, and are stepping forward to share their amazing truths.
Whichever it is, or if you just happened to find this site by Divine Synchronicity (there are no accidents), be open to everything! Speak your truth. Tell the world who you "really" are.
Copyright © Bella Capozzi. All rights reserved. You may copy and distribute this material as long as you do not alter it in any way, the content remains complete and you include this copyright notice.
Source Here
CrystalWind.ca is free to access and use.
"Would you consider a small gift of $11.11 ?" :)
ॐ Namasté - Blessings!

© 2008-2019 crystalwind.ca. All rights reserved.