Category: Astrological News Written by Jamie Partridge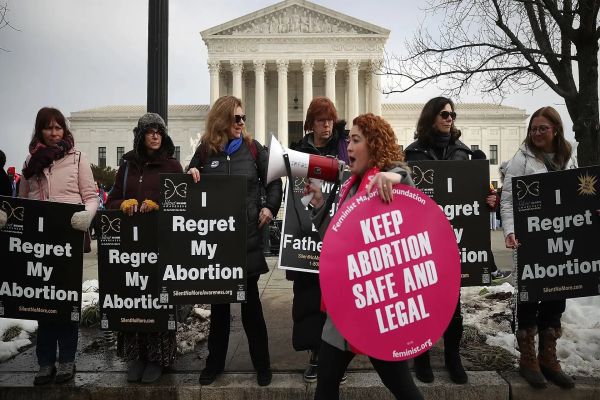 Mercury retrograde 2022 begins on May 10 at 4° Gemini and ends on June 3 at 26° Taurus.
Mercury retrograde is generally associated with nervous anxiety, communication problems, and technology breakdowns. Mercury retrograde May 2022 brings personal disagreements and emotionally charged public debate because it is square Moon.
More detail about this retrograde phase follows some general information on Mercury retrograde in transit. Information about Mercury retrograde in the natal chart can be found at the end of this article.
Mercury Retrograde Meaning
Mercury travels retrograde three or four times a year for about 24 days. While this is more frequent than any other planet, Mercury is still only retrograde 19% of the time. This is far less than Jupiter outwards, but more than Venus and Mars.
Retrograde Mercury is generally a difficult influence. It can bring challenging news, and restrict and delay thinking, communications, and travel. This may lead to nervous anxiety, disagreement, arguments, technology breakdowns, and lost items. Business negotiations may be in a state of flux. Some important details may not yet be available, and others may be unreliable or dishonest.
The riskiest times for decision-making, negotiations, communication, and transport are the few days on either side of the exact retrograde and direct stations. But there are positives such as reminiscing about the past or unexpectedly meeting up with people from your past.
The retrograde phase is just one part of the retrograde cycle. Mercury travels direct, retrograde, and direct again over the same degrees, or the retrograde zone. The two direct phases are called the shadow periods. The illustration below shows the apparent retrograde motion of Mercury as seen from Earth.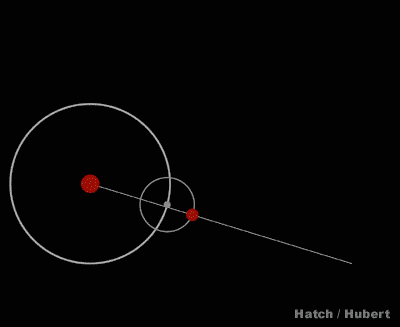 Mercury Retrograde May 2022
The three phases of Mercury retrograde 2022 last from April 26 to June 18, 2022, between 26° Taurus and 4° Gemini:
April 26 to May 10 – The first shadow phase: Mercury enters the retrograde zone (26° Taurus) to Mercury stationary retrograde (4° Gemini).
May 10 to June 3 – The retrograde phase: Mercury stationary retrograde (4° Gemini) to Mercury stationary direct (26° Taurus).
June 3 to 18 – The second shadow phase: Mercury stationary direct (26° Taurus) to Mercury leaves the retrograde zone (4° Gemini).
Mercury Stationary Retrograde
Mercury stations retrograde on May 10, 2022, at 04°51′ Gemini. The only aspect affecting Mercury is the square to Moon. Interestingly, Pluto retrograde on April 29 was also square the Moon.
Mercury Retrograde May 2022
Moon square Mercury creates tension between your thoughts and feelings. Your emotional biases influence your thoughts and your intellectual reasoning influences how you feel about a person or subject. You may feel very opinionated and care little about what others think.
Parochialism or moodiness can lead to disagreements and arguments. This can have a particularly detrimental effect on your intimate relationships. Disagreements may become emotionally charged, involve women, mothers, and feminism, and be argued in public.
This emotionally tense energy can be put to good use doing hard mental work. You can take a critical look at both sides as you perfect your ideas.
The Hyades Rainy Stars
Mercury retrograde 2022 at 04°51′ Gemini aligns with fixed star Prima Hyadum at 06°06′ Gemini. As shown below, although Mercury is in the Sign of Gemini, it is in the Constellation of Taurus. This discrepancy is due to the precession of the equinoxes. It has moved the Sun Signs almost a whole Sign out of alignment with the Constellations from which they were named over 2000 years ago.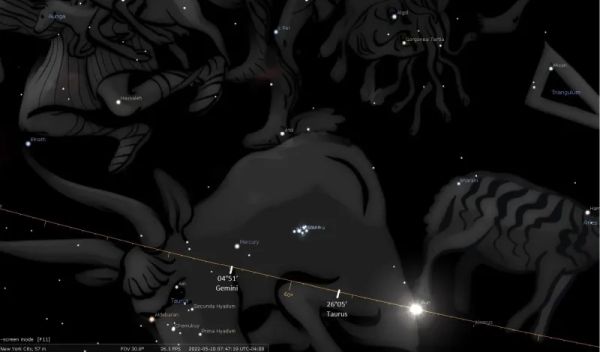 Mercury Retrograde May 2022 [Stellarium]
The Hyades in the Head of the Bull give tears, sudden events, violence, fierceness, poisoning, blindness, wounds or injuries to the head by instruments, weapons or fevers, and contradictions of fortune. [1]
In Greek mythology, the Hyades were the daughters of Atlas and Aethra, major figures in the pre-disaster period of our history. Like their half-sisters the Pleiades, they were a sorrowful group, and they have long portended rain.
The Hyades are Saturn-Mercury stars that cause unhappy thoughts, especially if harshly aspected. But harmoniously aspected they denote a good clear thinker, writer or speaker. So in the run-up to a disaster, the sisters had the skills required to communicate the news to a panic-stricken population and to exercise firm control over them. [2]
The Hyades cluster of the rain stars gives a staggering increase of the sexual urge; self-preservation, which could lead to greediness; sexuality; a dissolute life; excessive and licentious ways; and a striving for prestige leading to power politics. If this tendency is bridled, an increase in the positive sense can be the result, leading to tremendous success in life. When the pinnacle of the career is reached, the danger appears that the inherent nature may come again to the fore, and may, if uncontrolled, lead to failure and fall from power. It is doubly important that power and strength must not be used to exploit other human beings. [3]
Mercury with the Hyades: Quick mind, resentful, hasty temper, broods over small troubles, favorable for gain. [1]
So the personal disagreements and public debate about women's issues may include domestic and sexual abuse because of the Hyades. The debate could become political and violent. News, disagreement, and protests are also possible about climate change and natural disasters.
Mercury Direct June 2022
Mercury stations direct on June 3, 2022, at 26°05′ Taurus. This time, the Moon is sextile Mercury which brings more intuitive and balanced thinking. Feelings and opinions can be shared in a more cooperative and friendly manner.
However, any chance of a more cooperative and friendly debate is derailed by Mercury direct square Saturn. This aspect has a very similar influence to Mercury retrograde because it brings bad news, negative thinking, misunderstandings and arguments.
Medusas Head
Mercury direct at 26°05′ Taurus aligns with fixed star Algol at 26°28′ Taurus. It represents the head of the Gorgon Medusa who was slain by Perseus. It causes misfortune, violence, decapitation, hanging, electrocution and mob violence, and gives a dogged and violent nature that causes death to the native or others. It is the most evil star in the heavens.
Although "high spiritual rays" are emanating from Algol, only those who have already reached high spiritual development can receive them. Even then, there will be difficulties and obstacles in their way, and much energy must be used to overcome these handicaps. If their endeavors fail, strong counter forces and enmities will be present. [4]
For more detail on how Mercury retrograde 2022 affects you, see your Monthly Horoscope. If you are familiar with your chart, see Mercury Transits.
Mercury Retrograde 2022 Dates
January 14 to February 3, 2022 – 10° Aquarius to 24° Capricorn
May 10 to June 3, 2022 – 4° Gemini to 26° Taurus
September 9 to October 2, 2022 – 8° Libra to 24° Virgo
Natal Mercury Retrograde
Natal Mercury retrograde suggests there may have been a problem with how you thought and communicated in an earlier life. Perhaps you gave someone bad advice that had critical repercussions. Perhaps you were prone to making costly mistakes. Maybe you wrote slanderous material about someone in a book or newspaper, or verbally teased and abused people.
Whatever the circumstances of the previous significant incarnation, you come into this life with those bad memories etched in your soul. You probably don't recognize them as memories but as déjà vu or unexplained guilt. A repeating theme of challenging events related to your past is likely, especially when young. The aim is to perfect those areas of thought and communication which once let you down. As your communication skills improve with experience, your karmic debt will be repaid and you can get off the roundabout.
You may experience learning difficulties, especially when young, with reading, writing, and comprehension. You could be a shy, quiet person whose thoughts have turned in. Hesitant to speak up for yourself, you may miss out on many opportunities in life. This difficulty in expressing yourself can make you feel awkward in company, and lead to low self-esteem. You may experience teasing or verbal abuse, be nagged and criticized, or fall victim to slander and lies. Contracts may also cause problems and like so many things, lead to complications further down the track.
Mercury only stays retrograde for about three weeks. So it is going to turn direct at some stage in your progressed chart (where one day equals one year). Within a year or two of progressed Mercury stationing direct, you will notice that your communication style improves and you can express yourself more freely. However, the opposite can also occur and someone with Mercury direct in their natal chart may experience progressed Mercury in retrograde motion later in life. I experienced this from age 13 to 37 and it was very profound. I even stopped reading books.
If Mercury is retrograde in your natal or progressed chart then you can expect to make more rapid progress during transits of Mercury in retrograde motion. Use this ephemeris to see if Mercury changes direction in your progressed chart.
---
References
Fixed Stars and Constellations in Astrology, Vivian E. Robson, 1923, p.188.

Fixed Stars and Their Interpretation, Elsbeth Ebertin, 1971, p.19.

The Living Stars, Dr. Eric Morse, 1988, p.37.
Source: here
My name is Jamie Partridge and I live on the coast of NSW Australia with three amazing kids. I've had an interesting life so far, with varied occupations ranging from nursing assistant to farm hand.

© 2022 crystalwind.ca. All rights reserved.
---
CrystalWind.ca is free to access and use.
Please support us with a small gift of $11.11 or $22.22 or $33.33.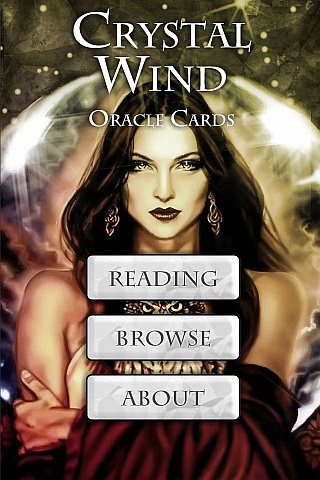 Cut Through The Illusions!
Available On

Spirit Animal Totem Of The Day!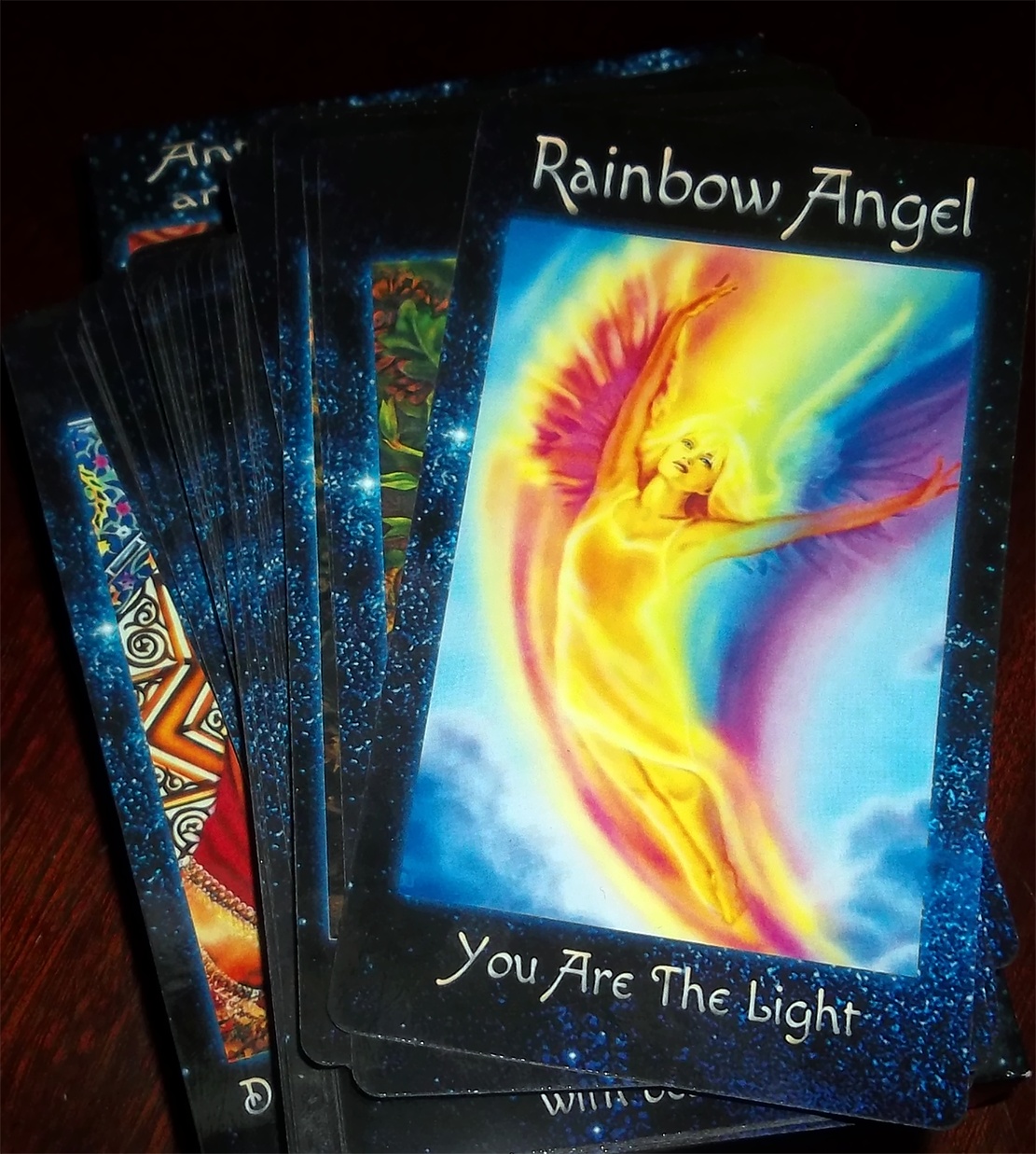 The Crystal Wind Oracle
Myth & Magic Card Deck!
Details Here!
NEW Expanded
Printed & Boxed!
Now with 58 cards!
Who is Online Now
We have 871 guests and no members online