Category: Astrological News Written by Jamie Partridge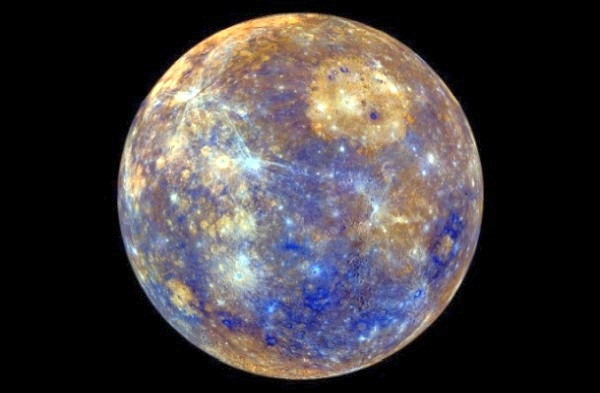 Mercury retrograde 2021 begins on September 27 at 25° Libra and ends on October 18 at 10° Libra.
Mercury retrograde is generally associated with communication and technology breakdowns, nervous anxiety, travel delays, and lost items. But Mercury retrograde September 2021 is more positive than usual because it aligns with the two most fortunate of all fixed stars, bringing success, renown, riches, honors and fame.
More detail about this retrograde phase follows some general information on retrograde Mercury in transit. Information about Mercury retrograde in the natal chart can be found at the end of this article.
Mercury Retrograde Meaning
Transiting Mercury in retrograde is a regular cycle occurring three or four times a year for about 24 days. While this is more frequent than any other planet, Mercury is still only retrograde 19% of the time. This is far less than Jupiter outwards, but more than Venus and Mars.
The retrograde Mercury phase is just one part of the retrograde cycle. The whole cycle includes Mercury going direct, retrograde, and direct again over the same degrees, or the retrograde zone. The two direct phases are called the shadow periods. The illustration below shows the apparent retrograde motion of Mercury as seen from Earth.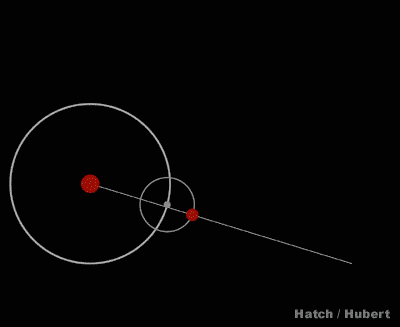 Retrograde Mercury brings communication and technology breakdowns, nervous anxiety, travel delays, and lost items. There is a feel of a difficult Mercury–Saturn aspect to Mercury in retrograde. You can also expect to dwell on things, reminisce about the past, or unexpectedly meet up with people from your past. While the retrograde period might be good for flicking through old photo albums, it is generally considered more of a nuisance than a benefit.
Mercury transiting in retrograde motion can play havoc with your thoughts, communications, travels, and electronics. Take extra care with your words and try not to react too quickly in any arguments or if provoked. Take some time out if you start to feel overwhelmed by the hectic pace. Double-check all of your emails and posts on Facebook before hitting the send button.
Business negotiations will be in a state of flux so avoid signing contracts. Some important details will not yet be available, and others may be unreliable or dishonest. If going on a road trip then make sure you get your car serviced beforehand. The riskiest times for decision-making, negotiations, communication, and transport are the few days on either side of the exact retrograde and direct stations. However, care should still be taken during the retrograde period.
Mercury Retrograde September 2021
The retrograde phase is just one part of the Mercury retrograde cycle. The whole cycle includes Mercury going direct, retrograde, and direct again over the same degrees, or the retrograde zone (10° to 26° Libra) from September 6 to November 2, 2021. The two direct phases are known as shadow periods. The three phases of Mercury retrograde September 2021:
September 6 to 27 – The first shadow phase from Mercury entering the retrograde zone until Mercury stationary retrograde (10° to 25° Libra).
September 27 to October 18 – The Retrograde phase lasts from Mercury stationary retrograde until the Mercury direction station (25° to 10° Libra).
October 18 to November 2 – The second shadow phase lasts from Mercury stationary direct until Mercury leaving the retrograde zone (10° to 25° Libra).
Mercury Enters Retrograde Zone
Mercury enters the retrograde zone on Monday, September 6, 2021, at 10°07′ Libra [see chart]. During the first shadow period, you will get an idea of the thinking, communication, or transport issues that will arise during the retrograde phase.
Mercury Stationary Retrograde
Mercury stations retrograde on Monday, September 27, 2021 at 25°28′ Libra. As the chart below shows, Mercury makes a positive trine aspect to Jupiter and a testing square aspect to Pluto. Jupiter semisextile Pluto makes this an overal positive configuration. And Mercury stationing direct on the two most fortunate of fixed stars definitely makes this a positive retrograde phase.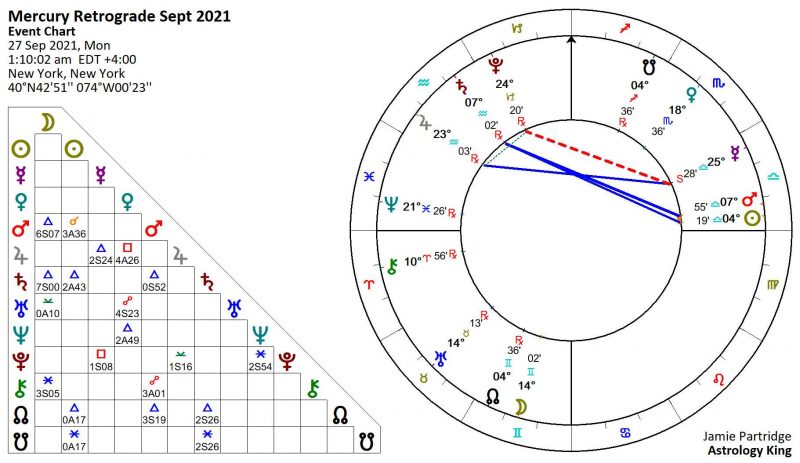 Mercury Stationary Retrograde September 2021 [Solar Fire]
Mercury trine Jupiter brings optimism, generosity, good luck, and good news. Good instincts, future-oriented and positive thinking make this an excellent time for socializing, research, study, and making plans. Open-mindedness and a progressive outlook enable you to increase your general knowledge and expand your horizons. Particular areas of interest include religion, law, language, and philosophy.
This is also a good time for setting off on a journey, especially long-distance travel. Making friends comes easy and mutually beneficial partnerships can prove profitable in the future. Business dealings should go well and this is the ideal time for entering into negotiations and for signing contracts. However, the fixed stars conjunct Mercury suggests caution is needed with legal matters.
Mercury square Pluto is a more challenging influence that brings deep thinking and intense interactions with others. This is a good influence for research and investigations, but extremism or and conspiracy theories should be avoided. The more extreme your idea, or the more force you use to convince others, the more criticism, arguments, and conflict you will meet.
You may become defensive but it is important not to let your fighting spirit back you into a corner and complicate matters. Mercury trine Jupiter helps you keep an open mind instead of arguing for the sake of it. This can lead to a positive transformation of your intellect and communication style.
Jupiter semisextile Pluto helps you to transform the intense and dark thinking of Mercury square Puto into a more positive outlook with Mercury trine Jupiter. Powerful forces are working behind the scenes to promote you to a higher level. Increased power and influence, spiritual and personal growth, wealth creation, and professional advancement are possible.
Mercury Retrograde September 2021 Stars
Mercury stations retrograde is in the Sign of Libra. But as the star map below shows, it is in the Constellation of Virgo. This is because the precession of the equinoxes has moved the Sun Signs almost a whole Sign out of alignment with the Constellations from which they were named, over 2000 years ago.
More specifically, Mercury aligns with Alpha Virginis and Alpha Boötis, the two most fortunate fixed stars used in astrology.
24♎08 – α Virginis, Spica
24♎08 – α Boötis, Arcturus
25♎28 – Mercury Retrograde
Mercury conjunct fixed star Arcturus: Sober, industrious, popular, inclined to be religious, somewhat extravagant but well-off, help through friends, holds position of trust in large company or corporation, or receives promotion under direction, favorable for health and domestic affairs. [1]
In general, Arcturus gives riches, honors, high renown, self-determination, and prosperity by navigation and voyages. [1]
This star has a reputation for achieving justice through power. It, therefore, makes the native belligerent and quarrelsome. An enterprising spirit is here the rule. Lasting success is promised if further good aspects are present (yes, trine Jupiter). If critically aspected (also yes, square Pluto), the good influence will be hampered or made into a real handicap. If involved in legal action, such a native may lose all. [2]
Mercury conjunct fixed star Spica: Neat, tidy, clever, ingenious, favor of clergy and people in authority, gain through investment, responsible position. [1]
In general, Spica gives success, renown, riches, honors, fame, a sweet disposition, love of art and science, unscrupulousness, unfruitfulness, and injustice to innocence. [1]
Spica also gives androgynous, spiritual, and religious qualities, with above-average psychic awareness. It is of marked good fortune for scientists, writers, artists, painters, sculptors and musicians. [3]
Mercury Stationary Direct
Mercury stations direct on Monday, October 18, 2021, at 10°07′ Libra. It is very well-aspected, with a sextile to Venus and trine to Saturn. However, the fixed stars are more challenging than those for Mercury stationary retrograde.
Mercury sextile Venus gives charm and a smooth communication style that make this a time of love, friendship and diplomacy. You can bring people together and encourage cooperation. Mercury direct is a good time to find peaceful settlements to disputes and break down any barriers to progress. Buying, selling, and negotiating benefit from your good head for numbers and the ability to find win-win situations. This is also a good time to ask for favors.
Mercury trine Saturn brings the persistence and perseverance to complete difficult and long term projects. Good concentration, common sense, and a methodical approach help you make important decisions. New friendships and partnerships should be lasting and dependable. This should be a good time to negotiate business deals and sign contracts, especially in real estate.
The Fixed Stars
Notice that the Sun and Mars are close to the degree of Mercury stationary retrograde, and both conjunct fixed stars Spica and Arcturus, and both trine Jupiter and square Pluto. This reinforces the beneficial influence of the whole retrograde cycle. Notice also, that Mars in the Mercury retrograde chart is close to the degree of Mercury stationaty direct, and the stars Porrima and Vindemiatirx.
10♎07 – Mercury Direct
10♎14 – ε Virginis, Vindemiatirx
10♎25 – γ Virginis, Porrima
Mercury conjunct fixed star Vindemiatrix: Impulsive, too hasty, loss through writings and business. [1]
In general, Vindemiatrix gives falsity, disgrace, stealing, wanton folly and often causes its natives to become widows. [1] Vindemiatrix figures strongly and regularly in deaths which are in some way dramatic, newsworthy or are resented in much more than the usual degree by those left behind (assassinations, common criminal murders, executions, airline disasters, etc.) May become a missionary or at least feel a strong religious calling. [3]
When any planet energizes this degree, there is a fear within these individuals that they will lose their partner. Through their own fear, they project the loss. They are given the opportunity to work with this fear and to release it. If not released from the subconscious level, the fear they carry will materialize and they become widowed. [4]
Mercury conjunct Fixed star Porrima: Legal troubles, criticism, many worries, business difficulties which will be overcome, ill-health, loses the respect of associates. [1]
In general, Porrima gives a courteous, refined and lovable character with prophetic instincts. [1]
Mercury leaves the retrograde on Tuesday, November 2, 2021, at 25°28′ Libra. [see chart].
For more detail on how Mercury retrograde September 2021 aspects your birth chart, see Mercury Transits.
Mercury Retrograde September 2021 Dates
May 30 to June 23, 2021 – 24° to 16° Gemini.
September 27 to October 18, 2021 – 25° to 10° Libra
January 14 to February 3, 2022 – 10° Aquarius to 24° Capricorn
Natal Mercury Retrograde Meaning
Natal Mercury in retrograde motion suggests there may have been a problem with how you thought and communicated in an earlier life. Perhaps you gave someone bad advice that had critical repercussions. Perhaps you were prone to making costly mistakes. Maybe you wrote slanderous material about someone in a book or newspaper, or verbally teased and abused people.
Whatever the circumstances of the previous significant incarnation, you come into this life with those bad memories etched in your soul. You probably don't recognize them as memories but as déjà vu or unexplained guilt. A repeating theme of challenging events related to your past is likely, especially when young. The aim is to perfect those areas of thought and communication which once let you down. As your communication skills improve with experience, your karmic debt will be repaid and you can get off the roundabout.
Natal retrograde Mercury can show as learning difficulties, especially with reading, writing, and comprehension. You could be a shy, quiet person whose thoughts have turned in. Hesitant to speak up for yourself, you may miss out on many opportunities in life. This difficulty in expressing yourself can make you feel awkward in company, and lead to low self-esteem. You may experience teasing or verbal abuse, be nagged and criticized, or fall victim to slander and lies. Contracts may also cause problems and like so many things, lead to complications further down the track.
Retrograde Mercury only lasts for about three weeks so Mercury is going to turn direct at some stage in your progressed chart (where one day equals one year). After a couple of years, you will notice that your communication style improves and you can express yourself more freely. However, the opposite can also occur and someone with Mercury direct in their natal chart may experience progressed Mercury in retrograde motion later in life. I experienced this from age 13 to 37 and it was very profound. I even stopped reading books.
If Mercury is retrograde in your natal or progressed chart then you can expect to make more rapid progress during transits of Mercury in retrograde motion. Use this ephemeris to see if Mercury changes direction in your progressed chart.
References
Fixed Stars and Constellations in Astrology, Vivian E. Robson, 1923, p. 153, 211, 214, 234.

Fixed Stars and Their Interpretation, Elsbeth Ebertin, 1928, p. 57, 63.

The Living Stars, Dr. Eric Morse, 1988, p.67, 70.

The Fixed Star Health and Behavior Imbalance, Ted George and Barbara Parker, 1985, p. 78.
Source: here
My name is Jamie Partridge and I live on the coast of NSW Australia with three amazing kids. I've had an interesting life so far, with varied occupations ranging from nursing assistant to farm hand.

---
CrystalWind.ca is free to access and use.
Please support us with a small gift of $11.11 or $22.22 or $33.33.
Spirit Animal Totem Of The Day!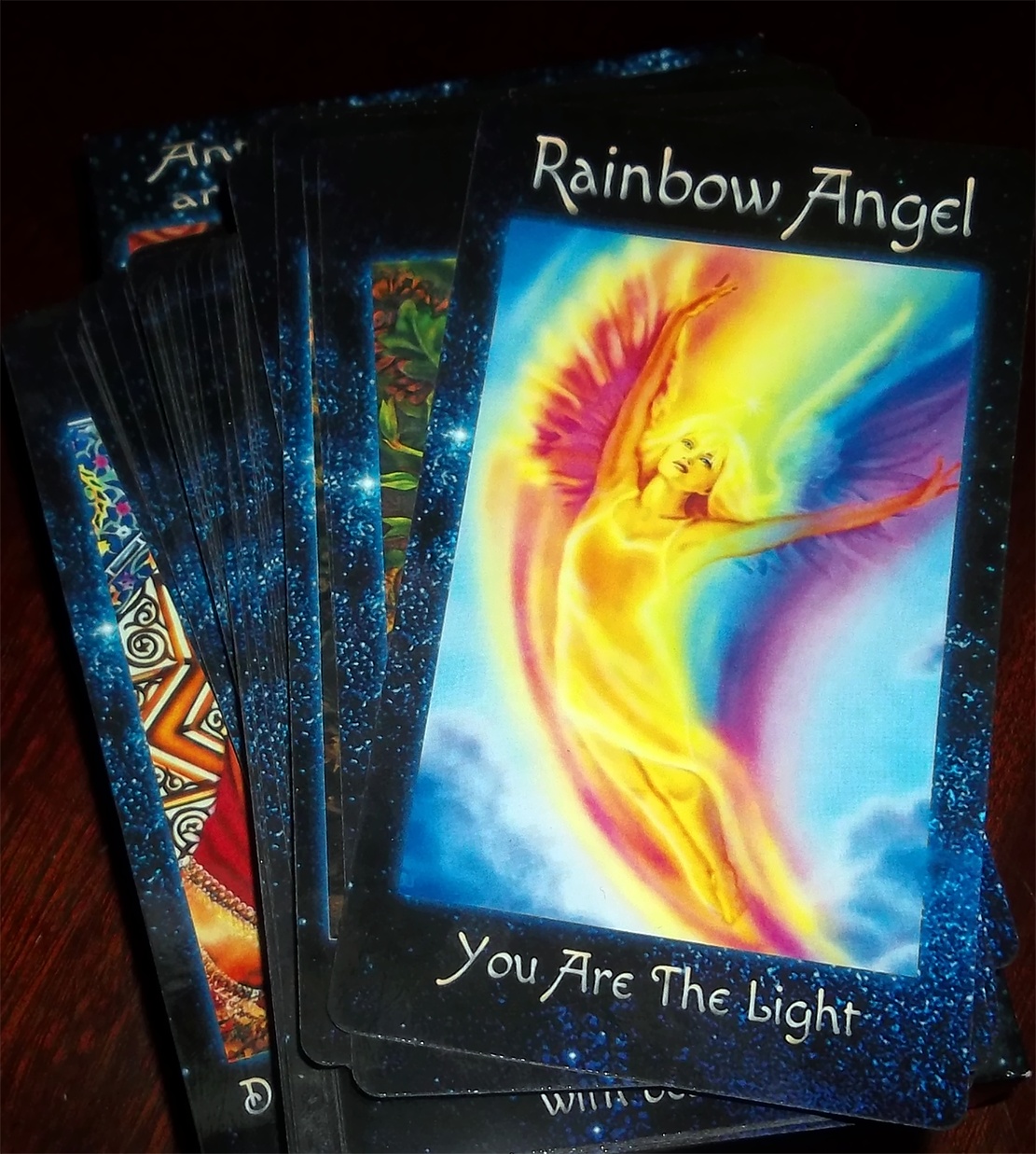 The Crystal Wind Oracle
Myth & Magic Card Deck!
Details Here!
NEW Expanded
Printed & Boxed!
Now with 58 cards!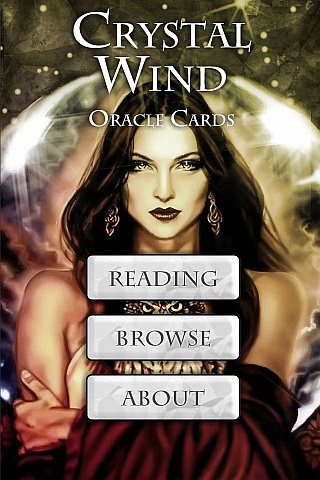 Cut Through The Illusions!
Who is Online Now
We have 1056 guests and no members online