Support crystalwind.ca with your donation and help spread spirituality and positivity.
Blessings!
Category: Lisa Iris Written by Lisa Iris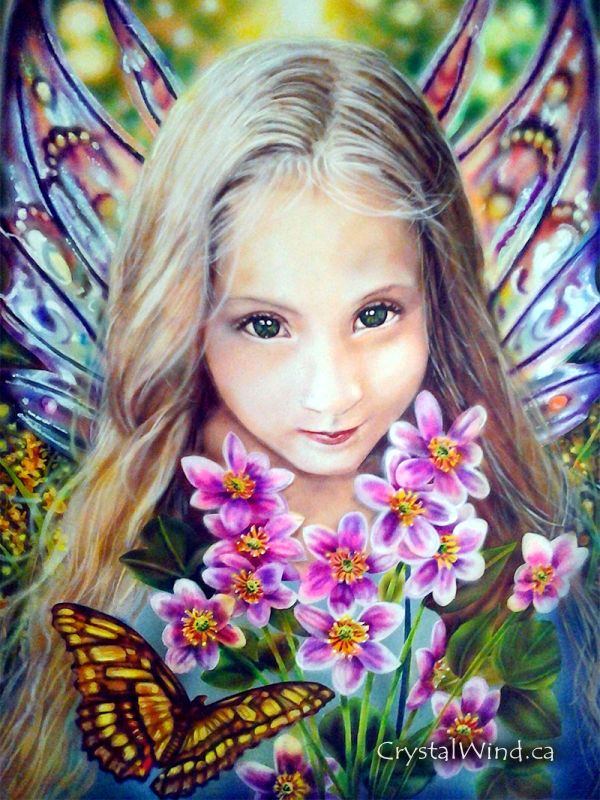 We all have a personal myth, a narrative of moments never forgotten – perhaps of a face, a place, or a book that sent our hearts on a certain trajectory.
Once upon a time – was it really 45 years ago? – a friend gifted me with "The Findhorn Garden." The oversized paperback cover depicted a man in silhouette with arms upraised before a giant, golden flower. Do you remember it? Within its pages a B & W photo stood out - an abstract study in connective symmetry - a closeup of sliced cabbage! Another memorable photo - an elderly gent, R. Ogilvie Crombie, incandescent with joy. It accompanied his chapter, "Conversations with Pan." Turning the pages, one met Findhorn co-founders Peter and Eileen Caddy. Eileen could've been anyone's Gran putting the kettle on, embodying Findhorn's lack of pretense and genuine warmth.
"The Findhorn Garden" maintained that fairies were real, being the voice of plants' energetic form and function. Co-founder Canadian Dorothy Maclean, "An Ordinary Mystic," described these beings as Landscape Angels or Devas – the ensouled intelligence representing different genera of plant life. Devas gave advice as to how to co-create with Nature, to those who'd listen to "the still small voice" within. Such advice included that pesticides were unnecessary when certain plants were grown together and that agreements could be made with insects. Everyday people could follow this guidance, plant seeds, and manifest the impossible, such as those legendary forty-pound cabbages grown in sand in Northeast Scotland. Was Findhorn located near a vortex or could such gardening results be achieved elsewhere? Here was a grounded mysticism requiring dirt under one's nails.
A Time of Innocence
I never got to visit Findhorn, but the friend who gave me the book did. He returned to Toronto with the same light in his eyes as the people in the photographs. The effect of a week's stay at Findhorn was contagious, simple, and sublime. One acquired a perspective that turned the mundane into the magical. Handwoven placemats of violet hues from Scotland were a precious altar cloth. Tea cups brimmed with enchanted elixirs and the food radiated energy. The belief that one could commune with other realms, be it Angelic or Fae, wove daily life into seamless synchronicities. The interplay between inner and outer worlds – the winks and nudges of coincidence - was a guiding compass. All was luminous possibility.
How long could such a golden hour last before the shadows fall? How much the world has changed since then. Or has it? The still small voice remains, calling you to step outside. Upon your return to the green world, the confusion and clamor recedes. Something begins to stir from within, moving with the branches above, and the whispering leaves welcome you home.
Fantasy or Reality?
Was Findhorn a fantasy, and what would become of it, sixty years later? Let's briefly backtrack and then meet in the present.
On Nov. 17th, 1962, a couple and their three children moved into a trailer at Findhorn Bay Holiday Park, in Moray, Scotland. Former RAF officer Peter Caddy and wife Eileen had been let go from their Managerial positions at Cluny Hill Hotel, near Forres, Scotland. The next year, their friend, Dorothy Maclean, a secretary also dismissed from Cluny Hill Hotel, moved to the run-down caravan park to join them. Their friendship was forged since the 1950's through a meditation group. Due to reduced circumstances, they tried growing their own food. As Peter struggled with a sandy garden plot, Dorothy received guidance she was now employed by Nature, and began channeling prose and practical advice. Eileen Caddy was told, in a "field of dreams" moment, this caravan park would become a place of pilgrimage for thousands. She quipped in an interview years later, her response was "Who'd come to this dump?!"
Dorothy's channeled guidance, resulting in GIANT vegetables, attracted increasing attention from horticulturists. "This dump" became the flourishing gardens and homes of The Park Ecovillage on Findhorn Bay, the Cluny Hill Hotel (yes, the same Victorian hotel that fired Peter, Eileen, and Dorothy), the Isle of Erraid community and the Traigh Bhan Retreat House on Iona.
Pioneering a Sustainable Future
The vision of Peter, Eileen and Dorothy magnetized like-minded people and patrons. In 1970, David Spangler broadened Findhorn's reach, establishing it as an educational facility. Today The Findhorn Foundation and Community is an exemplar for a world desperate to reverse climate change. There are 400 residents and 3,000 visitors from over 40 countries taking part in residential programs each year. Environmentalists and industry leaders attend forums. In 1995, the international headquarters of GEN (Global Ecovillage Network) opened in Findhorn. In 1998 and 2018, The Findhorn Ecovillage was designated UN-Habitat Best Practice for sustainable living. In 2006 Findhorn became a United Nations training centre, with a voice in the Climate Change Network.
Perhaps the subject of fairies has taken a bit of a back seat to discussions on global warming, although it is evident fairies are still very much at work! Findhorn's mission to reach zero carbon footprint includes wind turbines, solar panels, electric cars, e-bike sharing, bio-mass boilers for heating, and "The Living Machine," a non-chemical waste-water treatment system. Online courses and broadcasts maintain connections sans travel carbon footprint.
The Ecovillage uses recycled, local resources to create whiskey barrel homes, Eco Chalets, straw bale houses, Earthship homes, multigenerational affordable housing, and turf houses. ("Honey, it's time to mow the roof!") Facilities support education, meditation, wellness, conferences, community gardens, the arts, cafés, shops, the Findhorn Press, businesses, and charities. Findhorn has its own currency, the Eko, investing in the local economy.
Cultural Shift and Continuity
How did Findhorn's ideals remain intact through decades of change? Its mainstay has been The Three Principles: Inner Listening, Co-creation With the Intelligence in Nature, and Work is Love in Action.
The Findhorn Foundation doesn't exist in a bubble, untouched by conflict and loss. When Findhorn was shut down by Covid restrictions, financial difficulties ensued, necessitating a reduction in staff. One ex-employee responded by burning down The Community Centre and Sanctuary buildings. Even then, some humanity shone through. The employee turned himself in to the police, as the fires were being put out. His sentence was 300 hours of redemptive community service. Findhorn's response was "Buildings can be rebuilt. Our main concern is to take care of our co-workers and community." This remains true to Peter Caddy's observation many years ago: "We've stopped growing vegetables and now we grow people." Co-creating with Nature involves inner change, by responding to challenges with activism. The cause of the climate crisis is deeper than its effects. There is the fundamental need for conflict resolution and a "transition from material consumption to real wealth."
The mythos of Findhorn endures what began as a singular, still small voice is a multigenerational commitment. It's been described as not so much as a place, but an adjective, as in "Let's have a Findhorn hug!" Maybe it's a spiritual frequency. For residential guests, leaving isn't The Expulsion from the Garden, but a graduation and mandate to restore and protect ecosystems where they live.
Findhorn is wherever there is Nature and goodhearted people in partnership with the Earth. Findhorn is wherever there is hope.
---
About the Author:
Lisa Iris is an artist and proprietress of MYTHOS Art and Counselling 289 High St., Fort Erie, ON. Her artwork is represented exclusively by crystalwind.ca and is featured in The Crystal Wind Oracle by Antonio DeLiberato.
Lisa enjoys opening her home to kindred spirits for conversation and for making magic happen.
Get The Crystal Wind Oracle Here!
---
Fairy Girl Artwork and this text is Copyright 2023 Lisa Iris. All Rights Reserved. Reprinted with written permission from CrystalWind.ca and Antonio DeLiberato Exclusive Worldwide agents for Fairy Girl by Lisa Iris.
---
© 2023 crystalwind.ca. All rights reserved. Unauthorized copy or posting on other websites is prohibited. We track all IP addresses with sniffer technology. Using a Proxy/VPN will not hide your IP address.
CrystalWind.ca is free to use because of donations from people like you. Please help support us!
Blessings!
Spirit Animal Totem Of The Day!
Who is Online Now
We have 990 guests and no members online