Category: The Ascended Masters Written by Angels and Light Therapies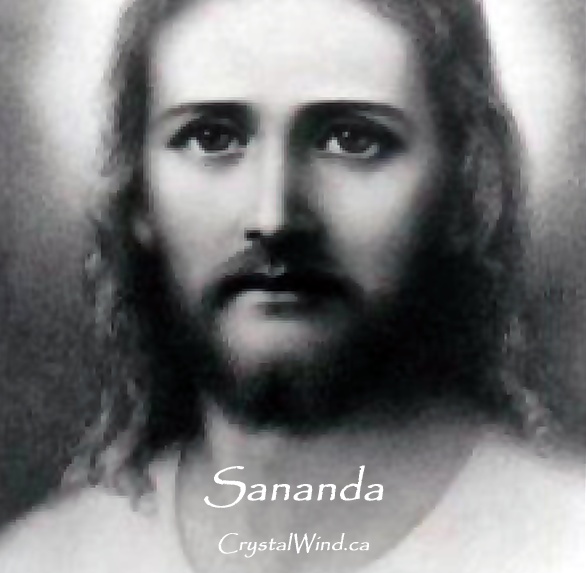 Dear sons and daughters of planet Earth! I AM SANANDA!
Once again I am grateful to Father/Mother God for allowing me to be here again, passing on some teachings. On this day, and on other days, it doesn't matter, what timeline, what point in the timeline you are or will be. Every life, every walk has a purpose, has a reason for being, has a guideline. When disincarnating, the soul takes stock of everything it has learned, everything it has lived and all the points it had determined that it would consider concluded, and that it did not succeed. Yes, there is great joy in the soul when it realizes that it has completed some of those points, because this denotes the sign of evolution.
Then, after doing this overview and this analysis of what was its last incarnation, the soul is taken to the Karmic Board to define what it will do in the next incarnation; how it will lead your journey into the next incarnation. We have been saying this constantly, that all the souls who are here in this age, and who have been and who have already been away, knew exactly the path that they would have to follow. Many extremely evolved souls who came to this planet to fulfill a mission to bring Light, to emanate Light to this planet, to raise the Light of this planet, and to help directly in the ascension process, all prepared their own journey for this. A journey of learning, a journey of evolution, a journey of preparation for the big moment.
Every awakened being on this planet right now is fulfilling an agenda prepared by their souls as the mission here will come to an end. They will be those pillars of Light necessary for the ascension, they will evolve, they will ascend and they will have their missions accomplished. Missions of pure unconditional love, as the vast majority no longer resonate with the Third Dimension for a long time. But they came here, to relive all the suffering, all the low density of this dimension for a single purpose; reach the current moment and effectively fulfill their missions.
Many of you are aware of this, the vast majority I can say, but unfortunately, some of those souls got lost along the way; they have not been able to transfer all this intention to the human consciousness in which they are incarnated. And they are in total despair, because they are seeing the moment coming and that dream, that mission to re-evolve and ascend, is getting farther and farther away. These souls, as I said, are in total despair and their physical clothes, even more so, because they cannot understand anything, they are totally unbalanced, totally aimless, not understanding why their lives suddenly seem to have turned upside down. But this is necessary, so that they wake up and at least try to make up for lost time; at least try to join the last groups that will be ready for ascension.
So many people on the planet, right now, are going through this: periods of great intensity, of changes, of doubts, of sufferings, of decisions and who do not understand why this is all coming with such intensity, this is all coming with so much strength. It is exactly for them to wake up and realize that they have a path and a mission to fulfill.
Those other souls who have no missions on the planet, are souls on the planet, are souls who have never reached higher dimensions. So to those souls, yes, they were told there would be ascension, they were told they could choose to ascend. And many have already found the path, many are walking the path to ascension. Even without quite understanding what it means, but it seems that a force stronger than their own will, pushes them forward, making them walk towards something that they also don't understand what it will be. But they are learning to cultivate love, they are learning not to judge, not to offend, not to discriminate against a brother. And with that, they are awakening the unconditional love within them, even without understanding very well what it all means.
To these souls I give my congratulations, because they are souls that despite being walking in the dark; not in the darkness concerning darkness, but in the darkness of total ignorance of what is happening, they cling to faith; not that punishing God taught to them, but faith in a loving God, a God who loves unconditionally all his children equally. And they are heading for the great road of ascension. And I tell you that you will get there.
There are those other souls, who are from this planet and who don't want to know, don't want to hear; life as difficult as it is on this planet is known, there are no more surprises for them, everything that is here is fine. They complain all the time, they are against it, they make manifestoes, they revolt, but everything is fine, they don't want to change. Fear takes hold of the consciousness of these souls in such a way that nothing makes them want to hear or want to understand what is being proposed. How long will this last? I don't know, for each one, there will be an answer. Because when they actually know that everything they live is a lie, that everything they have lived all this time and still want to live is a big fake; maybe they change their minds, or maybe they don't want to stay in the charade, because for them it's nice.
And as the last group, there are those souls who have been here for a long time. Some very evolved souls, with fractals in high dimensions, and that today are giving support, strength and wisdom, so that they know how to walk their paths. These are souls who have been here from the beginning, before Gaia's descent into the Third Dimension, and who set out to stay here, have not left. Because they also knew that they would have important missions at this time, now. And almost all of them are already on their way to the Fifth Dimension. Unfortunately, even these so evolved, so understood, some got lost along the way. Some let themselves be carried away by what they once lived and liked; they don't want to evolve; you want to stay here, in this dimension, not here on this planet, but in the Third Dimension.
But those who are ready, those who are on the path, those who have already taken the course, who have already passed through that portal, are heading, each in their own time, each in their own way, but they are all walking; with conscience. Looking to find the right path each day; seeking to tread on solid ground, not false promises; always trying to be ready for each obstacle, each lesson that comes,
living them, understanding them, learning them and giving them as completed; closing that schedule, which the soul had planned before incarnating. And I can tell you that these souls' agenda is a strict agenda, because they want the top, they want the perfection to get to the Fifth Dimension.
Many want to get there to leave, to return to their home planets, to return to their families, their civilizations, given and ended their stay on this planet. Some not, some it proposes to continue here; participating, continuing the journey into this new era, helping those who have never lived this, to understand what the New World will be like, the new era that is approaching. So I would say that each one of you knows exactly which group you fit into. Deep down, even those who have never known where they come from, since they've been here, will feel in their hearts which group they fit into.
What to expect in the coming times? You all know; all your souls know what to expect in the coming times. Many have made a not so perfect agenda (for them, not for us), for us any agenda made is respected and there is no judgment. So some of them just decided to leave before their time, they don't want to participate in the final party, they're afraid. Despite being extremely evolved, they are afraid, because they never went through that. Whenever there was an ascension they reincarnated as spirits, not as beings that will pass from one dimension to another, incarnated, like you. So all of those who chose to leave are afraid of what this moment will be. These are souls who have been through a lot, but have not become that brave.
And for those souls, who chose to hold hands until the end, until the crucial moment of ascension, trusting, being sure of everything we are saying, that they will pass into the Fifth Dimension without losing their physical clothing, I I leave here my sincere hug and pass all my energy to each one of you. Because really you are courageous souls, whole, who are proposing to be part of this whole process, fulfilling your missions and being those Pillars of Light essential to the event. Not that it's separating you from other souls, but each one made a choice. And those who will ascend, but who are already on the spiritual side, are having all my love with them, to go through this whole process as well.
Yes, for them there will also be great learning. Much, some, still have to learn, and all are getting to know very closely, the love that we all have for each one of them. So I expand this embrace of mine, into an embrace from all of us who have always been by your side; strengthening you, giving you strength, so that you don't lose courage, don't lose faith, at a crucial moment in your journey, at a time when your souls have always waited, to fulfill their missions. and later each one, take whatever destination you want. Stay and participate in this new great Era, or simply leave, but with the certainty of the mission accomplished, of all the unconditional love that you brought to this planet, and that certainly contributed to its ascension.
So, brothers and sisters on this planet, sons and daughters: Realize which group you are in. Moving between groups is possible and allowed. Now, don't get carried away by illusion, don't get carried away by the pleasures of the Third Dimension, because this is all unreal, this is all deception. None of this will ever make your souls evolve.
Translation by Google.
Angels and Light Therapies
Vania Rodrigues
Source
© 2021 crystalwind.ca. All rights reserved.
---
CrystalWind.ca is free to access and use.
Please support us with a small gift of $11.11 or $22.22 or $33.33.
Spirit Animal Totem Of The Day!
Lightworkers Will Change the World
Featured Articles: Ascended Masters
Ascended Master Serapis Bey

Open or Close

Serapis Bey is from the realm of Bey, hence the name, wherein is His dwelling place. He is the great disciplinarian known through the centuries for the action of strict discipline. Real discipline is not stipulation over another which would thwart the innate progress, but instead it is a holding in check the human qualities so that the inner or Real Self can have expression. This is very essential to the attainment of the Ascension which is the culmination of all embodiments.

Who was Serapis Bey

He came as a guardian to Earth's evolutions, and took physical embodiment as many did. It is said that He came from Venus. His inner service is in the Fourth Sphere and He works with the Christ Selves of the unascended life-streams there.

The Ascended Master* Serapis Bey is the Chohan of the Fourth Ray.

Read More

Connecting with The Ascended Masters

Open or Close

Decide the name of the Ascended Master with whom you wish to connect with before going into the Master Chamber.

Please close your eyes and begin taking deep breaths of Archangel Metatron's golden energy when you are relaxed continue by saying this prayer:

Read More

Comte Saint-Germain

Open or Close

Comte Saint-Germain: A Man Beyond His Time

Many average, reasonable men can conceive wisdom only under the boring form of a sermon and think of the sage only in the semblance of a clergyman. For such men prudery, hypocrisy, and the most abject enslavement to ritual habit and prejudice must be the everyday virtues. When therefore it happens that a genuine sage, by way of amusing himself, mystifies his contemporaries, follows a woman, or lightheartedly raises his glass, he is condemned eternally by the army of short-sighted people whose judgment forms posterity.

Read More

The Violet Flame

Open or Close

FOR CENTURIES, alchemists have sought to change base metals into gold. But the transmutation of metals like lead into gold is symbolic of a higher and more noble alchemy -- the alchemy of self-transformation.

SELF-TRANSFORMATION was the goal of the most spiritual of alchemists. They sought a way to change the lead of negative human energy into the gold of divine energy, and some of them achieved this by using the violet flame. But first, let's explore what the violet flame is, what it does and how it works.

Read More

Saint Germain & The Pillar of the Violet Flame

Open or Close

More than fifty thousand years ago, a golden civilization thrived in a fertile country with a semitropical climate where the Sahara Desert now is. It was filled with great peace, happiness and prosperity and ruled with supreme justice and wisdom by Saint Germain.

As the High Priest of the Violet Flame Temple on the mainland of Atlantis thirteen thousand years ago, [13=4=4th dimension=time] Saint Germain sustained by his invocations and his causal body a pillar of fire, a fountain of violet singing flame, which magnetized people from near and far to be set free from every binding condition of body, mind and soul. This they achieved by self-effort through the offering of invocations and the practice of Seventh Ray rituals to the sacred fire.

Read More

Cut Through The Illusions!
Who is Online Now
We have 911 guests and no members online
X
Right Click
No right click