Category: The Ascended Masters Written by Vania Rodrigues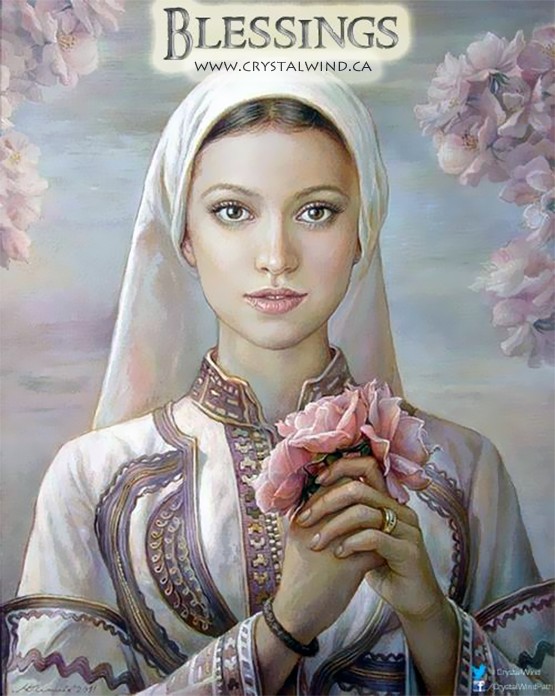 Dear sons and daughters of planet Earth! I AM MARY!
I come here today, once again wrapping you in my love, wrapping you in my harmony, in my peace. My children, do not be discouraged for anything or for a moment. Don't demand so much. When we come here and give you advice, teachings, often contrary to everything you have learned, we are not judging you, we are not putting you inside a box, making you prisoners and little ones, and us out there pointing a wand for each one and saying, "Look how wrong you are!"
This is not how we speak. This understanding is yours. You see us as angry, angry, and attention-grabbing teachers. That's how you see it, but that's not what we do. What we do is put things true, right. You were used to paying attention only when the way of speaking is more rude, the way of speaking is more severe, the voice is raised a little, then you stop and pay attention.
If a person talks to you in a sweet way, in a loving way and even then, it catches your attention, you don't listen that way, you think that they are joking or saying that, just for the sake of talking. Your attention, your understanding, does not match what was said, because it was said in a loving way. And when everything is said lovingly, it's not a reminder, it's not a reprimand, it's a joke. You were used to it.
So when any of us come here and put some points that are not being taken correctly by you, you take it as reprimands, as scoldings, because we are pointing out your mistakes. In other words, notice the energy that you put into what we say? It is a totally contrary energy, of anger, of non-acceptance; and worst of all, you judge yourself, you make a judgment of what you perceive you are not doing correctly. So look at the amount of wrong feelings you put up when we speak in a more imperative way with you.
We are unconditional love, we would never put anger, we would put arrogance in what we are talking about. We are also learning over time to communicate with you. It is not because we are light beings that we fully know how you think. We are in very high spheres, we can no longer resonate with your thinking. Even I, even my son, who we incarnate, don't have that feeling anymore.
So many times, we need to look closely at what is said, what is thought, how things are understood by you. And we are adapting in the way of speaking, so that you pay attention. Many still today do not believe that we, as beings of light, can speak certain things the way we do, because we are pure love. Precisely because we are pure love, we put ourselves in a way that you understand us. I repeat: if we only spoke sweet things, in a sweet way, in a loving way, no one would have learned anything. Because you don't listen when things are said that way; you relax, you don't pay attention. Now, when we talk a little more seriously, a little more rudely, then yes, just because you're a little surprised, you stop to pay attention.
The love we have for you is unconditional, so we would never be here saying things to your evil. Our great goal is always to guide you on the path of Light; guide you so that you evolve; guide you so that you realize your mistakes and can correct them. Don't expect your egos to show you that you are wrong, because he will never do that. The ego doesn't accept defeat, it doesn't accept mistakes, it doesn't accept to walk in the wrong way. For him you are always right and he has shaped all the character, all the habits, all the ways you have to react to everything.
So our role is to show you that you are not seeing things in the right light. And then you interpret: "Another mistake I made...", let it be that way, that you interpret it as a mistake. But the most important thing is not that we point out the error, we point out so that you are aware of it and avoid repeating it. And if there is any action to correct that, let it be done. This is our intention. We have no intention here of sticking our finger in your face. What we want is for you to listen to us, what we want is for you to pay attention to what we say. So we talk this way.
And what is important in all of this? Every mistake you notice, be grateful, don't judge yourself. The aim is for you to be grateful that you have realized that you are making a mistake or that you have made a mistake. And have the awareness and choice to correct or not. Think how many on this planet are not having this opportunity. You are able to see at every moment where you go wrong, because we show. So be grateful that you looked straight ahead at something you've always tried to hide. Because his egos do that, he hides his mistakes, because for him there is no mistake.
So in each moment, in each awareness of a mistake made, don't judge yourself, don't be angry with yourself. Just be grateful and take it, make a choice about the mistake. This is what we want. We are not here to put anyone on the wall, we want you to look straight ahead, whatever you ignore, this is our role. And an important point too, don't keep repeating to yourself: "Oh, I just make mistakes." This is a decree. Let's say that if we were just here, pointing out daily all the good things each one of you does, these videos would have infinite duration, because there are many things that you do correctly.
Now, standing here praising you only makes one thing grow: the ego. The ego needs to hear that it is doing right, that it is following the path, that it is making the good decisions, that it is making the right choices. This is ego. We are not concerned with praising you. Each one of you has to be aware of what you do right and wrong. It is not necessary for anyone to praise you. Because every positive point you make, you are attracting more positive things to you, you are reverberating positive things to the Whole. So it is necessary that they keep praising you, why? This is your role, to do for you and indirectly do for the Whole. I wouldn't say it's an obligation, I would say it's the right thing to do. Then nobody will praise you, because this only grows the ego.
So what we have to do here is not fill your egos, it's show where you're going, as opposed to that direction, which is ascension. Don't judge yourself at any time. Realized that you made a mistake or several, what action to take? First: be grateful for identifying, for looking straight at that mistake; second attitude: define, decree that that mistake will never be repeated; third attitude: correct the consequences of the mistake you made. That's it, you don't have to be whining, you don't have to be complaining, you don't have to be cursing. Because then you are giving power to that huge error and it will become more and more difficult for you to fight it.
Está parecendo já repetitivo demais, mas precisamos dizer: Não conseguem? Peçam a nossa ajuda. É isso que vocês têm que fazer. Não é pedir ajuda ao outro, é a nós. Cada um neste momento, está cuidando da sua caminhada, não está com muito tempo de olhar pela caminhada do outro. Vocês precisam se encher de Luz. Aqueles que ainda despertarão, precisarão de toda esta Luz que vocês emanarão. Ninguém vai mudar, ninguém. Vocês serão apenas Pilares de Luz, e ajudarão no que for possível. Não serão vocês a mudar a mente e as escolhas de ninguém que virá. Espero que isto já esteja bem dentro da mente de vocês.
It's not up to you to change anyone's thinking. It's not up to you to change anyone's way of being. It's not up to you to give the choices to anyone else. Each one has to find their way, each one has to go through their obstacles, each one has to change their attitudes and habits, or not; it's his choice. Look ahead, the walk is forward, not sideways. Bring by hand only those who depend on you, explicitly speaking, children; who are still unable to make the decisions, those who depend on you because they are incapable of making decisions. These you carry by the hand, you don't look to the side, you bring them by your side. The others each have to choose their path, each one has to find a way to follow their own road. And it's the Light,
Look forward my sons and daughters, the ascension is right there. So are we going to stop making small stops and stray from the path? Are we going to walk, each one of you, your own path? For every step you take, more Light is emanating, and more you help those who will come behind. Have this awareness.
Translation by Google.
Angels and Light Therapies
Vania Rodrigues
Source
© 2021 crystalwind.ca. All rights reserved.
---
CrystalWind.ca is free to access and use.
Please support us with a small gift of $11.11 or $22.22 or $33.33.
Spirit Animal Totem Of The Day!
Lightworkers Will Change the World
Featured Articles: Ascended Masters
Ascended Master Serapis Bey

Open or Close

Serapis Bey is from the realm of Bey, hence the name, wherein is His dwelling place. He is the great disciplinarian known through the centuries for the action of strict discipline. Real discipline is not stipulation over another which would thwart the innate progress, but instead it is a holding in check the human qualities so that the inner or Real Self can have expression. This is very essential to the attainment of the Ascension which is the culmination of all embodiments.

Who was Serapis Bey

He came as a guardian to Earth's evolutions, and took physical embodiment as many did. It is said that He came from Venus. His inner service is in the Fourth Sphere and He works with the Christ Selves of the unascended life-streams there.

The Ascended Master* Serapis Bey is the Chohan of the Fourth Ray.

Read More

Connecting with The Ascended Masters

Open or Close

Decide the name of the Ascended Master with whom you wish to connect with before going into the Master Chamber.

Please close your eyes and begin taking deep breaths of Archangel Metatron's golden energy when you are relaxed continue by saying this prayer:

Read More

Comte Saint-Germain

Open or Close

Comte Saint-Germain: A Man Beyond His Time

Many average, reasonable men can conceive wisdom only under the boring form of a sermon and think of the sage only in the semblance of a clergyman. For such men prudery, hypocrisy, and the most abject enslavement to ritual habit and prejudice must be the everyday virtues. When therefore it happens that a genuine sage, by way of amusing himself, mystifies his contemporaries, follows a woman, or lightheartedly raises his glass, he is condemned eternally by the army of short-sighted people whose judgment forms posterity.

Read More

The Violet Flame

Open or Close

FOR CENTURIES, alchemists have sought to change base metals into gold. But the transmutation of metals like lead into gold is symbolic of a higher and more noble alchemy -- the alchemy of self-transformation.

SELF-TRANSFORMATION was the goal of the most spiritual of alchemists. They sought a way to change the lead of negative human energy into the gold of divine energy, and some of them achieved this by using the violet flame. But first, let's explore what the violet flame is, what it does and how it works.

Read More

Saint Germain & The Pillar of the Violet Flame

Open or Close

More than fifty thousand years ago, a golden civilization thrived in a fertile country with a semitropical climate where the Sahara Desert now is. It was filled with great peace, happiness and prosperity and ruled with supreme justice and wisdom by Saint Germain.

As the High Priest of the Violet Flame Temple on the mainland of Atlantis thirteen thousand years ago, [13=4=4th dimension=time] Saint Germain sustained by his invocations and his causal body a pillar of fire, a fountain of violet singing flame, which magnetized people from near and far to be set free from every binding condition of body, mind and soul. This they achieved by self-effort through the offering of invocations and the practice of Seventh Ray rituals to the sacred fire.

Read More

Cut Through The Illusions!
Who is Online Now
We have 809 guests and no members online
X
Right Click
No right click