Support crystalwind.ca with your donation and help spread spirituality and positivity.
Blessings!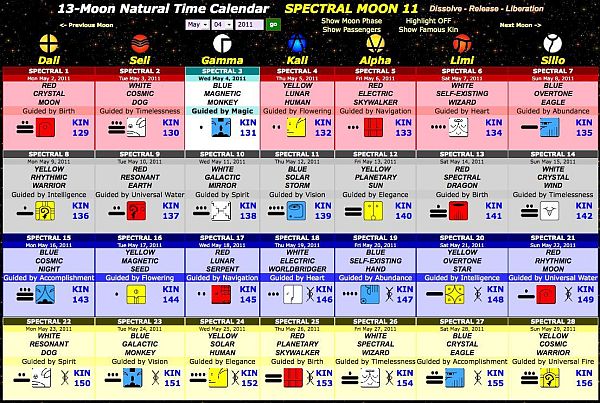 The 13 Moon, 28-day calendar is a new standard of time for all people everywhere who desire a genuinely new world. If the calendar and time we follow is irregular, artificial and mechanized, so becomes our mind. As is our mind, so our world becomes, as is our world today: Irregular, artificial and mechanized. But if the calendar we follow is harmonic and in tune with natural cycles, so also will our mind become, and so we may return to a way of life more spiritual and in harmony with nature.
The 13 Moon calendar synchronizes solar and galactic cycles on July 26 correlating with the star Sirius. Each of the 13 moons has a power, action, and quality which define an annual program to synchronize our consciousness with the galactic cycles.
As a perfect measure of cosmic time, this calendar is actually a synchronometer, an instrument for measuring synchronicity. Followed daily, it gives us a new lens in which to perceive events. In the New Time, synchronicity is the norm.
The 13 Moon 28-day synchronometer is a harmonic timespace matrix. It takes the moon 28 days to orbit the Earth; it makes this orbit 13 times each year. The standard of measure is the 28-day cycle, called a moon, because it is the median between the 29.5-day synodic cycle of the moon (new moon to new moon) and the 27.1-day sidereal cycle of the moon. Hence, it is a measure of Earth's solar orbit using the 28-day lunar standard. This creates a perfect orbital measure of 13 moons of 28 days, totaling 364 days, or 52 perfect weeks of 7 days each. Because the 365th day is no day of the moon or week at all, it is known as the "day out of time" - a day to celebrate peace through culture and time is art!
"The Thirteen Moon calendar is an evolutionary tool to assist humanity in the unprecedented act of uniting itself on one issue central to its complete well-being: time. The harmonic convergence of humanity on this one issue, combined with the inescapable order, perfection and simplicity of following the 13 Moon calendar will lift the species as a simultaneous whole into the galactic timing frequency of 13:20."

José Argüelles/Valum Votan, The Call of Pacal Votan
CrystalWind.ca is free to use because of donations from people like you. Please help support us!
Blessings!
Who is Online Now
We have 1547 guests and no members online