Support crystalwind.ca with your donation and help spread spirituality and positivity.
Blessings!
If you've ever wanted to truly connect with your intuition and seek Divine guidance from within, then listen up.
In this post, I'm going to share a powerful ritual to help you to 'tune in' to your Divine guidance system and discover deep insights about how you can live a positive life.
The best part? It doesn't require any fancy chanting, incantations or dancing naked under the moonlight (although these can be a lot of fun!). You simply need your Tarot cards, a pen and paper, and a beautiful place in nature.
Got them? Well let's go…
How the Tarot in Nature Ritual Works
The Tarot in Nature Ritual is very simple – find a place in nature, tune in to your surroundings, and connect with your Tarot cards.
It's what happens in between that creates the magic.
And that 'in between' is different every time because the whole premise of the Tarot in Nature Ritual is about being 'in the flow' and letting the ritual naturally unfold.
To help you see what's possible, let me share with you my recent experience of the Tarot in Nature Ritual when I was in the Spanish Pyrenees.
(Remember, your Tarot in Nature Ritual doesn't have to look exactly like mine. Instead, let it be an inspiration for your own personalised ritual.)
My Personal Tarot in Nature Ritual Experience
Inspired by the beauty and sheer power of the Spanish Pyrenees, I decided to journey out one afternoon with my Tarot cards, a notepad and pen, with the intention of connecting with nature and ultimately, connecting with my Divine Guidance System.
I allowed myself to be guided to a place in nature. I knew roughly where I wanted to go, but once I arrived in the general area, I allowed myself to be guided to the exact place that held the most energy for me. This is just part of the 'tuning in' process and allowing yourself to truly hear your intuition speak to you.
Before starting the ritual, I found some stones and placed them in a circle as my sacred space. I also found some pine cones and wildflowers to decorate the circle, as a way to honour the natural environment. And finally, I placed everything I would need in that circle – Tarot cards, water, pen and paper, and iPhone (for the camera only!!).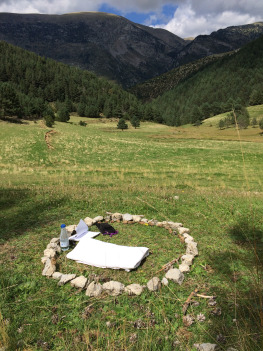 I sat in the circle, closed my eyes and cleared my mind. I brought my attention inwards, grounding myself through the earth and connecting with the Universe through a bright, white light from above.
I became aware of my surroundings, feeling the wind as a symbol of the element of Air, the sun as a symbol of Fire, the ground as a symbol of Earth and later, drinking the water I had collected from a nearby stream earlier as a symbol of Water.
When I felt ready, I opened my eyes and picked up my Tarot cards and shuffled.
I wasn't exactly sure what to ask, but again, I let myself be guided to what felt right. In this case, it was simply an 'Opening' card. I drew the Eight of Pentacles.
"Doing the work," I heard.
I had to laugh. Yes, indeed, I was doing the work. Not just spiritual work, but actual work as I knew this ritual experience was soon to turn into this blog post!
I wanted to go deeper, so I asked the Tarot how I could move beyond thinking about the blog post. This time I drew Justice reversed.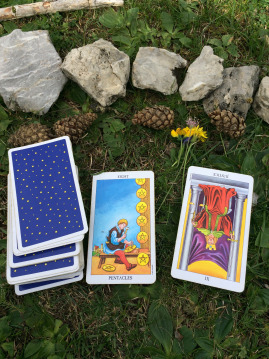 The message I received was that I need to find inner balance. It was time to meditate again.
I cleared my mind, grounded myself and connected to the Universe once again. This time, I became aware of the wind moving through the trees, and instantly thought, "Spirit moves through us." Beautiful. Now I was going deeper. Finally.
I felt compelled to ask the Tarot, "What message does my soul have for me?" I drew the Nine of Pentacles reversed.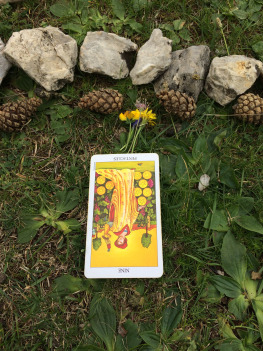 This time, I invited my soul to speak through free writing. That is, I simply wrote down what came to mind, without stopping.
The insights were very powerful and enlightening to me on a personal level. Here's a taste: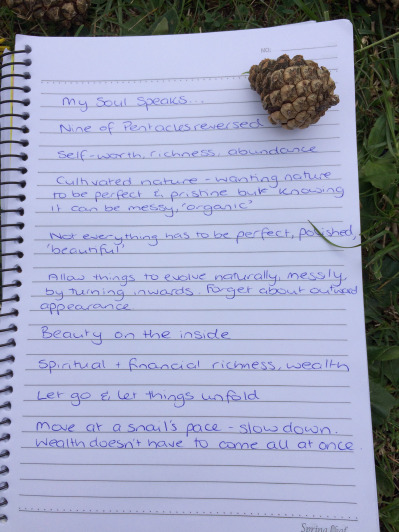 The next question I felt guided to ask was, "What is emerging in my life?" I drew the Temperance card.
Again, I allowed myself to write in the flow with more powerful insights about my personal journey: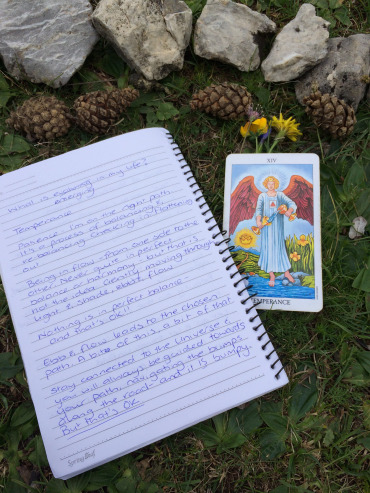 It was after this that I noticed a little black beetle nearby, making his way slowly, but surely, over and under each grass blade. It drew me back to the slow journey of the snail in the Nine of Pentacles and the undulating, never-in-perfect-balance-but-still-OK path of the Temperance card (see my hand-written notes above).
This was indeed where Tarot and nature blended together, to connect me even more deeply to my Divine Guidance System and my intuition. Such is the beauty of the Tarot in Nature Ritual.
It reminded me that nothing is ever in perfect balance – and that's OK. I don't have to be perfectly 'spiritual' or perfectly 'entrepreneurial' or perfectly 'motherly'. I can move through each aspect of myself gently, and when it feels like too much, I move through into the next aspect to balance things out. It's this ongoing, undulating journey that will get me to where I want to go. Very reassuring indeed.
With this insight, I was ready to close the ritual out. I drew one final 'Closing' card – the Page of Swords. Oh perfect! It was indeed time to write the blog, based on the ritual I had just created.
And I couldn't help but be impressed again with the connection between the Page and my immediate surroundings: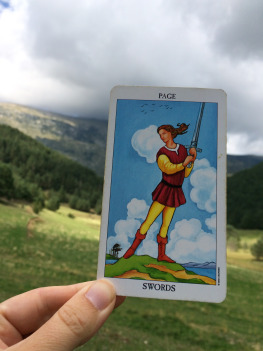 I wrapped up with a sense of gratitude to nature, to Tarot, to my intuition, and ultimately, to the Universe, for giving me such a beautiful, joyful experience. And with that, the ritual was complete.
Making the Tarot in Nature Ritual Work for You
The beauty of the Tarot in Nature Ritual is that you don't have to be a Master of Tarot to get the most out of the experience. The whole intention of the Ritual is to get you to tune in to your intuition with the Tarot cards and nature as your guide.
What's more, you can use this Ritual to get to know the Tarot cards on a very deep and personal level. When you're in a heightened state of awareness, you let your intuition do the talking and the Tarot cards begin to 'speak' to you in ways that you have never heard before. And that's a powerful experience for the Tarot Beginner all the way to the Tarot Expert.
Over to You
Now it's your turn. Create your Tarot in Nature Ritual by finding a place in nature, tuning in, and connecting with your Tarot cards and your natural surroundings. How did you connect with your Divine Guidance System? What messages did you receive?
I'd love to hear! Please share your experiences and stories below in the Comments section – I personally read every one of them.
---

Credit: biddytarot.com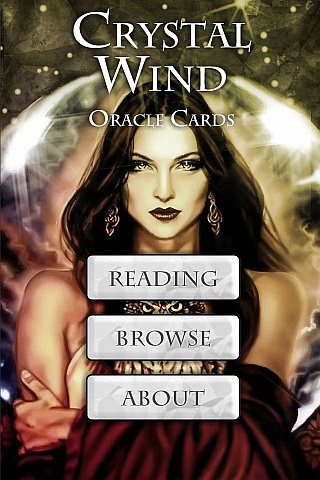 Cut Through The Illusions!
Available On

Spirit Animal Totem Of The Day!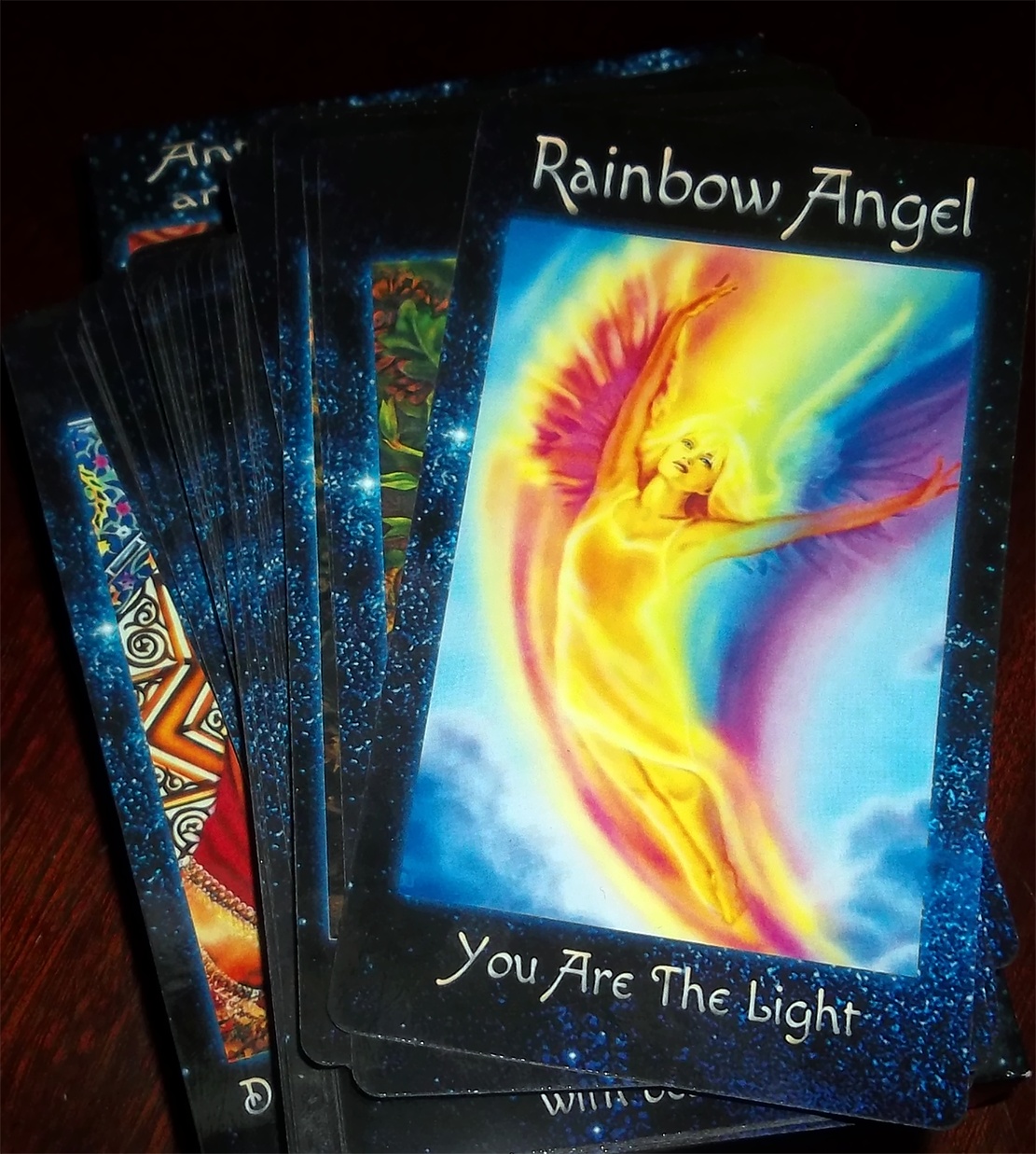 The Crystal Wind Oracle
Myth & Magic Card Deck!
Details Here!
NEW Expanded
Printed & Boxed!
Now with 58 cards!
Featured!
What Is Tarot Astrology?

Open or Close

Tarot astrology is the system through which a reading of the cards in a tarot deck help you through troubled times by offering a reflection on your past, present and future. Tarot is closely associated with astrology as each card relates to a planet, element, or astrological sign.

Tarot cards are used for divination, often known as fortune telling. But, many psychologists have used them as well, feeling that the cards often make patients delve in to how they feel about themselves. This is done through the subconscious. For example, let's say you know work is not going well, but you do not allow yourself to think about it. Getting a tarot card reading that shows you need to change occupations is not really telling your future so much as it is making you face what is really going on in your life.

Read More

The Tarot

Open or Close

The Tarot (pronounced tair-row) is a combination of teachings that reflect the aspects of life, a symbolic "book of life" in the form of pictures that can be read or meditated on from "cover to cover". It can also be opened randomly for insights to issues. As a source of information, it is actually a channel by which pictures bring the situation to light and explain what caused it to occur. Those same pictures depict how the situation is being played out as well as the predicted outcome when placed in "spreads" of various patterns. That outcome will be in accordance to the choices that have currently been made by the client as well as outside influences which they have little or no control over. The Querrent (person asking the question), needs to be informed of this so they understand that they have free will and can apply it if they so choose. The Tarot is informative, enlightening, and it's accurate.

Read More

The Tarot: An Intuitive Health Tool

Open or Close

When I began reading the Tarot Decks back in 1973, I used the traditional readings. Later on, I studied Carl Jung and his analysis of using Tarot for the study of emotional and mental problems. The many students in my area were using the Major Arcana of Tarot Cards to do the analysis. After many years, I have finally discovered a mannerism to use the entire Tarot Deck for the 'Healing Intuitive Reading'. In this reading, we examine five planes of health in a being. The heart and blood, the liver, pancreas, adrenals and kidneys, thymus, immune system and finally, the brain, are examined.

Read More

Tarot Card Meanings (A Quick Reference Guide)

Open or Close

A quick list of tarot card meanings.

If you are just learning the Tarot, print off this list of tarot card meanings to keep as a handy reference – it can be easier to look up meanings on a sheet of paper rather than flipping through the little white booklet that comes with most Tarot decks.

The Tarot deck is made up of 78 Tarot cards, each with its own unique Tarot card meaning. There are 22 Major Arcana cards and 56 Minor Arcana cards across four suits (Cups, Pentacles, Swords and Wands). The Major Arcana consists of 22 cards that reflect key archetypes or spiritual lessons in our lives.

Read More

Here Are 7 Daily Tarot Spreads For Your Morning Ritual

Open or Close

I confess, there have been way too many mornings where I've woken up, kicked off the covers, and reached for my phone. In seconds, I'd already be texting, answering emails, scheduling appointments, or checking my latest social media post.

Read More

How to Use Tarot as a Tool for Personal Growth

Open or Close

Have you ever felt like you have an inner voice, but you just can't seem to tap into it? Or maybe you're stuck in a rut and need some insight into the life decisions you're facing.

Read More

General Tarot Card Reading For April 2023

Open or Close

Welcome to your April monthly tarot reading.

Read More

What is Tarot Card Reading and What Should You Expect?

Open or Close

Tarot card reading has been a source of fascination for centuries. The ancient art of divination using tarot cards has captivated people from all walks of life.

Read More

Who is Online Now

We have 1536 guests and no members online
X
Right Click
No right click