Category: Tarot Cards Written by kOri Woo Views: 920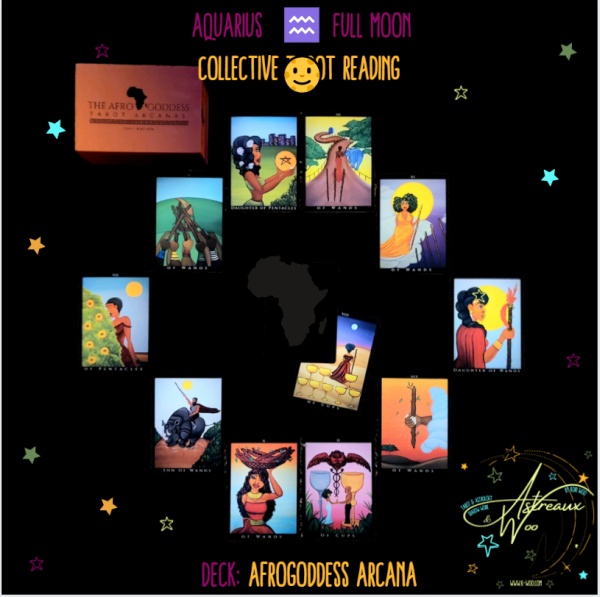 "The chains that break you are the chains that make you, and the chains that make you are the chains you break." — Anthony Liccione
GENERAL ENERGIES
Overall Message (Deck Bottom): 8 of Cups
Our collective energy seems to be moving toward endings & closures in the emotional realm. The promise implied in detaching from negative, draining activities & unequal bonds is expansion. When we recognize and accept that everyone is not for us (and that doesn't make us or them wrong) and take responsibility for detaching and surrounding our selves with those who are, we free ourselves to pursue greater, more complete fulfilment. Heart spaces are opening to the awareness of what we all innately deserve as human beings. Jupiter will emphasize this and Saturn will compel us through limitation or responsibility to adjust and/or regulate our efforts in the house of our natal charts where Aquarius appears. The first full moon at 0 degrees Aquarius in July enlightened us to where we've come up short in pursuit of the goal. Now at the last degree of the sign, we see hints of the reward in heeding the Universe's urging (or the consequences of resistance).
Conjuncting Jupiter at the anaretic degree, the effects of this lunation will definitely be more intense than usual. There are not many negative aspects in the cosmos or indications in the cards for this month, though. That means we are being given an opportunity to do the necessary work (Saturn is also in Aquarius) in our emotional lives (Moon) to ensure forward movement (Aquarius), healing, and productive growth in our lifestyles overall without having to focus too much on problematic distractions. This energy highlights endings, epiphanies, and exposure with regard to Aquarian themes. (Innovation, individualism vs. group dynamics, humanitarian efforts, unorthodoxy, and on the shadow side, contrariness, megalomania, intellectual elitism, & marginalization).
We must be careful not to be so distracted by or invested in the perspectives or expectations of those we love that we fail to take the necessary steps to expand our own minds & hearts. Let's open our very selves to experiences that bring us into deeper contact with our own individuality. […]When we rely on external sources to define or confirm what is pleasurable, valuable or worthy of emotional investment, we miss out on the opportunity to define it for ourselves and invite in those who would compel a more complete expression from us.
-Kori Woo (
Full Moon in Aquarius 7/23/21
)
TAROT CARDS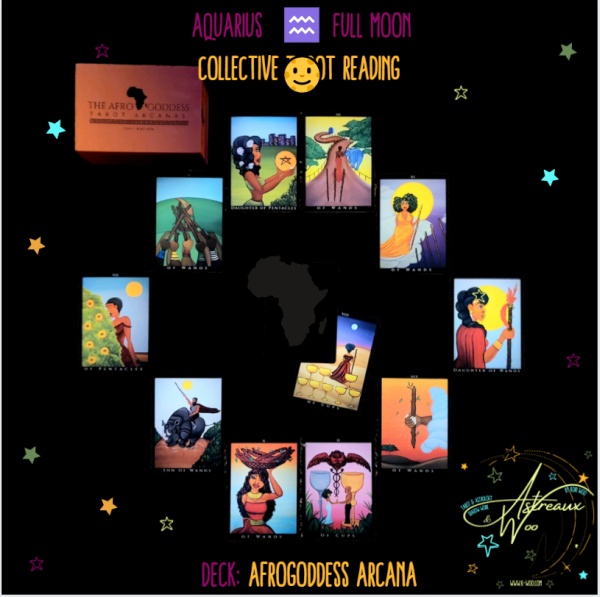 Daughter of Pentacles :Ideal
5 of Wands :Problem
7 of Pentacles :Collective Energy (self)
Son of Wands :Past
10 of Wands :Outgoing Influence
Outcome: 3 of Wands
Emotions: 6 of Wands
Environment: Daughter of Wands
Collective Approach: Ace of Wands
Incoming Influence: 2 of Cups
TAROT BREAKDOWN
The Horizon (Self & Environment): Putting that work in is the name of the game for much of the collective. In light of the pandemic and other wide reaching world events, it only makes sense that we'd be focused on rebuilding and solidifying foundations. The 7 of Pentacles speaks of patience, persistence, nurturing and being attentive to ones physical and material needs. It is future directed and being a 7 card, it is also about mastery. We're investing our energy in growth, expecting our efforts to manifest that fulfillment missing from the situations we've left on the shelf in those 8 cups. This time though, we do it aligned.
In the environment, we find motivation, encouragement and enthusiasm. We are being compelled by external events and those around us to channel our creative energy into the new. The Daughter (page) of Wands is a self starting, highly excitable, child-like energy with a strong self belief and a willingness to act in the face of fear. Are you? If nurturing an ideal into fruition or building a business is the goal, well you'd better be doing something, right? Damn skippy, says the page.
Motivations (Past vs. Ideal): Emerging from underneath financial burdens, energetic overwhelm, and the misplaced responsibilities of others in the 10 of Wands, we set our sights upon the earth element. The study, practice, and very eventual mastery of the material realm is indicated by the Daughter of Pentacles in the ideal position. We are embarking on a path of self security, stability, and committing to pursuit of our own abundance. And, damnit we shall have it! That does mean we must follow through on our current commitments and open ourselves to opportunities for new that may require even deeper dedication from us.
The Issues & Us: Petty conflict & competition may distract us from the goal. The 5 of Wands is always a reminder to be more solution oriented than concerned with being right or in control. With the Knight of Wands being the root of this issue, our commitment to a goal is in question as well as our motives. Communications may prove too direct or harsh for those around us. What becomes most obvious during this cycle is how much willful pursuit of truth & novelty at the expense of reliability & compassionate self expression actually costs us. It is imperative that in our quest to uncover and relay the reality or our personal perspective that we can differentiate the two. Think before you speak, then do so with emotional intelligence in tact. It's time to adjust our words and actions to reflect values. This is growth.
Collectively, our emotional state is informing our approach toward the 5 wands. The Ace of Wands denotes high enthusiasm, creativity, passionate action to manifest a goal but also self defense and even sexual prowess. Let's walk it like we talk it and maintain our motivated momentum. That applies to any area of life in which we seek change or progress. Our follow through determines our success. We'll find we are acknowledged for our sincere intent, but celebrated for our dedication to embodiment of potential. Don't stop at the parade.
The Future: Our past attempts at forward movement were inconsistent at best with the Knight but we've set our sights on the slow, steady, and tangible this time around and we're likely to find others who resonate with us willing to walk to path alongside us. Synchronicities and additional opportunities to better ourselves and expand our reach may also result from the new connections we invest in. Through focused action, sincere and balanced support and a disciplined approach to transforming our circumstances, we are rewarded with significant and measurable manifestation.
Peace & healing to you lovelies, and abundance tenfold. Ase.
Kori Woo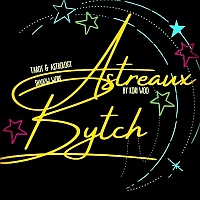 Author: kOri Woo (AstreauxBytch)
This blog is a reflection of my personal growth journey, creative writing pursuits and general energies I encounter in the day today. I am currently mastering both Tarot and Astrology and you can find my posts regarding those subjects @AstreauxBytch I also post biweekly tarot videos for each month and new moon on my youtube channel http://youtube.com/c/AstreauxBytch
Reprinted with written permission from kOri Woo.
© 2021 crystalwind.ca. All rights reserved. Dio Not Copy.
---
CrystalWind.ca is free to access and use.
Please support us with a small gift of $11.11 or $22.22 or $33.33.
Thank you!

ॐ Namasté - Blessings!

"Life is an echo, what you send out comes back."
© 2008-2021 crystalwind.ca. All rights reserved.
Spirit Animal Totem Of The Day!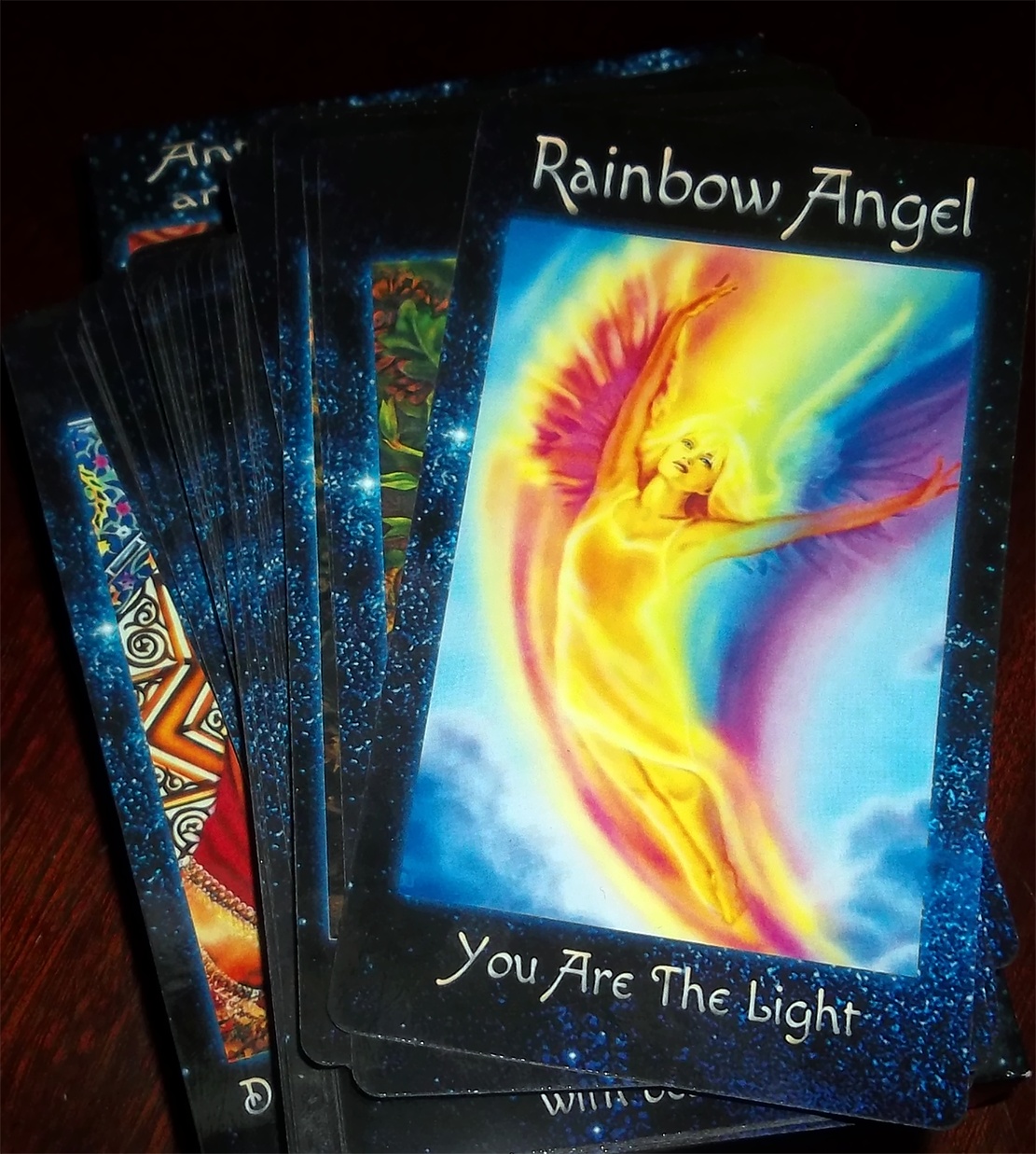 The Crystal Wind Oracle
Myth & Magic Card Deck!
Details Here!
NEW Expanded
Printed & Boxed!
Now with 58 cards!
Featured!
What Is Tarot Astrology?

Open or Close

Tarot astrology is the system through which a reading of the cards in a tarot deck help you through troubled times by offering a reflection on your past, present and future. Tarot is closely associated with astrology as each card relates to a planet, element, or astrological sign.

Tarot cards are used for divination, often known as fortune telling. But, many psychologists have used them as well, feeling that the cards often make patients delve in to how they feel about themselves. This is done through the subconscious. For example, let's say you know work is not going well, but you do not allow yourself to think about it. Getting a tarot card reading that shows you need to change occupations is not really telling your future so much as it is making you face what is really going on in your life.

Read More

The Tarot

Open or Close

The Tarot (pronounced tair-row) is a combination of teachings that reflect the aspects of life, a symbolic "book of life" in the form of pictures that can be read or meditated on from "cover to cover". It can also be opened randomly for insights to issues. As a source of information, it is actually a channel by which pictures bring the situation to light and explain what caused it to occur. Those same pictures depict how the situation is being played out as well as the predicted outcome when placed in "spreads" of various patterns. That outcome will be in accordance to the choices that have currently been made by the client as well as outside influences which they have little or no control over. The Querrent (person asking the question), needs to be informed of this so they understand that they have free will and can apply it if they so choose. The Tarot is informative, enlightening, and it's accurate.

The Tarot's history is veiled in the mists of time, surrounded by myths and legends, superstition, and diverse speculation. It speaks a language that is born of the universal collective mind through archetypes and symbols that range across the boundaries of astrology, numerology, mystical wisdom, religious teachings, and other psychic sciences. There are many stories as to its origin. Some say that the Tarot came from the Hierophants (priests of the Eleusinian Mysteries), the Gypsies, the Egyptians, the Jews, the Chinese, from India, the Hebrew Kabbalistic teachings, on and on. These teachings were handed down as the Major Arcana; cards representing the outside influences of one's life that remained out of the individual's control, alongside the Minor Arcana representing the individual and influences within daily life over which they did have control.

Read More

The Tarot: An Intuitive Health Tool

Open or Close

Teacher: Peter Phalam

When I began reading the Tarot Decks back in 1973, I used the traditional readings. Later on, I studied Carl Jung and his analysis of using Tarot for the study of emotional and mental problems. The many students in my area were using the Major Arcana of Tarot Cards to do the analysis. After many years, I have finally discovered a mannerism to use the entire Tarot Deck for the 'Healing Intuitive Reading'. In this reading, we examine five planes of health in a being. The heart and blood, the liver, pancreas, adrenals and kidneys, thymus, immune system and finally, the brain, are examined.

Read More

Tarot Card Meanings (A Quick Reference Guide)

Open or Close

A quick list of tarot card meanings.

If you are just learning the Tarot, print off this list of tarot card meanings to keep as a handy reference – it can be easier to look up meanings on a sheet of paper rather than flipping through the little white booklet that comes with most Tarot decks.

The Tarot deck is made up of 78 Tarot cards, each with its own unique Tarot card meaning. There are 22 Major Arcana cards and 56 Minor Arcana cards across four suits (Cups, Pentacles, Swords and Wands). The Major Arcana consists of 22 cards that reflect key archetypes or spiritual lessons in our lives.

Read More

Can Tarot Card Reading Help You With Your Love Life?

Open or Close

Tarot reading is one of the most exciting activities that you can perform to know what is in store for the future. It helps to understand and boost your love life just by clicking on a few sites.

You need to choose the best online tarot card reading sites of 2021 and fill in your details. An expert tarot reader will help you explore more about your life.

Read More

September Monthly Tarot Tableau

Open or Close

September Tarot Tableau Spread by Kori Woo. Deck: The Mary-el Tarot by Marie White

September 2021 Overall Themes

As we enter September and settle into Virgo season, the 6 of Swords serves as an anchor of sorts. It is a clear reminder of our right to choose. Our thoughts, feelings, reactions to our environment (The Lovers, 5 of Swords, 2 of Wands) become a part of us. The question now becomes are we choosing consciously or subjecting ourselves to avoidable mental & emotional chaos by engaging energies that do not compel our best self expression? When we are attempting to evolve, we must remember our agency.

Read More

Cut Through The Illusions!

Who is Online Now

We have 1294 guests and no members online
X
Right Click
No right click