Category: Tarot Cards Written by kOri Woo Views: 2002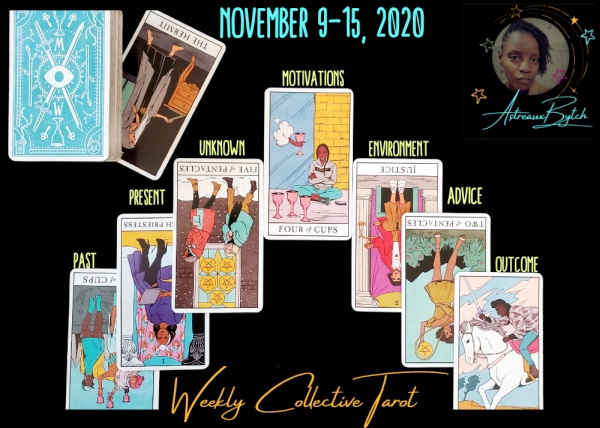 Bow Tarot Spread from "The New Complete Tarot" using The Modern Witch Tarot by Lisa Sterle
Past: 3 of Cups (rx)
Present: The High Priestess (rx)
Unknown: 5 of Pentacles (rx)
Motivations: 4 of Cups
Environment: Justice (rx)
Advice: 2 of Pentacles (rx)
Outcome: Knight of Swords
Breaking away from what & who does not acknowledge & encourage, add to, or refine our growing sense of self-worth & abundance brings new insight and for some possibly physical or energetic protections. Collectively, it seems many are decisively disengaging the superficial, frivolous, codependent or overindulgent connections and activities that have comforted us in hard times past. This week, our decisions and the outcome will serve as clear indicators of how in touch are we with our intuition. The means and consistency with which we practice discernment & discretion will all so be up for review. It may be beneficial to speak only when necessary, making a point to be simultaneously, honest, clear, & compassionate.
While our emotions may be fluctuating rapidly in response to the many changes set to begin and the releases already underway, there is also much healing happening and more to be had should you choose to align your focus there. Specifically those working through issues of self-esteem, materialism, and poverty consciousness will find that as this week progresses, tangible indicators of healing and recovery seek us out. When the best of our intentions are met with resistance, provocation, or delay, the temptation to give into anger or ambivalence can grow strong. Meet it with your own resistance, setting and following through on priorities, defining and fiercely defending boundaries and seeking out those who sincerely advocate for the best in you.
I wish you all a great Jupiter Pluto culmination, this week, lovelies. Check out the daily breakdown below. <3 kori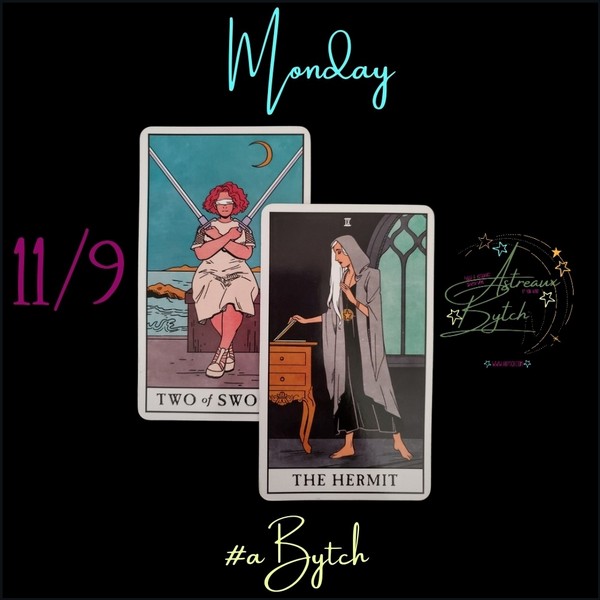 2 of Swords, The Hermit (3 of Cups reversed)
Solitude for clarity's sake. The decisions we face today may ask us to choose between needs and desires or others and ourselves. While it may be easier to ignore the call to separate from the superficial or denounce our trauma bonds, what we find when we look within for our emotional fulfillment are new truths to carry with us when we re-engage the world around us and relationships manifest that reflect our clear intentions and committed evolution.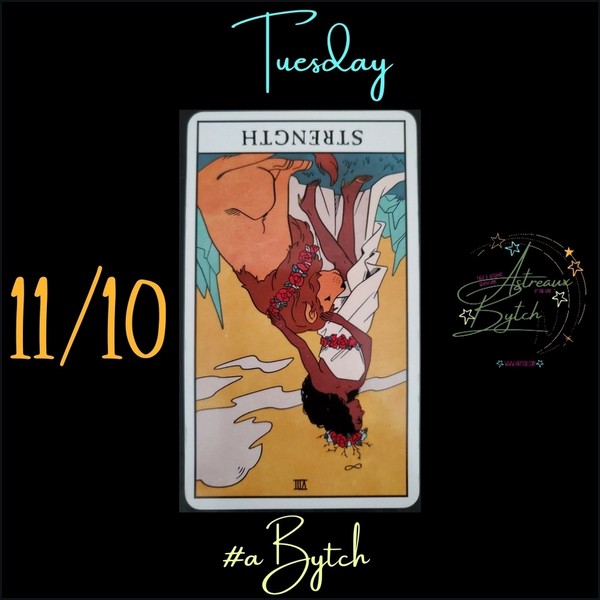 Strength reversed (The High Priestess reversed)
Today, our work is cut out for us. Collectively we are attempting to resist the ego's overwhelming need to speak in its defense. In fact, any impulse toward silence is likely best heeded and angry urges rejected outright. What you wish to say is probably best served with a long pause and much deliberation. It's almost certainly not helpful to allow anyone else's abuse either or adopt a practice of punishing oneself for ignorance or mistakes.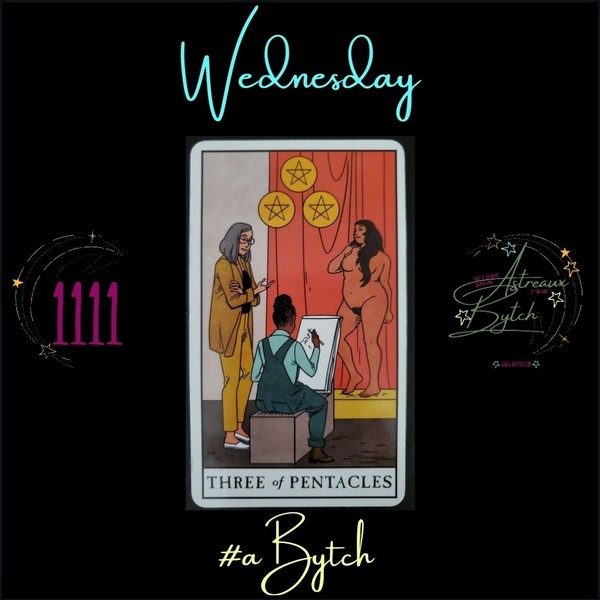 (1111) 3 of Pentacles (5 of Pentacles reversed)
Embarking on a path of self-recovery with strong support. Our determination to build our foundations stronger leads us to like energies who teach us to embrace differences and engage our creativity in the interest of substantial abundance. The 1111 portal is today. Numerologically this is a 44 day in a Master Builder (22) year, indicating that we are working through a spiritual lesson surrounding our stability, security. Specifically, how we work with others to create foundations that serve a community of individuals is under review. We do well to adjust our priorities so they align with the meeting of needs and the manifesting of sustainability & longevity. What purpose or cause are we feeding our energy into and is it feeding us? How do you collaborate with others and where is there room to improve? Who in your environment can and will balance their investments into personal growth with their energetic investment into you? Today, these are the questions circumstances and events will help us to answer.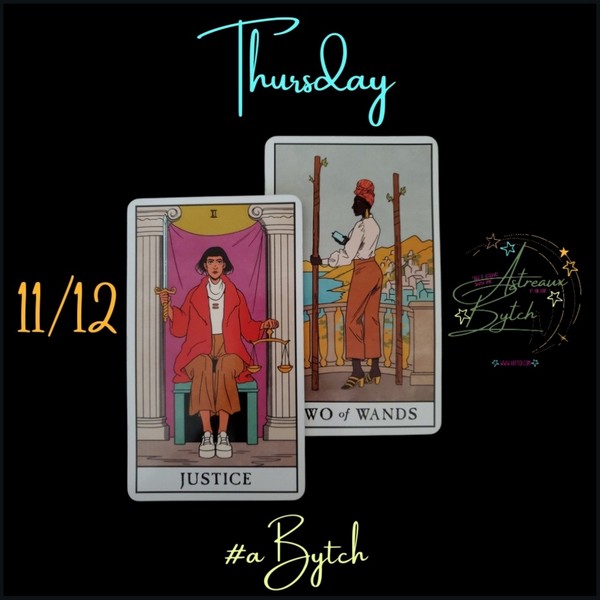 Justice & 2 of Wands (4 of Cups)
On a quest for balance, we recognize what is no longer fulfilling and make action plans in search of the new and improved. Karmic relations and circumstances culminate in ways that vindicate us and free us to pursue new goals and align with new paths. Today is a great day for planning and taking first steps toward fruition/manifestation.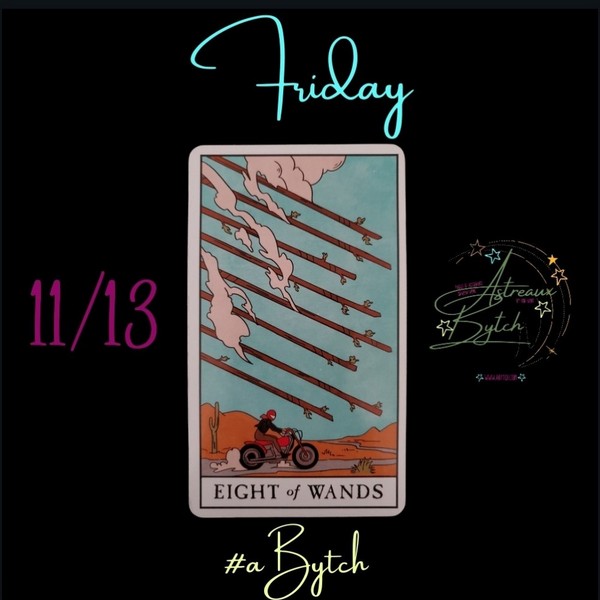 8 of Wands (Justice reversed)
Communication reflect imbalances. Do your action plans, also? We are picking up speed in the direction of our goals, but must remain aware of what in our environments is misaligned with the direction we've chosen. It is imperative that we continue to take the necessary steps in secession until all processes are complete and that we act with integrity. Shortcuts will sabotage progress & operating with ulterior motives will likely be met with exposure and direct resistance. Check your intentions.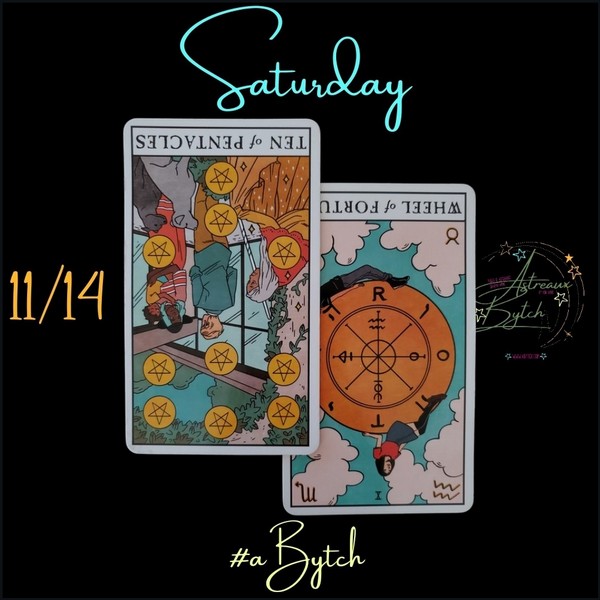 10 of Pentacles & Wheel of Fortune (2 of Pentacles) ALL reversed
Impractical decisions and inability to work productively and consistently with others puts us in the way of our own growth & material manifestation. As its the weekend, rest and re-evaluation of what we wish to manifest and the reasons behind it may be in order. Be mindful of expecting more than you are contributing in group situations. Change is afoot and if we wish it to be for the better we must open to and act on the ways we can also be.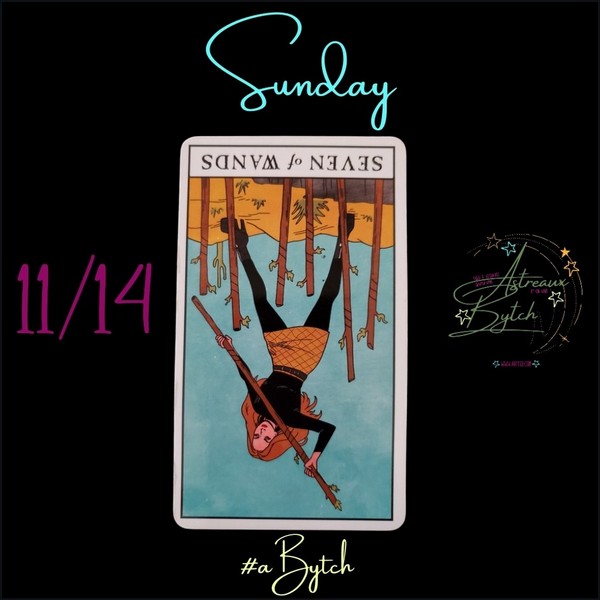 7 of Wands reversed (Knight of Swords)
Watch your huff and your puff, but don't let anyone blow your house down The best defenses are information, honesty and the willing to detach from any distractions this Sunday. Be careful of defensiveness in communication, but remain brave when you must defend yourself or speak necessary truths. We can put our guards down when we are observant and responsive to our environments. Cunning linguistics are a powerful tool cough*weapon*cough.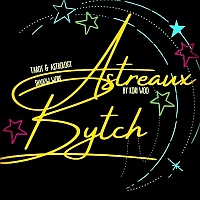 Author: kOri Woo (AstreauxBytch)
This blog is a reflection of my personal growth journey, creative writing pursuits and general energies I encounter in the day today. I am currently mastering both Tarot and Astrology and you can find my posts regarding those subjects @AstreauxBytch I also post biweekly tarot videos for each month and new moon on my youtube channel http://youtube.com/c/AstreauxBytch
CrystalWind.ca is free to access and use.
Please support us with a small gift of $11.11 or $22.22 or $33.33.
Thank you!
ॐ Namasté - Blessings!

© 2008-2021 crystalwind.ca. All rights reserved.
X
Right Click
No right click