Support crystalwind.ca with your donation and help spread spirituality and positivity.
Blessings!
Category: Starseeds Written by CrystalWind.ca Views: 31680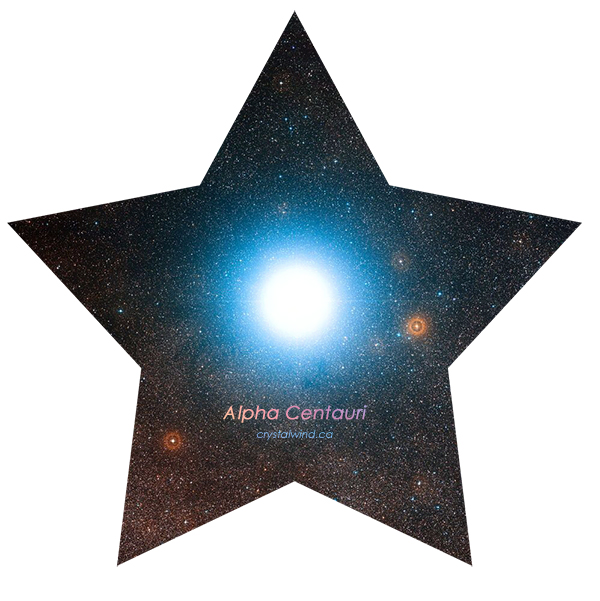 Starseeds: Alpha Centaurians
The Starseed Series delves into star traveler souls known as starseeds. Emerging from the Source, some Higher Selves promptly incarnated on Earth, while others traversed different realms before arriving here. Those who journeyed elsewhere prior to Earth are termed starseeds.
Within the starseed community exist various groups, each linked to the origin of one's Higher Self or soul, forming a fundamental aspect addressed in Akashic Record Readings.
Extensive exploration of the Akashic Records has provided a wealth of insights into various soul groups. The intention is to present an impartial perspective and organized insights gained from practice in a series. Information about each soul group will be shared in a comfortable sequence, commencing with Alpha Centaurians. While groups such as Nihals and Blueprint Changers may be covered subsequently, this series may not encompass all known soul groups, allowing room for potential discoveries.
There is no formula to identify the starseeds.
The challenge of finding the origination of a soul is that there is no set formula. In astrology, your date of birth (and place of birth to be accurate) determines your sign. It's simple. With Akashic Records, there is no such automatic formula. I ask for my clients' full name, date of birth, and place of birth to locate their Akashic Records. It's like locating a person's credit history by their name and social security number. The info doesn't define the result — it is used to locate the Records.
When you read the description of each starseeds groups, please don't use it to identify the origination of you or someone you know. I mean, you can make a guess, but a guess is a guess. I don't know your origination until I read your Akashic Records.
For example, those from Alpha Centauri (called Alpha Centaurians or Alpha Centauris) are good at technical, analytical thinking. It doesn't mean, however, if someone is good at technical, analytical thinking, they are Alpha Centaurians. There are other groups who are also good at technical stuffs (with different flavors), and Earth souls can be good at technology with good efforts.
And please understand I'm simplifying things to some extent. Not all, say Alpha Centaurians, would perfectly match the description. Not all Alpha Centaurians are like one another, like clones. Soul's training define your personality further, and there are many other aspects that make an individual unique.
Alpha Centaurians, Earth's Good Neighbor
Alpha Centauri, situated a mere 4.37 light years from our Solar System, hosts inhabitants with significantly advanced technological capabilities compared to our own. These beings possess the capacity to observe Earth's progression, perceiving it as an experimental space for souls to incarnate into physical forms, fostering a realm of creativity, love, and abundance.
However, despite the intended purpose, negative influences have hindered the optimal functioning of this Earth experiment. Recognizing the challenges faced by Earth, the Alpha Centaurians have taken on the role of safeguarding our planet from these adverse forces, acting as benevolent protectors.
While certain Higher Selves or souls traverse the universe through non-physical means in higher dimensions, the Alpha Centaurians (alongside the Hadarians, a topic for a future discussion) seem to have physically journeyed to Earth. This inclination might explain the Alpha Centaurians' fondness for science fiction, where narratives like Star Trek and Star Wars resonate deeply. To them, these tales exist as fictions in the realm of novels, yet the overarching concept of interstellar travel holds a peculiar sense of reality.
Alpha Centaurians' Ideal
In her book "Soul Mastery: Accessing the Gifts of Your Soul," Susann Taylor Shier discusses the fearless nature of Alpha Centaurians in uncovering false power sources, often associated with negative forces. The notion that these beings excel in addressing such forces is an ideal attributed to them.
However, Alpha Centaurians have faced challenges in effectively dealing with these negative forces, which continue to exert influence over a significant portion of human consciousness. This observation is not intended as a criticism of Alpha Centaurians' presence; rather, it acknowledges their valuable contribution. Nonetheless, it stands as a factual assessment, contributing to the evident frustration experienced by many Alpha Centaurians. This frustration often manifests as a deep-seated soul-level discontent that they find challenging to articulate.
Alpha Centaurians' Gifts
Alpha Centaurians demonstrate remarkable qualities as protectors and providers, ensuring the well-being of their loved ones. They possess a grounded and dependable nature, focused on practical solutions rather than indulging in speculative scientific theories. Their proficiency in technical and analytical thinking enables them to efficiently tackle tasks, finding fulfillment in applying their skills to real-world scenarios.
For those considering relationships, exploring connections with Alpha Centaurians might be worthwhile. They tend to eschew manipulative dating practices, prioritizing their projects or professional commitments over trivial dating games. When an Alpha Centaurian seems distant, it often indicates their deep engagement with ongoing endeavors.
While these observations stem from a female perspective, insights into the dating behavior of Alpha Centaurian women remain limited, as no direct dating experiences inform this viewpoint. However, it's plausible to assume that they too would exhibit steadfast and reliable qualities in relationships.
Alpha Centaurians' Challenges in Loving Relationships
Alpha Centaurians often encounter challenges in relationships, not due to being emotionally distant, but because their understanding of love differs from conventional norms. Contrary to the usual displays of affection, they prioritize creating a secure and stable environment for their loved ones, irrespective of gender.
Understanding what brings happiness to their partners, such as specific communication habits or expressions of affection, is a task Alpha Centaurians willingly undertake. However, their strong sense of duty might occasionally distract them. Advising them to remember these gestures becomes necessary.
For individuals in relationships with Alpha Centaurians, the unconventional approach might seem less romantic. However, focusing on the sincerity behind the actions is crucial, regardless of whether these gestures stem from innate feelings or conscious effort.
Many perceive love as spending extensive time together, posing another challenge for Alpha Centaurians who value personal space. Communicating this need is recommended to prevent feelings of neglect, as these individuals tend to retreat for personal time, potentially leading others to perceive them as solitary.
Recognizing that Alpha Centaurians' approach to love may clash with conventional norms is important in fostering understanding. Despite their unique traits, they prove to be dependable, trustworthy, and well-intentioned partners once these idiosyncrasies are embraced.
Alpha Centaurians' Challenges in Career and Finance
Alpha Centaurians are known for their dedication to providing valuable contributions. Their technical prowess, analytical mindset, and strong sense of responsibility make them exceptional workers. Many individuals with Alpha Centaurian origins often pursue careers as engineers, computer programmers, doctors, surgeons, or psychotherapists, although one's soul origin does not solely determine their professional path.
However, a potential challenge arises when their dedication to being reliable providers becomes overwhelming. There's an inclination towards frugality among many Alpha Centaurians, yet the primary challenge emerges when they contemplate leaving their employment to establish their own businesses.
Entrepreneurship often requires taking leaps of faith, a concept that can be exceptionally difficult for Alpha Centaurians. Unlike the assurance of a steady paycheck, venturing into entrepreneurship lacks guarantees of success. Consequently, numerous highly qualified Alpha Centaurians opt to remain in their salaried positions.
Encouraging Alpha Centaurians to shift their perspective from constantly ensuring everything will be fine to considering "What's the best thing that could happen?" might aid them in overcoming this challenge and embracing the entrepreneurial path.
Alpha Centaurians Role on Earth
The primary challenge for Alpha Centaurians lies in placing trust in the love of the Universe. As natural providers and protectors, relinquishing control to divine guidance may seem unfamiliar to them.
Their ultimate fulfillment appears to emerge when they embrace this transition. Tasked with safeguarding the cosmic Light, complete trust in this essence becomes imperative for their purpose.
Moreover, a gentle encouragement is extended to the Alpha Centaurian community to allow for a more relaxed approach during this transformative phase.
---
Continue reading here: Starseed Series: Hadarians
© 2010-2023 crystalwind.ca. All rights reserved. We track all IP addresses with sniffer technology. Using a Proxy/VPN will not hide your IP address.
CrystalWind.ca is free to use because of donations from people like you. Please help support us!
Blessings!
Spirit Animal Totem Of The Day!
Who is Online Now
We have 1066 guests and no members online