Category: Moon Cycles Written by Jamie Partridge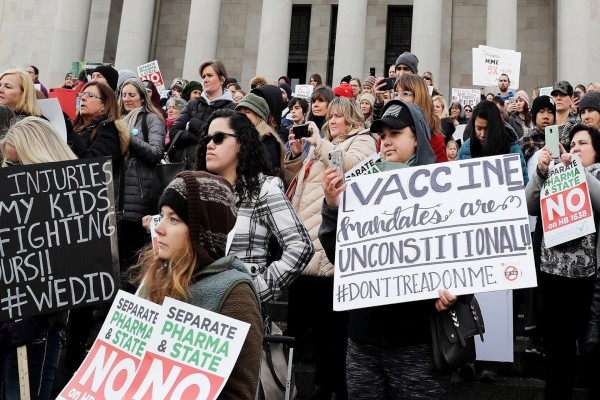 The Scorpio new moon on November 4, 2021 is opposite Uranus. So the spiritual meaning of the new moon November 2021 astrology relates to a struggle for independence that may be associated with the exploration and expression your unique individuality and personality.
The November 2021 new moon also brings the potential for disorder with unexpected and sudden changes that are difficult to adjust to. But keeping an open mind can present unique opportunities to find a better way forward through times of upheaval and chaos.
New Moon November 2021 Astrology
The new moon on November 4, at 12°40′ Scorpio, is opposite Uranus. As the chart below shows, this challenging aspect is extremely powerful with an orb of just 0°07′. The other but less important aspect in the new moon horoscope is Mercury sextile Venus. Its smooth and harmonious influence may sublimate to some extent, the abrupt and chaotic nature of the new moon opposite Uranus.
A fortunate fixed star only 0°05′ from the new moon is of the nature of Venus and Mercury. So it will have a similar influence to Mercury sextile Venus in helping to subdue the erratic and impulsive energy of Uranus.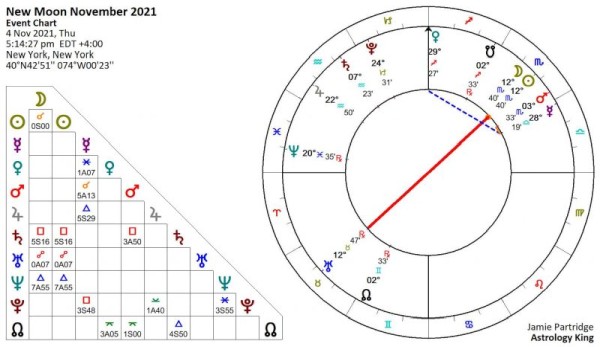 New Moon November 2021 [Solar Fire]
New Moon Meaning
Sun conjunct Moon represents the end of one cycle and the beginning of another new 28-day cycle. It gives an invigorating burst of energy and initiative. But it also brings emotional balance, not irrationally emotional, and not too cold and calculating.
So this is an excellent time for making a fresh start, turning over a new leaf, or starting a new project. You can also question old habits, behaviors, and beliefs as you search for new and inventive ways to make progress.
Lots of Change
New Moon opposite Uranus gives an urge to try new and exciting ways to live life to the fullest. You seek the freedom to do things your own way and will most likely resist being told what to do. A struggle for independence can be related to a struggle to explore and express your unique individuality and personality.
You may anticipate something new on the horizon or feel nervous. Sudden changes and unexpected encounters and events are possible that leave you feeling unsettled and anxious. Learning to adapt to change will help you feel less disconnected. By keeping an open mind, exciting opportunities may arise from any changes that offer a better way forward.
It is better that you don't resist the urge for the new and unusual, or rebel and changing conditions. Otherwise, this electric and spontaneous energy may escape in a destructive way such as a minor accident. Odd behavior or a radical about-face in someone close to you may cause anxiety too. Arguments or separation may result from impatience or unwillingness to adapt.
A Little Harmony
Mercury sextile Venus brings encourage peace and harmony while reducing stress. A more settled frame of mind and good communication skills makes it easier to deal with any sudden change or unexpected events caused by the new moon opposite Uranus.
Uranus can also make people distant and impulsive which can lead to sudden breakups. But Mercury sextile Venus love, friendship, cooperation, and diplomacy help you bring people together, find peaceful settlements to disputes, and break down any barriers to progress. A good business sense also helps you find opportunities for success.
The Fixed Stars
New Moon November 2021 is in the Sign of Scorpio. But as the star map below shows, it is actually at the border of Constellation Virgo and Libra. This discrepancy is due to the precession of the equinoxes. It has moved the Sun Signs almost a whole Sign out of alignment with the Constellations from which they were named over 2000 years ago.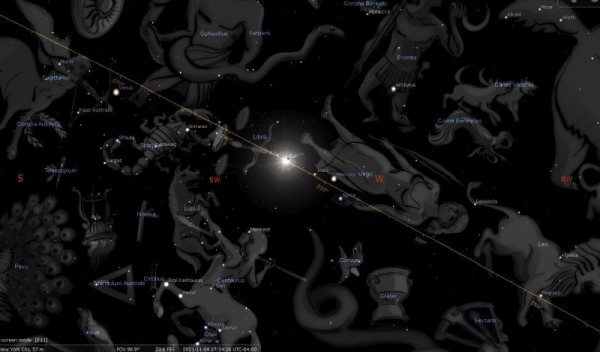 New Moon November 2021 [Stellarium]
As the list below shows, the new moon is techincally within constellation Virgo. And the major stars most closely aligned to the new moon are the brightest in the northern constellation Corona Borealis and the southern constellation Crux.
10♏25 – Mu Virginis, Rijl Al Awwa
12♏09 – Alpha Crucis, Acrux
12♏35 – Alpha Coronae Borealis, Alphecca
12♏40 – New Moon November 2021
12♏54 – 110 Virginis
13♏26 – 16 Librae
The Crown
Constellation Coronae Borealis the Northern Crown gives artistic ability, love of flowers, lassitude, and disillusionment, but to bring its natives to a position of command. [1]
Fixed star Alphecca is of the nature of Venus and Mercury. It gives honor, dignity and poetical and artistic ability. [1]
With Sun: Active and brilliant mind, self-seeking, subject to scandal that does not affect the position. [1] Honors and preferment. [2]
With Moon: Public honor and dignity, suffers through the law, partners and neighbors, trouble through underhanded dealings of enemies but the eventual triumph over them, bad for love affairs, some faithful friends, greatly esteemed by Venus and Mercury people. [1] Honors and preferment. [2]
The Cross
Constellation Crux the Soutrhewern Cross gives perseverance, but many burdens, trials, and responsibilities, together with much suffering and many hardships. [1]
Fixed star Acrux is of the nature of Jupiter. It gives religious beneficence, ceremony, justice, magic and mystery, and is frequently prominent in the horoscopes of astrologers and occultists. [1]
This star is supposed to be credited with intuition, a grasp for the inner nature of one's fellow man, a preference for occult studies, the gift of successful investigation of the hidden side of things, an inventive mind, and a deeply religious nature connected with mystical and theosophical interests. [2]
New Moon November 2021 Astrology Summary
The November 4 new moon opposite Uranus (0°07′) brings sudden changes and unexpected encounters and events that can leave you feeling unsettled and anxious. This is not a new feeling because change has been the major theme of the new moons over the last 3 months:
In fact, difficult change has been a major theme all year because of Saturn square Uranus. This is the major planetary aspect of 2021 and the final square is on December 24.
Learning to adapt to change will help you feel less disconnected. Keeping an open mind will, exciting opportunities may arise from any changes that offer a better way forward. This is not the time to be rebelling, forcing through unpopular changes, or resisting change.
However, there will still most likely be disorder, riots and revolutions. There may also be unexpected changes in the Coronviris pandemic and government restrictions, with the associated anti-vaxxer protests. But there would not be much sympathy for their cause.
This will be a particularly difficult moon phase for minorities, eccentrics, outcasts and misfits. The best option is to keep a low profile and try to go with the flow for the time being. All those things ruled by Uranus face too much opposition with the immense power of the Sun and Moon combined; the majority, governments, and prevailing public opinion.
New moons usually last for 4 weeks. But the influence of the November 4 new moon only lasts for 2 weeks up to the November 19 lunar eclipse, with this being the final new moon in an eclipse phase that began in May 2021. And because of this, it is a good idea to look back at the previous eclipses and see how your long term plans are working out:
The May 26 lunar eclipse brought confusion, deception, and vulnerability. It caused a test of faith due to greed, excess and immorality. Protect yourself and the most vulnerable people you care about.
The June 10 solar eclipse brought self-confidence and courage, but also mental confusion, deceptive communications, and a tendency toward recklessness, belligerence, and treachery. Caution and honesty are required.
If the new moon November 2021 astrology directly affects your Sign you can read about it in your free Monthly Horoscope. Finally, for more details about how it affects your natal chart see Sun Transits.
New Moon November 2021 Times and Dates
Los Angeles, November 4, 2:14 pm
New York, November 4, 5:14 pm
London, November 4, 9:14 pm
Delhi, November 5, 2:44 am
Sydney, November 5, 8:14 am
References
Fixed Stars and Constellations in Astrology, Vivian E. Robson, 1923, p. 40, 41, 116, 131.
Source: here
My name is Jamie Partridge and I live on the coast of NSW Australia with three amazing kids. I've had an interesting life so far, with varied occupations ranging from nursing assistant to farm hand.

---
CrystalWind.ca is free to access and use.
Please support us with a small gift of $11.11 or $22.22 or $33.33.
Spirit Animal Totem Of The Day!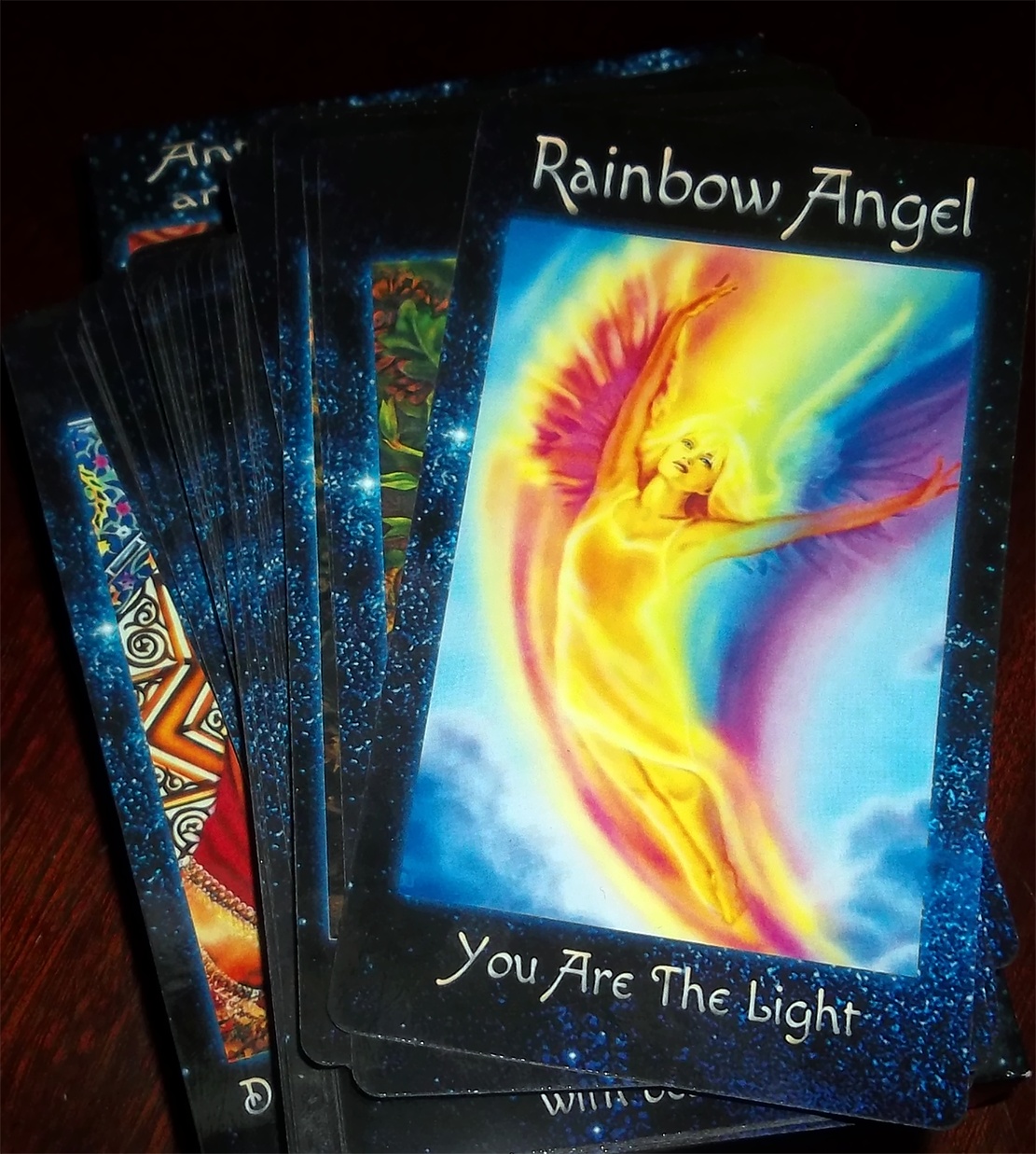 The Crystal Wind Oracle
Myth & Magic Card Deck!
Details Here!
NEW Expanded
Printed & Boxed!
Now with 58 cards!
Who is Online Now
We have 816 guests and no members online