Category: Runes Written by Jan Erickson Views: 1053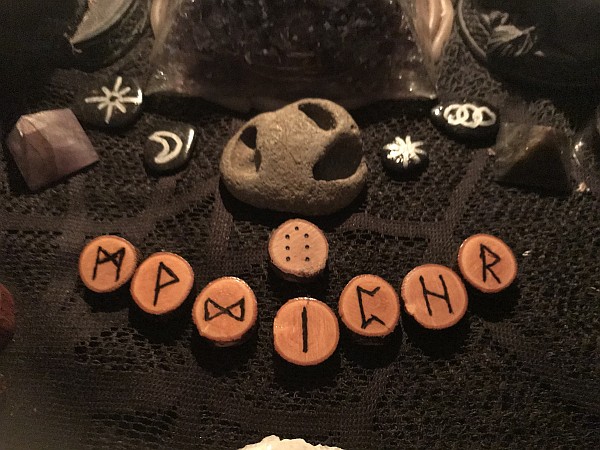 As a new week begins, let's take a look at the upcoming influences. Laetitia is the overall significator suggesting a week where we experience joy in our lives. As always, I'm looking at each day's numerology, Elder Futhark rune, and Moon information derived from both traditional astrology and Human Design's use of the I Ching. The runes appear below.
Sunday, 1 December
Numerology – 1 – self, new beginnings, wholeness, intuitive knowledge, unity, Monad, First Cause, Sun, Leo
Day – Sunday is a day governed by the Sun reflecting success, joy, protection, power, confidence, and health
Rune – Eihwaz (13) – Air/Fire, the connection between opposites, as above so below, link between realms, trancework, protection
Human Design (I Ching) Moon position – Gate 60 Line 6 Rigidity suggests awareness when restraint is necessary
Astro Moon Position – Aquarius – intuition along with innovative and progressive thinking are favored today. There may also be difficulty in understanding the emotions of others. Be mindful of your effect today.
There may be a reason for restraint today arising either from our own emotional state or that of others. The Moon in Aquarius suggests we might be somewhat aloof and emotional integration could be challenged. Intuition is strong, again reflecting the Aquarian effect on our emotions as well as from today's numerology of one. Allow the influence of Eihwaz to move Spirit into full awareness and find your balance there.
Monday, 2 December
Numerology – 2 – duality, polarity, balance, reason, causation, Moon, Dyad, Aquarius
Day – Monday is a day governed by the Moon and involves healing and intuition along with feminine magicks
Rune – Mannaz (20) – Earth, humanity, integration, mind/body/Spirit connection, individual within society, thought rune, memory
Human Design (I Ching) Moon position – Gate 13 Line 2 Bigotry describes alignment with a set group based on type (racial, intellectual, national, religious) to the exclusion of others
Astro Moon position – Aquarius until Pisces at 11:11 PM PST (portal/gateway?) – again, intuition is high and will remain so when sensitive and compassionate Pisces begins creating its own energetic gateway where spiritual awareness can thrive and humanitarian efforts are possible.
We have an 11:11 gateway or portal opening at the end of the day as the Moon travels into compassionate and sensitive Pisces. While that is developing, an alignment between Mannaz and the day's two numerology suggests a new level of balance is possible between self and others, an area where the Aquarian intuitive nature should also be of value.
As many of us know, we've begun to see a rise in bigotry around the world, growing at an alarming rate. The 11:11 portal may be giving everyone a chance to reassess our own values, allowing Master Number 11, in its dual, amplified form, to shine a light on thoughts of division and strife that have plagued humanity for so long.
My recommendation is to spend the time surrounding 11:11 PM in meditation, aligning in our Soul's Collective Unified Presence. Feel the loving presence of the All in everything and everyone. Feel the other side of self as you rest in the All's loving embrace.
Tuesday, 3 December
Numerology – 3 – catalyst, triple aspects, mind/body/Spirit, imagination, past/present/future, Hecate, triangle, Norns, Jupiter, Capricorn
Day – Tuesday is governed by Mars and is filled with passion and energy
Rune – Gebo (7) – Water, balanced energy exchange, link, marriage, partnership, gift, reciprocity
Human Design (I Ching) Moon position – Gate 30 Line 3 Resignation – describes the acceptance of karmic influence
Astro Moon position – Pisces – as we make use of the 11:11 portal to awakening, we may enter into a new phase of soul-level harmony and compassion toward others.
Now that the 11:11 portal to awakening is open, today's catalytic energy asks us, Now what? Gebo, the rune of balanced energy exchange with others provides both the answer and our direction forward. However, we are resigned to karma's inevitable message, having realized the only way forward is in unity with others. So, we're ready to let go of destructive thoughts, replacing them with understanding and unified commitment.
Wednesday, 4 December
Numerology – 4 – foundation, structure, sensation, materialism, divinity, masculine, robust, justice, elements, seasons, Sun, Sagittarius
Day – Wednesday is governed by Mercury and involves communication, reason, and intellectual expression
Rune – Tiwaz (17) – Air, spiritual warrior, faith, justice, idealistic male, oaths, self-discipline, Tyr, legal matters, sacrifice
Human Design (I Ching) Moon position – Gate 37 Line 3 Evenhandednessdescribes the ability to maintain order within the group in a balanced and respectful manner
Astro Moon position – Pisces – making use of the 11:11 awakening portal, we may enter into a new phase of soul-level harmony and compassion toward others. This energetic gateway may initiate a collective awakening where anything is possible.
Continuing the 11:11 influence, today we speak truth to power in defense of the greater realization of who we are, united in soul-purpose and in service to the All. We stand up in full certainty, knowing that our spiritual truth resonates in the collective Higher Self of all, whether or not that truth resonates within the mind.
Thursday, 5 December
Numerology – 5 – change, Quintessence, elemental solids, justice, pentagram, protection, safety, Mercury, Cancer, feminine
Day – Thursday is governed by Jupiter and involves expansion and benevolence
Rune – Hagalaz (9) – Water, witch rune, Norn (Urdh) rune of the past, Hella, destruction within defined boundaries, hail, celestial ice egg, protection, luck, trance work
Human Design (I Ching) Moon position – Gate 22 Line 4 Sensitivity indicates the preference for informal interactions with others
Astro Moon position – (split energy day) Pisces until Aries begins at 11:45 AM PST describing a morning where the illumination and awakening felt with the 11:11 portal gives way to initiation and active measures for the remainder of the day. However, the Moon in Aries also suggests impulsive behavior, so stay focused and direct your energy in a positive direction.
Today brings a little destruction in preparation for change that is both expansive and illuminating. We may be ready to allow others into our orbit today who we might have in the past held at a distance. Although the 11:11 portal begins to wane today, its effects continue to manifest via the catalytic presence of the Moon in Aries. Remember that when the 11:11 portal opened we walked through with clarity and resolve, leaving darkness and division behind.
Friday, 6 December
Numerology – 6 – Higher Self, harmony, balance, perfection, benevolence, peace, health, truth, perfection, marriage, rebirth, Merkaba, Venus, Taurus
Day – Friday is governed by Venus and involves love, balance, and harmony
Rune – Kenaz (6) – Fire, torch, light, illumination, clarity, revelation, healing, well-being, love, intuition, transformation, creativity, awakening
Human Design (I Ching) Moon position – Gate 25 Line 5 Recuperationdescribes the necessity for healing from a place of Spirit
Astro Moon position – Aries – We may feel nervous today if Aries's effect on the Moon isn't kept under control. Stay focused on whatever you began yesterday, reinforcing the direction taken. Interactions with others could be challenging today should a tactful approach be forgotten.
Friday seems to be a day for harmony and balance, so don't allow any nervous Aries energy to get in the way of balanced relationships with others. Allow Kenaz, the light of Spirit, to light your path as you extend healing and love to all. A six energy defines the day reinforcing a Higher Self perspective and shared purpose with others.
Saturday, 7 December
Numerology – 7 – magick, original creation, divinity, the balance between dark/light, the septenate universe, seven octaves, Pleiades, 7 Rays, 7 planets, the union between Spirit and form
Day – Saturday is governed by Saturn and involves binding, slowing, and resistance
Rune – Wunjo (8) – Earth, joy, wish rune, peace, fellowship, harmony, success, happiness
Human Design (I Ching) Moon position – Gate 21 Line 5 Objectivity suggests force is used only when based on an impartial or objective viewpoint.
Astro Moon position – Aries all day until Taurus begins at 11:30 PM PST – interactions with others may continue to be challenging today if impulse control is difficult. If so, focus on projects or activities of a solitary nature and you'll likely be thrilled at all you accomplish today.
If you're the sort given to working magick, today is the perfect day to foster harmony and balance. Bind negativity if you feel you must but a focus on harmony is the better choice. Do anything else and you feed the negativity with your focus. So, step into the light and cast your intention for a better outcome.
Final Thoughts
With Laetitia, the geomancy rune for joy as our significator, this definitely looks like a positive week with plenty of energetic alignment, particularly with the 11:11 energetic portal opening on Monday night. The 11:11 alignment is powerful and quite necessary right now to heal the divisions that have been keeping us apart for so long.
Take this week to embrace truth with certainty and without fear. If it means a change of heart or perspective, then so be it. Allow the light of truth to guide you in the days ahead. These are exciting times so you'll want to stay alert to any messages that are revealed.
Until next time…
Blessings of Peace and Awakening to all!
Jan: Witch, Empath, Herbalist, Author, Reiki Master, Kenpo Black Belt, Beekeeper, and Goddess Blessed
CrystalWind.ca is free to access and use.
Please support us with a small gift of $11.11 or $22.22 or $33.33.
Thank you!
ॐ Namasté - Blessings!

© 2008-2021 crystalwind.ca. All rights reserved.
Featured Articles: Runes
Runes

Open or Close

Overview

Runes are a method of divination similar to the Tarot or the I Ching. The difference is that Runes are a set of 25 stones instead of 78 cards or a set of sticks with patterns. As with the Tarot, most of the Runes may be rightside up, or up side down, the meaning differing with the case. There are also some Runes that can not appear up side down. In practice, the Runes may be made of any material; ceramic, stones, sticks, or drawn on cards.

Read More

Divination Using Runes

Open or Close

Runes originated with the ancient Etruscans and were spread upwards throughout the Alpine regions to Northern Europe via the trade routes. The Germanic tribes took them and adapted them to their own needs and uses. The oldest and most widespread of the Germanic runes are the Elder Futhark or Common Germanic Runes. The word rune, which occurs in various forms in Germanic and Celtic languages, means "a mystery" or "holy secret" that is "whispered".

Runes were traditionally carved into bone, wood or stone which accounts for their angular shape. The lack of curves made it easier to create the shapes in either hard wood or stone.

Read More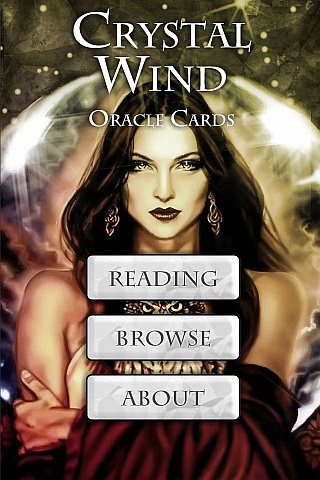 Cut Through The Illusions!
Who is Online Now
We have 1443 guests and no members online