Category: Auras and Chakras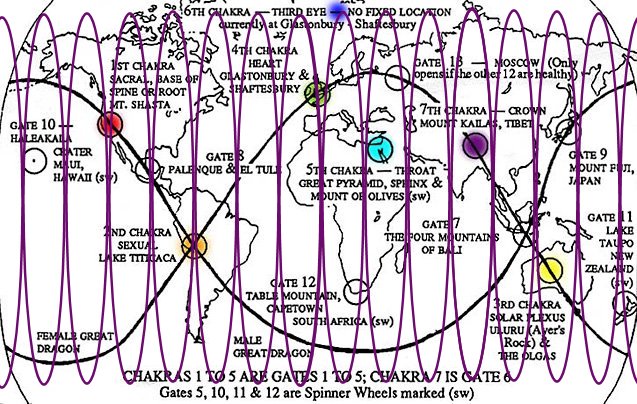 Just as we have new chakras in our energy body system, so too does the planet. In a comment on the new and old chakras post, someone asked where these new chakras are located on Earth. It is a fabulous question, and one I had not yet thought to explore!
Once I asked the question of Spirit, I was first shown to change the curvature of the sine waves around the planet to reflect the raise in our collective vibration. I have overlaid these on top of a map of the traditional 7 chakras of the planet. The new waves are in purple, and you can see that they cross the old waves in many of the traditional chakra points. (click on the map to make larger)
Then, I worked with Spirit to locate each of new chakras on the planet. What was so interesting about the process was when it came time to place them on the map, I realized much of them were in a sequential order. That order was not apparent when bringing the locations through, and was a fabulous synchronicity of this identification process.
Each of these new chakras in centered in the area mentioned, and has a radius of 55 miles/88 kilometers. The circles placed on the map are not to scale in size. The numbers by each circle correspond to the following places for the planet's new chakras.
Here is a map with the new placements:
If you need to familiarize yourself with the new chakras, please read the Ascension Chakras – New and Old post.
Foot/Earth chakra – True South Pole, Antarctica
Heart chakra at former Root Center – Hull Island, Kiribati, South Pacific
Sacral – Lake Titicaca, Peru/Bolivia border
Belly Button – Mahale Mt. Park, Tanzania on the coast of Lake Tanganyika
Solar Plexus – Uluru / Ayers Rock, Australia
Hands chakra – Tiger Mt, Issaquah, WA, USA
Universal Love – Ile Rene-Lavasseur, Quebec, Canada
Spiritual Communication – Mount Kailash, Tibet
Nasal – Okinawa, Japan
3rd Eye – Alexandria, Egypt
Ultimate Being / Solar Star – Vik, Iceland
Karen Downing is a Soul Mission Facilitator, here to guide others to living an empowered life.
Credit: here
Please share this material as you feel guided. It is requested that copyright information and the URL yoursoulmission.com are always included. Thank you. Copyright 2017 Karen Downing
---
CrystalWind.ca is free to access and use.
Please support us with a small gift of $11.11 or $22.22 or $33.33.