Support crystalwind.ca with your donation and help spread spirituality and positivity.
Blessings!
Category: Color Energy and Therapy Written by CrystalWind.ca Views: 8996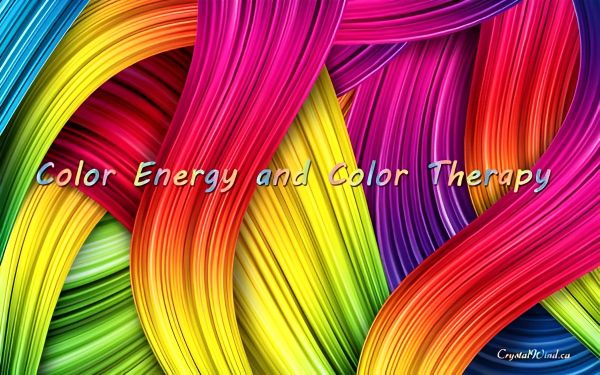 Color, or colour as much of the world spells it, is well known to affect us in many ways. In the modern world it is commonly used to influence us in advertising, decorating, and dress. Color is also used for alternative healing to affect our personal energies and chakras and to stimulate those energies to heal.
Each color has its own light frequency or energy. Color therapy is when the vibrations of light is used to stimulate for healing. This can be done by using colored lights, colored crystals, color meditation, colors of environment and adornment, and other meansIn these writings here on color, the properties shown for each color are written in a sort of shorthand. Positive properties listed are properties where the color is said to enhance those properties or qualities. Negative properties listed are properties where the color is said to decrease or negate those properties. For ease of use with crystal healing, I have listed gemstones and minerals associated with each color. Keep in mind, however, that many gemstones and minerals come in and may be associated with more than one color.

Red – The Fire
Keywords: Stimulation, Energy, Assertiveness
Color Energy Properties & Associations: Stimulating, Excites Nervous System, Anti-depressant, Can Stimulate Appetites, Warmth, Energy, Assertiveness, Aggression, Masculinity, Independence, Sports, Competition, Conflict, Potency, Passion, Passionate Love, Romance, Danger, Revolution, War, Yang

Healing Lore: Fatigue, Colds, Chills, Blood, Circulation, Energizes Senses, Stimulate Ovulation, Stimulates Menstruation, Stimulates Growth, Adrenal Activity, Raise Body Temperature, Anemia, Eases Stiffness, Alleviates Constrictions, Physical Strength, Spine, Feet, Hips, Legs
Color Cautions: Excessive red can be overstimulating and cause irritability. Can stimulate cell growth, therefore is not appropriate for cancer treatment.
Related To: Fire Element, Root (Base) Chakra
Gemstones and Minerals: Ruby, Red Coral, Red Garnet, Poppy Jasper, Red Jasper, Red Spinel, Ruby Aura Quartz, Thulite, Rubellite (Red Tourmaline), Leopardskin Jasper, Spinel

Orange - The Warmth of the Fire
Keywords: Warmth, Optimism, Creativity
Color Energy Properties & Associations: Warmth, Cheering, Passion, Creativity, Creative Thinking and Expression, Find New Options, Creative Decision-making, Good Luck, Charm, Kindness, Enthusiasm, Encouragement, Optimism, Success, Abundance, Prosperity, Celebration, Energy, Achieve Goals, Investments, Legal Success, Sensuality
Healing Lore: Emotionally Uplifting, Alleviates Emotional Repression, Sexual Issues, Thyroid, Muscle Cramps and Spasms, Increases Lactation, Bladder, Bowel (Large Intestine).
Color Cautions: Excessive use can lead to over-excitement or overindulgence.
Related To: Combination of Fire and Air Elements, Sacral Chakra, Autumn (Fall Season)
Gemstones and Minerals: Amber, Carnelian, Fire Opal, Orange Calcite, Orange Spinel, Paraparadsha Sapphire, Peach Aventurine, Peach Moonstone, Sheelite, Sunstone, Various Jaspers and Agates

Yellow – The Airborne Sparks of the Fire
Keywords: Joy, Success, Mental Clarity
Color Energy Properties & Associations: Joy, Cheer, Commerce, Business, Success, Alleviates Psychological Depression, Lust for Life, Mental Clarity, Progress, Change, Business Communication, Learning, Knowledge, Personal Power, Optimism, Test Phobias, Travel, Visualization, Emotional and Mental Vitality, Hope, Cheerfulness, Curiosity, Relaxation, Relieve Stress, Philosophy
Healing Lore: Mental Agility, Nerves, Muscle Energy, Stomach, Liver, Intestines, Digestion, Assimilation of Nutrients, Shooting Pains, Scarring, Skin (especially pores), Acne, Dermatitis, Eczema
Color Cautions: Excessive use can induce overactive thinking, obsessive thinking, rationalization, or superficiality with a tendency to change too often.
Related To: Air Element, Solar Plexus Chakra, Summer Season
Gemstones and Minerals: Amber, Andalusite, Chrysoberyl, Citrine, Honey Calcite, Yellow Calcite, Golden Calcite, Gold, Rutilated Quartz, Yellow-Brown Scapolite, Sphalerite, Sphene, Sulfur, Sunstone, Topaz, Yellow Aragonite, Heliodor (Yellow Beryl), Yellow Carnelian, Yellow Sapphire

Green – The Harmony of Nature
Keywords: Nature, Harmony, Heart
Color Energy Properties & Associations: Nature, Harmony, Balance, Emotional Balance, Inner Peace, Unconditional Love, Loving Romanticism, Rejuvenation, Abundance, Prosperity, Money, Soothing, Herbal and Plant Magick, Fertility, Sense of Home, Concern for and Love of Fellow Man, Family Life, Youthful Vigor
Healing Lore: Any Healing, Heart, Blood Pressure, Pain Relief, Psychological Problems Dealing with Arrested Psychological Development, Fertility, Growth, Purification of Blood and Lymph Systems, Raises Immunity, Build Muscle Bone and Tissue, Fertility
Color Cautions: An excess of green may stimulate an aversion to conflict, or envy.
Related Elements: Earth Element, Heart Chakra, Spring Season
Gemstones and Minerals: Actinolite, Aventurine, Bloodstone, Diopside, Dioptase, Emerald, Green Fluorite, Green Apatite, Green Calcite, Gaspeite, Grossular Garnet, Jade, Hiddenite (Green Kunzite, Spodumene), Malachite, Maw Sit-Sit, Moldavite, Moss Agate, Nephrite Jade, Peridot, Prase, Green Tourmaline, Tsavorite, Uvarovite, Variscite, Zoisite

Blue – The Singing Voice of Truth
Keywords: Communication, Truth, Loyalty
Color Energy Properties & Associations: Soothing, Alleviates Suffering, Calming, Truth, Wisdom, Loyalty, Tranquility, Communication, Speech, Public Speaking, Peaceful Dreams, Dreamwork, Prophetic Visions, Protection During Sleep, Astral Projection, Magickal Work, Power of the Word, Ideals, Devotion
Healing Lore: Antiseptic, Arthritis Inflammation, Relieve Fever, Cooling, High Blood Pressure, Bleeding, Sinus Headache, Anger-Related Psychological Problems, Hysteria, Anti-itch, Anti-inflammatory, Relieve Pain, Sore Throat, Larynx, Laryngitis, Swallowing Problems
Color Cautions: Excessive use of blue can bring too much cooling energy.
Related To: Air Element, Throat Chakra
Gemstones and Minerals: Aqua Aura, Chinese Amazonite, Azurite, Blue Calcite, Blue Lace Agate, Blue Tiger's Eye (Hawk's Eye), Blue Topaz, Dumortierite, Blue Quartz, Kyanite, Lapis, Ocean Picture Rock, Blue Peruvian Opal, Pietersite, Blue Smithsonite, Sodalite, Sapphire, Blue Spinel, Turquoise

Purple (including Violet) – Inner Sight
Keywords: Mystery, Psychic, Spiritual
Color Energy Properties & Associations: Perception, Psychic Power, Royalty, Transformation, Meditation, Relieve Stress and Anxiety, Spiritual Insight, Spiritual Renewal, Psychic Healing, Balance Polarities, Spiritual Power, Mysticism, Astral Projection, Paranormal Sensitivity, Compassion, Dignity, Mystery, Remove Curses and Black Magick, Inspiration, Active Dreaming, Power, Wisdom
Healing Lore: Mental/Emotional/Psychological Problems, Eyes, Ears, Pineal Gland, Addictions, Alcoholism, Recovery, Stimulate Spleen, Increase White Blood Cells, Decrease Pain Sensitivity, Depression
Color Cautions: Excessive purple can bring an unrealistic and impractical energy.
Related To: Spirit Element, Third Eye (Brow) Chakra
Gemstones and Minerals: Amethyst, Chevron Amethyst, Charoite, Fluorite, Lepidolite, Lavender Jade, Imperial Purple Jasper, Iolite, Tiffany Stone (Opalite), Purple Sapphire, Sugilite, Tanzanite

Black – The Root of Being
Keywords: Grounding, Protection, Survival
Color Energy Properties & Associations: Protection, Grounding, Repel Evil and Negativity, Binding, Freedom from Bad Habits, Access to Deep Unconscious Levels, Seriousness, Secrecy, Underground, Hiding, Primordial Nothingness, Extremes, Survival
Healing Lore: Lower Blood Pressure, Lower Pulse, Compulsive Behavior
Color Cautions: Extreme exposure can cause depression mentally and physically.
Related To: Earth Element, Root (Base) Chakra
Gemstones and Minerals: Black Obsidian, Black Onyx, Black Tourmaline, Hematite, Black Jasper, Black Diamond, Chinese Writing Stone, Snowflake Obsidian, Black Sapphire, Rainbow Obsidian, Meteroite, Tektite, Lava Stone, Black Agate

White – The White Light of Spirit
Keywords: Balance, Light, Divinity
Color Energy Properties & Associations: Purity, Innocence, Harmony, Balance, Spirit, Inner Light, Cosmic Consciousness, Divinity, Perfection, Protection on All Levels, Cleansing, Simplicity, Freshness, Completion, Oneness, Clairvoyance, Clairaudience, Divination, Invoking Good Spirits, Angels, Higher Self, Spiritual Enlightenment, Serenity
Healing Lore: Healing of Any Illness or Disease by bringing balance and harmony of all spiritual, mental and physical systems, can be a substitute for any other color as white is a blending of all other colors
Color Cautions: An aversion to white may indicate an inability to accept spirituality as a part of life.
Related To: Spirit Element, Crown Chakra
Gemstones and Minerals: Apophyllite, Calcite, Danburite, Diamond, Euclase, Goshenite (White Beryl), Quartz Crystal, Herkimer Diamond, Howlite, Moonstone, Opal, Selenite, Spodumene, White Zircon

Gray (Grey) – Neutrality
Keywords: Neutrality, Self-Control
Color Energy Properties & Associations: Neutrality, Dampening Effect, Neutralize Negative Influence, Erasure, Alleviate Stalemates, Deliberateness, Reserve, Refined, Tact, Non-expression, Self-Control, Self-Reliance
Healing Lore: Irritations, Hyperactivity, Mania, Tourette's Syndrome
Color Cautions: Very dark or excessive gray may bring depressive energies.
Related To: Sluggishness or Low Energy of Any Chakra
Gemstones and Minerals: Gray Moonstone, Hematite, Howlite, Cat's Eye Chrysoberyl, Chalcedony, Dolomite, Picasso Marble, Various Agates and Jaspers

Pink – Nurturing Kindness
Keywords: Nurturing, Kindness, Love
Color Energy Properties & Associations: Love, Infatuation, Relaxation, Relieve Tension, Motherhood, Awareness of Life Purpose, Charm and Personal Magnetism, Life Path, Attracting, Increase Speed, Self-Realization, Unconditional Love of Self and Others, Alleviate Jealousy, Grief, Sadness, Youthfulness, Awareness of Deepest Feelings, Tenderness, Nurturing, Caring, Friendship, Feminine Energy, Receptive, Yin
Healing Lore: Overeating, Obesity, Childbirth, Pregnancy, Adrenal Activity, Heart, Emotional Healing
Color Cautions: Excessive pink may incline toward excessive passivity.
Related To: Heart Chakra
Gemstones and Minerals: Kunzite, Pink Optical Calcite, Cobaltocalcite, Leopard Skin Jasper, Pink Manganocalcite, Morganite (Pink Beryl), Rose Quartz, Rhodochrosite, Rhodonite, Pink Sapphire, Pink Spinel, Pink Tourmaline

Brown - The Solidity of the Earth
Keywords: Stability, Practicality
Color Energy Properties & Associations: Home, Hearth, Stability, Stamina, Security, Calming, Common Sense, Practicality, Ritual Protection, Humility, Totem Animals, Animal Guides
Healing Lore: Instability of Any Body System, Hyperactivity, AD/HD, ADD, Immune System, Animal Healing
Color Cautions: Excessive use of brown can bring depressive effects.
Related To: Earth Element, Fall Season
Gemstones and Minerals: Many Varieties of Agates and Jaspers, Smoky Quartz, Brown Andradite Garnet, Brown Hessionite Garnet, Brown Diamond, Spessartite, Almandine, Golden/Brown Tiger Eye, Koroit Opal

Credit
Partial Bibliography and Links for further color and color therapy studies:
http://www.deeptrancenow.com/colortherapy.htm
http://www.bernardine.com/birthstone/color.htm
http://www.colourtherapyhealing.com/colour/
http://healing.about.com/od/colortherapy/ss/moodcolors.htm
http://www.lightyears2.com/ColorTherapy.html
© 2008-2023 crystalwind.ca. All rights reserved. We track all IP addresses with sniffer technology. Using a Proxy/VPN will not hide your IP address.
CrystalWind.ca is free to use because of donations from people like you. Please help support us!
Blessings!
Disclaimer Health
All post and information provided within this blog is for educational and informational purposes only, and is not to be construed as medical advice or instruction. No action should be taken solely on the contents of this website. Please consult with your healthcare professional before making any dietary or lifestyle changes or taking supplements that may interfere with medications. Any products or information discussed are not intended to diagnose, prevent, treat or cure any illness, disease or lifestyle. Please consult your physician or a qualified health professional on any matters regarding your health and wellbeing or on any opinions expressed within this website.
Who is Online Now
We have 658 guests and no members online