Help keep CrystalWind.ca resources free for everyone. To share the articles posted here daily we rely on readers like you. Please donate today.
Blessings!
Category: Feng Shui

WHAT IS FENG SHUI?
If you find that you are not happy or comfortable in your space, you may need to consider using feng shui principles to improve your home. Feng shui (pronounced "fung shway") may sound ancient, but it is still very commonly used today.
Feng shui is used to help us organize our lives. It helps arrange everything while taking into account the the flow of energy. It is also known to improve chi, bring good fortune and benefit overall health.
Before you begin redecorating your entire house, it is worth learning a bit about the elements that make up feng shui and how they interact. This guide is based on Shutterfly's feng shui guide.
CREATION VS. DESTRUCTION ELEMENTS
There are five core elements that make up feng shui. Those elements are:
Fire
Earth
Metal
Water
Wood
You will need to include all five elements in your house, but the hard part is keeping the elements in balance. There are some elements than can support others, while other elements can diminish others.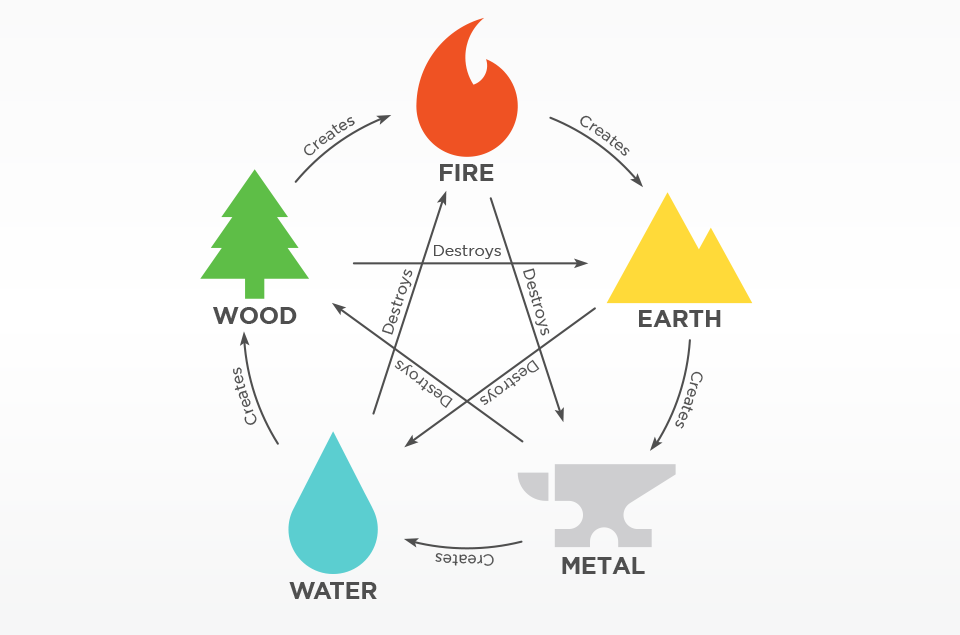 Each element in the cycle can manifest itself in different ways in your home:
FIRE
Candles
Geometric patterns like cones, pyramids and triangles
Landscape artwork of sunrises or sunsets
EARTH
Textiles like granite, brick or cement
Decorative rocks and pebbles
Mountain or desert landscapes
METAL
Metal materials like bronze, silver, gold or copper
Oval or circular furniture
Metal sculptures
WATER
Small water additions like waterfalls or aquariums
Free-form artwork
Glass
WOOD
Wooden floors and furniture
Tall, vertical shapes
Floral artwork
LIFE ASPIRATION AREAS
The next area of feng shui is achieving your best self by balancing your entire home. These are called Life Aspiration Areas, which include:
Career
Knowledge
Family
Wealth & Prosperity
Fame
Love & Partnership
Creation
Synchronicity
Health
Focus on these Life Aspiration Areas and how you can reinforce them by balancing the five elements in your home. Here is a little insight into how each work together:
CAREER
Focus on this area to help re-energize your work life.
Direction: North
Main element: Water
Destructive element: Earth
KNOWLEDGE
This area will help studying, learning, and self-nurturing in general.
Direction: Northeast
Main element: Earth
Destructive element: Wood
FAMILY
The family area doesn't only include your immediate family, you can focus on extended family and even friends.
Direction: East
Main element: Wood
Destructive element: Metal
WEALTH & PROSPERITY
Money isn't the be all and end all, but it is important. But remember, you can be wealthy in other ways.
Direction: Southeast
Main element: Wood
Destructive element: Metal
FAME
This area's focus is on your own personal fame. While you don't need to become a celebrity, try to focus on promotion and acknowledgement, like getting a raise or winning an award.
Direction: South
Main element: Fire
Destructive element: Water
LOVE & PARTNERSHIP
All relationships are partnerships for this area, both with friends and loved ones. Even keeping things in pairs works for this area.
Direction: Southwest
Main element: Earth
Destructive element: Wood
CREATION
Generate something brand new that hasn't existed in your home. This can be a work of art, or if you are thinking of starting a family - a child.
Direction: West
Main element: Metal
Destructive element: Fire
SYNCHRONICITY
Try to connect with new people or places. Get out there and meet new friends!
Direction: Northwest
Main element: Metal
Destructive element: Fire
HEALTH
The health area is the center of your home. Be sure to keep this clutter free.
Direction: Center
Main element: Earth
Destructive element: Wood
LAYOUT YOUR HOME FOR FENG SHUI
When it comes to laying out your home using feng shui principles, there are major elements that belong in every room. But not to worry, you can do it all yourself. All you will need are a few store bought tools:
A compass
Graphic paper
Tracing paper
A ruler
A pencil
Step 1: Measure the outside and inside rooms of your home or use an existing floor plan or
Step 2: Translate the measurements to scale on graph paper (ex: 1 foot = 1 square).
Step 3: Folding the outline in half vertically and horizontally and find the center. Draw an "x" in the center of the fold.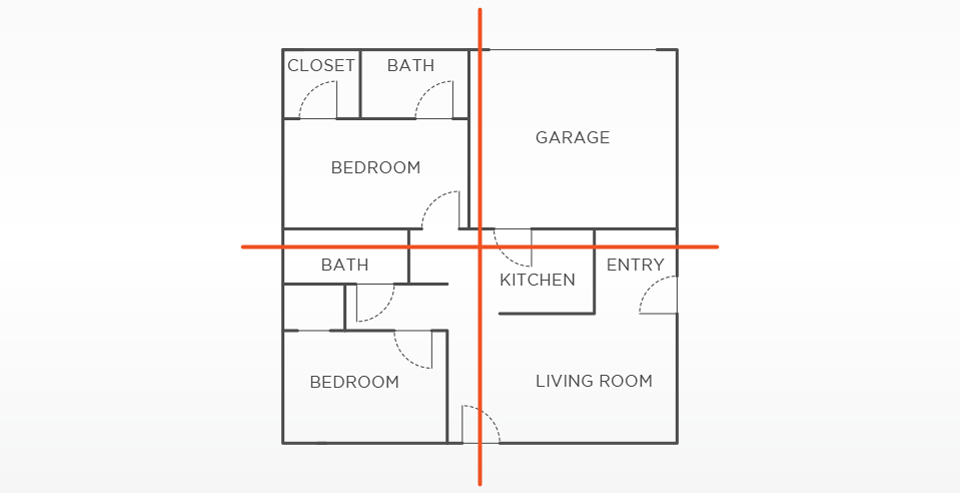 Step 3a: If you're home isn't a perfect square or rectangle, you'll need to fill in missing space. Do this by folding the sheet down the middle vertically. If there are rooms that make up more than 50 percent of the wall it's on, draw a dotted line extending from its corner to make up for the missing space.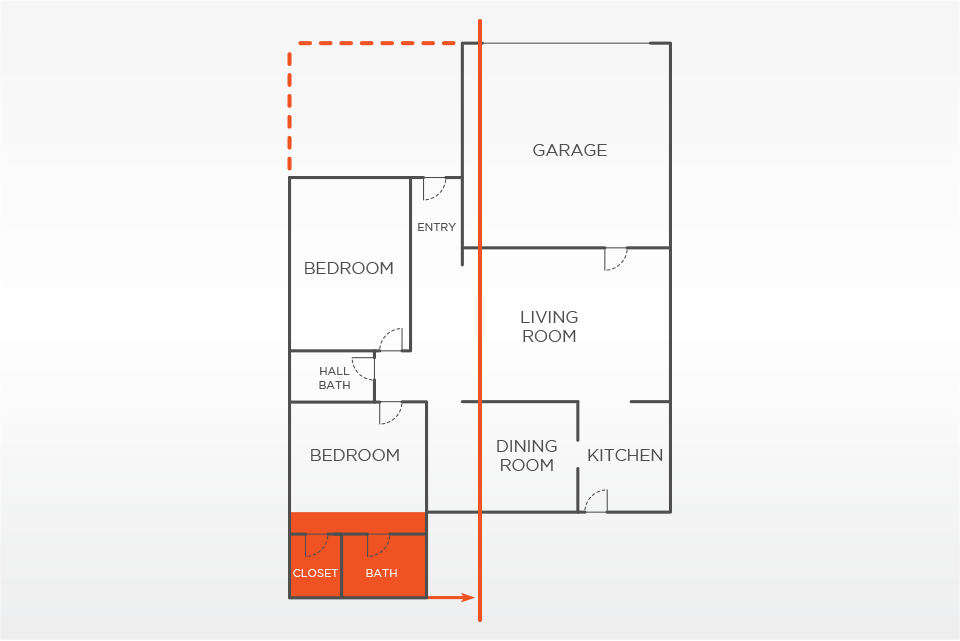 Step 4: Take your compass and walk to the actual center of your home where you drew the "x".
Step 5: Put the floorplan on the "x" in the room, followed by the compass on top.
Step 6: Begin making your Life Aspiration Areas, starting at 0° and labeling as follows:
0° – North
45° – Northeast
90° – East
135° – Southeast
180° – South
225° – Southwest
270° – West
315° – Northwest
Step 7: After that, you can use a ruler to draw dotted lines out from the center in each direction. Be sure to use a ruler.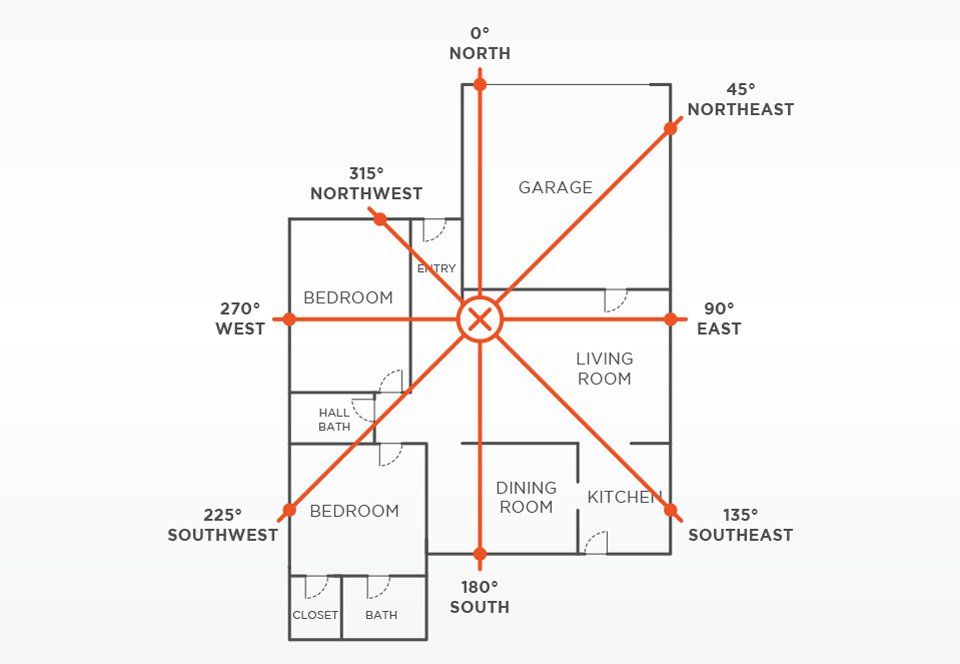 Step 8: Label each direction with their corresponding Life Aspiration Area.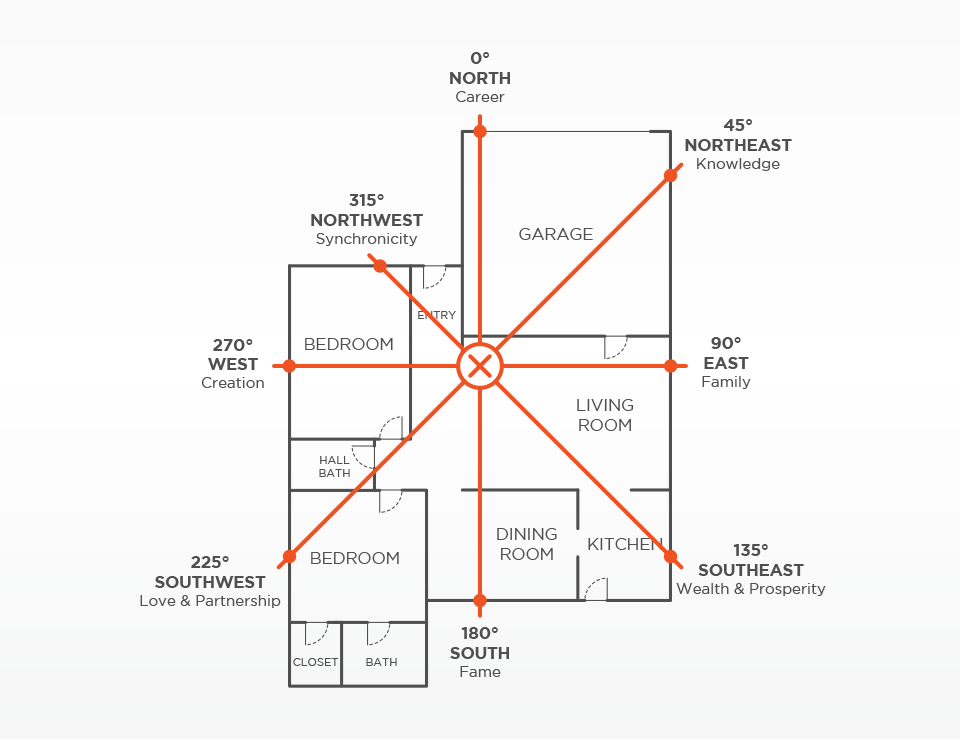 FENG SHUI BEDROOM COLORS
The bedroom is arguably the most important room in the house. So, when it comes to the color choices, you should make sure to include feng shui principles.
Each element that is involved in feng shui has a matching color. Focus on including physical manifestations of all of the elements to help your Life Aspiration Areas.
Here is a nice guide to help support or suppress different elements:
Fire colors: red and purple
Earth colors: yellow and orange
Metal colors: white and silver
Water colors: blue and black
Wood colors: green and brown
FENG SHUI BEDROOM ART IDEAS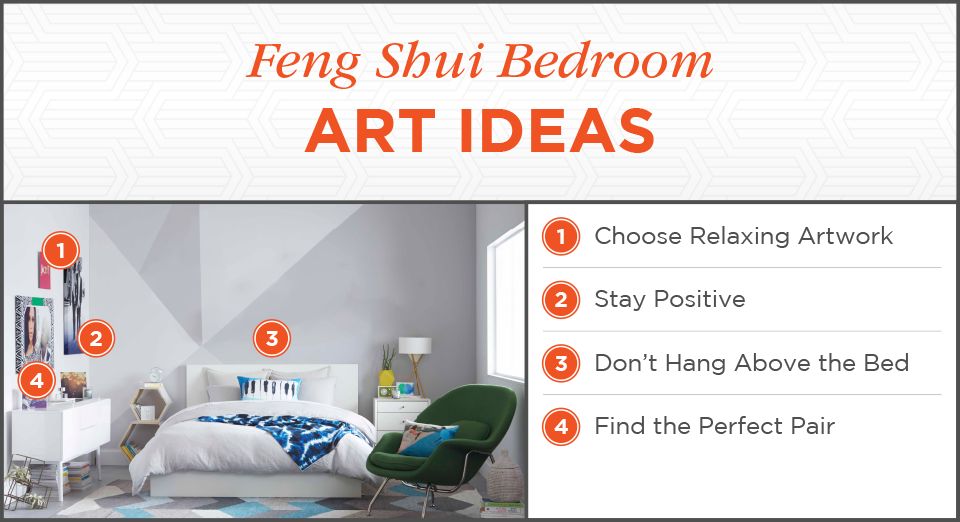 If you decide to include bedroom artwork, there are some important rules that you should also follow.
1) CHOOSE RELAXING ARTWORK
Stay away from busy, elaborate paintings. They will negatively affect your relaxation. Mirrors count as artwork in some regard. So on that note, be sure to keep large mirrors as far away from the bed as possible.
2) STAY POSITIVE
Being positive will help keep good chi. Decorate your walls with positive artwork. Do not use anything that will elicit a strong emotional response.
3) DON'T HANG ABOVE THE BED
Hanging things above the bed makes us fearful that it will fall. Stay away from hanging artwork, sculptures, and other pieces of art. Also, consider adding a headboard to the bed.
4) FIND THE PERFECT PAIR
You should focus on pairs. You can put pairs of photos, like you and your loved ones, or pairs of art that compliment each other. Photos in a pair, like wedding photos or friends and family help keep you relaxed.
MORE QUICK FENG SHUI RULES FOR YOUR BEDROOM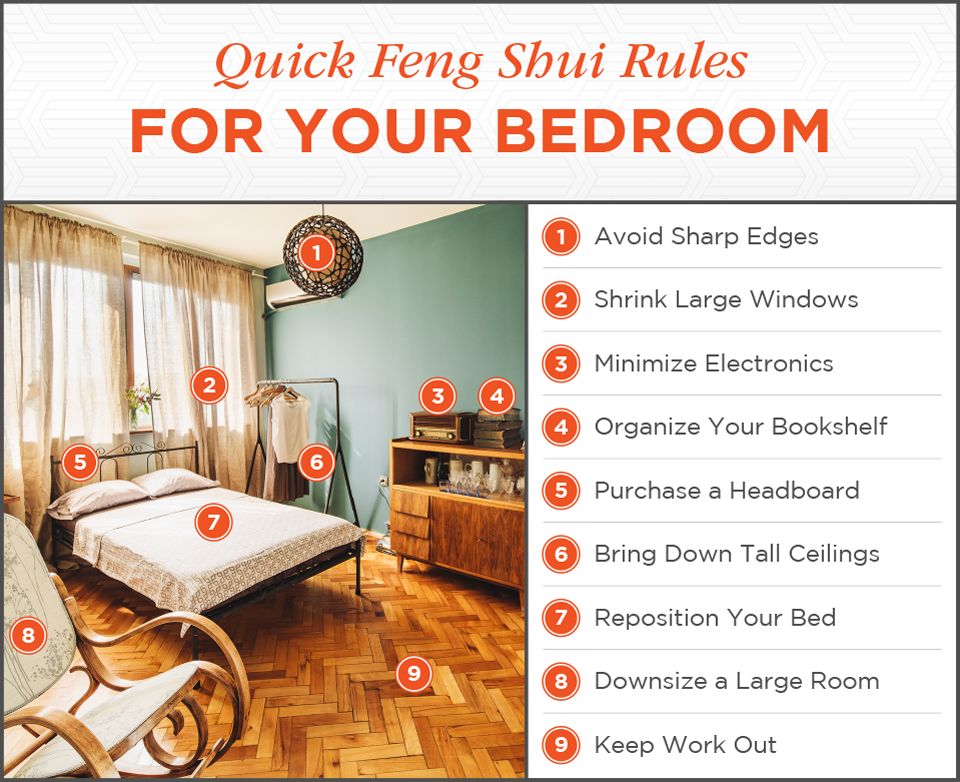 Aside from artwork and hanging items throughout the room, there are some other important feng shui tips that will quickly transform your bedroom.
1) AVOID SHARP EDGES
Aside from being uninviting, sharp edges are dangerous. Although, it can be difficult to avoid in a bedroom full of dressers. If that is the case, consider outweighing them by adding natural decor like plants, lamps, or smooth sculptures.
2) SHRINK LARGE WINDOWS
Large windows make us feel uncomfortable in the bedroom, which is the opposite of how we need to feel. If you can't shrink the windows, it is easiest to add darker drapes or curtains to feel cozier.
3) MINIMIZE ELECTRONICS
Keep phones or clocks at least three feet away from your bed if possible. These electronics emit electromagnetic energy while you sleep, which may be negative.
4) ORGANIZE YOUR BOOKSHELF
Try keeping your books in order by color, height or weight. This will help your mood. Also, you should keep them aligned with the front edge of the shelf to create an even line.
5) PURCHASE A HEADBOARD
Buy a sturdy headboard to give you an extra sense of structure when you sleep.
6) BRING DOWN TALL CEILINGS
Anything ceiling that is higher than nine feet can make us feel small and vulnerable in a room. It is possible to make a tall ceiling feel smaller by hanging rugs or decorating the lower half of the room to shift focus.
7) REPOSITION YOUR BED
Your bed position is very important to the room's feng shui. Your bed should be on the opposite wall from your bedroom door - or at least as far away as possible. This helps give a feeling of relaxation.
8) DOWNSIZE A LARGE ROOM
A large room dampens your feelings of privacy as well as security. Dark colors will also give the illusion of a small room.
9) KEEP WORK OUT
Resist the urge to do work in your bedroom. Even exercise equipment will hurt your feeling of ease.
If you need other home decor tips or items for your home, head over to home design shop, Shutterfly, to help find the right pieces

Source: McCandles, C. (2011). Feng Shui That Makes Sense. Minneapolis, MN: Two Harbors Press.