Support crystalwind.ca with your donation and help spread spirituality and positivity.
Blessings!
Written by And-El Views: 8575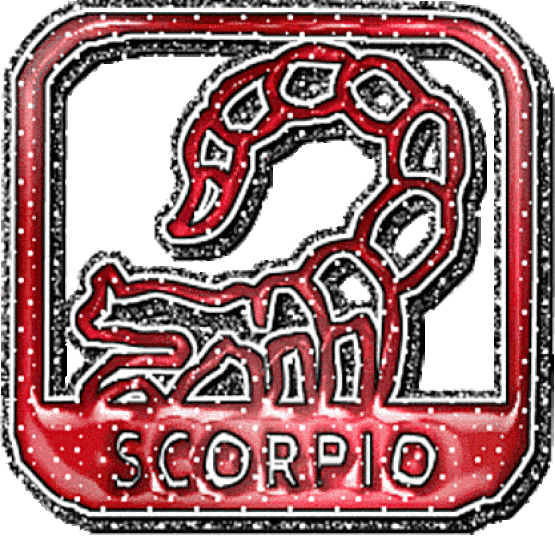 An Overview of Sun Sign Characteristics for Scorpio
The ruler of Scorpio is Pluto. Prior to the discovery of the ninth planet, Scorpio was ruled by Mars, which is still considered co-ruler. The sign of cosmic purpose, Scorpio is considered the success sign. Self contained and self centered, concentrated Scorpios usually succeed in what they set out to accomplish.
Scorpions are known for their intense and powerful natures. They are wilful, proud and calm with an electrifying undercurrent of seething intensity. Purposeful and animated with force, they project a magnetic personality.
Their demeanor is dignified and reserved, affable and courteous, and many have a gaze that is both direct and penetrating. Their secretive natures make them natural detectives. Many Scorpios possess a suspicious outlook, and need to know the reasons behind everything. Scorpio does nothing in half measures. An all or nothing attitude permeates their entire life. When fixed on something or someone, the scorpion perseveres. Scorpio never settles. Life is meant to be lived to the fullest or not at all.
Scorpio Associations
Polarity: Negative
Quality: Fixed
Element: Water
Symbols: Eagle, Scorpion
Colors: Maroon, Dark Red
Metals: Steel, Iron
Gem: Opal
Animals: Eagles, Insects
Flowers: Geranium, Honeysuckle
Herbs: Aloe, Witch Hazel
Countries: Norway, Syria, Algeria, Zambia
Cities: New Orleans, Washington DC, Liverpool, Halifax
Body Area: Regenerative Organs
Principle: Regeneration
Keywords: Intense, Passionate, Jealous
Sun Sign Personality Traits for Scorpio
Scorpio will rarely be found in the center of activity, but will always know just what is going on of concern to him. Their tenacity and willpower are enviable, their depth of character and passionate conviction admirable, but it is their deep sensitivity that makes them the best and most loyal friend. This same quality makes them the most treacherous of enemies.
Their sensitivity, and pride allow them to be easily hurt, quick to feel insult or injury, even when none is intended, and easily roused to heights of anger. An angry Scorpio is a sight to see. Unlike Leo, who can have a temper tantrum and five minutes later be quite himself again, Scorpio seethes, and doesn't give it up.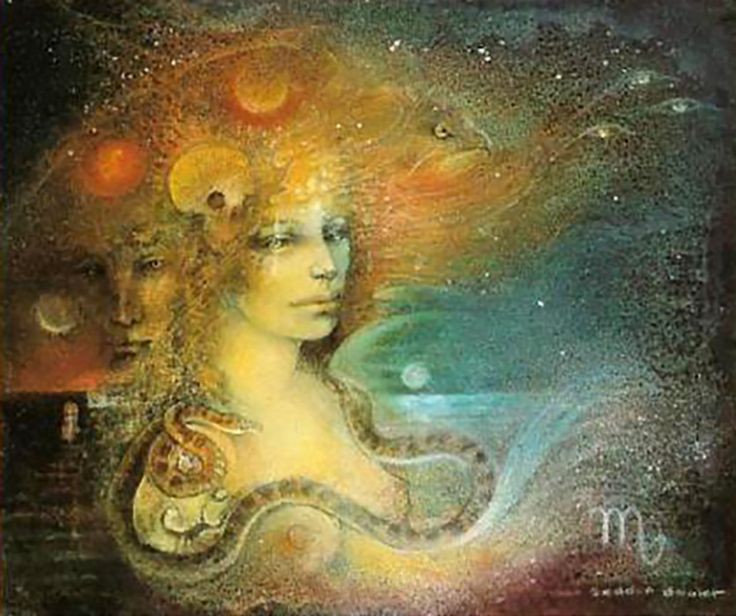 When they harness their abundant energy constructively, their self-confidence tempered with shrewdness, and their ambition coupled with generosity toward others, they excel at whatever they undertake. Scorpios are demanding of others, but never ask someone to do what they would not do themselves. They can be fanatically focused and work till they drop, and ask the same of those around them. No middle ground for a Scorpio, all or nothing.
Scorpio imagination and intuition are excellent. They possess refined critical perception and strong analytical ability. In addition, they seem to demonstrate a natural healing power. These abundant gifts allow Scorpions to penetrate the most profound subjects. They are serious folk, but quite charming to people they like, and when social events call for it. Their tragic flaw is their immense pride. Once wronged, once Scorpio's pride has been diminished, the game of courtesy is over.
Scorpio and Independence:
Scorpios are fiercely independent. They are able to accomplish anything they put their mind to and they won't give up. They are perfectly suited to being on their own. They are not social butterflies like some other zodiac signs and some actually prefer to live on their own that way there is never any issue of who controls what at home, they like to be in control.
Scorpio and Friendship:
Relationships with Scorpio are always complicated, just like the person, their relationships are a series of extremes, they can even be downright moody for no apparent reason. Scorpios are known for their possessiveness and jealousy but on the other hand, they are extremely loyal. Scorpios have an excellent memory and combined with an inability to let things go, they can hold a grudge against someone who did them harm forever, in fact a Scorpio rarely if never forgives and forgets. They will even go as far as get vengeance on the person. On the other hand, they will always remember a kind gesture forever and repay it. Any kind selfless gesture done to a Scorpio will gain trust and respect which is extremely important to them in any relationship, either romantic or not. The best advice is to be honest with a Scorpio friend and in return, you will gain an amazing friend you will never forget and who will be loyal to you and never make false promises. Their truthful and shocking sense of humor if different than that of any other zodiac sign and the Scorpio makes an amazing, powerful interesting friend that can be trusted.
Scorpio and Business:
Scorpios make excellent doctors, surgeons, scientists and leaders, they are perfectly suited to any form of business that makes a difference in the world, greatly impacts people and society and a most importantly, Scorpio has to be in a power position, this is why these careers are suited to the Scorpio, they all demand one person in supreme control giving orders and leading a unit of people/practices. In business, Scorpios tend to easily gather wealth, they make very wise business decisions and they are very conservative about spending their money. Scorpios are known for making money and hiding it, they will not announce it due to to fear that others will take the same route and becoming a possible competitor, or worse try to use the Scorpio to their advantage to use them for their money.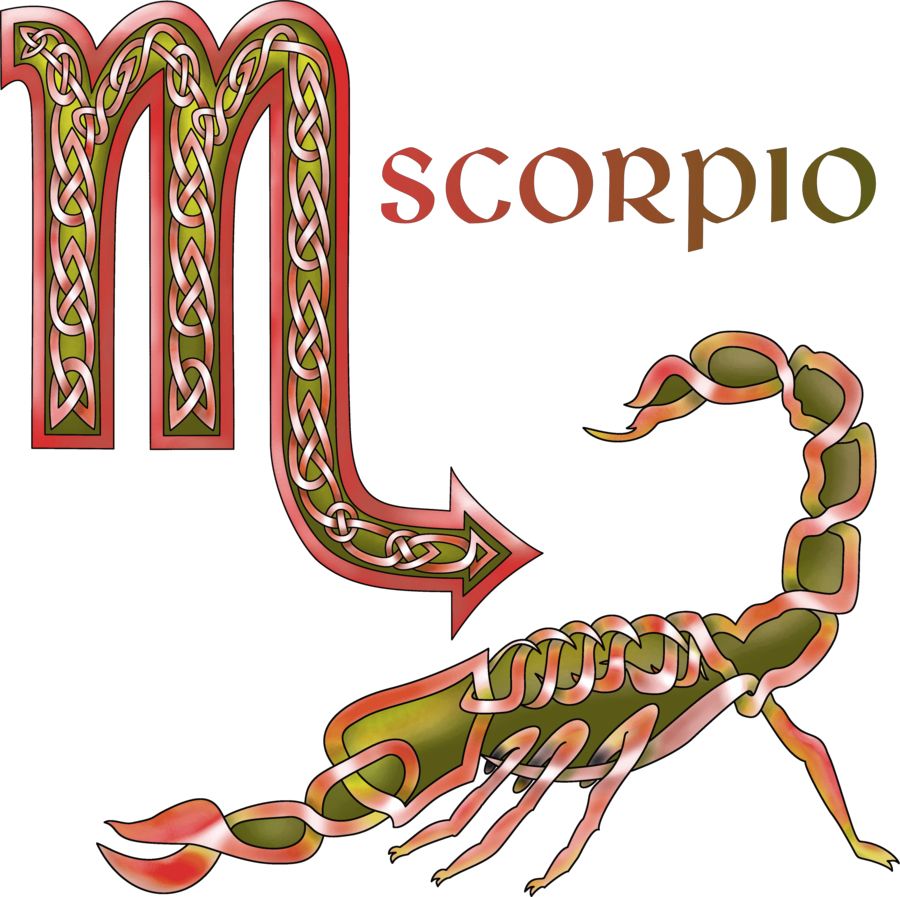 Scorpio and Temperament:
Scorpios are extremely ambitious, persistent and determined which is shown through a power hungry, controlling attitude. Not in a stubborn sense however, because a Scorpio will work for what they want and control will justified reasons. This is obvious to any onlooker. A Scorpio never gives up, they are so determined to reach their goal. The key to this success is their flexibility. They are able to re-survey a situation and take a different approach if necessary. This makes them very adaptable and versatile. Scorpios are fierce competitors, combined with their powers of observation and their excellent memory, they will recall facts and when necessary, bring them to the table at the time of need. They will win justly, with proper facts and arguments to support their thoughts and opinions. Scorpios are excellent at restoring order to a chaotic situation and they are just as capable of manipulating for their own greed and benefit. The un-evolved Scorpio is a very dangerous person because they use their powers to benefit only them and step on other people in order to satisfy their own greed.
Scorpio Deep Inside:
Scorpio is the most misunderstood of all astrology signs. They are all about intensity and contradictions. They like to be aware of a situation and always know what's going on, figuring this out with their probing mind, on the other hand, they are interested in the occult, the paranormal, conspiracy theories and other types of similar unknown mysteries. They are very capable of hiding their true feelings and motivations, they often have ulterior motives or a hidden agenda.
Scorpios are all about control, they need to be in control at all times. To be out of control is very threatening, even dangerous to the Scorpio's psyche, when they control, they feel safe.
Scorpios are very emotional, their emotions are intensified, both good emotions and bad. Negative emotions of jealousy and resentment are hallmarks of this turbulent astrology sign. On the other side, Scorpios are well known for their forceful and powerful drive to succeed and their amazing dedication. Scorpios are constantly trying to understand their emotions through finding a deeper purpose in life.
Scorpios are very intuitive, but not as in a psychic sense, more as intuitive into the human mind, they have a great understanding of the mystery and the power of the human mind.
Scorpios have a fear of failure which they keep hidden extremely well, should their confrontation not be successful, or their career fail, they will simply use their adaptive skill to quickly move and and leave the bad experience behind. Do not ever expect them to fess up or share their tale with anyone however because this shows signs of weakness and Scorpio always wins, they are always the self-proclaimed best! One of the reasons they seem like they always accomplish their goals is because they set tangible short-term goals that they know they can accomplish, they know what they are capable of and this is what they go for.
Scorpios are very weary about trusting anyone, a person needs to gain their trust and this gets built up over time and once all the 'trust tests' have been passed, Scorpio loves deeply and intensely. Underneath the cool exterior, energies and emotions are constantly flowing but the Scorpio deals with this be channeling this into useful activities, hobbies, relationships or a career. This is never apparent to the outside observer but knowing this fact explains why Scorpios are so passionate about whatever it is that they are undertaking. Scorpios have powerful instincts and they trust their own gut feeling which is another reason why a Scorpio seldom fails.
The ongoing lesson in life for those born under the Scorpio zodiac signs, is to channel their powerful energy into positive goals and not succumbing to the darker forces in life such as manipulation and greed, they will then have great success in their life and have a clean, happy conscience and a circle of friends they can trust and hold dear to them.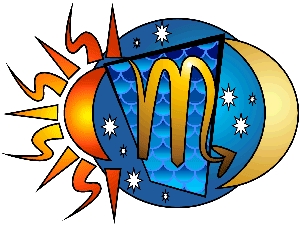 Scorpio in a Nutshell:
Scorpio is the astrology sign of extremes and intensity. Scorpios are very deep, intense people, there is always more then meets the eye. They present a cool, detached and unemotional air to the world yet lying underneath is tremendous power, extreme strength, intense passion and a strong will and a persistent drive. Scorpios have a very penetrative mind, do not be surprised if they ask questions, they are trying to delve deeper and figure things out and survey the situation. They always want to know why, where and any other possible detail they can possibly know. Scorpio's are very weary of the games that other people try to play and they are very aware of it. Scorpios tend to dominate and control anyone that lets them, or anyone that they find weak. The person that a Scorpio respects and holds close to them is treated with amazing kindness, loyalty and generosity. On the outside, a Scorpio has great secretiveness and mystery. This magnetically draws people to them. They are known to be controlling and too ambitious but only because they need control for this makes them feel safe.
What it's Like to Date a Scorpio Woman:
Scorpio woman is very emotional, very demanding and very demonstrative. She is full of flair and intrigue, a fascinating woman that the strong A-type personality male will adore, for she presents the right amount of challenge with the right amount of rewards. The Scorpio woman is the ultimate seductive, flirtatious woman. She won't give a man her heart very easily because she is weary of trusting another person. The man will have to go through a series of 'mental testes' in order for the relationship to get solid and close. She may not show it, but she wants a close committed relationship. Ion order for this, the man has to be trusted, has to be affectionate and never try to control her. She is very possessive but the Scorpio woman is so full of mystery, sensuality and passion that most men do not mind being possessed by her.
What it's Like to Date a Scorpio Man:
The Scorpio male is unlike any other man of any other astrology sign. He is so unique that a seperate section is needed to explain about dating the Scorpio man. Unlike most other zodiac signs, what it's like to date a Scorpio woman is very similar to dating a Scorpio man. The main difference is that instead of presenting a powerful feminine force like the woman, the Scorpio man presents a strong masculine, sexual force. The Scorpio man is easy to seduce and take home for the night, it is much harder to form a real relationship with him. The Scorpio man is very sensitive and feels lonely and unfulfilled, but he will never let a woman know this. Behind closed doors, be sensitive and affectionate to him appeal to his emotions only if you want a close relationship with him do not attempt to lead him on because he will see this and never forgive you. Toying with a Scorpio male is an unwise move. He will be jealous and possessive and will never allow a woman to control him. Let him take the lead because the Scorpio male is truly a fascinating person, you can never go wrong when he is planning the night! Scorpio men are very moody and their moods change like a pendulum on a clock. Stand by his side in these times and it will pass. Do not nag on him for he has a hard enough time understanding his own emotions. Scorpio men make excellent protectors and you will always feel safe under his radiating, passionate and energetic power.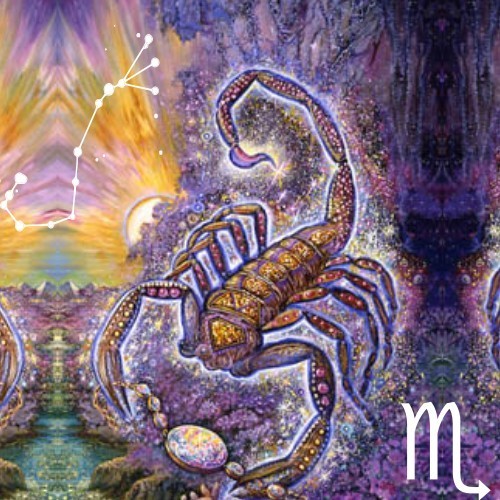 How to Attract Scorpio:
Never be fake with a Scorpio, they can see it a mile away. Be genuine with your comments and listen to them attentively, (they always have something interesting to say so this is never a problem!) Do not try to hide things from them or tease them, they always have to know what is going on. Remember, they are the only ones that are allowed to tease and present the mystery and intrigue! They like frankness and honesty, speak your mind they will respect that. Scorpios are interested in almost all activities, so finding something to do should never be a problem. They are unpredictable and could change course of the date mid-way though so take these last minute changes with a smile and try something different. They like people who are not afraid to ditch a plan and try another. In conversation, do not tell them that their opinions are wrong or shoot them down, they are too proud for this and even if it is a joke, they might not take it with the humor that you meant. Never try to control them but do not be the damsel in distress either, they like strong, real people with driving ambitious personality like theirs.
Scorpio Erogenous Zone:
The genitals are everybody's erogenous zone but since the Scorpio is the most sexually charged of all zodiac signs, the genitals are extremely sensitive and will ignite a passionate fire that cannot be extinguished. Stroke and caress these areas lightly. There is no wrong way to stimulate this area, but be gentle.
Sex With Scorpio:
Sex with Scorpio is a total emotional and physical experience with passion and intensity. They have amazing stamina and can last all night long, round after round. Scorpio is the zodiac sign that is the most likely to act out a sexual fantasy. Most people will talk about it but the Scorpio will do it, they will fully throw themselves into the role. Do not suggest a fantasy to a Scorpio unless you plan to do it! Most Scorpios are direct and forceful and they seem to be an expert at what they do. They continue to seduce you even as the act continues. A thrilling experience not for the faint of heart!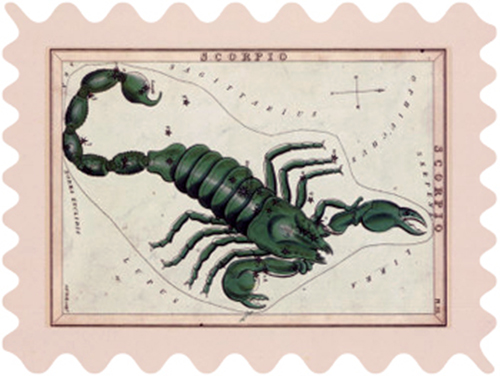 Vocational Interests Suited to Scorpio Tendencies
Their inner intensity can result in the ice-cold restraint and detachment of the surgeon, the concentration of the research scientist and the heroism of the soldier. Any profession in which analysis, investigation, research or dealing with the solving of mysteries are present appeals to Scorpio.
Police and detective work, espionage, the law, physics or psychology are attractive professions to the Scorpio. As writers and orators they excel. The Scorpio character is the one you see up on the podium delivering "fire and brimstone" speeches. They succeed because they communicate the power of their convictions.
| | |
| --- | --- |
| Scorpio Strength Keywords: | Scorpio Weakness Keywords: |
| Loyal | Jealous |
| Passionate | Obsessive |
| Resourceful | Suspicious |
| Observant | Manipulative |
| Dynamic | Unyielding |

Within a mythological context there is much that can be understood about the Scorpio personality. Look towards the constellation Scorpius, and you shall see one of the greatest stars visible to the human eye. There, at the very heart of the great scorpion is brilliant Antares! This red giant, some four hundred times larger than our own sun, rivals even close Mars for the eye's attention. Such intense energy burning at the center of this distinct constellation corresponds well to the driving passions which rule over those born in this period.
The Eagle and the Scorpion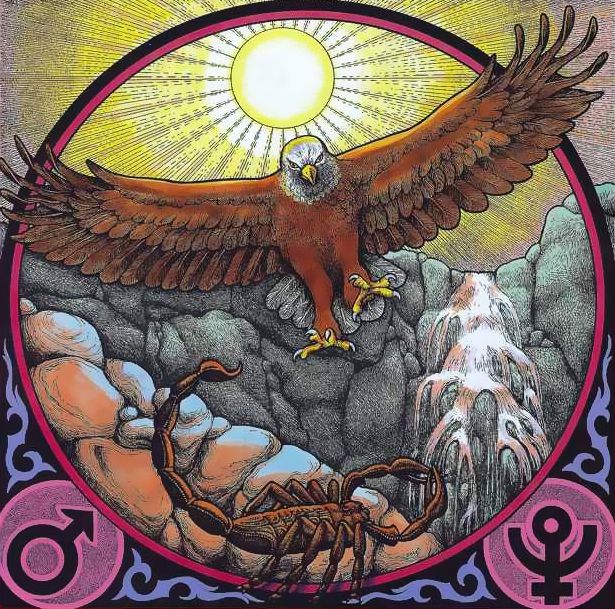 An important, though little known chapter in Scorpio lore is the placement of the Eagle in polarity to the Scorpion. Most Scorpios, if they dare be so revealing, would confess of an ongoing internal conflict between two distinct aspects of their nature. For individuals with a strong Scorpio influence, this may feel sometimes as a civil war of the self. This is not an abnormal psychological state. Here can be found the echoes of the earliest understandings of the Scorpio character.
Scorpions are creatures which crawl along the ground, seeking out the hidden spaces. They are a mystery to humanity, shrouded in fear and misunderstanding. Left to their own, they are comfortable in the low lying realms of the world. If provoked, however, they will strike with a deadly vengeance. The Eagle soars. On great wings this ruler of the wind rises above earthbound limitations. From this lofty perspective, the Eagle sees a world others may never dream. The bird of prey also strikes a swift and deadly blow. Yet, unlike the Scorpion, the Eagle has the ability to soar beyond. Within the spirit of every Scorpio resides this dual nature.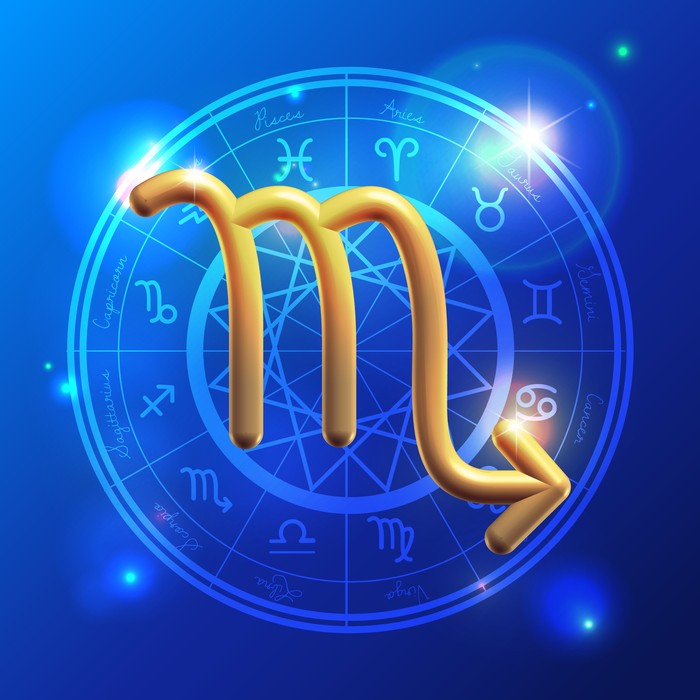 Famous Scorpio:
Robert F. Kennedy (November 20, 1925)
U.S. Senator, Attorney General
"Some see things as they are, and ask why?
I dream things that never were, and ask why not?"
- Robert F. Kennedy
---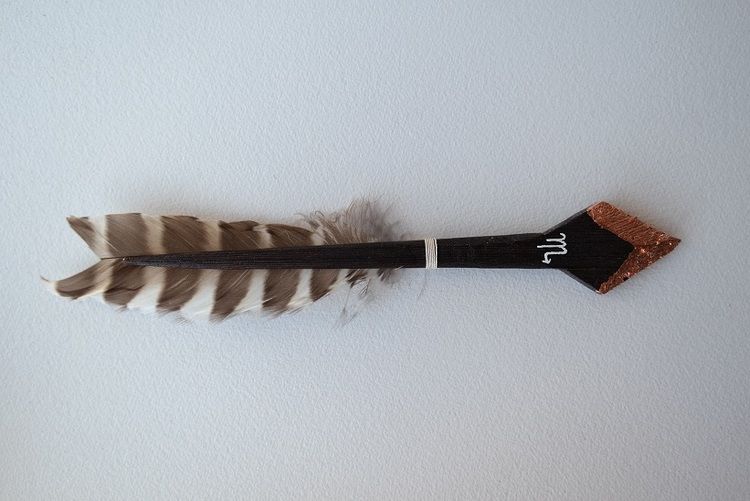 Who keeps an arrow in his bow,
And if you prod him, lets it go?
A fervent friend, a subtle foe
-Scorpio
---
© 2011-2023 crystalwind.ca. All rights reserved. We track all IP addresses with sniffer technology. Using a VPN will not hide your IP.
CrystalWind.ca is free to use because of donations from people like you. Please help support us!
Blessings!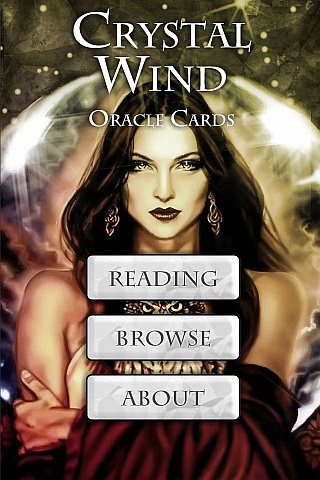 Cut Through The Illusions!
Available On

Spirit Animal Totem Of The Day!
Who is Online Now
We have 1437 guests and no members online