Support crystalwind.ca with your donation and help spread spirituality and positivity.
Blessings!
Category: Technology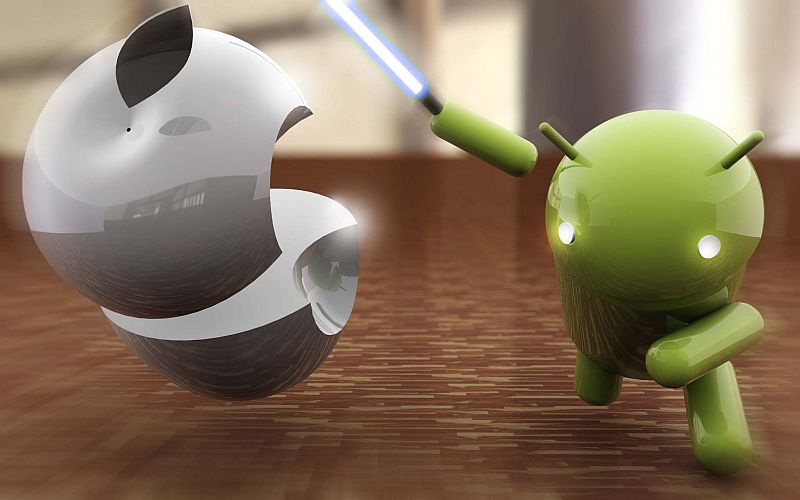 Sep 19 2014
Much has been reported about Apple's biggest volume day to date — selling 4 million iPhone 6's in 24 hours worldwide this past Friday. It's a tremendous achievement for any company.
Less has been said on how Google will sell 2 million smartphones by years end in one country alone — and how it will beat Apple in the process.
Google launched a smartphone that can't be bought in the US, in a country where most Americans can't find on a map and at a profit margin that made Wall Street boil.
It's the Android One, it was just released in India, and it's proof that Google gets the global smartphone game.
The iPhone 6's markets are saturated; the Android One's markets are not.
Many pundits classify Apple as an "aspirational" brand--they make products that more people want than can afford. It's a great position for any company to be in, but the cachet can come at a cost: arrogance.

For the last decade, Apple has thought locally and applied it globally. So in their mind what works in Cupertino will also work in Beijing, Mumbai and Mexico City. They've gotten away with it until now, but there's a problem: saturation.
In Apple's primary market—the US, it controls 42% of smartphone sales. That's a problem because the US is saturated with smartphones--roughly 75% of Americans own one. Most developed economies have similar ownership levels. When you factor in that growth within the high-end smartphone market--their sweet spot--has plateaued, Apple should be exploring new markets.
Instead of adapting to price sensitivities within emerging markets, Apple's iPhone 6 starts at $649 (without contract) and tops out at $949. That's an impossible purchase when the average household income in India is just US$7,700.
While Apple's CEO Tim Cook might claim that China is now its biggest market, the company gave up 30% of its market share in the last year to local competitors Huawei and Xiaomi. (This happened despite blistering iPhone sales.) After flubbing the iPhone 5C launch in China, he still has not set a release date for the 6 and 6 plus—despite it being manufactured there.
In Mexico, its share dropped by 50% in the last 12 months. If fact, Apple has lost ground in almost all major economies in that same time period. Apple has lost its global mojo.
Google's Android One launched in India this week for just $105, and carrier subsidies will drive that price down into the $60s. Amazon.in massive inventory sold out in a matter of hours. Google understands what works in Mountain View might not in Mumbai or Manila.
iPhone 6 sales are mostly upgrades; Android One sales are all new.
The last major iPhone update was over two years ago. That's a lifetime in the fast-moving mobile world. Their pre-sales figures show how pent up the demand is today and will likely remain in the months to come.
While the iPhone 6 will eat into some of Samsung's higher-end market share, a majority of these revenues will come from upgrades from existing customers. This will generate massive revenues (and profits) for Apple, but lead to minimal growth in its market share at best, and not help them long term.
In contrast, Google didn't design the Android One for the 1.75 billion people who already have a smartphone. They have created it for the 5+ billion who don't and priced it accordingly.
The iPhone 6 is sourced globally; the Android One is sourced locally.
Apple's hardware is often second-to-none in its quality and build. A vendor's success is nearly guaranteed when Apple selects them. This pattern also happens within a two other companies: General Motors and Ford. It doesn't take a logistics expert to tell you how global sourcing drives up costs and production times. (Maybe that's why the iPhone 6 is delayed for release in China.)
Google took a different approach. It worked with local chipmakers and phone manufacturers to control costs in India.
Likewise, they'll partner with other manufacturers like Alcatel, Lenovo and Panasonic to ensure that this sourcing model will be replicated in other emerging markets.
The iPhone 6 software is locked by Apple; so is the Android One by Google.
Apple has a long history of tightly controlling software on all of its platforms. That hurt them in the PC age, but has helped them improve the user experience in the mobile age.
Google took notice. Manufacturers like Samsung load up their Android devices with bloatware to the angst of users. Google limits Android One manufacturers to its stock OS.
Google has also eliminated OS access from wireless carriers--like Apple did with AT&T seven years ago. Google took it a step further by understanding the great expense of mobile data for most users within India. They partnered with Airtel to allow Android One users to get free OS updates for the first six months—in time for a critical update to their more energy-efficient Android L OS. These users will also get up to 200MB of free data for app downloads per month.
Unless there are radical changes coming Cupertino, Apple just lost the global smartphone wars to Google.
---
Curt Prins is a mobile strategist based in Minneapolis. You can follow him @curtprins.
Credit: LinkedIn.com - Original article here