Support crystalwind.ca with your donation and help spread spirituality and positivity.
Blessings!
Category: Technology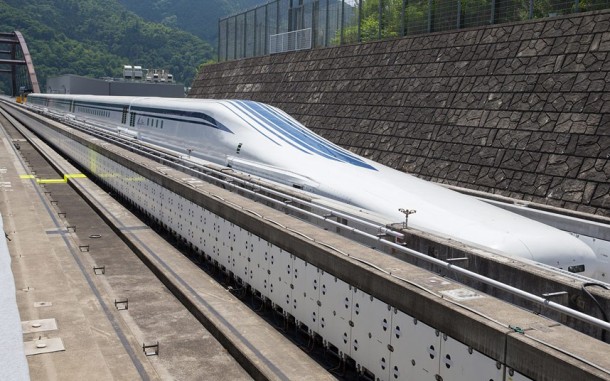 The Japanese government has approved plans for a train that will carry passengers from Tokyo to Nogoya at a speed of 310 miles per hour (500 kph). The train, which will be the fastest in the world, will use magnetic levitation technology.
The new line will stretch 180 miles (290 km) between the two cities, and the journey will take just 40 minutes. This is half the time that the current bullet train takes, which travels at speeds of up to 200 mph (322 kph), The Wall Street Journal reports.
The train is the brainchild of JR Tokai, the main railway company operating in the Chūbu region of central Japan. In Japanese, "Tokai" means "East Sea" and is the name of the region between Tokyo and Nogoya.
The technology behind the maglev train uses a magnetic charge to lift the train into the air, a few inches above its concrete track or guideway. This enables higher speeds to be achieved, as the carriages can move along without generating any friction.
Last month, a maglev train was successfully tested on a track in Yamanashi prefecture, running on its wheels until reaching 103 mph (167 kph). When the maglev technology was switched on, it lifted off and raced to speeds of 310 mph (500 kph).
The line will replace the current bullet train, which celebrated its 50th birthday just a few weeks ago.
JR Tokai hopes to complete the link to Nogoya by 2027 and then build an extension of the line to Osaka by 2045. The current journey time to Osaka from Tokyo is 130 minutes, but will be reduced to just 67.
The company plans to finance the construction of the first stretch of the line by itself, and has estimated the cost at 5.5 trillion yen (US$50 billion).
The company's CEO told the Japan Times that he is committed to speaking to local authorities along the route to make sure residents are caused the minimal amount of disturbance.
At least 86 percent of the first leg from Tokyo to Nagoya is expected to be built in tunnels. In some urban areas, the trains will be up to 40 meters underground.
---

Credit: rt.com