Help keep CrystalWind.ca resources free for everyone. To share the articles posted here daily we rely on readers like you. Please donate today.
Blessings!
Category: Technology Written by Chris Howard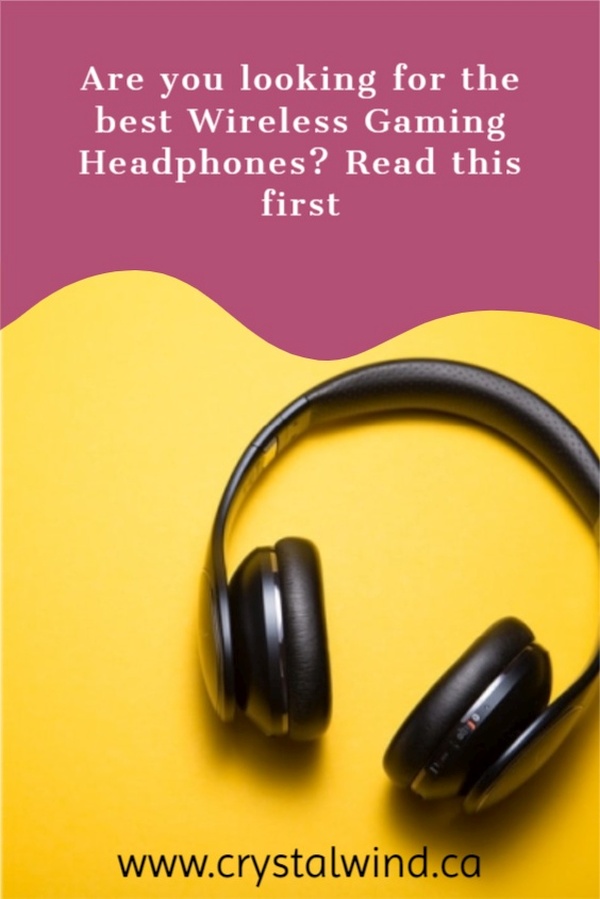 When we speak about gaming essentials, we simply can't avoid mentioning the headphones. Of course, most of us have nothing against using speakers but you have to admit that headphones provide a much better gaming experience and they will save you from disturbing the people you live with.
Maybe your surroundings are a bit noisier and you can't really focus on your gameplay, so you simply want to isolate yourself from everything. Or you are one of those who loves playing late at night when everybody else is sleeping. These are just some of the reasons why you should consider getting some good quality gaming headphones and enjoy your gaming sessions without any worries.
Therefore, we have made a selection of the top three gaming headphones today and their good and bad sides. Also, in case you don't like our selection we have prepared a short buying guide which can help you in making your final decision.
What you should pay attention to?
Connection
There are several different ways in which gaming headphones can connect to the gaming console or platform. For example, some gaming headphones have a base station that is used to send and receive audio signals.
Other headphones will connect to the platform with a USB dongle which functions as a transmitter. And of course, others use Bluetooth or 2.4GHz wireless frequency to connect to the platform. However, the Bluetooth connection is known to lower the audio quality so we wouldn't recommend Bluetooth headphones in this case.
Platform
The gaming platform you use will have a big effect on your choice. Although the majority of gaming headsets on the market support different gaming consoles, some headphones are designed specifically for PS4 or Xbox, and so on. Luckily, most headphones are either Bluetooth ready or have a 3.5mm headphone jack so they can work on almost any device.
This is the reason why you should pay attention to whether there are any compatibility issues with your current gaming console.
Comfort
How comfortable the gaming headset would be is directly connected to ear cups and headband. When it comes to the headband, it is important to choose a strong and adjustable one. Some headphones allow you to change the length of the headband with the help of notches on the headband itself or in some cases the headband is elastic which is much more convenient.
As for the ear cups we strongly recommend round earcups if you have smaller ears or oval ear cups if you have bigger ears.
Type of Ear Cups
The earcups are generally either made of fabric, foam, or leather. Fabric ones will provide breathability while leather earcups will prevent excess sweating at the sides of your head, and the foam ear cups are the most comfortable for your ears.
When it comes to the design of the ear cups they can be open and closed. The open design will provide better breathability and it is better for long gaming sessions. In case you are spending hours and hours playing your favorite game open-back headphones are ideal for you. You can find more info about them here. However, the only downside is sound leakage. So, if you are worried that your gaming will annoy or disturb the ones around you it may be better to choose closed earcups.
Closed ear cups seal your ears completely and help you isolate from the surrounding. The bass in these headphones is much more emphasized but we wouldn't recommend using them for longer gaming sessions or when it's too hot.
Sound Quality
Sound quality is something you must take into account. Of course, it greatly depends on the system the headphones are using for sound distribution.
Stereo headset
If you are using a stereo headset the sound comes just from the left and the right. The good thing here is that stereo headsets can be easily connected to all platforms using a 3.5mm headphone jack, but they are not the best for gaming mainly because the sound is directional. Sometimes during the gameplay, it is very useful to be able to determine the direction other sounds are coming from.
Virtual Surround Sound
When it comes to gaming headphones the best sound system is virtual surround sound. It is software powered, and a 7.1 surround sound system will deliver sound from all the channels available. This will help you precisely determine from which direction the sound is coming from which makes it easier to locate the enemies in the game. We don't need to mention that virtual surround sound will boost your overall gaming experience.
Dimensional Sound
The gaming experience is even more enhanced with the help of the DTS X codec which helps simulate a 3D audio. If virtual surround sound made it possible to hear from which direction your enemies are approaching, this codec will help you determine whether they are coming from above or below.
Noise Cancellation
Most gaming headphones come with a microphone which is either removable or retractable. It is normal for them to pick up the surrounding noises. The good thing here is that most gaming headphones come with microphones with a noise-canceling feature. It is a very good feature if you need to communicate with other players constantly.
Battery Life
The battery life is something you should pay attention to when buying a wireless gaming headset. Although there are headphones that will provide up to 30 hours of battery life, most of them are in the 13 to 15 hours range on a single charge. Of course, longer battery life is better in this case so pay attention to that.
Drivers
The electrical signals are converted to digital with the help of the drivers. The size of the driver is closely connected to its power so a bigger driver means more powerful sound. However, the sound quality isn't closely connected to the driver size, but it depends more on the connection mode and the software they use, i.e. do they support just stereo or surround sound and so on.
Price
The price is directly connected to the features your gaming headset has. Virtual surround sound, noise-canceling, multiple equalization, and other features will add up to the final price of the product. So, to have all the premium features of gaming headphones, you would need to pay extra.
Our Top 3 Selection
SteelSeries Arctis Pro Wireless
What we liked is the excellent build quality and awesome sound quality. This gaming headset is very comfortable and the frequency response is well balanced. We love the many customization options which will help you get the most out of this headset.
To be honest we wish they were a bit more affordable. They are made for the desk, and the output is artificially limited. So we believe that with these small improvements these headphones will be even better.
SteelSeries Arctis 7
We loved the long battery life in these headphones. The build quality is outstanding and they deliver crisp and clear sound.
We can't recommend them for people with a large head so pay close attention to that if you are in that group. The volume buttons are a little tricky and you may have trouble adjusting the volume during the gameplay. They support Xbox only in wired mode.
HyperX Cloud Flight
The 30-hour battery life left us speechless. The noise isolation is excellent and the comfort is incredible. You will be able to enjoy your gaming sessions for a very long time without any ear fatigue.
What we didn't like is that the software could be better, it doesn't give you much space for customization. We hope that the 2.0 channel audio will be improved in future models. The build quality is simply not in line with the price.
Which one should you choose?
Bringing your gaming experience to a completely new level requires a lot of planning and creativity because the games being made today can offer much more than a few years before. If you decide to use your current headphones or speaker system there are great chances that you are going to miss a lot the game has to offer.
A wired gaming headset will be just fine, but a wireless gaming headset will give you the ability to move around your room without the need to pause the game because the headphones wire is too short.
If you are using some older headphones the sound quality will be slightly lower but the latest gaming headphones are supported by the latest audio technology like aptX HD, DTX, and virtual surround sounds which will boost your gaming experience to a completely new dimension.
In case you are into gaming and haven't had a chance to try some of the top-quality wireless gaming headphones, we highly recommend you to do that as soon as possible. There are many excellent products on the market today and we are sure you will find something that suits you best without the need to spend a small fortune.
Credit
Sponsored Post
Submitted Exclusively to CrystalWind.ca by Chris Howard © 2020 crystalwind.ca