Support crystalwind.ca with your donation and help spread spirituality and positivity.
Blessings!
Category: Technology Written by Chris Howard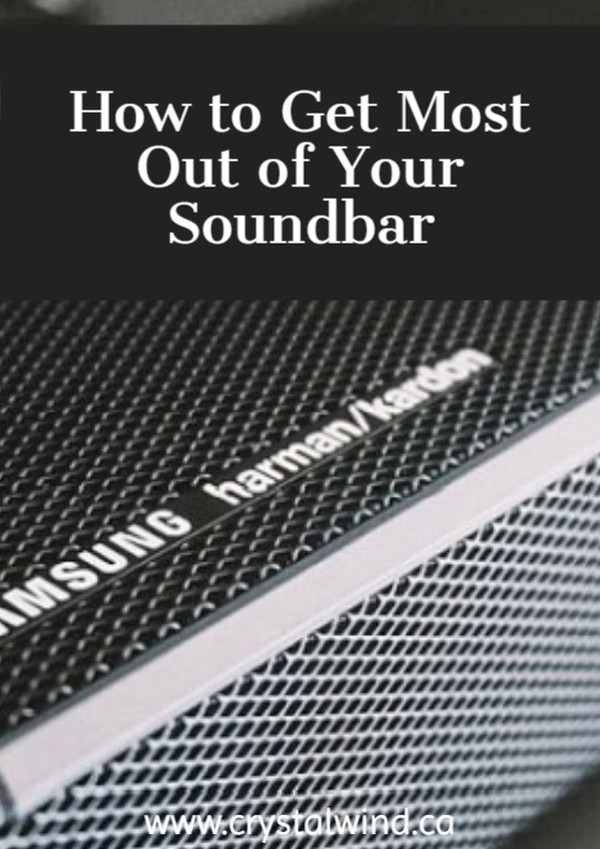 A perfect movie night can be ruined by the low-quality sound. It's commonly known that TV's built-in speakers are not the best. So, you've decided to hop on the bandwagon and try out the popular soundbar. As this type of loudspeaker has gained so much popularity in recent years, you reckon that it's the best combination of amazing features and cost-effectiveness.
However, when you bring it home and set it up, learning how to adjust all the features might be tricky. Do you feel like you're not getting your money's worth? Maybe you're not using it correctly. Here's a simple guide that can help you get most out of your soundbar, whether you had it for ages or just bought it.
Set it up correctly
One of the biggest perks of having a soundbar is being able to place it and set it up however you like. Their unique shape (they are wider than taller) makes them easy to set up without taking too much space. Yet, some people are not aware that the position of the soundbar affects sound quality.
The easiest way to place your soundbar is directly in front of the TV screen, on a flat surface. If your soundbar comes with a sound surround system, make sure to place it in front of the screen and properly arrange the left and right speakers. You could also set it up above your TV, however, you'll need to install a separate shelf for that.
The most effective way to get the best sound out of your soundbar is to mount it on the wall. It should approximately be placed within 1 foot of the height of your ears when you're sitting in front of the TV.
Cut out the receiver
A receiver is a middleman that complicates things when it comes to set up and sound quality. By investing in a good soundbar, you'll be able to cut out the receiver. If all you want is a great sound and quick and simple set up, connect your active soundbar to the TV and forget all about using or buying a receiver.
To eliminate the need for an amplifier or a receiver, invest in an active soundbar. An active soundbar has its own amplifier and works as an all-in-one speaker. As it has its own amplifier, common audio problems are minimized.
Many people wonder what's the difference between the sound surround system and a soundbar as both of them significantly improve the sound. Unlike the sound surround system, an active soundbar improves the quality of the sound without the complicated setup and a bulk. When compared to the passive soundbar, the active soundbar minimizes the likelihood of lag, relays the signals from the TV to the soundbar almost instantly, and decreases the syncing issues. This makes it a better option for your home.
Cable quality matters
So many different cables exist in the tech world. You're probably aware that not every type of cable suits every piece of electronic equipment. What most people don't know is that not every cable is a good quality one. If you want loud and clear sound, invest in good cables.
Choose cables depending on the type of TV you have. Many older TVs usually only support RCA and AUX cables, which are nowadays considered outdated technology. On the other hand, HDMI, HDMI ARC, and optical cables relay better quality digital signals, so you should opt for them.
If you're planning on using different consoles or gadgets, HDMI cables are the best choice because they transfer the audio as well as visual signals. On the contrary, optical cables relay audio signals only. Even though they offer a tad better sound quality, they are not universally accepted and need additional cabling if you want to connect any video source device.
Turn off TV's internal speakers
The reason why many people invest in a soundbar system is that the TV's built-in speakers emit below average to average sound. Even if you properly connect your soundbar to your TV, chances are you'll hear the sound coming from both, TV and soundbar, which affects its quality.
If you've ever heard the same sound coming from different speakers, you surely know how distracting it can be, especially if the quality of sound varies. Why does that happen? When the sound at different decibels or frequencies is played simultaneously, the overall quality gets diluted. For instance, muffled sounds coming from your TV dilute the clarity and quality of the sound played from the soundbar.
The majority of high-end or modern TVs allow you to go through the settings and turn the built-in speakers off. If that's not an option, you can always turn the volume down to 0 or mute your TV, allowing your soundbar to undisturbedly provide top quality sound and rich tones without distractions.
Adjust equalizer settings
Most soundbars come with different modes you can experiment with. Depending on what you're watching, you can try to adjust equalizer settings for a better bass and treble levels. They are made for enhanced experience while watching different types of media. By adjusting equalizer and experimenting with modes, you're ensuring that your soundbar plays the perfect sound for the atmosphere.
As the technology has never been more accessible than today, adjusting your soundbar to play the ideal sound has never been easier. Numerous mobile apps that can help you determine the optimal level of bass, tremble, and sound for you, exist in the app store. You can download them on your phone, and easily and simply set the ideal atmosphere. On the other hand, you can also manually adjust the settings; as the loudness and other sound qualities are usually a personal preference.
Modes are fun to experiment with. Depending on the type and brand, many soundbars have modes specifically made for speech enhancement, which makes it ideal for flicks and news. To access different modes on your soundbar, search for the settings than options labeled Natural, Standard, Bypass, Stereo, etc. Enjoy the movie with the top-quality sound played from your soundbar.
Credit
Sponsored Post
Submitted Exclusively to CrystalWind.ca by Chris Howard © 2020 crystalwind.ca