Help keep CrystalWind.ca resources free for everyone. To share the articles posted here daily we rely on readers like you. Please donate today.
Blessings!
Category: Celtic Zodiac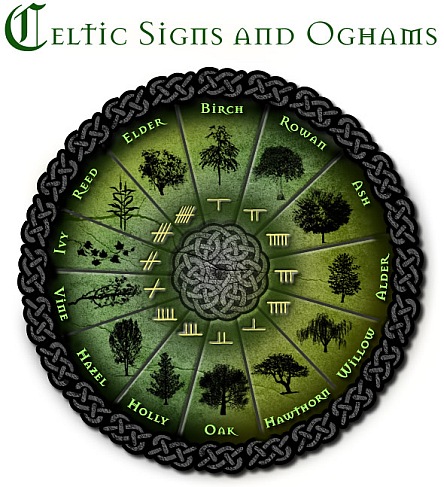 This is another version of Celtic Based Astrology/Zodiac. There are some differences between them. Mainly as they pertain to elements, associations and dates of influence. If you look around and search the web you will find some are druid based, Celtic/Irish based and Neo-Pagan based. Most of them are close and I chose to show this one as a short version or an 'At A Glance' version for your quick review. If you want a more in-depth explanation see the foot notes below and check our other articles on Celtic astrology here on www.crystalwind.ca.
The Basics:
The Ohgam is a kind of zodiac system that is used in some neo-paganism and possibly by the Druids themselves. Unlike other zodiacs, the Ogham system is not based on constellations, but on specific sacred trees associated with different months, attributes and qualities. This can be used as a zodiac-like resource as well as a great way for Harry Potter characters to pick their wand type.
Because months used to be tracked by the moon, there is some variation in what a person's "birth-tree" can be. For simplicity's sake, I went with one system, as there are many other calenders with very different dates and ordering.
It should be noted that rank does not indicate the kind of tree tit is, but the relative importance (Chieftan > Peasent > Shrub > Bramble). References to specific deities and tarot connections are linked to outside resources for more information.
The Calender:
January
Tree: Alder (Faern)
Letter/Symbol: F,

Rank: Chieftain
Element: Fire
Personalities: ambitious/impulsive
Deity: Bran
Tarot: Strength
Attributes: shield, hawk, guardian of milk
Overview: The Alder is another protective tree, this time more physical. Alder wood was a popular choice for shields and symbolized protection from one's enemies and livelihood.

February
Tree: Willow (Saille)
Letter/Symbol: S,

Rank: Chieftain
Element: Water
Personalities: wise/bitter
Deity: Epona, Brighid
Tarot: The Moon
Attributes: pallor, death, activity of bees, music, soul, Imbolc, inspiration, hope
Overview: While still in the harshness of winter, spring is in sight, making the willow a dual tree of death and life. Willow wood was often used for musical instrument. The result is a tree symbolic of inspiration and hope even in the darkest of times.

March
Tree: Ash (Nuin)
Letter/Symbol: N,

Rank: Peasant
Element: Air
Personalities: charming/egocentric
Deity: Gwydion
Tarot: The World
Attributes: peace, fight of women, healing, the Otherworld, Yggdrasil
Overview: March symbolizes the awakening of spring, bringing life and healing. Ash is one of the top three sacred trees and was believed to have connection to the Otherworld.

April
Tree: Hawthorn (Huath)
Letter/Symbol: H,

Rank: Peasant
Element: Fire
Personalities: passionate/ruthless
Deity: Rhiannon, Morrigan, Cernunnos
Tarot: Judgement
Attributes: raven, terror, wolfpack
Overview: Even though spring has come, winter weather can still threaten. Animals are more aggressive, defending their new offspring. The sharp hawthorn symbolizes a wild, untamed nature that demands respect.

May
Tree: Oak (Duir)
Letter/Symbol: D,

Rank: Chieftain
Element: Fire
Personalities: fatherly/dominating
Deity: Belenus, Cernunnos
Tarot: The Emperor
Attributes: wren, druid's tree, carpenter's wood, Beltane
Overview: The oak was possibly the most important tree to the ancient Celts and druids. The tree symbolized the wisdom of the gods and provided food (acorn flour) and wood for boats, furniture and wagons, making it both a spiritual and and practical tree.

June
Tree: Holly (Tinne)
Letter/Symbol: T,

Rank: Shrub
Element: Fire
Personalities: determined/insensitive
Deity: Cu Chulain
Tarot: The Chariot
Attributes: fires, coal, promises fulfilled
Overview: As an evergreen, holly remains bright and vibrant throughout winter, offering a promise of the summer that arrives in June.

July
Tree: Hazel (Coll)
Letter/Symbol: C,

Rank: Shrub
Element: Water
Personalities: generous/deceptive
Deity: Branwen
Tarot: The High Priestess
Attributes: beautiful forest tree, cracking, gifts, salmon, bards
Overview: With the height of summer is a time to benefit from the fits of the land. The hazel tree offered nut just its nuts, but wisdom of the ages, the gods and the bards.

August
Tree: Vine (Muinn)
Letter/Symbol: M,

Rank: Bramble
Element: Water
Personalities: sympathetic/dependent
Deity: Brigantia
Tarot: The Lovers
Attributes: back of ox or man, great effort, Lughnassadh
Overview: This was traditional beginning of harvest time and a season of intense physical labor, represented by the vine a plant able to climb obstacles and support a great deal of weight.

September
Tree: Ivy (Gort)
Letter/Symbol: G,

Rank: Bramble
Element: Earth
Personalities: ambitious/lazy
Deity: Ogmios
Tarot: Justice
Attributes: swan, sweet grass, balance
Overview: A complicated plant, the ivy represents great beauty and a delicate nature, but it is mildly poisonous and will eventually kill its host. As winter draws closer and summer is left behind, Ivy represents a balance of life and death

October
Tree: Broom (Getal)
Letter/Symbol: NG,

Rank: Bramble
Element: Air
Personalities: adaptable/indecisive
Deity: Arianrhod
Tarot: Wheel of Fortune
Attributes: goose, physicians strength
Overview: The broom was very popular in herbal treatments for a variety of maladies and symbolized preparing oneself and one's family with the coming of winter. It has strong connections with the goose, an animal that fiercely defends its home and its family.

November
Tree: Birch (Beith)
Letter/Symbol: B,

Rank: Chieftain
Color: white, silver
Element: Air
Personalities: happy/immature
Deity: Maponos
Tarot: The Star
Attributes: beginnings
Overview: November was the first month of the druid calender and a time for fresh starts. Birch trees, often pioneer trees or the first to appear after fires, were an excellent representation of the beginning of the year.

December
Tree: Rowan (Luis)
Letter/Symbol: L,

Rank: Shrub
Color: grey, red
Element: Air
Personalities: spiritual/fanatical
Deity: Math
Tarot: The Hierophant
Attributes: flame, duck, friend of cattle, faeries, luck, magical protection
Overview: Ancient Celts needed all the luck they could get in the dead of winter. The magical qualities of the rowan tree were believed to provide protection against illness, starvation and misfortune.

*Samhain (October 29-November 1)
Tree: Elder (Ruis)
Letter/Symbol: R,

Rank: Shrub
Element: Earth
Personalities: intelligent/unforunate
Deity: Morrigan
Tarot: The Hanged Man
Attributes: red, blushing, shame
Overview: Samhain was the last days of the year and signaled an end of things. It was believed that during this time, one could step into the Otherworld, but if you were not prepared, the experience would drive you mad. The Elder's blush-red berries symbolize shame and smaller endings such as the loss of a friendship, a loved one or innocence.
---
Information taken from The Lore of the Bard by Arthur Rowan
and The 21 Lessons of Merlyn by Douglas Monroe
Source Here
Crystal Wind™

See us on

and

Follow us on

CrystalWind.ca is free to use because of donations from people like you. Please help support us!
Blessings!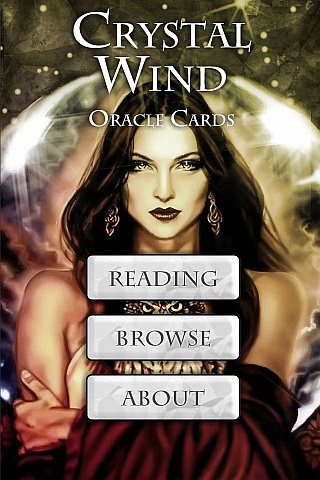 Cut Through The Illusions!
Available On

Spirit Animal Totem Of The Day!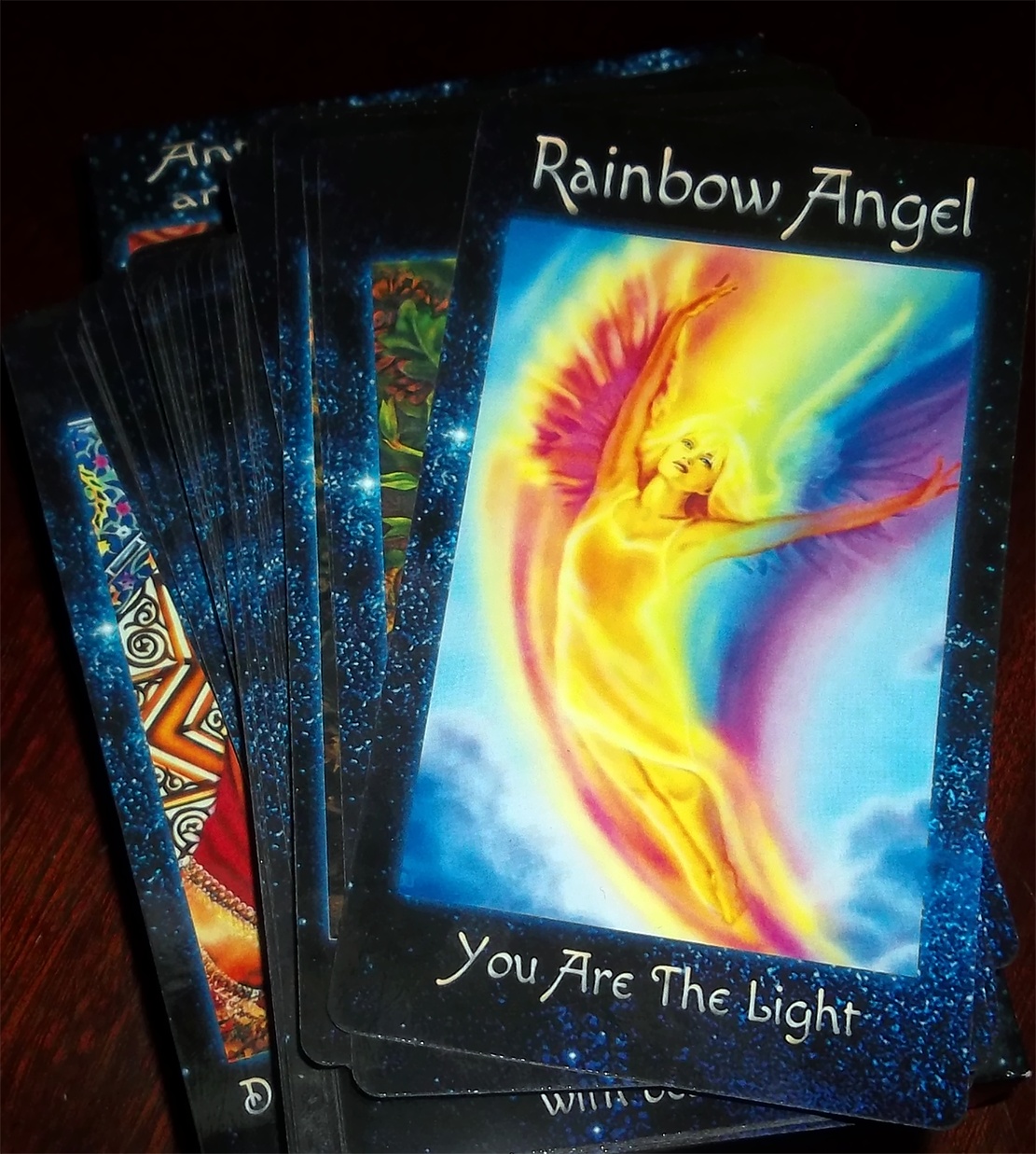 The Crystal Wind Oracle
Myth & Magic Card Deck!
Details Here!
NEW Expanded
Printed & Boxed!
Now with 58 cards!
Who is Online Now
We have 1396 guests and no members online