Support crystalwind.ca with your donation and help spread spirituality and positivity.
Blessings!
Category: Touch, Taste & Smell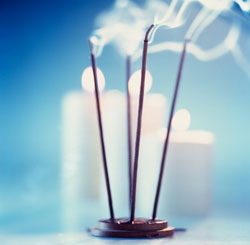 Most of us tend to view incense as a way to freshen up a room and hide odours but there is much more to these simple sticks/grains than meets the eye.
For starters incense can be split into various groups:
Clearing – these are used to clear your mind of negative thoughts so you can enter a place peaceful and happy.
Smudge sticks – have been used for centuries by the Native Americans to transform negative energy; heal and cleanse rooms of unwanted energy.
Incense sticks/grains/burners – you are probably most familiar with these as they are often used to refresh your mind, body and spirit; improve mental clarity and sooth your senses.
And then there are their physical and psychological benefits!
Whether you choose to use sticks, grains or burners; incense can provide you with an array of benefits that can improve your health, mind and relationships as well as fill your home with beautiful fragrances.
All you need to decide is which one is the best one for you. 


Enhanced concentration and focus– Cinnamon, Lavender, Patchouli, Rose


Creativity – Aloeswood, Benzoin, Cinnamon, Copal-Gold, Frankincense, Labdanum, Catnip, Ginger, Hops, Star Anise


Increased motivation – Three Kings, Althea, Chamomile, Rosemary, Willow, Musk Root, Allspice


Confidence – Rosemary, Garlic, Chamomile, Musk Root, St John's Wort, Thyme, Oak, Woodruff


Heightening sexual desire – Patchouli, Dragon's Blood, Coco, Night Queen, Jasmine, Vanilla, Purple


Preventing infections – Amber, Cinnamon, Pino


Relieving headaches – Sage, Rose, Benzoin, Meadowsweet


Fighting depression – Frankincense, Sandalwood, Aloe, Indian Cedar


Reducing tension and anxiety – Eucalyptus, Lavender, Ginger, Lemon


Overcoming insomnia – Benzoin, Musk Seed, Myrrh, Patchouli, Sandalwood, Valerian, Basil, Chamomile, Lavender, Mugwort, Marjoram, Rosemary, Star Anise, Thyme, Poppy Seed.
And you don't even have to buy incense sticks. It is possible to create your own and choose which combination of grains, oils and herbs you want to use.
How to make incense sticks
Making incense sticks is easier than you think. All you need to get started is an incense recipe; your ingredients (usually consists of gums & resins, woods, herbs, spices, flowers and fruit); a mortar and pestle (or a grinder); measuring tools and jars for storage.
Step One: Weigh all your ingredients, grind and measure again. Tips: freeze gummy resins for 15-30 minutes before grinding; for woods purchase them in a powdered form and for fruits grate first before letting them dry and grinding.
Step Two: Mix your ingredients. Blend your ingredients together by grinding.
Step Three: Heat and test. At this stage you can choose to heat your grains (using incense charcoal) and enjoy their aroma as they are or you can continue and transform these grains into sticks.

Step Four: Make your incense sticks. To make your grains into sticks you will need to add Makko. If your incense is mostly woods, spices and herbs you will need 5-30% Makko but for high resin mixtures you will need to add 40-90% Makko.

Once you have added Makko, set 10% of your incense to the side as back up, then very slowly drizzle warm water onto the remaining mix (alternatively you can use essential oils or wines) and knead to form a dough that is moist but not slimy.
Age your dough overnight by covering the bowl with a damp towel, before kneading again.
When you are happy with the consistency, you can break some pieces away and roll into sticks.
Cut your stick into 10cm lengths, cover with wax and leave to dry over 5 days.
And that's it! So if you fancy making your own, why not give it a go. Here are some recipes to get you started:
Recipe for increasing your creative expression – 4 parts Aloeswood, 1 part Saigon Cinnamon and 1 part Benzoin
Recipe for stilling your spirit – 2 part Sandalwood, ½ part Chamomile, ½ part Lavender and ½ part Marjoram
Recipe for deep sleep – 4 parts Myrrh, 1 part Galbanum, 1 part Benzoin and 1 part Valerian
Recipe for boosting confidence – 1 part Rosemary, ¼ part Garlic, ½ part Chamomile and 1 part Musk Root.
---

The Author - Baldwins
G Baldwin & Co is London's oldest and most established herbalist. The company itself was founded in 1844 and has since been around to offer advice, high quality products and the best range of herbs for over 160 years. While many of our posts are published by specific staff members in the Baldwins family some posts will fall under this group account including archive posts from our older blog.
Source Here
CrystalWind.ca is free to use because of donations from people like you. Please help support us!
Blessings!