Support crystalwind.ca with your donation and help spread spirituality and positivity.
Blessings!
Written by Dr. Schavi M. Ali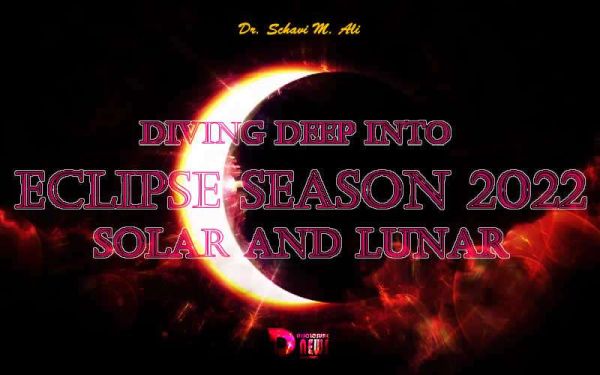 The Solar Eclipse of Tuesday, October 25th, 2022, at 2 degrees of Scorpio (Tropical Zodiac), is now just four days away.
Solar Eclipses offer new beginnings after releasing old issues that are no longer advisable for continued elevation to better circumstances, greater capabilities, and HIGHER KNOWLEDGE.
Thus, like a water pitcher that has to be cleansed before fresh water can be poured into it, this eclipse in the transformative sign of Scorpio is very significant, and its effects will last for approximately six months.
Scorpio is governed by the planet Pluto which can completely uplevel, remove, and deconstruct old paradigms to make way for the new.
A metaphor is the construction of a building. In some cases, the building's foundation and basic inner workings are in good condition; so, the building can be modified by perhaps tearing out certain rooms, creating new flooring, laying down new carpeting, fixing-up, painting, etc.
However, in some situations, the entire structure must be torn down and a totally new edifice built in its place because the building has been allowed to go into disrepair and ruin.
In yet other cases, there may be a place—perhaps a community of homes that is perfectly constructed and well-maintained— that a corporation buys and decides to tear down everything to construct a huge and expansive business complex in its place.
That is how Pluto works—totally tearing down for something new to be created.
Therefore, although a Solar Eclipse provides new starts, certain conditions and situations must first be removed.
During the next six months, releasing and building anew will be in evidence around the world.
On November 8th, 2022, we will have a Lunar Eclipse.
These always heighten the emotions that developed during the Solar Eclipse as particular realizations settle into us.
It will occur at 16 degrees of Taurus (Tropical Zodiac) on the Full Moon at 6:02 AM (EDT).
The beauty-loving, romantic, financially oriented, materially-focused planet Venus governs taurus.
Thus, Taurus has these Venusian qualities, but can also be stubborn and very opinionated.
A Lunar Eclipse also tends to have a six-month portal of energies.
There will be local, national, and global changes in the finance market, in relationships, in political leadership, in social structures, and in what collective humanity tends to value.
Scorpio and Taurus are opposite each other in the zodiac, but oppositions have something that the other needs.
Therefore, certain characteristics of each are needed by the other.
For those who know their natal charts, observe where these two signs are located, and based upon the characteristics of the horoscope "houses," it can be gleaned what aspects will be activated by the Solar and Lunar eclipses as they "dance" with each other.
This should also be done for the charts of cities and nations.
The portal of a Solar Eclipse tends to open about a month prior, placing this eclipse portal having opened on approximately September 25th.
However, the beginning of the high point of the portal's energy opens ten days prior; so, this Solar Eclipse portal height opened on Sunday, October 16th. As earlier mentioned, the effects of this eclipse will last for approximately six months. The portal of the Lunar Eclipse opens three days prior on Saturday, November 5th.
Its effects will also last for about six months. From about October 16th (10 days before the 25th) to April of 2023 will premier major releases, new beginnings, and emotional changes—this will be, thus, throughout autumn and winter in the Northern Hemisphere and into next spring, while it will be throughout spring and summer in the Southern Hemisphere and into next autumn.
Everyone needs to pay close attention to what occurs locally, nationally, and internationally—not in such a way as to become caught-up in any chaos, but so that well thought-out actions can be taken where necessary.
Be organized and discerning.
There are spiritual ways in which to prepare for eclipses:
Into Eclipse Season 2022 – 1
Keep your home clean and neat (this should always be done). This invites angelic frequencies.
Into Eclipse Season 2022 – 2
On the actual day of each eclipse, light a candle, incense, and pray and meditate on your needs and desires.
Into Eclipse Season 2022 – 3
If you wear prayer malas, select the one that you will chant with and wear throughout the eclipse season. I recommend, as I have done previously, to employ the ones that are created from resins, seeds, and woods such as Amber, Bodhi Seed, Rosewood, or Sandalwood.
All of these are "grounding," protective, calming, and healing in various ways. Some may have beautiful "marker" beads of equally "grounding," protective, calming, and healing turquoise gemstones.
Select the mantra that you will "seed" into your mala. Periodically anoint your mala with Sandalwood oil. When you are not wearing or performing "Mantra Yoga" with it, keep it in a special place in its pouch such as on your altar or in a drawer where you keep sacred items.
You can also carry it daily in a purse, tote bag, or briefcase because you may wish to chant and pray while you are away from home.
However, I also recommend wearing one mala and carrying another as a "travel" mala. That way, you can wear one that is already "seeded" and chant with the other when necessary.
Into Eclipse Season 2022 – 4
Do not eat an hour before the eclipses nor for an hour afterwards. This is because of a very mystical happening at these times. SOURCE cleanses us and the entire material realm of spiritual toxins. We do not want to interfere with this cleansing process.
Some may feel this cleansing as a sense of lightness and peace—a wonderful inner quietude and closeness with a DIVINE FREQUENCY. There may be the reception of revelation during prayer and meditation.
Into Eclipse Season 2022 – 5
Clean your altar before the eclipses so that it receives new LIGHT. Each item placed on a blessed altar is also blessed. To bless your newly cleansed altar, stand with your hands outstretched over it.
Close your eyes. Envision SOURCE LIGHT enveloping it. Then recite a special prayer from your heart asking SOURCE to create a powerful energetic frequency of connection to the Divine realms whenever you or anyone else is near it and for Divine vibrations to move throughout the room where the altar is placed.
Sprinkle it lightly with any sacred oil of your choosing. Remember, of course, that one of the world's scriptures reminds us through the teachings of Yeshua Ha Messiah: "Know ye not that ye are the temples of the Living God?" (HOLY BIBLE). In another scripture, we are told: "God is closer than your jugular vein" (HOLY QU'RAN).
Therefore, we walk with an "altar" inside of us —our hearts. Our cells are encoded "scriptures." We must, however, be spiritually-oriented in order for our physical "beings" to become vessels of Divine energy. Having an altar in our homes is like having an outer sanctuary where we can take our "physical temples" for prayer and meditation.
These eclipses are also powerful because they are occurring in "fixed" signs whereby situations tend to be well-anchored and difficult to change.
So, be very cautious of your thoughts, feelings, words, and actions.
Scorpio is of the water element, and Taurus is of the earth element.
Water can soften earth and move with it. Earth can shape water.
The element that we have most within our physical vessels is water.
It carries oxygen and hydration throughout our "earthly" selves. It is also cleansing, refreshing, and healing.
As we prepare for and move fully into these eclipses, consider how they are working within the daily affairs of the world as well as in your personal life stream, but also consider their mystical workings.
Keep in mind the teaching: "As above, so below; as below, so above."
© 2022 crystalwind.ca. All rights reserved. We track all IP addresses. Using a VPN will now also get tracked to original source IP.
Disclaimer
We are in compliance with, "Copyright Disclaimer Under Section 107 of the Copyright Act 1976, allowance is made for "fair use" for purposes such as criticism, comment, news reporting, teaching, scholarship, and research. Fair use is a use permitted by copyright statute that might otherwise be infringing. Non-profit, educational or personal use tips the balance in favor of fair use."
All rights reserved go to their respective holders. We do not own the intellectual property shown on this website, the respective holders own that privilege unless stated otherwise.
We do not endorse any opinions expressed on the CrystalWind.ca website. We do not support, represent or guarantee the completeness, truthfulness, accuracy, or reliability of any content or communications posted on CrystalWind.ca.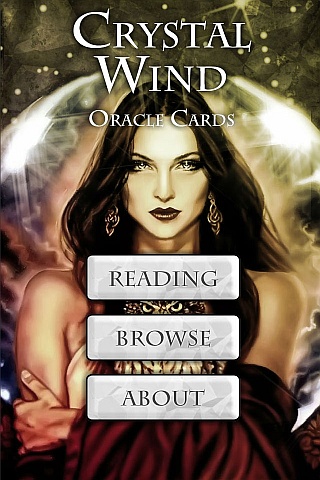 Cut Through The Illusions!
Available On

Spirit Animal Totem Of The Day!
Who is Online Now
We have 823 guests and no members online