Category: Numerology Written by Tania Gabrielle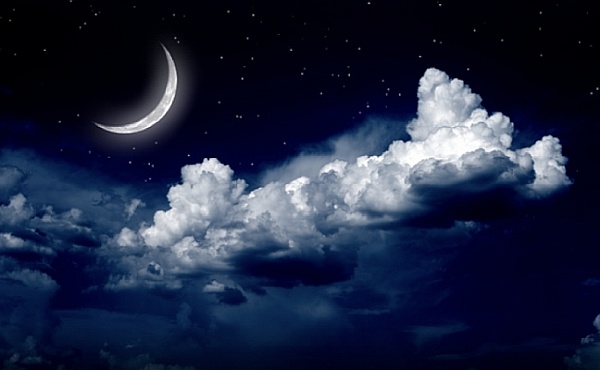 The coming Pisces New Moon is approaching now and is of tremendous impact.
We are in the midst of an amazing vibrational alliance between the ethereal realms and practical on-the-ground reality.
At the time of the New Moon on February 23, four planets will be in Pisces and four planets in Capricorn:
Mars, Jupiter Pluto and Saturn will be in Capricorn.
The Sun, Moon, Mercury and Neptune will be in Pisces.
One of the epicenters of the unfolding celestial dynamics is especially visible in China.
China has been impacted at this time due to a powerful conjunction:
January's Stellium of Saturn/Pluto/Sun/Mercury at 22° Capricorn was EXACTLY conjunct China's natal Jupiter at 22° Capricorn.
Furthermore, natal Jupiter in China's birth chart is in the 12th house – which Pisces, the 12th sign, naturally governs.
Just like 500 years ago – the last time this Pluto/Saturn conjunction occurred in Capricorn, the world experienced an historical event with Martin Luther breaking away from the dominant power – the Catholic Church.
Looking at the big picture now, events unfolding in China are impacting the balance of energy worldwide. China is birthing a major vibrational shift on Earth.
We will remember 2020 in the history books.
As we send all our prayers to China, a powerful country with an amazing spiritual history now experiencing an epic re-awakening of its true divine purpose, let us focus all our energy on love and healing.
After all, Pisces at the highest octave symbolizes unconditional LOVE and blissful spiritual joy.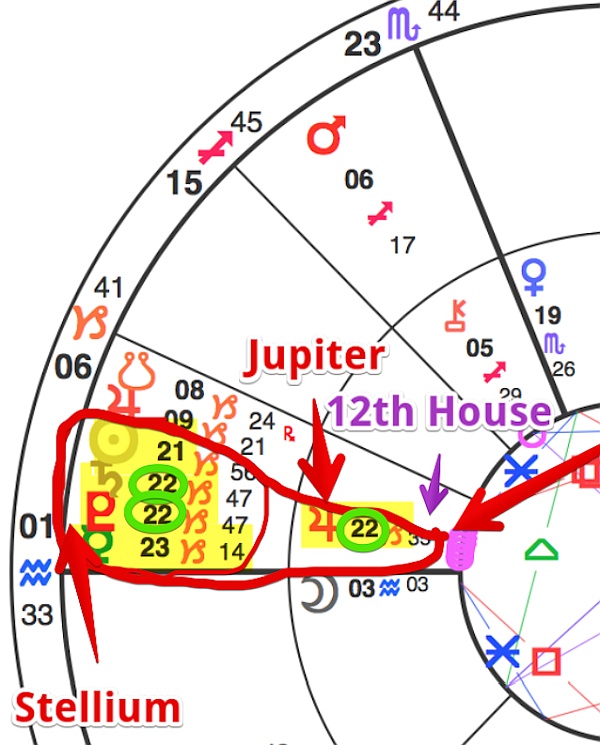 Other qualities related to the 12th house and Pisces are energies and entities that are hidden, mysterious, unseen – including hospitals and prisons – things that happen beneath the surface… including epidemics.
Jupiter expands energy and Pisces embraces everything into One. Thus the spreading and expansion of frequencies is very strong.
So, China's natal Jupiter being activated EXACTLY by the Capricorn Stellium in its own 12th house enhances what is unseen / secret and spreads what is veiled / spiritual.
While researching China's astrology, I made another stunning discovery.
One amazing tool we have in astrology is astro-cartography – super-imposing a birth chart onto a world map.
Permanent planetary lines on the world map impact you for a lifetime. They are areas on Earth where you feel naturally good, neutral or not so pleasant.
Current planetary lines (transits and progressions) reveal energy in play that lasts a certain period of time now or in the future. It's a great way to plan a move, special events, travel or vacations.
When looking at a country's astro-cartography, trends can be seen regarding times of ease or times of more struggle.
In the Pisces New Moon Forecast Video I devote a 10-minute segment to China, including the stunning current astro-cartography impacting that country at this time.
Since we are about to experience Mercury retrograde in Pisces and a Pisces New Moon, this is a very important moment to discover the truth and find the solution to that which was formerly hidden.
Pisces is the BRIDGE to the Unseen, the Unknown.
In order to see through the veil you must go within, connect with Source, and listen super closely.
Let go and surrender to the stillness.
As we are in the midst of leaving the Piscean age and entering the age of Aquarius, the new dynamic energy is unfolding rapidly at the onset of the 2020's.
Our attention is refocusing on what is becoming CLEAR.
Aquarius reveals the unknowable. Aquarius expands the higher mind and opens new pathways to new dimensions.
We are now giving BIRTH - purging, surrendering, transforming, getting empowered and embracing joy.
Trust in the natural flow of change sweeping the Earth, allow your heart and mind to be cleared.
Surrender to the power of love.
Love and Blessings,
Tania Gabrielle
Tania Gabrielle is a Wealth Astro-Numerologist, spiritual teacher, author, composer and speaker. She has coached thousands of clients and entrepreneurs worldwide — helping them to design prosperous lives by leveraging the secret numbers' code in their names, birthday and personal cycles.
Credit: Here
---
CrystalWind.ca is free to access and use.
Please support us with a small gift of $11.11 or $22.22 or $33.33.
Spirit Animal Totem Of The Day!
Featured Articles: Numerology
Number Sequences from the Angels

Open or Close

by Doreen Virtue, Ph.D

The angels do their best to get our attention and to communicate with us. In this way, they help us heal our own lives. However, we often discount the signs they give us, writing them off as mere coincidences or our imagination. The angels say: "We can't write our messages to you in the sky. You've got to pay attention and believe when you see any patterns forming in your life — especially in response to any questions or prayers you've posed. When you hear the same song repeatedly or see the same number sequence, who do you think is behind this? Your angels, of course!"

Read More

The Esoteric Significance Of Numbers

Open or Close

The following summarizes the beliefs of some modern numerologists. Note that there is no scientific or mathematical evidence to show that numbers exhibit these properties.

Note also that the association of various meanings to specific numbers in the time of the European Renaissance, when numbers were worked into the detailed fabric of musical, poetic, & architectural artifice, was both far richer and far more precise than the modern summaries offered here.

Numbers one to nine are used in present-day numerology to determine character analysis and predict upcoming trends. Other numbers are thought to carry vibrational influences which must also be taken into consideration, as must also the connection of astrology, numbers, and locational addresses, e.g. "Seven Star Road."

Read More

Finding Your Personal Year Number

Open or Close

Here is a formula for finding your Personal Year Number:

To find your Personal Year number, add the month and the day of your birth, plus the Universal Year number. (This formula will work for any year by using the universal year number of the current year and adding up those numbers accordingly, i.e., for 2018 the Universal Year number is 11=2; 2+1+8=11=2)

For example, someone born on May 15 finds his or her Personal Year number by adding 5 (May) plus 6 (the fifteenth day) plus 2 (2018) to arrive at a Personal Year number of 13 ( 5+6+2=13), which is reduced to 4.

Read More

What's Your Number? What Your Phone Number Reveals About You

Open or Close

If you're interested in numerology then you know that numerology would say your house number exerts a huge influence on you, just like your birth number. But what about our phone numbers? We can say we choose the day we incarnate in order to experience a certain life path and its lessons. The same goes for where we live. Many people believe that houses 'choose' their occupants. The energy of a house contains certain experiences and events and the house either wants you to experience that energy – or not. So, where does this leave our phone numbers which are after all, usually randomly assigned by the phone company. This is where synchronicity comes in. Our phone numbers can often reflect our communication energy or what we need to know about communication style. Often spooky synchroncities can be revealed when we work out our phone's 'communication number' as this can often be the same as our birth or life-path number.

Read More

Your Life Path Number – Discover Your Destiny

Open or Close

Your Life Path number is similar to your Sun Sign in astrology.

It reveals your life's purpose including your gifts, challenges, and abilities as well as your talents, inner drives, and how you experience your emotions . It can also help you discover why you have experienced some of your life's circumstances. What are you meant to learn is often what is most challenging for you and is where you have the greatest potential. Each number vibration has a range of energies. We often start out experiencing the challenge of each vibration until we overcome those obstacles and manifest the higher vibration of the number. Here is how to discover your life path number and what it means.

Read More

Numerology for Your Address – Is Your Home Happy for You?

Open or Close

House numerology can affect your well being. Since numbers are vibrations, your address sets the tone for your entire living space. You want to make sure that your house or apartment number is compatible with you and the others living there, as well as create an energy that is conducive to your lifestyle.

Although your street address, building address, and zip code certainly have an impact, the most influential number for your well being is your house or apartment number, since that is what is most personal to you.

Read More

Your Name Number Is Your Destiny

Open or Close

Numerology

Numerology is the study of numbers and the divine, mystical meanings they may have. There are many different systems of numerology to predict and determine many different things.

Once thought of as a math and science, numerology is now seen as an occult study, used for astrology and divinatory arts.

Read More

What Does Numerology Predict About 2020?

Open or Close

Humans have been trying to predict the future for centuries. After all, having the ability to understand what we can expect in the year or years to come can help us to prepare. Even 500 years later, people still look to the predictions of the 16th-century prophet, Nostradamus, and try to interpret what his readings meant. The British psychic, Craig Hamilton-Parker, recently interpreted Nostradamus' writings, saying that in 2020 there will be war in the Middle East, and Trump will be re-elected for a second term; however, there will be also be an assassination attempt. Whether these events actually come to pass remains to be seen, one of the most interesting ways of making predictions about the future is by applying numerology. It is something you can do at home and make decisions on your life as you move into 2020.

Read More

Cut Through The Illusions!

Who is Online Now

We have 771 guests and no members online
X
Right Click
No right click