Help keep CrystalWind.ca resources free for everyone. To share the articles posted here daily we rely on readers like you. Please donate today.
Blessings!
Category: Ancient Egypt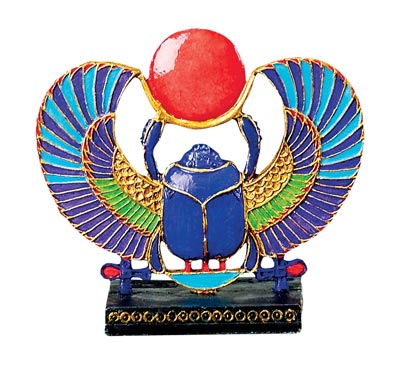 Egyptian Scarab Beetle
Scarab beetles are a species of dung beetles, attributed with a sacred status by ancient Egyptians. You might have heard of sacred amulets and other Egyptian jewelry that depict sacred scarab beetles. They are not mythological characters created by ancient Egyptians, but, in fact, are some species of dung beetles. These ordinary beetles were linked to Egyptian Gods and were depicted in jewelery, seals, etc. Let us take a look at some interesting Egyptian scarab beetle facts.
What are Scarab Beetles
As mentioned above, some species of dung beetles, especially, the Scarabaeus sacer are commonly known as scarabs. Some scarab beetles are among the largest in the world. These beetles feed on dung, partially or fully and hence the name, dung beetles. While, most species of scarabs make spherical dung balls, which are used for food or as brooding chambers, some other live in the dung itself. The beetles that belong to the first category are termed as rollers, whereas the latter are called as dwellers. There is one more category of scarabs, that bury the dung, found by them. These scarab beetles are called tunnelers. However, it is this dung rolling habit of scarab beetles, that was noticed by the ancient people and was linked to religion and God. The ancient Egyptians associated this beetle with their God and started depicting it as a sacred symbol. Egyptian scarab beetles are still one of the most important scared symbols in Egypt.
Scarab Beetle in Ancient Egypt
Now, we know that scarab beetles were considered scared in ancient Egypt and these insects were linked with religion and mythology of the land. You may wonder how these beetles got the sacred status in Egypt? As mentioned above, it is the dung rolling habit of the scarab beetles, that was noticed by the people of ancient Egypt. They found the young ones of scarab beetles emerge from the dung balls, all of a sudden and linked them to their God Khepri/Khephri, the God of rising sun. According to their belief, Khepri too created himself out of nothing. The ancient Egyptians believed that like Kephri, the scarab beetles too emerge out of nowhere, as according to them, only male scarabs existed. Thus, they started linking scarab beetles to the God and scarab beetle symbolism stands for regeneration, transformation, renewal, and resurrection. Egyptian scarab beetle has also been connected to the Egyptian Sun God Ra. According to Egyptian mythology, this God renews the sun daily, by rolling it across the sky during daytime and carries it to another world, so that it get renewed for the next day. The scarab beetles that carry dung rolls were compared to this God, who carries the sun every day. This was another reason for attributing sacred status to these beetles. Egyptian scarab beetles were also as important part of the ancient Egyptian funeral rites. Scarab beetles made of green stone (known as heart scarabs) were placed on the chest of the deceased, before burying them. While the heart scarabs are not pierced, those beetles used as amulets are pierced for wearing as necklace and have three hieroglyphics depicting the dwarf-god Bes. Thus the ancient Egyptians started depicting these beetles in temples, tombs, hieroglyphs, seals, jewelery, artworks, good luck charms, etc.
Now, you know more about Egyptian scarab beetles, which are sacred symbols of the land. These Egyptian scarab beetles come in different forms, like, jewelery, amulets, good luck charms, etc. Egyptian scarab beetle meaning includes hope, resurrection, restoration of life, renewal, transformation, etc. This sacred symbol comes in different designs, like, the winged ones, where the blue wings represent the Nile River.
---
By Sonia Nair
Published: 3/30/2010
Source Here
CrystalWind.ca is free to use because of donations from people like you. Please help support us!
Blessings!