Category: Enlightenment and Teachings Written by Aluna Ash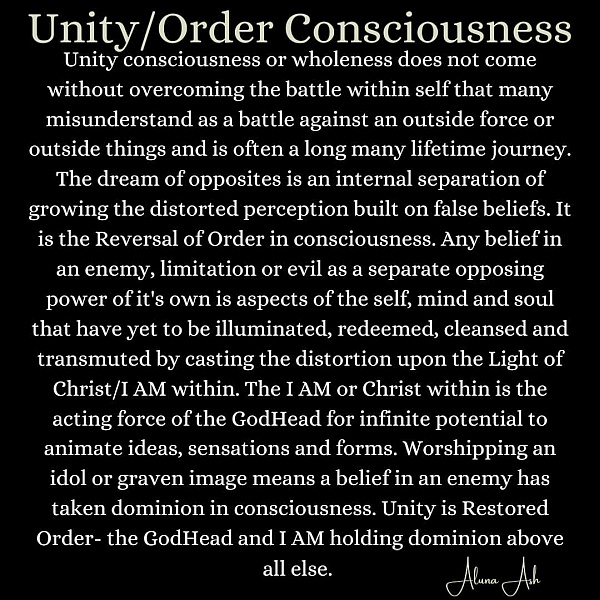 Unity Consciousness is Restored Order from Inverted/Reversed Order in Consciousness and perception.
Reversed Order is built on distorted false beliefs or half truths of external things holding power on their own.
All beliefs in evil as a separate power of its own is a limitation & reversal of order in the individual consciousness distorting the individual perception.
Anything we deem as negative, unwanted or dislike is a lower octave of the same creative power- just inverted unconsciously.
It's a veil that cannot be removed by want or intellectual understanding, the intellect must be lifted into illumination of the Divine Mind (One Power, Originating Substance animating all forms) for the I AM to fuse in individual awareness.
Knowing of it does not mean it is unfolded or integrated as long as one feeds beliefs in ememies in outside powers they are a slave to the world below (death) and cannot truly know Life until the beliefs/images/patterns in the Heart-Soul-Subcobscious/unconscious are lifted and transformed.
Distortions take on many forms in terms of beliefs or idols/graven images fed: like the belief in evil or limitation through the government, other people, money, food, systems.
Fighting shadows on the outside means being a slave to them.
Condemning & criticizing is only a lack of integration of knowledge of Truth, wisdom, justice & love.
Truth without balance of love is a desire for justice by opposition and judgement (a limitation in self that eventually must be overcome.)
All superstitions must be cleansed from the mind and Soul for intellect to be resurrected into Life and Order from within.
A diet of fruits, veggies, fasts, deeds or rituals will do nothing to benefit evolution when the distortions of a Reversed Order are actively fed, the distortions just grow hidden, creating internal separation & opposition that in time will manifest as transgressions & steps to retrace.
As long as we wish to force change upon another because we don't like what we see, feel, read or hear- we are controlled by the lower kingdoms of the Soul-subconscious and unconscious so the I AM cannot take dominion in individual awareness consciously.
The "lower" kingdoms is material forms, sense impressions, images, appearances, conditions.
The I AM/Christ is the bridge between the intellect and Divine Mind or God Head. Below the I AM is the intellect, the animal kingdom, the plant kingdom, the mineral kingdom.
Basically we must lift the kingdoms of the Soul Body from within through the illumination and cleansing of the mind. Then we can rearrange the order of the images, sense impressions and patterns within. Like chemistry.
Feeding the halths truths of two opposing powers (instead of One Power operating in an exact order by Law) is creating internal obstructions in the Soul, mind and distorting the individual's lense of perception.
Meaning that individually we can delay our evolution in a major way for quite a long time even if there's been a prior awakening. Even if we know how to manifest things or know of the subconscious, The Law of Consciousness, astronomy, metaphysics, occult, alchemy, meditation, Universal Laws or Law of Attraction... the consistent daily practice to release/transform distortions of a Reversed Order is needed for the integration of higher states of consciousness. A foundation must be built.
Divine Law is unchanging, there are no favorites, no exemptions, no way to hack or manipulate- we cannot fool God we can only fool ourselves.
Those who deliberately harm others on the physical are no different than the ones wishing to harm mentally out of spite or revenge. Many send out mental & imaginal curses to those who they believe are evil and harming humanity which is no different than physically harming- both are the result of misunderstanding, separation, inverted Order from within.
We grow beliefs in hidden enemies, limitation or look for specific outside things, people or systems to blame when we grow the belief in outside powers. These are half truths, relative to the lense of perception and unconscious assumptions active within.
It starts with Self. We must cleanse our Hearts-Soul. Humanity is an internal sisterhood and brotherhood that is more than capable of uplifting in consciousness.
Unconditioned Love is the underlining force of all, it is just hidden for a time from the individual surface awareness when creative power within hasn't united with wisdom, Truth and understanding.
The functions and differents expressions of creative power of the Soul-sub/unconscious begin to work in harmony when creative power and Love is united with love, wisdom, Truth and understanding.
Evil/evol than "flips" to Love from within... lifting the conditions and revealing our pure unconditioned Essence.
The Reversed Order or distorted truth is put in Divine Order by the one Cause (creative power/love) of all effects (evil, limitations, appearances)
"Evil" then looses it's power in the individual's consciousness because Order is Restored.
Often times one who is reaching or desiring a Unity/united state of Being has gone through lifetimes of suffering and has felt the pain of others to the point where there can only be a surrender to love and complete forgiveness for all. They learn the importance of nonresistance, compassion, equality and indifference.
Forgiveness is a "giving up" of the limitations that weighs us down, lifting it to the power of Life-I AM so it is transformed and renewed.
**Everything I share is my perspective, my own interpretation of the energies and messages that I receive from the Oversoul aspect, my own guidance, experiences & insights- I'm not here to convince anyone of anything, not interested. These messages are for whoever is guided & resonates. And this channel is for sharing & connecting.
This channel is for/about energy updates, downloads, spiritual guidance, planetary & galactic gates, collective shifts, activations, light codes/transmissions, StarGate/Grid workers, energy waves/Cosmic Rays/solar cycles, 13moon cycles, MAYA Astrology/Cosmology (there is a diff between traditional Mayan Astrology & Galactic calender- I use both) along w Tropical & sometimes Sideral Astrology, Tarot, Meditations, connecting, etc..
I'm sharing my experiences, contacts, guidance, perception, insights *Trecena- IX (Jaguar) *Day Sign- AHAU *Galactic Signature: White Solar Wizard Mayan Yr: 13 Manik' *Gemini Rising *Aries Sun (Pisces Sun Sidereal) *Capricorn Moon -Uttaraashada Moon Patreon: www.Patreon.com/alunaash Paypal- Aluna Ash Clairvoyant Paypal.me/alunaash

(Sorry, no personal services.)
Thank you for your love & support. Divine Will Conduit Ashlee
Source Here
---
CrystalWind.ca is free to access and use.
Please support us with a small gift of $11.11 or $22.22 or $33.33.
Spirit Animal Totem Of The Day!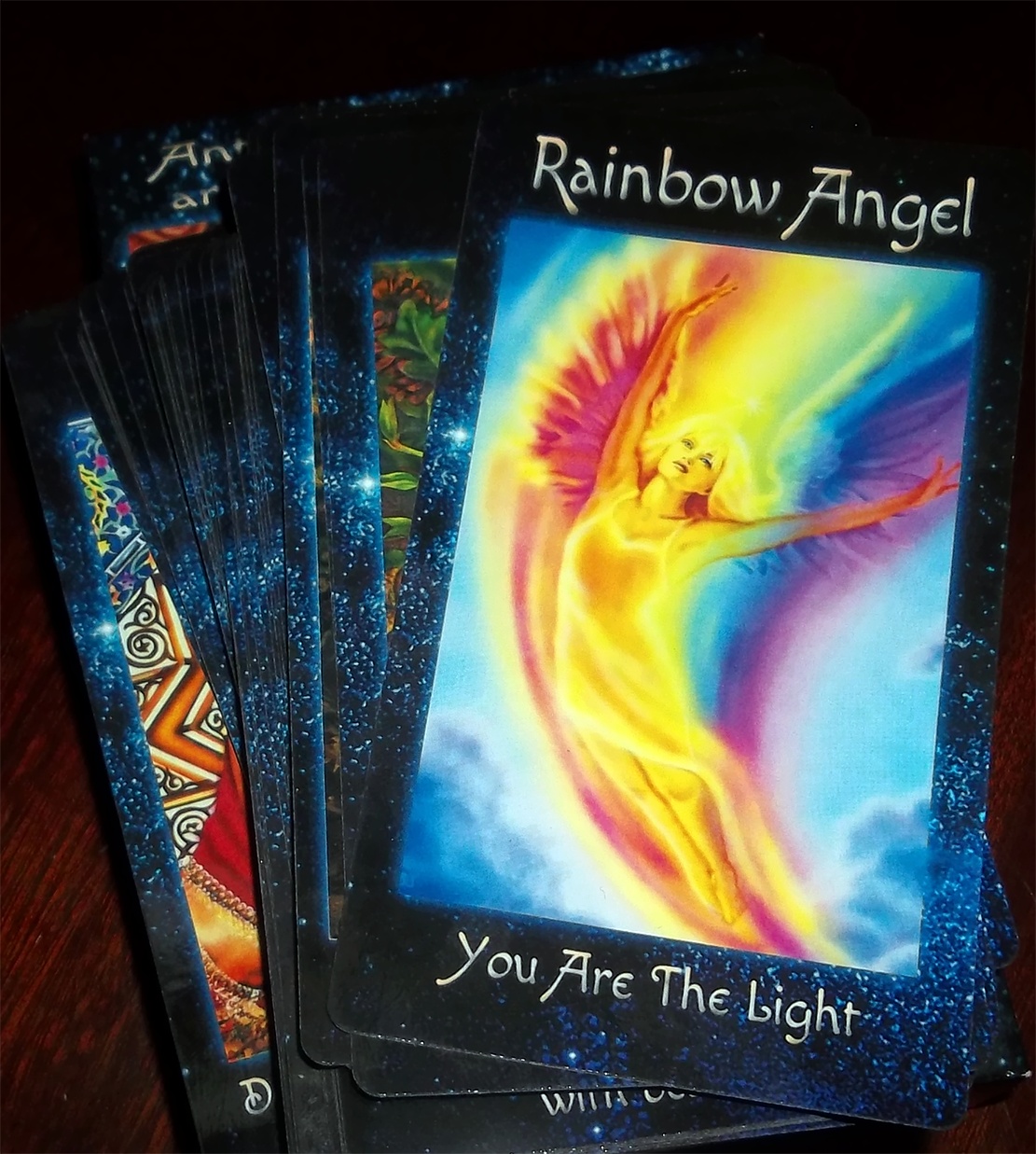 The Crystal Wind Oracle
Myth & Magic Card Deck!
Details Here!
NEW Expanded
Printed & Boxed!
Now with 58 cards!
Who is Online Now
We have 1796 guests and no members online