Category: John Cali Views: 1616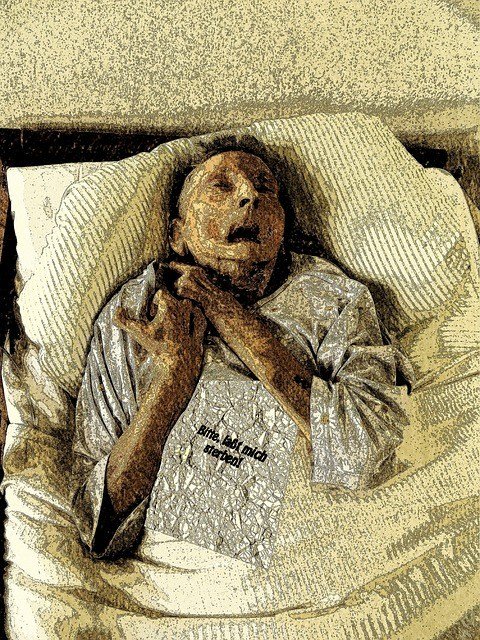 I know the image above is grim, and perhaps offensive to some folks. But a fact of physical life, regardless of our spiritual or religious beliefs (or lack of them), is death is inevitable.
A Euthanasia Story
Not long ago, a dear lifelong friend told me her brother had been diagnosed with a painful, fatal ailment. He didn't have long to live.
They live in an area where euthanasia is legal and socially acceptable. So the brother, who was mentally competent almost to the end, chose euthanasia. My friend, and the rest of the family, did not object.
A few days ago, it was obvious the end was near, and my friend's brother was in great pain. So he received an injection, and immediately went into a deep, peaceful sleep. He died a day later, without pain, in the way he wished.
His death was swift and painless. My friend and her family, though sad to lose a beloved brother, were at peace. It was a truly beautiful and peaceful end to a long life.
Definition of Euthanasia
The Mirriam-Webster English Dictionary defines "euthanasia" this way:
"The act or practice of killing or permitting the death of hopelessly sick or injured individuals (such as persons or domestic animals) in a relatively painless way for reasons of mercy."
Euthanasia, Legal and Illegal
Euthanasia is perfectly legal in some places (as where my friend lives), generally with significant safeguards to prevent abuse. In other places, it's outlawed, with stiff penalties for violations.
Euthanasia's Supporters and Opponents
Euthanasia supporters advocate against intolerable suffering at the end of our lives. If you've lived long enough, you've seen the agony and pain some endure at life's end. As the supporters believe, ending those lives, by whatever humane means, is a blessing.
Euthanasia's opponents argue against legalizing it. Part of their argument is its legalization could potentially be used to eliminate "undesirable" human lives. For example, the incurably ill, criminals, mentally ill folks, etc. It would, they say, lead to a bloodbath.
Death Is Not the Enemy
I am certainly not anti-medical profession. There are many caring, compassionate doctors, nurses, and other professionals in its ranks. Several are in my own family. But some professionals, in my experience, want to prolong physical life at all costs. Their enemy is death.
Spirit
We want to start this discussion with these two points:
1. Death is not your enemy.
2. Dying is the easiest thing you will ever do.
Death can be your friend, if you allow it to be.
Would you want to be physically immortal? We realize some among you would.
But physical immortality, if it was possible, would defeat your spiritual purpose for choosing a physical incarnation.
Regardless of whatever paths you have chosen in this lifetime, your ultimate purpose for being here is to simply help your world wake up from its often-nightmarish dreams.
You've all lived many lifetimes. Despite the heaviness of some of those lifetimes (and you've all had those), you chose your paths because you wanted, deep down, to find joy and happiness.
And that is what your Creator wants for you.
All of this would be deeply difficult without physical death.
But death is not the end of you. It is but one step on your eternal journey.
You've done it so many times. It's the easiest thing you will ever do.
Achieving your death in a peaceful, painless way is a goal all of you should hold. This is what your Creator wishes for you.
Can you wish any less for yourselves?
**************************************
Here are two short videos on euthanasia, the first one against it, and the second for it.
In the early 1980s, John took a spiritual development course and was introduced to his first spirit guide, Lydia. After Lydia arrived, three other guides also came to him: Archangel Michael, Tamarra, and Chief Joseph. Today these are John's four main guides. Besides his four main ones, John has various other guides. The entire group is really a multidimensional collective consciousness. John refers to the entire group simply as "Spirit." Source
© Copyright 2018 John Cali. Reprinted with permission from John Cali. on crystalwind.ca. All rights reserved.

CrystalWind.ca is free to access and use.
Please donate a small gift of $11.11 or $22.22 or $33.33.
Thank you!
ॐ Namasté - Blessings!

© 2008-2020 crystalwind.ca. All rights reserved.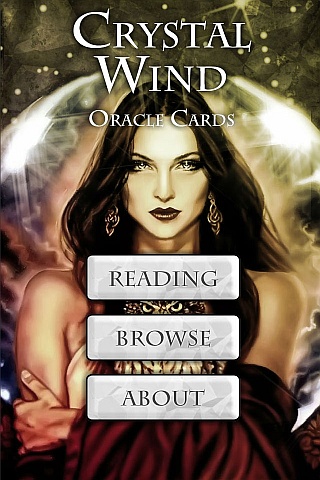 Cut Through The Illusions!
Who is Online Now
We have 971 guests and no members online