Support crystalwind.ca with your donation and help spread spirituality and positivity.
Blessings!
Category: Technology Written by Chris Howard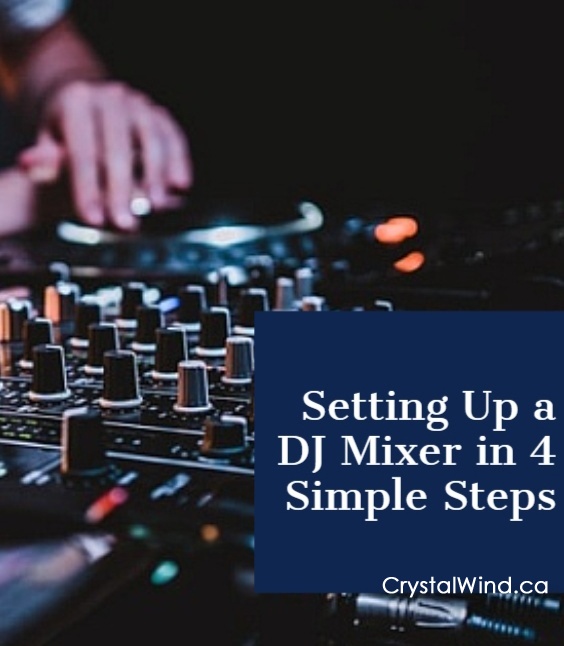 One of the essential components in every DJ setup is the DJ mixer. They come in many different designs, sizes and price ranges and are packed with many different features and special options. If your setup contains turntables or decks then a DJ mixer is a must have component no matter whether you are using vinyl decks or CDJs.
However, if you already have a controller then you won't need a mixer because each controller has a built-in mixer.
On the other hand, it is important to know how to set up your DJ mixer properly. Having this in mind we can say that every DJ should have some basic understanding about the equipment it uses and how to set it up and eventually fix some issues if they occur.
When you are having a gig, in most cases there will be a sound engineer or an assistant to make sure everything is connected and functioning properly. But the problem may occur when you are working at house parties or smaller events. This is the situation where you have to do everything by yourself, but you don't have to worry too much about this. The more you use your equipment, you will learn how it functions and how to fix some minor problems.
DJ Mixers: What do they actually do?
Although you may think this is a simple question, the truth is that not many people know the exact answer. To keep things simple, we can say that the DJ mixer allows the DJ to mix two or more different signals coming from different audio sources before they are delivered through the speakers or sound system.
Practically, the DJ mixer acts like a middle-man. You send the audio signal from a specific source, let's say it's a vinyl deck or a stereo system with a turntable like the ones you can see via this link, and then you can use the mixer to control that signal before it gets to the speakers.
So, the mixer does what its name implies – it mixes multiple signals, mixes them and sends that signal to the speaker or sound system.
How to Set up Your Mixer Step-by-Step
STEP 1 - Connect your cables
When it comes to DJ mixers, we can say that they have two main connections – output and input connections. Your decks need to be connected to the inputs and here you need to pay attention whether "phono" and "line" are selected properly. "Phono" is generally used for analog inputs like vinyl turntables, and "line" is reserved for digital signals.
Connect your speakers to the appropriate outputs (RCA, XLR or not so often a jack). There are normally two or more outputs, the main one and the booth output. Pay attention to have the appropriate cables to connect the speakers.
STEP 2 - Set the gains
When it comes to staging the volumes, the gains are pretty important. Ideally you should set them up to be as loud as possible but at the same time they shouldn't push the meters into the red zone. At the beginning try to set them up at one third. Once you set them up, leave them and watch them closely and only turn them up if necessary.
STEP 3 - Set the crossfader
You should assign the crossfaders to the decks that need to be controlled. If your mixer has more than three channels the crossfaders will be assigned to these channels.
STEP 4 - Testing and Troubleshooting
Now when you have connected everything and set up the gains and crossfaders it is important to test things out. Do to this you should start playing some music and see whether you get some audio on your speakers. If there is no audio on your speaker system it is important to check the next few things:
Check whether you have properly connected and selected "line" and "phono".
Are the following turned up: channel faders, master volume, Booth control, gains?
Check whether the right channels are properly assigned to the crossfader.
If you see that everything is connected and set up correctly there are great chances that the problem lies in your speakers.
STEP 5 – Start mixing!
Now, after you have connected and tested everything it is time to do some serious mixing. As you can see it is not that difficult to set up your DJ mixer and it is very important to know how to do it properly. At the same time, while doing that over and over you will come into situations where something won't work ads planned. In that case it is very important to know how to locate the problem and fix it as soon as possible. In most cases you won't have a sound engineer or assistant to help you out so it's always better to be prepared.
Credit
Sponsored Post
Submitted Exclusively to CrystalWind.ca by Chris Howard © 2020 crystalwind.ca