Support crystalwind.ca with your donation and help spread spirituality and positivity.
Blessings!
Category: Feng Shui Written by Jess Cooper Views: 1509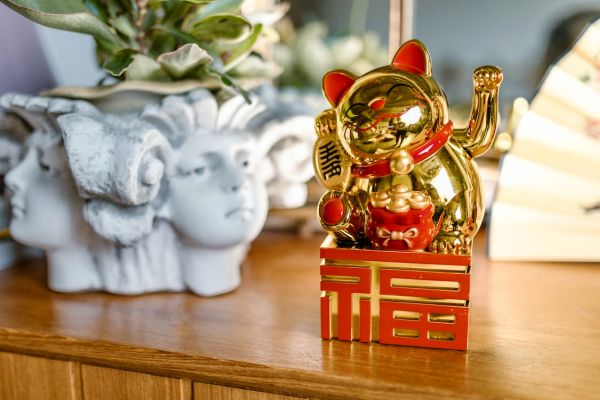 It is more or less known that Feng Shui is an ancient Chinese practice used with the main aim of charting the balance of energy, or chi, using various scientific calculations.
The ultimate objective of practising Feng Shui in our home is to invite positive energy into it. Positive energy in your home makes you feel more energised and in balance. When it comes to improving the vibes of your space, it is relatively easy to do that with a few simple tips and tricks. Keep reading to learn more about the 5 ways to Feng Shui your home.
The first thing you should do to Feng Shui your home is check various commanding positions. We will explain what this means in more detail later on. What's more, you should keep the rooms around your home clutter-free and clean. Also, you should add some plants as they represent nature. Moreover, you should focus on the doors. Even though this sounds a bit strange, it is crucial, and we will clarify what we mean by it. And finally, you should brighten up your entry.
1. Check various commanding positions
Regarding commanding positions as terms related to Feng Shui, they reflect how you position yourself. To attract positive energy, you should mind the position of your bed, desk and stove. These three things represent various aspects of your personality: the bed represents you, the desk your career, and the stove represents your bed. How you position yourself at these places is essential for Feng Shui. Whatever of these things you are using, you should be able to see the door without being directly in line with it. So, whether you are lying in your bed, sitting at your desk or cooking at the stove, you should be able to see the door. Most often, you will have a diagonal view. When you are in your commanding positions, you are in command of your life. This is the best way to attract positive energy and the best opportunities.
2. Keep rooms clutter-free and clean
When there are too many packed in a room, somehow you feel exhausted on a mental level. That is because your eyes have nowhere to rest. Clutter is significant in Feng Shui as it is viewed as an obstacle impeding new energy from coming in. To Feng Shui your home, you should declutter it first. Start with getting rid of things you don't use or are broken. You should also create a habit of cleaning up every day. This is an excellent way to teach your kids this habit as well. If they attend a child care centre, they probably already know that they should put away the toys they don't use anymore, that they shouldn't be sloppy and that their environment should be neat at the end of the day. If your kids see you doing the same thing, they will apply that to their rooms.
3. Add some luscious greenery
Plants are a prominent symbol of nature, and we should place them around our homes. Not only do they make appealing decor, but they breathe freshness into a room and purify the air as well. So, there are certain benefits connected to having plants around your home. Plants embody life energy in Feng Shui and bring vitality to your home. You can learn more about which plants attract positive energy and where you can place them for the best effects.
4. Focus on the doors
This sounds strange. However, the doors play a crucial role in Feng Shui, hence this constatation. Doors symbolise your voice and communication. Doors are also viewed as portals through which good opportunities come into your life. First, what is essential is that the doors around your home can open to at least 90 degrees. If there are too many things behind it, they're not only blocking it but also blocking the opportunities coming into your life.
Moreover, your doors should work flawlessly, without squeaking or broken knobs. The doors should open and close easily. It makes the flow of opportunities and energy smooth.
5. Brighten up your entry
Lastly, you should consider your entry. It should be clean, clutter-free and bright. In Feng Shui, the entry to your home represents how energy enters your home. The front door is viewed as the 'mouth of chi'. This is the first place to start if you wish to create good Feng Shui in your home.
Optimising your home for all the benefits of Feng Shui is fairly simple; these are all usual things that affect the quality of your life. So, make a little effort, and you'll see positive things enriching your life.
---
This article was submitted exclusively to CrystalWind.ca by Jess Cooper.
Header Image Source
© 2023 crystalwind.ca. All rights reserved. We track all IP addresses with sniffer technology. Using a Proxy/VPN will not hide your IP address.