Support crystalwind.ca with your donation and help spread spirituality and positivity.
Blessings!
Category: Andromedans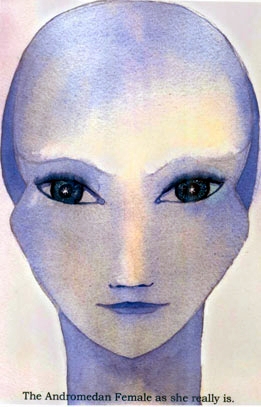 One
Those ET's from Andromeda are also described by Alex Collier as having been direct descendents of the Lyrans who experienced some difficulty when first leaving the Lyran system due to predatory extraterrestrial races, but eventually settled in the Andromeda constellation in the star system 'Zenetae'.
Collier describes the nature of the Andromedans as follows:
Everything that they create technologically is used for the advancement of their race. It is for educational purposes only. But, it can be used in defense. No, they do not have a military, per se, they are scientists. What they do is send their children to school anywhere from 150 to 200 years, in our linear time.
They teach their students all of the arts and sciences. They are literally masters at everything. Then, at that point, they have the choice in what it is they want to do, and they can change their minds anytime and do something else. So, they are given all the tools. Everything is for education. Nothing is for distraction. They would never conceive of creating television as a distraction. Never.
Everything is to help them evolve, and their science and their technology can be used for defensive purposes — mostly the holographic stuff.
The most significant feature of the Andromedans is that they are instrumental in the Andromeda Council which is a grouping of approximately 140 star systems who deliberate upon Earth.
In a 1997 Interview, Collier described the Council's deliberations as follows:
Now, in our galaxy there are many councils. I don't know everything about all those councils, but I do know about the Andromedan Council, which is a group of beings from 139 different star systems that come together and discuss what is going on in the galaxy. It is not a political body. What they have been recently discussing is the tyranny in our future, 357 years from now, because that affects everybody. Apparently what they have done, through time travel, is that they have been able to figure out where the significant shift in energy occurred that causes the tyranny 357 years in our future. They have traced it back to our solar system, and they have been able to further track it down to Earth, Earths moon and Mars. Those three places.
The very first meeting the Andromedan Council had was to decide whether or not to directly intervene with what was going on here. According to Moraney, there were only 78 systems that met this first time. Of those 78, just short of half decided that they wanted nothing to do with us at all, regardless of the problems. I think it is really important that you know why they wanted nothing to do with us. We are talking about star systems that are hundreds of millions of light years away from us. Even some who have never met us.
They just knew the vibration of the planet reflected those on it. The reasons why they wanted nothing to do with us is that from their perspective, Earth humans don't respect themselves, each other or the planet. What possibly can be the value of Earth humans? Fortunately, the majority of the council gave the opinion that because Earth has been manipulated for over 5,700 years, that we deserved an opportunity to prove ourselves - to at least have a shot at proving the other part of the council wrong.
The Andromedans' chief activity appears to be,
facilitating decisions of the Galactic community in dealing with difficult problems such as the current Earth situation
innovative strategies for resolving conflict
education of youth
---

Hello, & greetings to you. We are all energies and conciousnesses linked together, we are One. We all have our unique individuality as sovereign souls. I am one of those unique frequencies/souls, as are you. I am a Starchild. I am One. I am pleased to meet you. I give my love and admiration to you.
Love & Light,
One.
Source Here
CrystalWind.ca is free to use because of donations from people like you. Please help support us!
Blessings!