Help keep CrystalWind.ca resources free for everyone. To share the articles posted here daily we rely on readers like you. Please donate today.
Blessings!
Category: Cosmic Events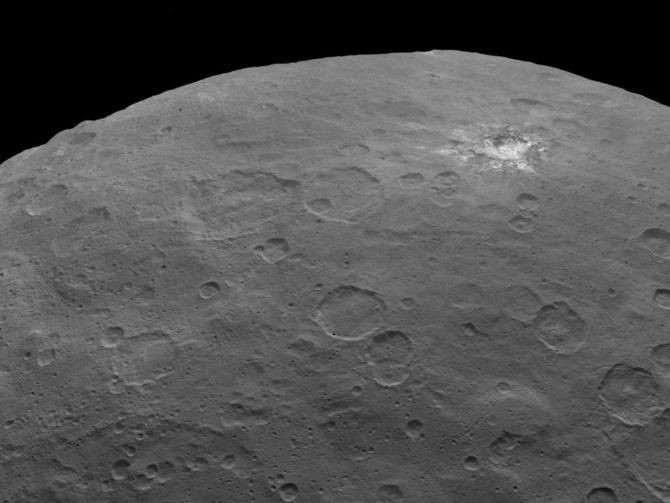 As Dawn first made its approach on Ceres not long ago, it got a quick look at vast, splendid and secretive intelligent spots in a pit on the huge rock, which is additionally accepted to contain a lot of water, ice and/or mud in its inside.
The mysterious bright spots on Ceres have been getting a lot of attention, however they aren't the only point of interest on the surface of this newly-explored dwarf planet.
More weird features have been spotted by NASA's Dawn spacecraft on Ceres, a dwarf planet and the largest object in the asteroid belt between Mars and Jupiter.
Now orbiting at a near altitude of just 2,700 miles, those big spots remain a mystery (the leading guess is still reflective patches of ice or salts), but Dawn is also beginning to pick out other bright spots and an odd pyramid-shaped peak that NASA estimates to be three miles tall, which would put it higher than any of the Rocky Mountains. The image with the peak was taken on June 6 and released Wednesday.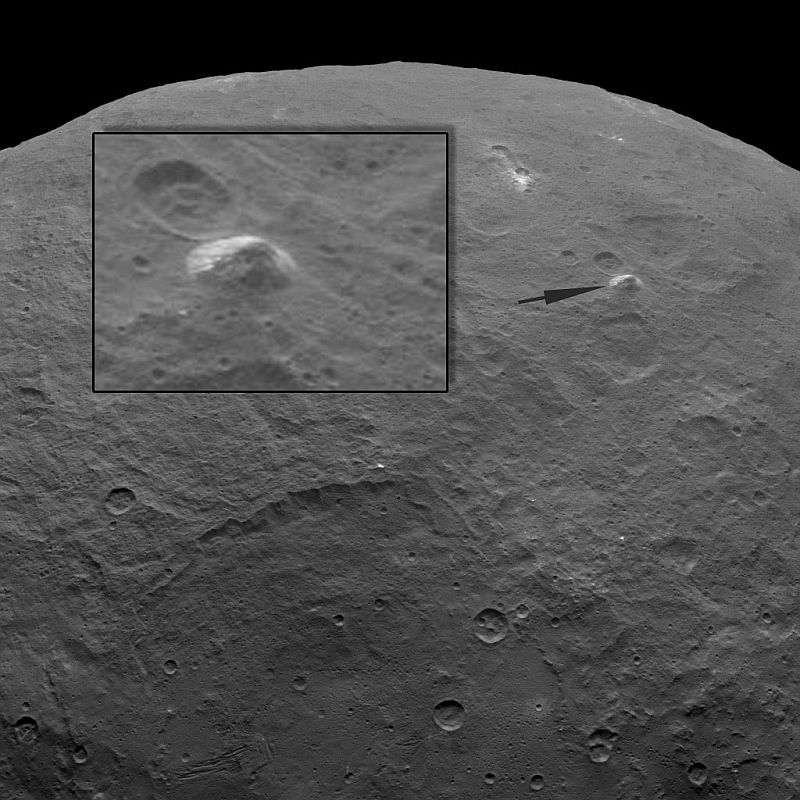 The discovery of a mountain-sized pyramid
Something sticks out in one of the most recent images released from NASA's Dawn mission - a natural pyramid-like formation the spacecraft captured on June 6, 2015 (to upper-right in the image above).
Plenty of observers have suggested -- with varying degrees of seriousness -- that the bright lights on Ceres could be evidence of current or past alien occupation of the dwarf planet.
Taken from an altitude of 4,400 kilometres, as Dawn began to circle Ceres on its second mapping orbit, the pixels in this image are 140 metres on a side. At that scale, this "pyramid" is 18 kilometres across! Taking a quick estimate of around 28 degrees for the angle of the left-hand slope, and figuring the peak to be around two-thirds of the way across the base, that puts the peak of this "pyramid" at over 6,300 metres high! By comparison, the human-made "Great" Pyramid of Giza is just 139 metres high.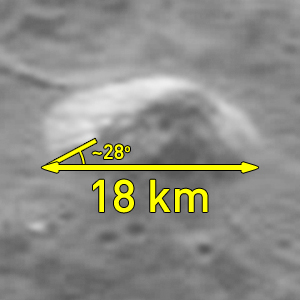 This formation, quite literally, stands out as yet another amazing feature scientists are already puzzling over on Ceres. As the mission continues, and Dawn draws closer to the surface - to 1,450 km for its High Altitude Mapping Orbit (HAMO) from Aug 6 - Oct 15 and then down to 375 km for its Low Altitude Mapping Orbit (LAMO) from Dec 8 to mission end - the images captured will provide more clues as to the origin of these formations, but will (no doubt) also reveal even more fascinating details about Ceres.
---
Sources:
CrystalWind.ca is free to use because of donations from people like you. Please help support us!
Blessings!