Category: Cosmic Events Views: 2788
Nov 16 COMET ISON UPDATE:
Reports of naked-eye sightings of Comet ISON are coming in from around the world. Experienced observers put the comet's magntitude at +5.5 on Nov. 16th. This means it is now fully 10 times brighter than it was only three days ago before the outburst. To the naked eye, ISON appears as a faint smudge of pale green light low in the pre-dawn sky. The view through a telescope is more dramatic. The comet's tail has become a riotous crowd of gaseous streamers stretching more than 3.5 degrees across the sky. Amateur astronomer Waldemar Skorupa sends this picture from Kahler Asten, Germany: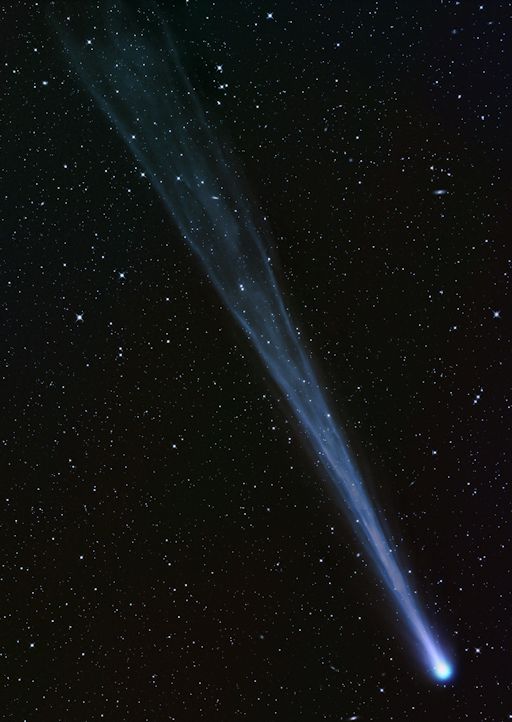 The tail is so long, he couldn't fit the whole thing in the field of view. How long is it? Comet ISON's tail extends more than 8 million kilometers behind the comet's nucleus. For comparison, that's 21 times the distance between Earth and the Moon.
Because so much gas and dust is spewing from the comet's core, it is impossible to see clearly what caused Comet ISON's outburst on Nov. 13-14. One possibility is that fresh veins of ice are opening up in the comet's nucleus, vaporizing furiously as ISON approaches the sun. Another possibility is that the nucleus has completely fragmented.
"If so, it will still be several days before we know for sure," says Karl Battams, an astronomer with NASA's Comet ISON Observing Campaign. "When comet nuclei fall apart, it's not like a shrapnel-laden explosion. Instead, the chunks slowly drift apart at slightly different speeds. Given that ISON's nucleus is shrouded in such a tremendous volume of light-scattering dust and gas right now, it will be almost impossible to determine this for at least a few days and perhaps not until the comet reaches the field of view of NASA's STEREO HI-1A instrument on November 21, 2013. We will have to wait for the chunks to drift apart a sufficient distance, assuming they don't crumble first."
In short, no one knows for sure what is happening to Comet ISON. This could be the comet's death throes--or just the first of many brightening events the comet experiences as it plunges toward the sun for a close encounter on Thanksgiving Day (Nov. 28th).
Monitoring is encouraged. Comet ISON rises in the east just before the sun. Amateur astronomers, if you have a GOTO telescope, enter these coordinates. Dates of special interest include Nov. 17th and 18th when the comet will pass the bright star Spica, making ISON extra-easy to find. Sky maps: Nov. 15, 16, 17, 18, 19.
Comet ISON Nov 14
COMET ISON OUTBURST:
A sudden outburst of brightness from sundiving Comet ISON has catapulted it to the threshold of naked-eye visibility. "I've been imaging Comet ISON every morning," reports amateur astronomer Charles Coburn. of Rescue, CA. "Today, to my surprise, I could see it on my DSLR live preview screen." These two images show the comet on consecutive days as photographed by Coburn using the same camera and telescope settings: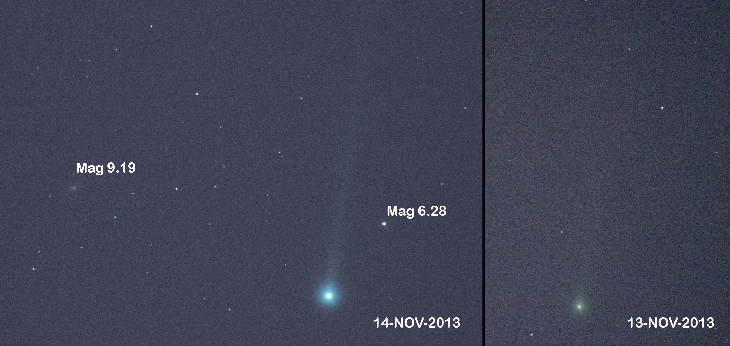 Reports like Coburn's are coming in from around the world. Apparently, during the early hours of Nov. 14th Comet ISON surged in brightness by a factor of approximately 6. In terms of astronomical magnitudes, it jumped from +8 to +6. If the trend continues, it could be a faint but easy naked-eye object by the end of the week.
The sudden uptick in brightness could be caused by a fresh vein of ice opening up in the comet's nucleus. Rapid vaporization of ice by solar heat is a sure-fire way to boost a comet's visibility. But, as NASA's Comet ISON Observing Campaign states, "we have no idea." The comet's nucleus is hidden from view by a hazy green atmosphere, so events in the interior remain a mystery.
"I have a strong suspicion that this is Comet LINEAR (C/1999 S4) all over again," says Mark Kidger of the ESA's European Space Astronomy Centre in Madrid. In the year 2000, Kidger other astronomers monitored Comet LINEAR as it disintegrated en route to the sun. "The sudden appearance of ISON's gas tail (discussed further below), the increasing fuzziness of its coma, and now this sudden outburst all remind me of C/1999 S4 just before it broke apart."
To reiterate: No one knows what is happening to Comet ISON. This could be the comet's death throes--or just the first of many brightening events the comet experiences as it plunges toward the sun for a close encounter on Thanksgiving Day (Nov. 28th).
COMET ISON SPROUTS A DOUBLE TAIL:
Amateur astronomers are getting a better look at Comet ISON as it dives toward the sun for a Nov. 28th close encounter with solar fire. As the heat rises, the comet brightens, revealing new details every day. This photo, taken Nov. 10th by Michael Jäger of Jauerling Austria, shows a beautiful double tail: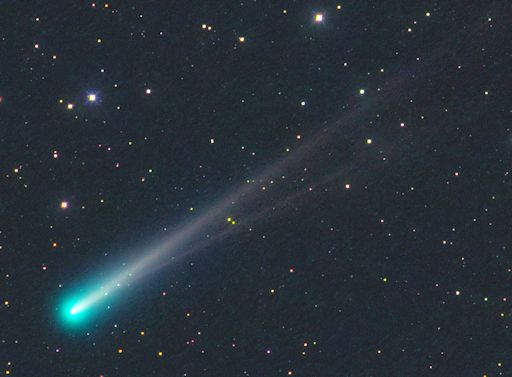 One tail is the ion tail. It is a thin streamer of ionized gas pushed away from the comet by solar wind. The filamentary ion tail points almost directly away from the sun.
The other tail is the dust tail. Like Hansel and Gretel leaving bread crumbs to mark their way through the forest, ISON is leaving a trail of comet dust as it moves through the solar system. Compared to the lightweight molecules in the ion tail, grains of comet dust are heavier and harder for solar wind to push around. The dust tends to stay where it is dropped. The dust tail, therefore, traces the comet's orbit and does not point directly away from the sun as the ion tail does.
Update: New tails might emerge as Comet ISON undergoes its outburst. Or the existing tails might exhibit new features as condensations of gas stream away from the suddenly active nucleus. Astrophotographers, think photo-op!
http://spaceweather.com/
---
CrystalWind.ca is free to access and use.
Please support us with a small gift of $11.11 or $22.22 or $33.33.
Thank you!

ॐ Namasté - Blessings!

"Life is an echo, what you send out comes back."
© 2008-2021 crystalwind.ca. All rights reserved.