Help keep CrystalWind.ca resources free for everyone. To share the articles posted here daily we rely on readers like you. Please donate today.
Blessings!
Category: Cosmic Events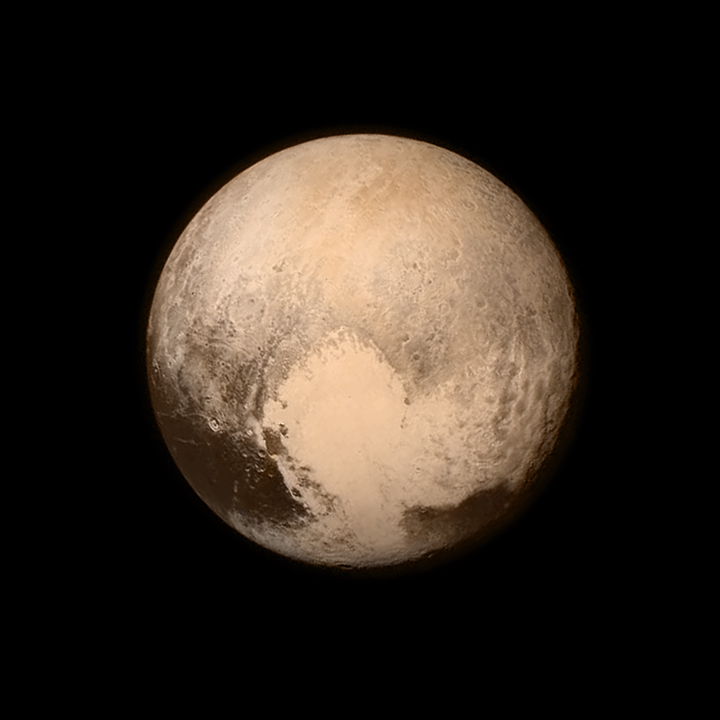 3 billion miles later, the first ever photo of Pluto's surface is here.
Well, hello, Pluto. Nice to finally meet you!
3 billion miles. That's quite a trek.
It's more than a million road trips from New York City to Los Angeles. Or, for those of you who'd get carsick, roughly 32 trips to the sun.
It's also about the distance between Earth and Pluto — a historic journey completed by NASA's New Horizons probe on July 14, 2015.
NASA launched the piano-sized spacecraft into space back in 2006 with the goal of capturing images very close to Pluto's surface.
The probe, called New Horizons, had been zooming toward the cold, mysterious dwarf planet at recording-breaking speeds ever since.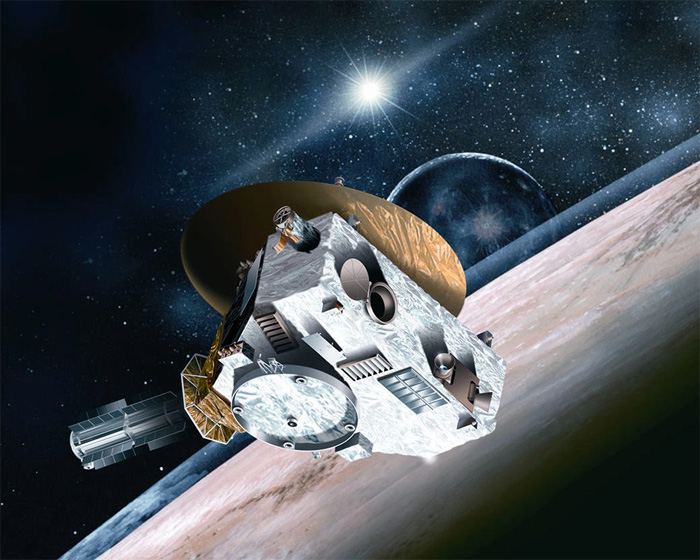 This second, the real New Horizons spacecraft (not the illustration above) is propelling thousands of miles per hour through space! Illustration courtesy of NASA.
As of July 14, 2015, we officially have our first up-close photos of the ex-planet.
And Pluto was more than ready for its close up.
Here's what New Horizons caught on camera: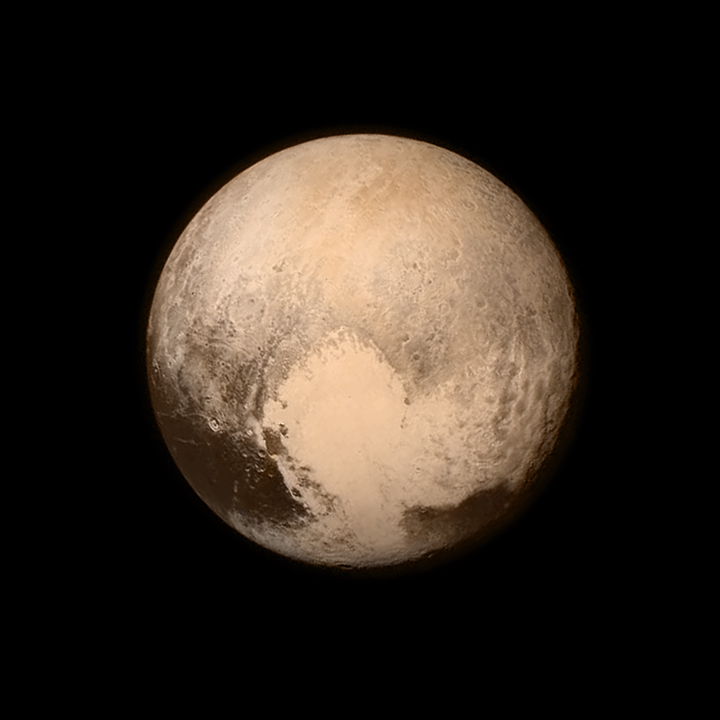 This photo — which took several hours to get from the New Horizons spacecraft to Earth — was taken at about 4 p.m. Eastern on July 13 and debuted on Instagram the morning of July 14. It marks the first of its kind taken of Pluto.
Pluto may look close (and it is, relatively speaking), but this image was snapped about 476,000 miles from the dwarf planet's surface!
"I'm thrilled," Katie Bechtold, a flight controller on the team, told Upworthy. "It's almost unbelievable that after all these years of hard work, our little piano-size robot is finally getting to show us Pluto."
That incredible image is part of a bigger mission to learn a lot more about the icy dwarf planet billions of miles away.
Sure, we know some things about Pluto. Take, for instance, gravity: It isn't as much of a thing there. If you weigh 100 pounds on Earth, you'd weigh 7 on Pluto! Or, consider its massive orbit around the sun: 248 Earth years = 1 Pluto year. And as far as its size? We're talking smaller than our own moon.
But New Horizons wants to dig deeper! Bechtold explained to Upworthy that New Horizons will hopefully give us Earthlings a more in-depth look into things like Pluto's composition, geology, atmosphere, and surface temperature. The probe will also check out Charon, the largest of Pluto's five known moons.
That's great, you might be thinking, but isn't that info sort of ... useless knowledge? No way!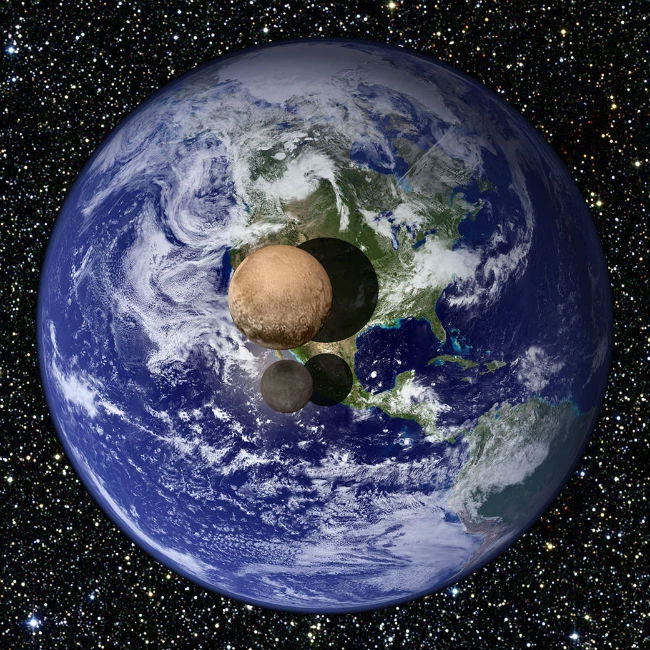 Look how small Pluto is compared to Earth! The smaller round object is Charon, Pluto's largest moon. New measurements completed by New Horizons confirmed Pluto's small stature — its diameter is just 18.5% that of Earth's. Image by NASA.
A better glimpse at Pluto helps us understand our own home here on planet Earth.
For one, there's Pluto's unique atmosphere. It's escaping into space! And nothing like that is happening anywhere else in our solar system. But scientists think it used to happen here on Earth, too, when our atmosphere was hydrogen-helium (a long, long time ago). By studying Pluto, the team at New Horizons is hoping to better understand the evolution of our own atmosphere.
New Horizons may teach us more about comets, too. Pluto is in the Kuiper Belt — the outermost region of our solar system. This frigid "third zone" is where tons of cometary impactors come from, including — quite possibly — the one that wiped out the dinosaurs! Documenting the sizes of craters on Pluto and its moons may provide helpful context about comets and how they affect the planets around us.
The New Horizons mission hasn't just been a success for space exploration — it's been a big win for gender equality, too.
Bechtold, a self-proclaimed "intersectional geek feminist activist," said she's proud to be on a team where women have played critical roles in the group's success. Half of New Horizons' mission operations team is women. That may seem like no big deal, but considering the hurdles women face in science, tech, and math-related fields, it's an impressive feat.
The mission is one of the most female-driven space explorations in history, according to New Horizons.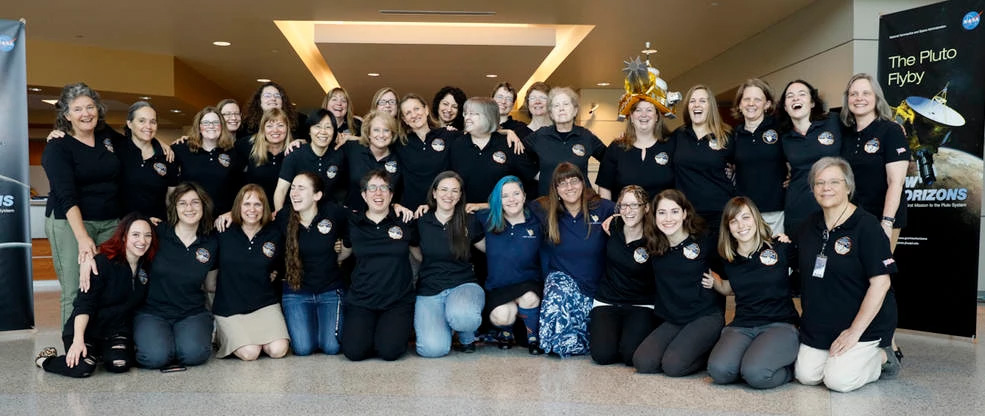 It may be a man's world. But outer space is for women. Photo courtesy of NASA/New Horizons.
The mission is far from over, though. The team already has post-Pluto plans in mind.
The probe may be far away, but there's plenty to discover out there on the Kuiper Belt, such as thousands of comets and dwarf planets. A few of these objects — known as Kuiper Belt Objects, or KBOs — are possible flyby targets for the spacecraft in the coming years. The New Horizons team and NASA are working to nail down which one the probe can check out while it's near our solar system's peripheral. All the candidates are about a billion miles past Pluto!
Pending a few things, like NASA's approval and funding for the extended trip, the next phase in New Horizons' journey could begin in 2017.
So space nerds, rejoice! We may not have seen the last from what New Horizons has to offer.
---
Follow the New Horizons mission on Twitter and use the hashtag #PlutoFlyby to join the conversation. Live updates also will be available on the mission Facebook page.
For more information on the New Horizons mission, including fact sheets, schedules, video and images, visit:
and
Article Written by Robbie Couch
www.upworthy.com Article Source Here
CrystalWind.ca is free to use because of donations from people like you. Please help support us!
Blessings!