Category: Crystals, Gems, Elixirs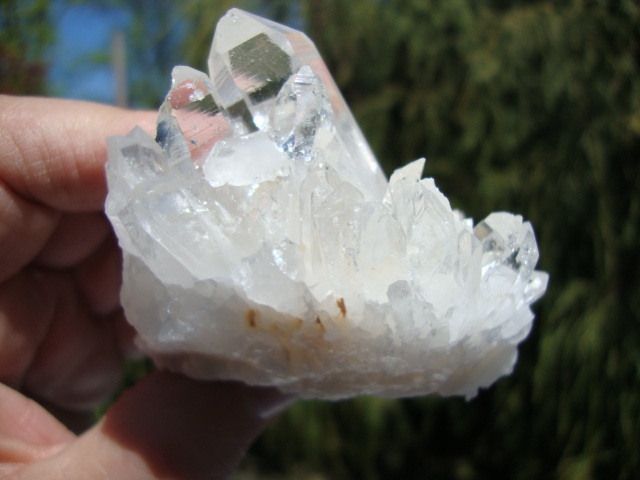 These crystals extend themselves in and out of time like tendrils in divine crystalline synchronicity. Emerging from the depths of cellular and solar systems into the heights of all dimensional expansion, they seek to become paired corresponding with all life, distributing their sequences further than one base of intelligence could reach.
They seek a Time sequence that allows them to transport in fullness the crystalline enduring truths they seek to share. Both inner and outer Earth are part of this new crystalline alliance. Like countries that may not agree but need each other's support nevertheless, these new crystals come as ambassadors and emissaries of light from inner earth to distribute the living fractal symmetry.
These commanding crystal clusters call themselves 'Pleiadian Time Crystals'. It has been a long time since the Pleiadians have made such a stand. A really powerful position announcing in a very loud clarion call, stop, look and listen, seems simple enough, right!
Most of earth is experiencing vertigo, like an old Hitchcock movie it seeks to keep you bound and stationary looking out the windows of your life, afraid to move forward. A dimensional fissure is what I call it when you feel like a jimmy buffet jelly fish gone awry on your way to Margaritaville. Just trying to swim thru the sea of life caught in a celestial rip tide!
Imagine these 'Pleiadian Time Crystals' as living crystalline crop circles dancing in unison and symmetry like mermaids at Neptune's Ball. See their powerful matrix of crystal structure both inner and outer, above, and below, pulsing with information.
As we move forward in this year what we thought as our personal truth will be challenged. Little red internal flags will stop us in our tracks. It is time to let go of what no longer serves this earth and our selves. Like a child who is given a truth at a young age to sooth their soul, it is not easy to let go of old truths like Santa Claus, the Easter bunny, and the tooth fairy. We all tried hard to hold onto those old truths and still do, but it is harder to keep them propped up like a ventriloquists dummy. These newly mined Mount Ida Arkansas crystals come to give unique instructions and codes that are aligned with the ever-changing crystalline grid and sacred geometry of Earth. They come deep from inner earth near the gaseous fumes of knowledge, reaching out to touch the planetary light with their Crystal bodies and hearts.
These beauties were birthed this past week. They truly do hold what we seek to reach as a people and planet, a place of completeness. Crystalline living fractals infuse these already stunning crystals with advanced awareness beyond what we perceive at this time. These clusters are filled with millions of genuine glistening, beckoning crystal beings.
These 'Pleiadian Time Crystals' chose not to stay in one time locale they flit about like hummingbirds seeking the sweetness of life. No sitting still in time for these beauties. Just Like a thought, time occurs over the entire crystal body concurrently.
If crystals have an atomic structure that repeats, like the carbon lattice of a diamond, why can't crystals also have a structure that repeats in time? Physicists have recently discovered a new form of matter that breaks the symmetry of time as we know it. A one-dimensional chain of ytterbium ions was turned into a time crystal by physicists at the University of Maryland. It is called a 'time crystal' because it repeats in time if jiggled periodically, sort of like tapping Jell-O to get a wiggle. The big breakthrough is this; these are the first of a large class of new materials that are intrinsically out of equilibrium, unable to settle down to the any particular motionless equilibrium like an emerald or ruby. No time symmetry these crystals have a structure that repeats in time randomly. "This is a new phase of matter, period, and is one of the first examples of non-equilibrium matter," "While scientists really cannot imagine a use for a time crystal, other phases of non-equilibrium matter hold promise.
With these Crystals we will learn to relate to 'time' in a new way which allows us to link all aspects of ourselves through other existences. Thus releasing the need for time slippage (which is going back over and over to complete karma).These crystals hold the key to unlock obsolete patterns that humanity holds onto like their last dollar. What does and does not serve the Light is forcibly released to the ethers to be birthed anew. These crystals allow you to see between the folds of time and peek into your piece of the cosmic pie. If you find yourself guardian of one of these extraordinary and prized crystals treat it with the utmost respect and learn as much as you can from it.
These magnificent Clear Quartz Clusters are a perfect size for gridding one's space for protection from energetic overload and harmful energies. These Clear Quartz Clusters from Arkansas are very clear and emit a high vibration than I have not seen in a ling time. In cluster form, Clear Quartz radiates energies outward. Clusters can be programmed with intention and kept in a central place to radiate healing energy. Placing a Clear Quartz Cluster on your desk where you work can help to relieve stress and promote peace in the working environment. Clear Quartz is a "Master Healer" and is the most versatile healing stone among all crystals.
Many of these beauties have Druzy crystal on the bottom. Druzy crystal is tiny sparkling crystals on the surface of another crystal. The energy of Druzy crystals is similar to that of mini-crystal clusters except they are wee and delicate like a fairies wing. Whenever you need to harmonize a group of people toward a common spiritual goal clusters are the masters of merging.
As received by Gillian MacBeth-Louthan
The Quantum Awakening has been Serving the Global Light Community since 1986. This newsletter is Spirit Driven and has been in circulation since 1986. It reaches a core group of millions of dedicated Planetary LightWorkers. One to one, light to Light, it births itself into completion from that point forward. This newsletter is lovingly crafted by Spirit. Any imperfections in spelling and grammar only enhance its beauty and uniqueness.
---
CrystalWind.ca is free to access and use.
Please support us with a small gift of $11.11 or $22.22 or $33.33.
Disclaimer Health
All post and information provided within this blog is for educational and informational purposes only, and is not to be construed as medical advice or instruction. No action should be taken solely on the contents of this website. Please consult with your healthcare professional before making any dietary or lifestyle changes or taking supplements that may interfere with medications. Any products or information discussed are not intended to diagnose, prevent, treat or cure any illness, disease or lifestyle. Please consult your physician or a qualified health professional on any matters regarding your health and wellbeing or on any opinions expressed within this website.