Category: Crystals, Gems, Elixirs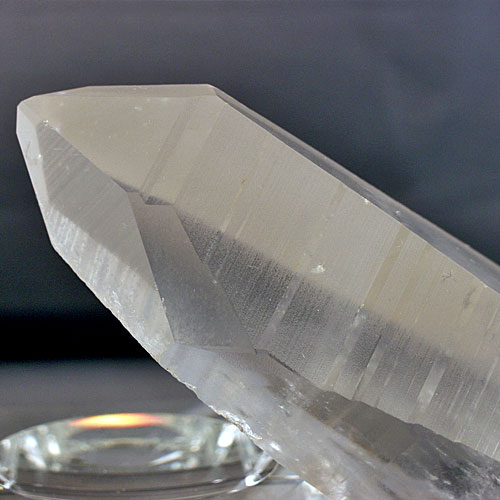 Curtis Lang
Polished, Unpolished & Lemurian Configurations
Lemurians occur naturally with multiple striations, and are considered more valuable when these striations have been left intact & not polished off of the crystals. Lemurian multiple striations are thought to contain information from ancient civilizations. Lemuria is said to have been an intuitive, spiritual civilization. They are tuned to energies of unity, and help us to balance the spiritual and physical aspects of our lives. Place the striations on the third eye or place the finger on the striations while meditating, or just place the crystal on your meditation cushion or altar nearby you.
You can backlight these Lemurian crystals and scan them with a jeweler's loupe to observe the finely etched hieroglyphics that become visible when the striations are magnified. They are said to resemble Sanskrit lettering and contain the records of each crystal's experiences and of the Lemurian civilization. Lemurian crystals are tuned to energies of unity, and help us to balance the spiritual and physical aspects of our lives.
The Lemurian civilization's artifacts have been recently rediscovered by Lightworkers whose energy and auric signatures resonate harmonically with the energy of the original Lemurian sages and healers. The Lemurians were said to be Stewards of the Earth.
The Lemurian quartz crystals have been identified as tools of the present era's Lightworkers whose task is to preserve the environment -- those known as Protectors of Mother Earth.
These Protectors often use Lemurian crystals to unify their energies with lightworkers throughout the world and beyond, to perform collective meditations for the benefit of the environment and all the beings who dwell on our Blue-Green Planet. These crystals are very useful for individual and collective meditations and prayer sessions that send healing energy to the magnetic grids surrounding the Earth because of their structure and origin. The Lemurians are ideal for transmitting energy around the world or to large numbers of people dispersed geographically or to large geographical areas.
Healers we have spoken to about the Lemurian crystals say that these stones have a warmth and power that they have not seen before. And we can say from personal experience using Lemurians in a clinical setting with people with chronic and life threatening illness, that these stones can open and soothe the heart chakra and the emotional body, bringing comfort and deep relaxation. They are ideal for use by vibrational healers, Reiki therapists, and other energy workers.
Because Lemurian seed crystals are associated with the Protectors of the Earth, this crystal can be used in meditation to transmit healing energy to large groups of people, to Lightworkers connected to the Christ consciousness grid surrounding the planet, and to large geographic areas where turbulent weather or political conditions prevail.
Dow Lemurians
Rare Dow crystals are highly prized for their unique metaphysical properties. They exhibit three seven sided channeling faces separated by triangular faces. They have amplified abilities to connect the user to Higher Wisdom, Spirit Guides and Teachers and Angelic presences during meditation. In addition these Dow crystals have a remarkable ability to receive and transmit great amounts of energy over space and time.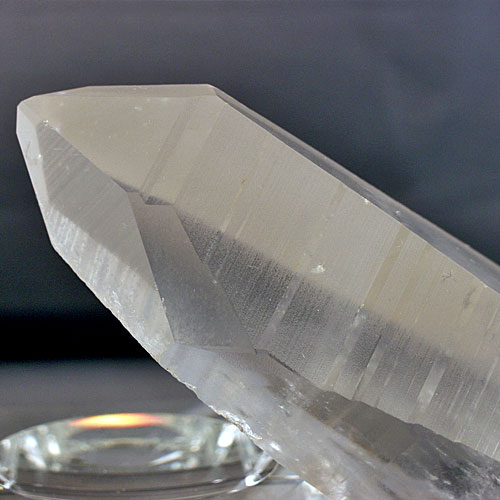 Growth Interference
Growth interference crystals are created when calcite formations adhere to the crystallizing quartz rhombohedron (six-sided wand), then disappear over time. This results in long indented grooves along the prismatic faces of the quartz crystal.
Growth interference crystals are typically used to enhance understanding of blocks we encounter in our quest for emotional, physical, or spiritual growth, and to gently remove these "stuck" energies, representing old and outdated mental conceptions of the world, recurring patterns of negative behavior manifesting in relationships, negative emotional reactions to life conditions , and physical impediments to health and well-being.
The growth interference crystal can be used to help remove blockages in the chakra system, facilitating the flow of Kundalini energy throughout the human energy field.
Keystone Lemurians
Key crystals are generally used to access information that has been previously hidden from us, and can help us to access illusive ideas about ourselves, offering them healing as a path to illumination. Keystone crystals provide a gateway to the "hidden wisdom" of the Ancients who built the Lemurian civilization, and functioned as "Protectors of the Earth". Sit and meditate with a unique Keystone Lemurian crystal and experience your connection to the ancient wisdom teachings. Place the striations on the third eye or place the finger on the striations while meditating for best results. If you prefer, just lay the crystal down on your meditation cushion or stand it up on a table or altar nearby.
Phantom Crystals
A phantom crystal was created when a faceted tip formed at one point in the crystal's growth, but the crystal's growth was interrupted for some reason, and then the quartz crystal resumed its crystallization, enclosing the phantom crystal outline within itself. One possibility is that a pocket inside the earth surrounding the crystal dried out, stopping the crystal's growth, and the pocket was later resaturated, triggering another stage of crystal growth. The final result was the formation of a phantom crystal displaying the termination faces, as is found in this crystal.
Each phantom represents a different stage in the crystal's growth -- and each stage can last for hundreds of thousands of years! Each phantom crystal reveals its own evolutionary pattern -- it is as though we can see the record of the transmigrations of the crystal's soul.
It should come as no surprise that phantom crystals help us to unearth our own histories, and to come to terms with unresolved issues from our past. Phantoms help us to see our own messy histories and our painful karmic issues as part of a beautiful spiritual evolution. In this way, they help to restore a sense of inner balance, unity and an aura of magic where there had been pain and struggle.
This phantom Lemurian wand help you connect with inner spiritual guidance. It can also be used to access the "akashic records", stimulating recollection of your progression through past-lives.
To access past-lives using the phantom Lemurian, sit quietly and initiate slow, steady breathing. Breathe in to the count of five and breathe out to the count of seven. Do this several times. Relax, and attune to the crystal. Gaze within the phantom portion of the crystal. Close the eyes and focus your attention on your third eye -- the space between your eyebrows. Allow your mind to travel through your soul's personal memories as you track your own history soul back to the creation. Most likely you will see images, or hear a "story" that is related to a particular past life that is relevant to the life issues you face today. Sometimes you will experience feelings and insights that relate to the past life, and that shed light on problems and unresolved issues in your present existence.
When you use the phantom Lemurian to access past-lives, you will often find that you are able to experience the events as if you were seeing a movie, and even traumatic experiences no longer retain an emotional charge. Nevertheless, as you re-experience the past life events, you may find that the negative emotions imprinted in your aura and your physical body, in your mind and emotions, are being gently released as you connect the past-life experiences with your present day reality.
The phantom crystal can also be used in mediation to assist you in meeting a personal spiritual guide. Sit quietly, calm the mind and body by slow, deep breathing as described above, and attune yourself to the crystal. After surrounding yourself in the protection of the purity of White Light, enter the crystal via "gazing", that is by holding the crystal to the area of the third-eye, or by the meditative state. Visualize yourself inside the crystal, walking through the area of phantom.
---

Source Here
Crystal Wind™

See us on

and

Follow us on

---
CrystalWind.ca is free to access and use.
Please support us with a small gift of $11.11 or $22.22 or $33.33.
Disclaimer Health
All post and information provided within this blog is for educational and informational purposes only, and is not to be construed as medical advice or instruction. No action should be taken solely on the contents of this website. Please consult with your healthcare professional before making any dietary or lifestyle changes or taking supplements that may interfere with medications. Any products or information discussed are not intended to diagnose, prevent, treat or cure any illness, disease or lifestyle. Please consult your physician or a qualified health professional on any matters regarding your health and wellbeing or on any opinions expressed within this website.