Support crystalwind.ca with your donation and help spread spirituality and positivity.
Blessings!
Category: Crystal Skulls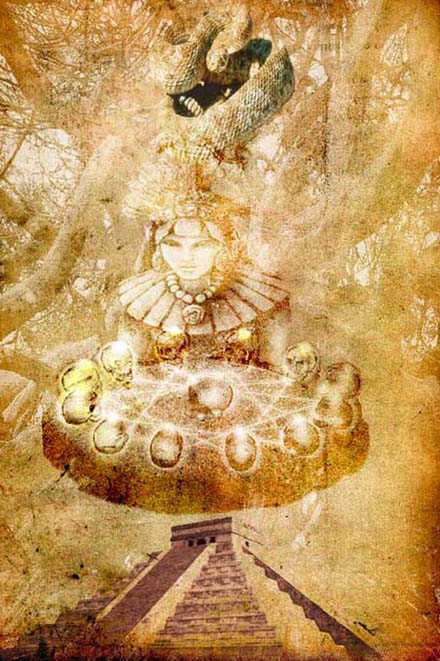 The legend is that there are 13 crystal skulls that had been in the possession of the ancient Maya. Over time, the skulls have been strewn throughout the world. According to legend, when they are reunited they hold the power to save the Earth. Several of the skulls have been found. One is in London, and one is in Paris. Descendants of the Maya are believed to have one that is hidden away in a mountain, and one skull is known as the Mitchell-Hedges skull and is in the Canadian home of the woman who discovered it.
Famed British explorer, Frederick Mitchell-Hedges was excavating the ruins of a Mayan city named Lubaantun on what is now Belize starting in 1924. His daughter discovered a crystal skull in a pyramid on her 17th birthday in 1927. That is probably the most famous of the skulls.
The skulls are fashioned from blocks of clear or milky quartz crystal rock. They are claimed to be pre-Columbian Mesoamerican artifacts. Unfortunately, it's impossible to date them because the quartz crystal doesn't decay or change with time. Modern testing has shown that they were probably not made with modern tools because the nature of the crystal would have cracked with the vibrations of the tools used to shape it today. Amazingly, the skulls are made from one solid block, a feat that would have been monumental for an ancient culture to accomplish.
The legend maintains that the ancient skulls carry mystical powers and were formed with thought rather than tools. For instance, when an old wise man became too old to perform his duties and younger man was chosen. The two would go to the sacrificial table in the Mayan city and a priest would perform a ceremony that caused the knowledge of the older man to be transferred to the younger man though the crystal skulls. When the transfer of knowledge was complete, the older man would die peacefully. Interestingly, the material used to make the skulls is the same material used to create the silicone memory chips for computers.
When they are brought together they will enlighten us as to how we can live in better harmony with Earth.
---
Source Here